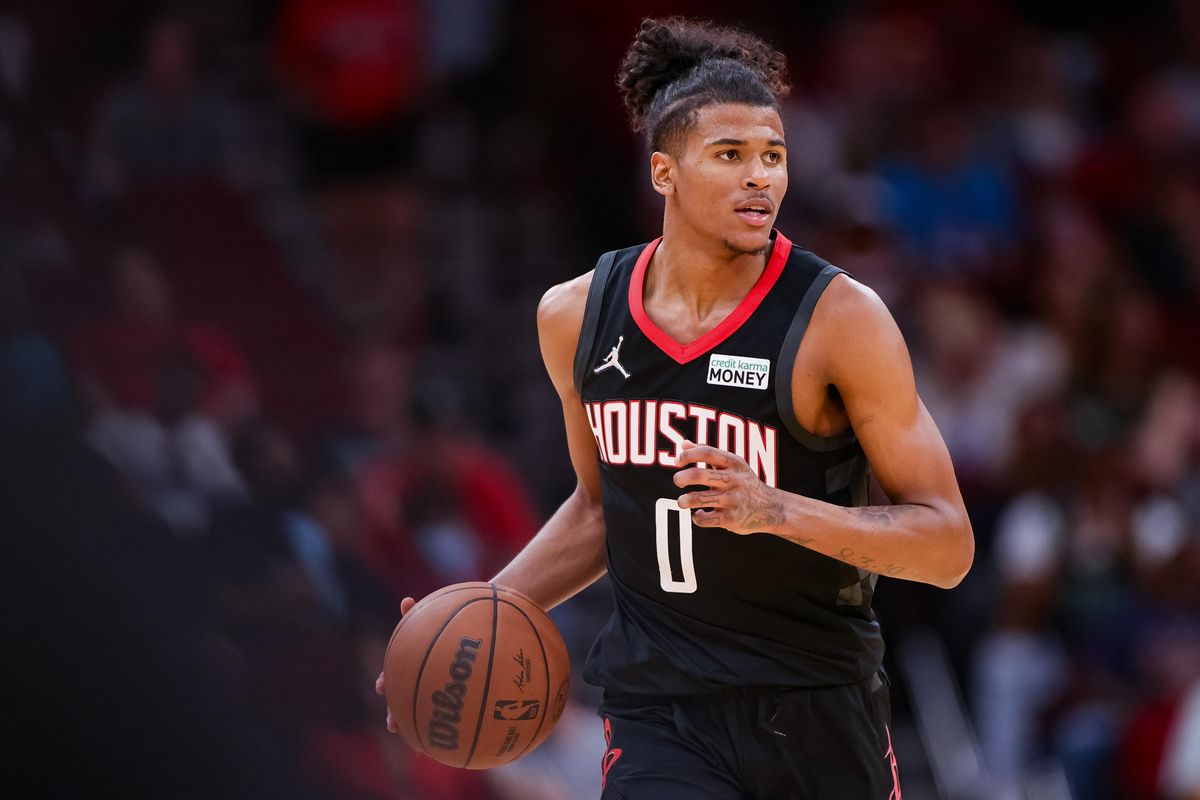 It's been a rough stretch for Jalen Green. Photo by Carmen Mandato/Getty Images.
Down to four teams left in the NFL playoffs. Even the almighty NFL can't call it the Final Four, the NCAA owns that trademark. Conference championship games works just fine. First up Sunday is Cincinnati at Kansas City, where after their stupefying win over the Bills the Chiefs are solid seven point favorites over the Bengals. Then it's San Francisco at Los Angeles where the Rams are favored by three and a half, though it's a toss-up as to which team will have more fan support. Two weeks ago the Bengals snapped a 30 year playoff victory drought with their win over the Raiders. Then last week they topped the AFC top seeded Titans in Tennessee for their first road playoff victory ever. That leaves just one existing NFL franchise to never have won a postseason road game. Wanna guess? To cut a little slack the Texans are the youngest franchise, but zero for 20 years is another Texans' dubious distinction. As a yes or no question, will the Texans play in an AFC title game before the 2030 season?
Speaking of the glory-deprived local NFL squad, six head coach interviewees down, how many more to go? If the Texans are indeed disclosing all they talk with, it seems odd that Bills' offensive coordinator Brian Daboll has not gotten an invite. Daboll has Patriots ties, and has done fabulous work helping develop Bills' quarterback Josh Allen. It's also possible that Daboll expressed utter disinterest in the Texans' gig at this time.
Hall of Fame
A couple of days after David Ortiz made it easily while Barry Bonds and Roger Clemens came up short for a 10th and final time in the traditional baseball writers' Hall of Fame voting, worthy elections this week of outfielder Terry Puhl and executive Tal Smith to the Astros Hall of Fame. Quirky stat alert! OPS+ is the number that distills to one number a player's performance as a batter, adjusted for the parks in which he played. For example, batting .300 with 25 homers in a season in the 80s while playing one's home games in a pitching haven like the Astrodome was a greater accomplishment than doing so in a hitter's delight like Fenway Park. Terry Puhl's batting average over 14 seasons as an Astro was .281 with an OPS+ of 112. Craig Biggio's career batting average was .281 with an OPS+ of 112. This is not suggesting that Terry Puhl was close in greatness to Biggio. It's an interesting statistical coincidence, that does illustrate Puhl was a good player for many years. Smith had three different stints in the Astros' organization, most notably the second during which he was the architect of the 1980 Astros who became the first postseason team in franchise history.
College hoops
The Houston Cougars continue to cruise through their grossly inferior American Athletic Conference competition. They may fall prey to an upset or two (at Central Florida Saturday is a possibility...but I doubt it), but the league is so weak it is making this season much less interesting than things will be when UH makes the move to the Big 12. At UCF the Coogs try for their 18th win of the season. That's in 20 games. The Rockets Friday night try for win number 15. That's in 49 games.
Rockets
Zero reason to panic over Jalen Green's disappointing rookie season, but it has been seriously disappointing. Any suggestion that he's making steady improvement is silly. Green's shooting numbers for the season are wretched, over the most recent three games "you have to be kidding me" awful: six for 40 from the floor, one for 17 from behind the three point line. Defensively, Caddyshack's Ty Webb would say about Green "You're not, you're not, you're not good." Still, Green turns only 20 years old in a couple of weeks and clearly has above average NBA athleticism. On the other hand, he is one and a half seasons removed from high school just like Cade Cunningham, Evan Mobley, and Scottie Barnes. They went first, third, and fourth in last summer's draft where the Rockets selected Green second. Cunningham, Mobley, and Barnes in some order would be 1-2-3 for Rookie of the Year right now. Green wouldn't get a mention. The 2020 number two pick in the draft, Charlotte's LaMelo Ball, has a serious case to be added as an All-Star reserve. If the Rockets hope to shorten their run as an NBA doormat, they will need a leap from Jalen Green next season.
Buzzer Beaters:

1. Most bad teams do it, but it really was laughable of the Rockets to push for their guys as All-Star game starters. Shockingly, none made it.
2. Tal's Hill didn't belong in the field of play at Enron Field/Minute Maid Park, but was outstanding aesthetically and did provide some exciting and/or amusing moments.
3. Healthiest greens: Bronze-broccoli Silver-spinach Gold-kale

One of the big factors that led to the Texans' loss to the Jaguars on Sunday was the secondary. Multiple flags for pass interference gave Jacksonville more opportunities to pick up first downs and score points.
Can confirm #Texans backup CB Shaq Griffin was cut.

Griffin started 6 games this year when Derek Stingley was out with a hamstring.
— DJ Bien-Aime (@Djbienaime) November 29, 2023
So it's no surprise that DeMeco Ryans is making some changes to his defense this week. According to several reports, Texans corner Shaq Griffin has been cut.
Nickel corner Tavierre Thomas was flagged for PI more than once on Sunday, and was burned badly by Jaguars receiver Calvin Ridley for a touchdown.
DeMeco was asked after the game if he considered replacing Thomas with Desmond King or Shaq Griffin. Ryans didn't give a definitive answer, but it looks like we got one today.
One has to wonder if Desmond Kings' experience playing nickel was the reason for his promotion to the active roster and why Griffin was released. If Thomas continues to struggle, King looks like the next man up to replace him.
#Texans activate Denzel Perryman, promote Desmond King to active roster, release Shaq Griffin, sign Matt Ammendola and Garret Wallow to practice squad, released Gerrid Doaks from practice squad and placed Tytus Howard (knee-patellar tendon surgery pending) on injured reserve https://t.co/knyyoqo7yC
— Aaron Wilson (@AaronWilson_NFL) November 29, 2023
The Texans also made some other adjustments to their roster on Wednesday, per Aaron Wilson. Linebacker Denzel Perryman returns from suspension, kicker Matt Ammendola and linebacker Garret Wallow join the practice squad. They also released Gerrid Doaks from the practice squad.
The other big piece of news involves left guard Tytus Howard. He heads to injured reserve, ending his season after hurting his knee against Jacksonville.
SportsMap Emails
Are Awesome