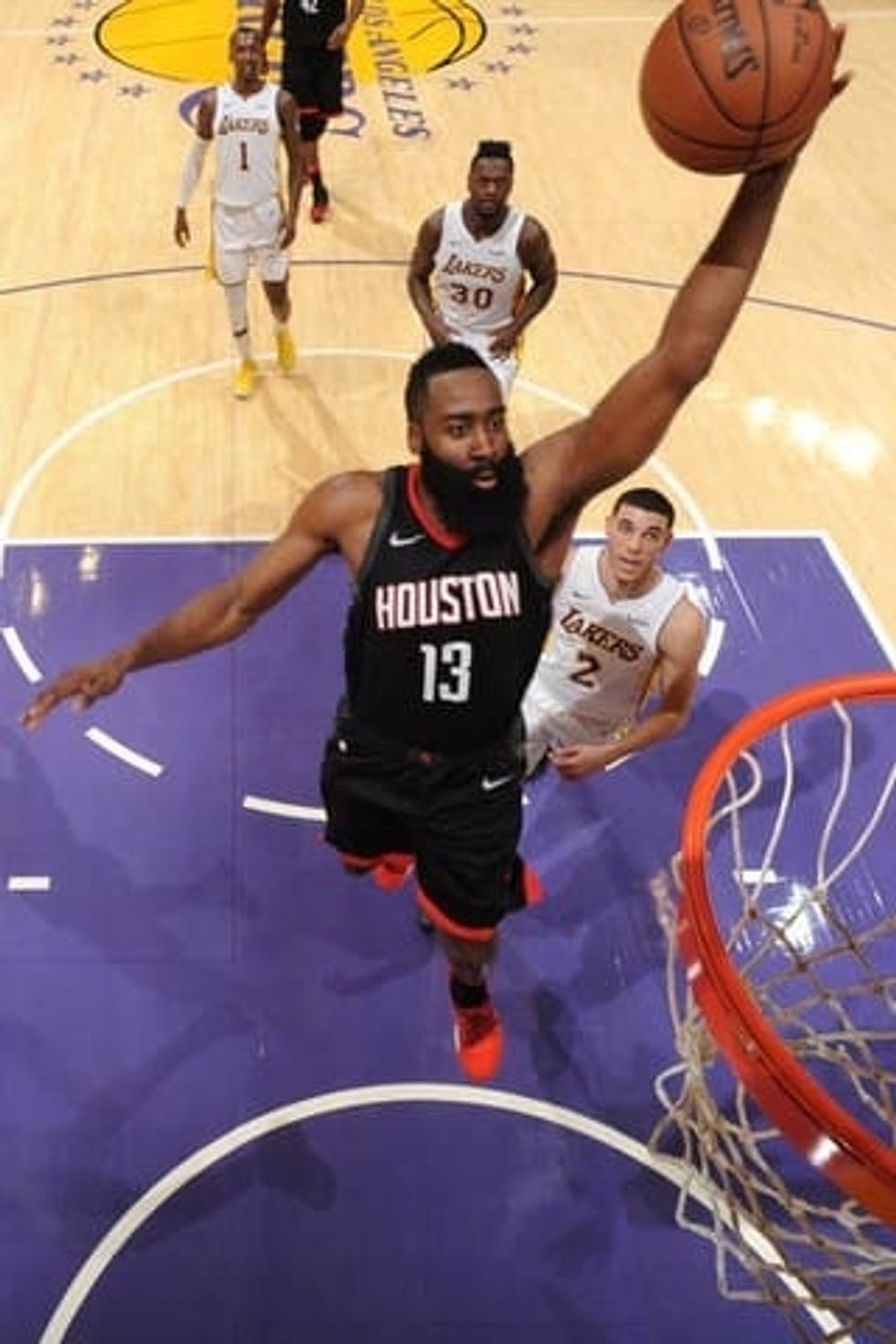 James Harden and the Rockets continue to soar. Rockets.com
Week seven of the NBA season saw the Rockets up to their usual steamrolling tactics, overwhelming teams from three and playing great defense. There was little drama to be had this week as the Rockets made easy work out of a relatively soft week of games. The Rockets remain first in the conference, with a one game lead on Golden State. San Antonio trails the Rockets in the division by 3.5 games.
Game 20: Rockets vs Brooklyn Nets (W, 117-103)
James Harden went for the throat early, going 5-5 from three on the way to a 20-point first quarter. Those 20 points were part of a 43-26 first quarter, which ultimately proved insurmountable to the Nets. Chris Paul added a season high 14 assists and Clint Capela contributed his third 20-point effort of the season. Harden would finish with 37 points, 10 rebounds and 8 assists.
Game 21: Rockets vs Indiana Pacers (W, 118-97)
Watching from the stands, a friend leaned over with a concerned look on their face as the Pacers closed out the first quarter with the lead.
"Don't worry," is all I replied.
A close first half concluded with a slight Rockets lead. That lead would explode late in the third, concluding in what has become a typical Rockets blowout. All of the Rockets' starters registered double digit points, while Harden flirted with yet another triple double (29 points, 8 rebounds, 10 assists). Capela added 22, marking his first consecutive 20-point outings of the season to go with 13 rebounds and two blocks.
Game 22: Rockets at Los Angeles Lakers (W, 118-95)
Late Sunday night the Rockets matched up with the Lakers for the first time this season and emerged from the Staples Center with their seventh straight victory. Offense was at a premium, as Harden, Paul and Eric Gordon would ultimately be the only three Rockets players who would score in double digits. Each was highly effective, however, scoring 36, 21, and 22 respectively. With the help of Kentavious Caldwell Pope and Brook Lopez, the Lakers pulled to within 3 halfway through the 3rd. A P.J. Tucker 3-pointer on the other side seemingly ended the Lakers' run and the Rockets' lead would balloon from there. Lakers point guard Lonzo Ball would finish the game 0-4 with 2 points, 3 assists, and 1 rebound.
Takeaways:
After helping Harden shoulder most of the scoring load, Gordon's production has dropped off considerably, averaging only 12.7 points per game in his last 7 games. It could be a result of Paul's return to the roster, or that less playing time with Harden has resulted in having to create more of his own shot.

So much for home court advantage: The Rockets are now 10-1 on the road, having won the last six consecutive road games by 15 or more points.

It seems like every week it's either Eric Gordon or Clint Capela playing the glue guy. With Gordon slumping, Capela has shouldered the load this past week, averaging 16.7 points and 10.7 rebounds.
Looking Ahead:
This week the Rockets have a light workload, with a Thursday game at Utah and Saturday at Portland. Thursday will be the second time the Rockets have faced the Jazz, the first time being a matchup that involved Harden scoring a career-high 56 points. Saturday will be the first matchup between the Rockets and Trailblazers. The Trailblazers are 13-10 at the moment and are second in the league in rebounding. It's hard at this point to look at a team with 10 or more losses as a team that could pose a challenge, however Blazer's point guard Damian Lilliard is really difficult to sleep on. In a fairly soft point of the schedule, Portland should pose the toughest test of the past three weeks. I see the Rockets taking at least one of the two, extending their win streak to at least eight, and facing a tough test in Portland.
Rockets' Alperen Sengun recently was a guest on Paul George's podcast and spoke about a conversation he had with James Harden.
He said Harden told him he was proud of him. This led George to saying he thinks this means the torch has been passed from Harden to Sengun.
Which made us wonder, is this now Sengun's team? Or is that a little premature and the true leader of the team is head coach Ime Udoka or Fred VanVleet?
Plus, Jalen Green has responded positively from being benched. Is this proof that Ime Udoka has the team taking more accountability and heading in the right direction?
Be sure to watch the video above as we break it all down!
If you enjoy the videos, subscribe on YouTube for our latest content.
Related Articles Around the Web
SportsMap Emails
Are Awesome