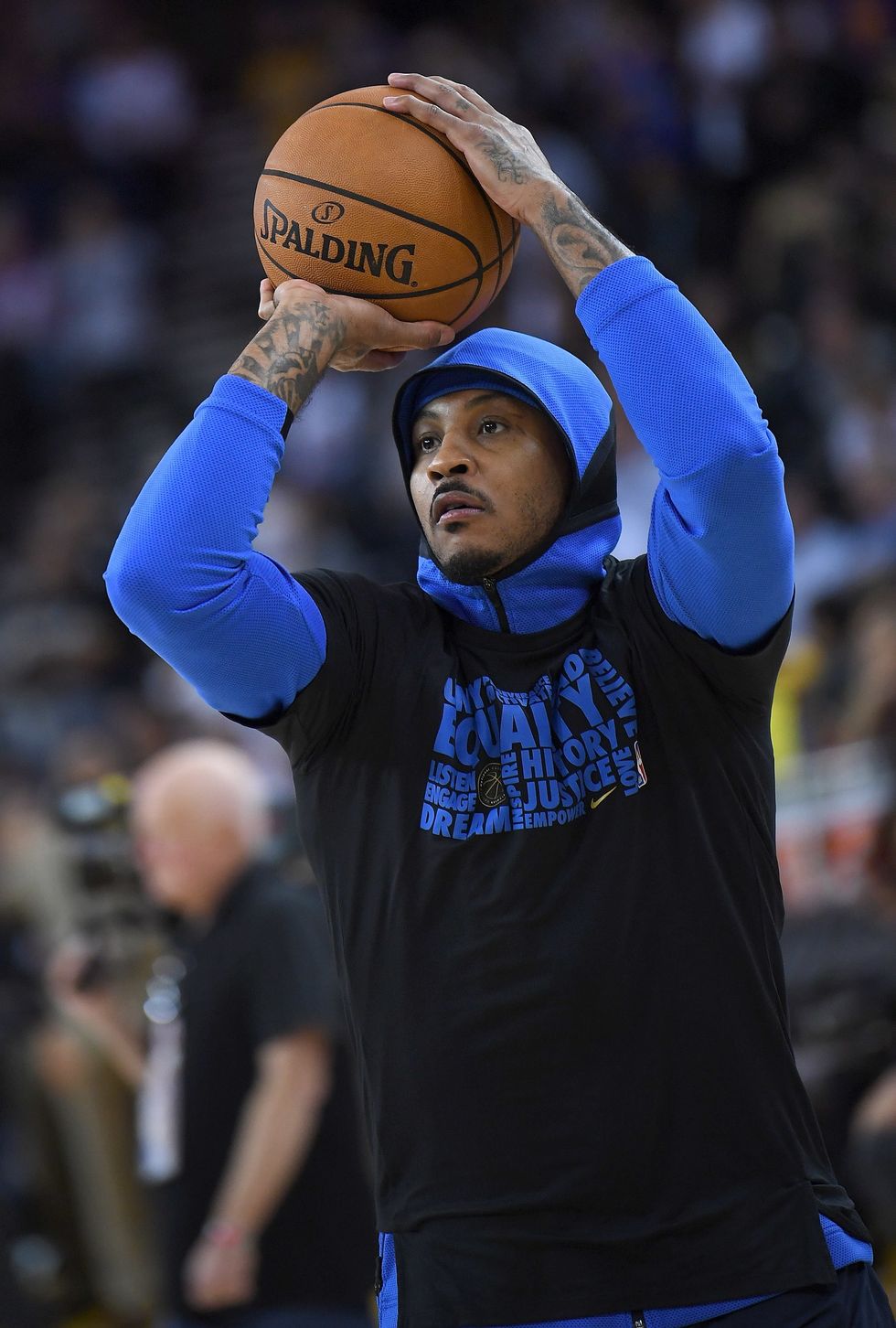 Carmelo Anthony will be a big piece for the Rockets. Thearon W. Henderson/Getty Images
After a 65 win season and a polarizing offseason, the Houston Rockets figure to be one of the NBA's most talked about teams heading into the 2018-19 season. Houston's summer was the subject of much national conversation, with most expecting the team to take a significant step back. With that being said, the Rockets will be on national TV for 38 games this season so a lot of eyeballs will still be on the team. So I decided to sit down and make eight bold predictions about them, four of which will likely look silly by the end of the season (as predictions go).
1. The Rockets will have a Top 8 defense
With the losses of Trevor Ariza and Luc Mbah a Moute, it feels almost too absurd to assume the Rockets will retain a high-level defense. Factor in the addition of Carmelo Anthony, a poor defender in his own right, this prediction could be viewed as downright irresponsible.
However, I have a high level of belief in Houston's remaining defensive personnel (namely Chris Paul, P.J. Tucker, and Clint Capela) and associate head coach Jeff Bzdelik to remain very good on that end, despite their losses. Also, there seems to be a high level of belief within the Rockets braintrust that the signing of James Ennis will help smooth over the loss of Trevor Ariza significantly.
2. Houston will win 60 games….and still be the 2nd seed in the West
I don't totally buy this one myself. The Warriors make it look easy, but winning 65+ games for more than one season in a row is extremely difficult. Even if you're of the unpopular belief that the Rockets had a good summer, there is bound to be some regression in wins for Houston this year. However, there's no reason to believe they still can't be a 60 win team.
With James Harden and Chris Paul running the show, they are near-locks to repeat as a Top 3 offense this season and they still have enough defensive talent to be a Top 10 defense. Those two things historically combine for a lot of wins, often reaching or exceeding 60. Nevertheless, a healthy and motivated Warriors team has the ceiling of a mid-60 to low-70 win team, which could top what Houston puts out this season.
3. James Ennis will be a starter by the All-Star break
There has been a lot of talk about the Carmelo Anthony addition this summer and not nearly enough about James Ennis. If a Warriors series were to start right now, Ennis would likely be the one tasked on guarding Kevin Durant and yet, we've heard little about him. The Rockets have constantly brought up Ennis unprompted in interviews throughout the summer and he is likely going to play heavy minutes to start the season, given Houston's hole at the wing.
The Rockets aren't new to making rotation adjustments midseason, as moving Ryan Anderson to the bench in favor of P.J. Tucker was a pivotal one for them last season. I foresee a similar situation playing out with Anthony and Ennis this season.  Anthony might start the season at power forward as a trial run, but if Mike D'Antoni likes the look of Ennis starting for defensive purposes, I predict Anthony will be more receptive to a bench role.
4. Ryan Anderson will be moved at the trade deadline
The Rockets have explored moving Ryan Anderson for a long time. Dating back to last summer, Houston has entertained offers on the 30-year old forward in favor of getting back players that would be of better utility. Their efforts have been unfruitful, but I predict they find a suitor for Anderson in February, provided they forfeit their 2019 first round pick.
It's important to note that while Houston is no stranger to trading first round picks, the Rockets only move them when they are getting a very good deal. Their unwillingness to trade first round picks for anything less than a great deal is likely the reason they have yet to deal Anderson. It's possible that they get a versatile wing back for this kind of package, as has been rumored.
5. The Rockets acquire a significant player on the buyout market
This one probably should not be considered bold as the Rockets have made midseason additions like this for years. What makes Houston a particularly attractive destination is that they will be a contender with most of their taxpayer mid-level exception still available to spend. The Rockets opted not to use this exception this summer and will instead be able to outbid any potential contenders for significant players that get bought out or waived midseason.
It was expected that the Rockets would use their mid-level exception on Luc Mbah a Moute or Carmelo Anthony and in a shocking turn of events, Houston managed to keep its exception. They seemed to have make a calculated gamble that they will find somebody midseason (likely a wing player) that will exceed what Luc Mbah a Moute could offer them.
6. De'Anthony Melton will make the rotation
By all accounts, De'Anthony Melton was one of the steals of the 2018 NBA Draft and almost everybody knew it the minute his name was called. Melton was the subject of an FBI probe that yielded nothing substantial, but held him out for his entire sophomore season at USC. This prompted many general managers to be weary of drafting him in the first round, where he was expected to be drafted.
The 20 year old shooting guard went on to impress at Summer League for the Rockets, averaging 16.4 PPG, 7.2 RPG, 4.0 APG, and 3.0 SPG. Although he wasn't particularly efficient, Melton showed a ton of polish and tenacity on defense and is a surprisingly good passer with high IQ. While I don't suspect he'll receive playing time right away, there's a non-zero chance Melton impresses D'Antoni enough during training camp or during an injury spell to warrant playing time.
7. Chris Paul and James Harden will take games off for rest
Last season, Paul played only 58 regular season games (second lowest of his career) and Harden played 72 (lowest of his Rockets tenure). Both Harden and Paul missed significant chunks of the season due to injury and Paul's hamstring injury derailed Houston's chances at title last season. The Rockets are very cognizant that Paul just turned 33 this summer and their title window with Paul at the peak of his powers is diminishing. Also, James Harden has his MVP and there is no longer any reason he should be pushing it game after game for 82 games if it's not necessary.
Because of this, I forsee the Rockets taking the long view this season and working in more rest days for Paul and Harden. Houston has the luxury of always having one of the two available for games and it's not hard to see them using that to their advantage. Seeding is important and the Rockets will likely try hard for the first seed in the West again, but it's unlikely they will pursue it at costs. Harden infamously refuses to take rest days (he once played through an injured wrist through the latter part of the 2016-17 season), so it would be a huge deviation from the norm.
8. Carmelo Anthony will be passable defensively for Houston
There are a couple predictions on this list I don't totally buy, but a part of me can see it happening This would qualify as one of those predictions. The Rockets under associate head coach Bzdelik have managed to squeeze the best out of even the poorest defenders on the roster. Players like Eric Gordon, Harden, Gerald Green, and even Anderson have not only been able to be covered up defensively, but have contributed to a successful defensive system.
Anderson last season is a great example of this. The Rockets switched everything defensively last year and teams attacked forward Anderson mercilessly. However, those mismatches yielded very little, as Anderson was one of the better isolation defenders in the league on high volume. It's possible that this was an aberration, but Houston has boasted a lot of success with poor defenders since Bzdelik took over the defense in 2016. This may be one of the few rosters and coaching staffs in the entire league that can hide Anthony's defensive weaknesses.
With the training camp and preseason on the horizon, we'll find out soon enough how this list ages.
When Bryce Young and CJ Stroud were drafted with the first two picks of the NFL Draft, we knew they would be compared to one another for years to come.
And here we are just 11 games into the season and one quarterback has already seen his head coach fired. Panthers owner David Tepper spoke to the media on Wednesday and discussed his decision to fire Frank Reich, and also set the record straight on how they arrived at the decision to draft Young.
In so many words, Tepper basically blamed the Texans for how the top of the draft played out. He mentioned Stroud by name and said the Panthers were ready to draft him at No. 2 overall until the Texans backed out of the three-team trade with the Bears.
Tepper made a point of saying everyone in their building had Bryce Young as the top player on their draft board, despite rumors about Frank Reich preferring Stroud.
CJ Stroud and the Texans have been so much better than Bryce Young and the Panthers that Tepper clearly felt it was necessary to defend himself, and the decisions he's made for the organization.
In the end, the person that gets the worst end of the deal is Bryce Young. Coaching changes can be very difficult on young quarterbacks. And it looks like he'll have to learn a new offense in his second year when the Panthers hire a new coaching staff.
How fortunate we are as Texans fans to have DeMeco Ryans and CJ Stroud leading the team moving forward.
With all of this in mind, is there a reason Texans fans haven't fully bought in to the new-look Texans? JJ Watt was a guest on The Pat McAfee Show this week and was asked about the team's inability to fill the stadium on Sundays.
As a former player for the Colts, McAfee always thought Houston had the loudest and best fans in the NFL. And while the Texans are 9th in attendance this year according to ESPN, even CJ Stroud has asked for the fans to fill the stadium.
So there is something to it. You can see the empty seats in photos. So why aren't the Texans packing NRG with a shiny new franchise QB?
We believe the recent history of the team is why fans are slowly coming back. McAfee wasn't here for:
Bill O'Brien cussing at fans during games
Trading DeAndre Hopkins away for next to nothing
The Jack Easterby disaster
Deshaun Watson allegedly blaming ownership for why he wanted out
The Deshaun Watson scandal
Firing back-to-back coaches after one season, and the list goes on.
Don't miss the video above for the full conversation!
If you enjoy the videos, subscribe to SportsMapTexans on YouTube!
SportsMap Emails
Are Awesome