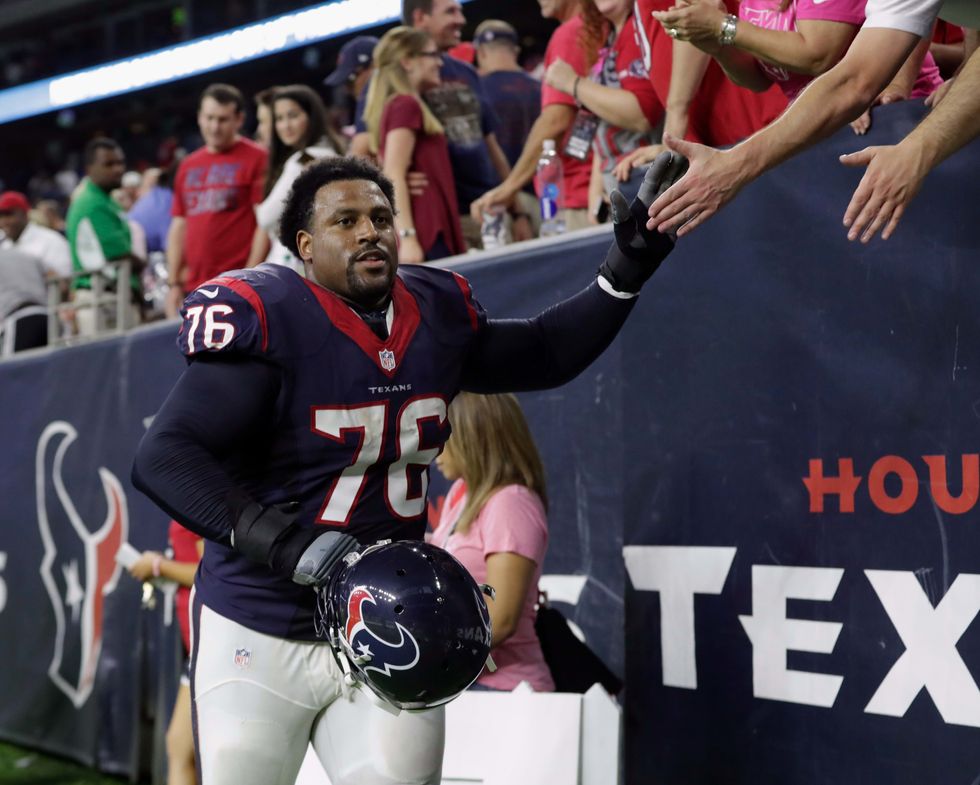 Duane Brown was shipped to Seattle in a trade on Monday. Tim Warner/Getty Images
Follow me on Twitter @ODonalsVanguard
Bob McNair looks like he is not someone to be trifled with. Duane Brown sat out seven weeks of the NFL season because he felt that his contract -- that had no guaranteed money on it -- was not worthy of his status as a top tier left tackle. The only reason he returned to play in week 8 was because the Texans would have been able to void the current year on his contract if he didn't show up by that deadline.
He played well against the Seahawks in his first action back after a long layoff, and now it appears that was an audition for the team he would be traded to.
In a surprising, but not too surprising deal just before the deadline; the Texans have now traded Brown to those same Seahawks for immediate help on the defense and some long-term picks in the draft. Reports indicate the trade consists of the Seahawks receiving Brown and the Texans receiving cornerback Jeremy Lane and a 2018 5th round pick and a 2019 2nd round pick.
Right off the top I see both teams immediately benefitting from the trade. If the 41-38 shootout didn't make the Texans secondary problems obvious then I don't know what to tell you. Lane adds another piece to that group that may help them to long run. In addition, they can surely use all the draft picks they can get after trading away so many to the Cleveland Browns to get Deshaun Watson and to get rid of Brock Osweiler.
Obviously, the Seahawks get a great left tackle to help them shore up their offensive line problems and that can help them stay alive for another playoff run. The Texans will lose their best offensive lineman but since they have managed without him in the first 7 weeks, I don't think they saw it as too much of a loss. 
Brown was also critical of McNair after his now infamous "inmate" comments.
This looks like a win/win for both teams. Brown is a top tier left tackle so the Texans were right to get plenty of compensation. Lane may help them now and Romeo Crennel might be able to put him into the right situations to help the defense. The additional draft picks are always great because the more chances you have to pick good players, the more chances you have to hit on a winner. The Seahawks get to improve up front with a guy who doesn't have guaranteed money on his contract and the ability to negotiate fresh for the few years he has left in the league. The Texans get help now and the chance for more in the future.
Rockets' Alperen Sengun recently was a guest on Paul George's podcast and spoke about a conversation he had with James Harden.
He said Harden told him he was proud of him. This led George to saying he thinks this means the torch has been passed from Harden to Sengun.
Which made us wonder, is this now Sengun's team? Or is that a little premature and the true leader of the team is head coach Ime Udoka or Fred VanVleet?
Plus, Jalen Green has responded positively from being benched. Is this proof that Ime Udoka has the team taking more accountability and heading in the right direction?
Be sure to watch the video above as we break it all down!
If you enjoy the videos, subscribe on YouTube for our latest content.
Related Articles Around the Web
SportsMap Emails
Are Awesome