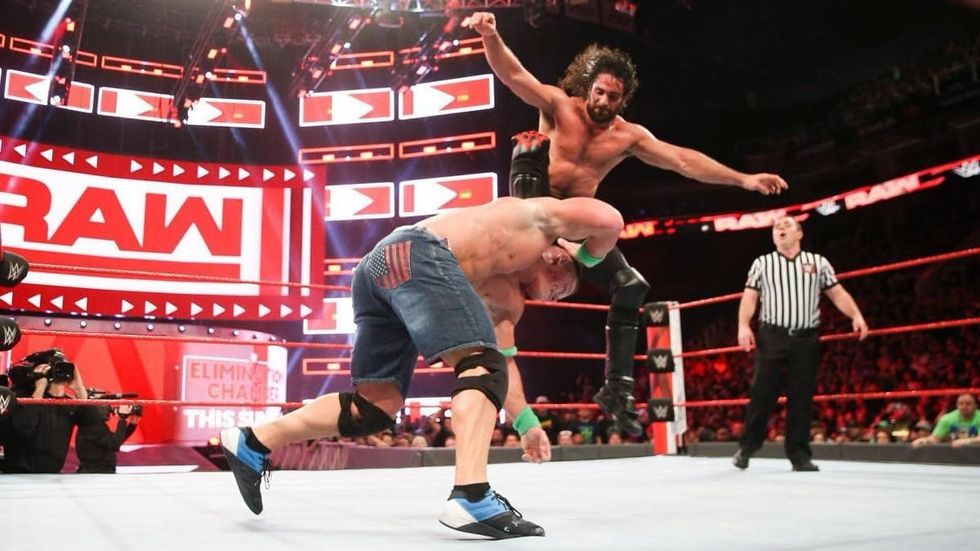 The Architect lasted over an hour on Raw's big Gauntlet Match. Photo by WWE.com
This is a weekly look at the action in the WWE:
Raw
Raw opened with a Gauntlet match featuring all seven competitors from the Men's Elimination Chamber Match. Shield members, Roman Reigns and Seth Rollins, started the match. The two went for over 20 minutes until Rollins rolled up Reigns to eliminate Reigns. Rollins, then, faced John Cena for almost 40 minutes. Cena did all he could to put away an exhausted Rollins, but nothing worked. Rollins finally put Cena away with a Stomp. Elias rushed to the ring to attack an exhausted Rollins, and he was successful eliminating the man who was in the Gauntlet match for over an hour.
Finn Balor was the next competitor to enter the match. Elias looked to dominate the match, but a Coup De Grace to his injured ribs allowed Balor to pick up the win. The Mizterouge distracted Balor as Miz, Balor's next opponent in the match, attacked him from behind. Balor looked to put Miz away with a Coup De Grace, but a pair of distractions from The Mizterouge helped the Miz pull Balor off the ropes and hit him with a Skull Crushing Finale to put him away. Unfortunately for Miz, the final entrant in the match was none other than Braun Strowman. Miz tried to run away, but Strowman was not having it as he chased him back to the ring. Miz did all he could, even hitting Strowman with a Skull Crushing Finale, but the Monster Among Men picked up the win after a Running Power Slam. The entire Gauntlet match took two hours, making it, according to Michael Cole, "The longest match in WWE history." 
The one, the only, Jeff Jarret was revealed as the latest member of this year's WWE Hall of Fame class. Before her match on Raw, Asuka spoke about her match with Nia Jax at Elimination Chamber. Nia Jax tried to surprise her from behind, but Asuka was ready. Jax got the last laugh, though, hitting her with a Samoan Drop and a barrage of Leg Drops. Needless to say, Asuka's match on Raw never happened. Titus Worldwide did it again, surprising The Bar with a win after Apollo rolled up Cesaro. A Six Women's Tag Match saw Sasha Banks, Mickie James and Bayley defeat Alexa Bliss, Sonya Deville and Mandy Rose after Banks submitted Bliss with a Banks Statement. Absolution did not take too kindly to their loss and began attacking the winning team. When it looked like they were going to turn on Bliss, Mickie James came in from the outside to help out her former partner.
Smackdown Live
AJ Styles opened the show explaining how he's beaten all four of his opponents at Fastlane individually, but a Fatal Fiveway will be a difficult challenge. Baron Corbin reminded him that it was him who defeated Styles for his United States Championship. Kevin Owens made his presence felt, too, when he came out to insult Corbin. Shane McMahon had enough of their childish banter and issued a pair of matches—Kevin Owens vs Dolph Ziggler and the main event, AJ Styles vs Baron Corbin. Dolph Ziggler was impressive the whole match, but a distraction from Sami Zayn allowed Owens to hit Ziggler with a monster Super Kick and win the match. Jinder Mahal and Bobby Roode exchanged words in the ring. Per usual, Mahal tried to instigate a fight between Roode and Randy Orton. It worked, as Orton came out and a brawl between the three ensued where Mahal got the last laugh.
Charlotte, Naomi and Becky Lynch tagged against The Riott Squad. Ruby Riott pinned Lynch after hitting her with a big kick. Sami Zayn "thanked" Kevin Owens backstage for getting him out of the rut he was in. He vowed to "lay down" for Kevin Owens at Fastlane so that he can become the WWE Champion. In a rematch from last week, The New Day defeated Benjamin and Gable. The Bludgeon Brothers did what they do every week—destroy whatever enhancement team gets in their way. The Champ that Runs the Camp, AJ Styles, defeated Baron Corbin in the main event after a Phenomenal Forearm. Owens and Zayn congratulated Styles by attacking him from behind. Corbin got the last laugh, though, as he hit both men with a pair of End of Days.
Just as I suspected, Raw blew this week out of the water with their go home show. The two hour Gauntlet Match totally paid off. Of course, the star of the match was Seth Rollins, the guy who is coming off of a bland tag team run. Rollins needed a boost, and boy, did he get it. I do not think he will win on Sunday, but this match did so much for him it should propel him to a great match come 'Mania. Mickie James helping Bliss on Raw was interesting, but I totally expect her to turn on her on Sunday.
The Blue brand seems to be building to another multi man match at Fastlane, a Triple Threat for the US Championship. Frankly, I think that match sounds great. I cannot say I'm crazy about Orton or Mahal, but Roode defeating both men would be huge for him. Fastlane is still a few weeks away, but we already have some interesting matches on the card. I expect something big to happen within the next few weeks in the women's division. Hopefully it is some sort of heel turn, the women deserve an awesome match for theSmackDown Live Women's Championship.
Luka Doncic had 41 points, nine rebounds and nine assists, and the Dallas Mavericks prevented the Houston Rockets from advancing to the quarterfinals of the NBA In-Season Tournament with a 121-115 victory on Tuesday night.
Kyrie Irving added 22 of his 27 points in the second half for the Mavericks, who had already been eliminated. Their victory allowed the New Orleans Pelicans to win Group B in the Western Conference with a 3-1 record.
Doncic fell just short of his 59th career triple-double. That would have tied him for ninth place all-time with Larry Bird. He shot 15 of 29, 3 of 10 on 3-pointers.
"Sometimes we take him for granted, and we shouldn't," Mavericks coach Jason Kidd said. "He's about winning, but it just so happens he's a walking triple-double.
"The Mavericks, who trailed by nine points in the third quarter, grabbed the lead for good at 99-98 with 6:25 to play on a drive by Irving. Leading 103-100 with 5:25 left, they went on an 8-2 run that included three free throws by Derrick Jones Jr. when he was fouled by Dillon Brooks on a 25-footer with the shot clock about to expire.
Jabari Smith Jr.'s 3-pointer with 8 seconds left pulled the Rockets within 119-115 before Dallas closed it out.
Doncic played after sustaining a low-grade sprain of his left thumb on his non-shooting hand early in Saturday's game. He wore a wrap on the thumb.
Doncic made a hook shot from the free throw line after recovering a loose ball near the baseline.
"I'm 2 for 2 in my career on the hooks," Doncic said, saying the other came while playing for the Slovenian national team against Sweden.
Irving shot 2 for 11 in the first half, 1 for 5 on 3-pointers, with no free-throw attempts. He was 6 for 11 in the second half, hitting 1 of 2 behind the arc, and sank all nine free throws.
"I told the team, 'Played well enough to win, not smart enough to win,'" Rockets coach Ime Udoka said. "We were extra-aggressive, especially at the end of the third quarter. Had multiple players make a few dumb fouls, put Kyrie at the line and got him going when he didn't have a lot going. You can be aggressive, obviously, but slapping somebody on a 3-point shot on the arm is an unintelligent play. It has nothing to do with aggression."
Alperen Sengun had a season-best 31 points for the Rockets, who had six scorers in double figures. Fred VanVleet had 10 points and 12 assists.
The Rockets have lost all six of their road games this season. They went into play leading the NBA by allowing an average of 104.4 points per game.
The Mavericks didn't use the specially built court for either of their home tournament games, citing dissatisfaction with the quality.
UP NEXT
Rockets: Will finish a back-to-back at Denver on Wednesday.
Mavericks: Host Memphis on Friday.
SportsMap Emails
Are Awesome