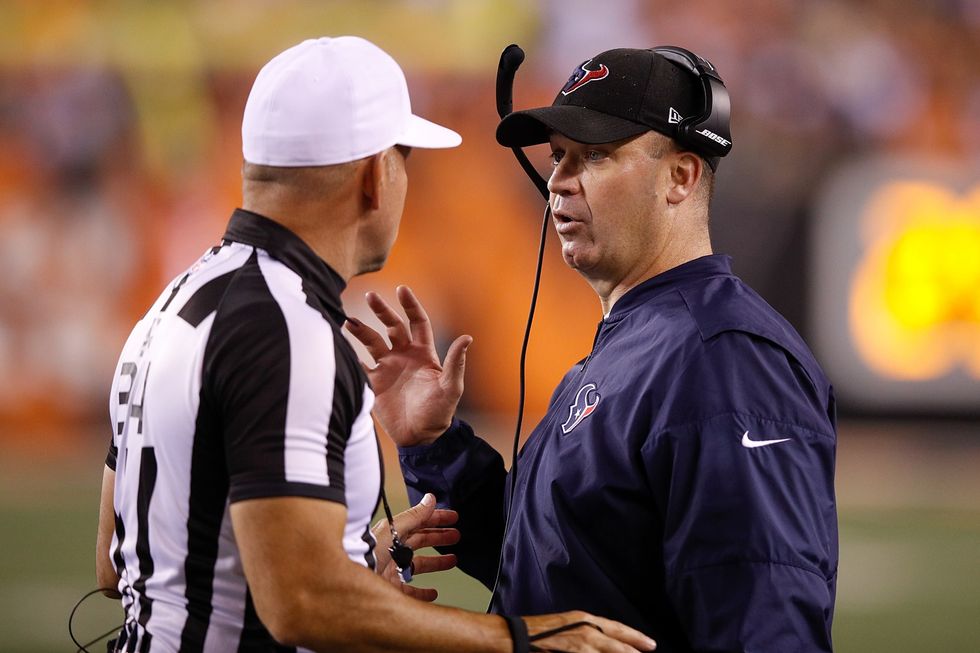 Bill O'Brien is not good at his job. But he is not going anywehere. Joe Robbins/Getty Images
Last week, I wrote about NFL fans freak outs after week one of the season. We've heard reactions of fans, as well as some in the media, that are upset about Texans' coach Bill O'Brien and some of his awful decisions. But he was extended four years to mirror the five year deal new general manager Brian Gaine was signed to. They're not going anywhere. Jadeveon Clowney is up for an extension soon, or he may be franchise tagged, or he could be dealt (highly unlikely, but a possibility nonetheless). Deshaun Watson is here to stay for the next four years whether he fulfills his potential under O'Brien or not. JJ Watt has done enough on and off the field to earn carte blanche status and will most likely retires a Texan.
I say all that to say this: it's time to grip reality if you're a Texans fan. This team most likely won't be going to the playoffs this year as most have hoped. Teams starting their season 0-2 have about an 11% chance of making the playoffs. Since 2007, only 10 of the 91 teams with that record after two games have done so. This is a fact, not hate. They've shown very little in the games against the Patriots and Titans that have spoken to an easy turnaround this season. But, there's always hope.
Watson has only eight starts so far in his career. Watt has had flashes of his former Defensive Player of the Year self. The run game has been a surprising plus considering the offensive line talent. Clowney has to show he can stay healthy and can be the player he thinks he is when he says he wants Aaron Donald/Khalil Mack money. Someone needs to put an APB out for Whitney Mercilus. I'm worried because they say he's been playing, but I haven't seen him. Will Fuller V showed what he can do against the Titans, but he too has issues with staying healthy and playing consistently just like Clowney.
The one thing that continues to put a damper on things is O'Brien's coaching and play calling. He continues to make mistakes managing the game and calling plays as if he's a first year coach with no prior experience. He needs someone to tear into his ass and light a fire under him. As arrogant as he can be, he's equally stubborn. Failing to see one's own faults can be blinding. Get an offensive coordinator and allow him to call plays, or get an assistant coach to be an ombudsman. Something has to give. The definition of insanity is doing the same thing over and over, yet expecting a different result.
Bob McNair has shown in the past he's willing to give head coaches and general managers a very long leash. Whether it's being too cheap to make a change, too dumb/proud to admit a mistake, or too loyal to pull the trigger, he's shown he won't make any drastic changes. I attribute this to being reactionary instead of being proactive. Too often this organization waits until it's too late to make these kinds of decisions. Other times, McNair has been too quick to make poor decisions (ex: not firing Kubiak after 2010; extending Matt Schaub, Brian Cushing, O'Brien, and others).
Bottom line: there's too much this team needs to go right for them to succeed. I'm not saying it can't happen, but it seems the opposing factors are mounting very quickly. I'm a natural born optimist, so I do believe they can turn it around. The more I see performances like Sunday, excuses from O'Brien, and the saltiness in post-game pressers, the more I believe this team is in a funk it can't pull itself out of.
Luka Doncic had 41 points, nine rebounds and nine assists, and the Dallas Mavericks prevented the Houston Rockets from advancing to the quarterfinals of the NBA In-Season Tournament with a 121-115 victory on Tuesday night.
Kyrie Irving added 22 of his 27 points in the second half for the Mavericks, who had already been eliminated. Their victory allowed the New Orleans Pelicans to win Group B in the Western Conference with a 3-1 record.
Doncic fell just short of his 59th career triple-double. That would have tied him for ninth place all-time with Larry Bird. He shot 15 of 29, 3 of 10 on 3-pointers.
"Sometimes we take him for granted, and we shouldn't," Mavericks coach Jason Kidd said. "He's about winning, but it just so happens he's a walking triple-double.
"The Mavericks, who trailed by nine points in the third quarter, grabbed the lead for good at 99-98 with 6:25 to play on a drive by Irving. Leading 103-100 with 5:25 left, they went on an 8-2 run that included three free throws by Derrick Jones Jr. when he was fouled by Dillon Brooks on a 25-footer with the shot clock about to expire.
Jabari Smith Jr.'s 3-pointer with 8 seconds left pulled the Rockets within 119-115 before Dallas closed it out.
Doncic played after sustaining a low-grade sprain of his left thumb on his non-shooting hand early in Saturday's game. He wore a wrap on the thumb.
Doncic made a hook shot from the free throw line after recovering a loose ball near the baseline.
"I'm 2 for 2 in my career on the hooks," Doncic said, saying the other came while playing for the Slovenian national team against Sweden.
Irving shot 2 for 11 in the first half, 1 for 5 on 3-pointers, with no free-throw attempts. He was 6 for 11 in the second half, hitting 1 of 2 behind the arc, and sank all nine free throws.
"I told the team, 'Played well enough to win, not smart enough to win,'" Rockets coach Ime Udoka said. "We were extra-aggressive, especially at the end of the third quarter. Had multiple players make a few dumb fouls, put Kyrie at the line and got him going when he didn't have a lot going. You can be aggressive, obviously, but slapping somebody on a 3-point shot on the arm is an unintelligent play. It has nothing to do with aggression."
Alperen Sengun had a season-best 31 points for the Rockets, who had six scorers in double figures. Fred VanVleet had 10 points and 12 assists.
The Rockets have lost all six of their road games this season. They went into play leading the NBA by allowing an average of 104.4 points per game.
The Mavericks didn't use the specially built court for either of their home tournament games, citing dissatisfaction with the quality.
UP NEXT
Rockets: Will finish a back-to-back at Denver on Wednesday.
Mavericks: Host Memphis on Friday.
SportsMap Emails
Are Awesome