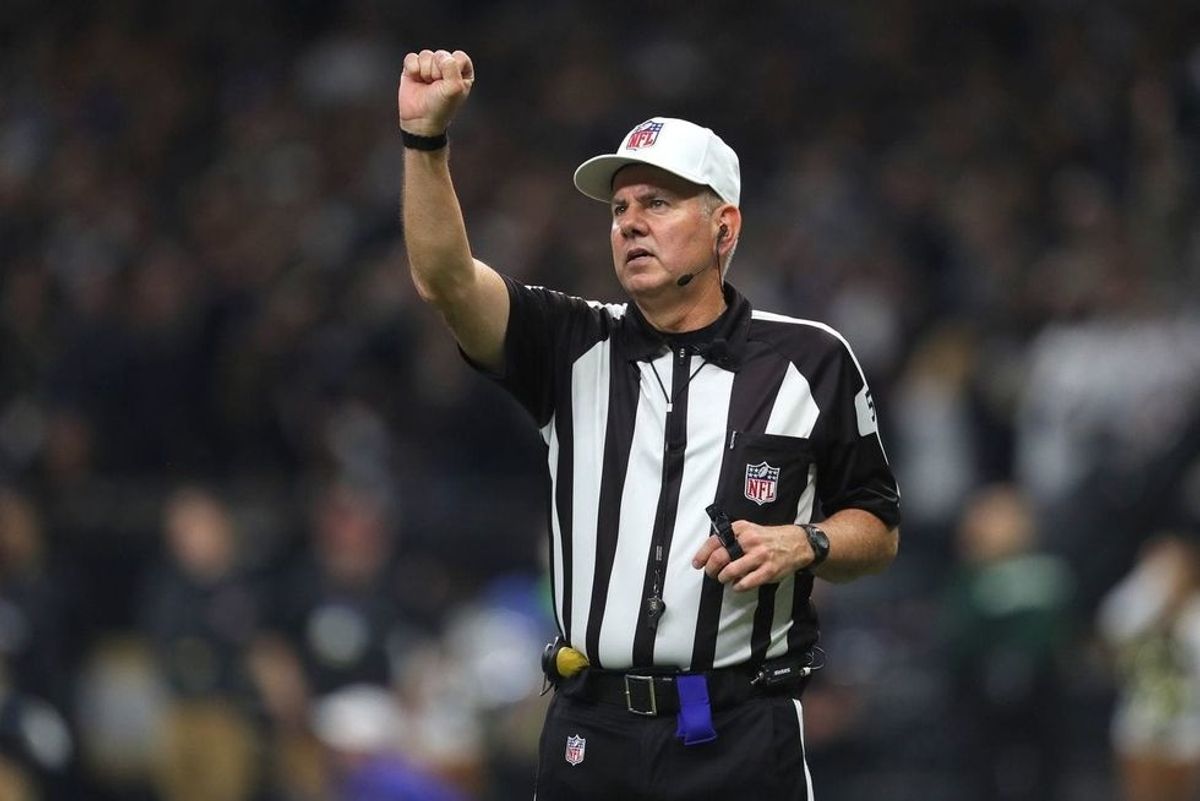 Officials have been at the heart of way too many decisions in all major sports. Whether it's a blown call, a call not overturned when reviewed, or a call being apologized for after it has ruined a game, things are getting more out of hand as opposed to them getting any better. I wrote about this earlier this year, but it's time to revisit the issue. There are so many varying factors as to why officiating needs to be addressed, but here are some of the things I think are most critical:
Challenges
Now that all major pro sports have some sort of challenge system, they all need to be fine tuned. What can/can't be challenged, the time in which a challenge can be issued, and how many times a team can challenge a call all need to be fine tuned. I believe the number of timeouts should be tied to the number of challenges. Challenges need to be made in a decisive fashion, which means...
Who makes the final ruling?
Whoever makes the final ruling on challenges needs to be held just as, if not more, accountable as the officials making the calls on the field of play. There needs to be an assigned replay official for every game with a team ready and already reviewing every call to ensure accuracy. They can also serve as feedback for officials' grading process, which factors into which officials and/or crews are allowed to preside over postseason games/series. These people need to be former and/or current officials, along with former players to ensure a balance is there. I say former players because the officials have a way of protecting their own. Prime example: the way NFL refs piss all over the pass interference challenges. There needs to be a more definitive, concise, and efficient way to rule on challenges instead of watching officials look at a monitor with an earpiece in until they're ready to tell the crowd what they've found out.
Postgame press availability
Coaches and players have been made to answer the media's questions pre and postgame for as long as I can remember. While there are specific times in which the media has access to coaches and players, officials have never been called to the carpet when it comes to media availability. The NBA refs has an official Twitter account that answers questions and puts out info from their perspective. Other leagues tend to leave it to the league's official Twitter accounts, or more specifically, the media that covers those sports to put out such info. How much of a game changer would it be to see and hear from the officials themselves? Officials in most sports try to make themselves apart of the action anyway. Why not give them the spotlight so many of them crave anyway? After all, some of them are failed athletes in the sport they're officiating in anyway.
Is there anything I left out? Am I off-base here? What do you guys think? Some that know me will assume this is a reactionary piece to my Saints losing to the 49ers, and they'd be dead ass wrong. This is about the kid who was so fascinated by the September 20, 1993 Monday Night Football matchup of Joe Montana's Chiefs vs John Elway's Broncos on that his parents got a portable TV set that could plug into a cigarette lighter so he could watch the game while we were on a road trip back home. This is about the grown man who's sick of hearing the fans and media alike complain, make excuses, and banter about poor officiating. It's about games that I, and most of you, love to watch that are getting ruined far too often because of what most consider "human error." While technology has made several improvements on officiating, there's still some room for improvement. Let's make this happen dammit! I'm sick of writing about this! it's time for action!
When Bryce Young and CJ Stroud were drafted with the first two picks of the NFL Draft, we knew they would be compared to one another for years to come.
And here we are just 11 games into the season and one quarterback has already seen his head coach fired. Panthers owner David Tepper spoke to the media on Wednesday and discussed his decision to fire Frank Reich, and also set the record straight on how they arrived at the decision to draft Young.
In so many words, Tepper basically blamed the Texans for how the top of the draft played out. He mentioned Stroud by name and said the Panthers were ready to draft him at No. 2 overall until the Texans backed out of the three-team trade with the Bears.
Tepper made a point of saying everyone in their building had Bryce Young as the top player on their draft board, despite rumors about Frank Reich preferring Stroud.
CJ Stroud and the Texans have been so much better than Bryce Young and the Panthers that Tepper clearly felt it was necessary to defend himself, and the decisions he's made for the organization.
In the end, the person that gets the worst end of the deal is Bryce Young. Coaching changes can be very difficult on young quarterbacks. And it looks like he'll have to learn a new offense in his second year when the Panthers hire a new coaching staff.
How fortunate we are as Texans fans to have DeMeco Ryans and CJ Stroud leading the team moving forward.
With all of this in mind, is there a reason Texans fans haven't fully bought in to the new-look Texans? JJ Watt was a guest on The Pat McAfee Show this week and was asked about the team's inability to fill the stadium on Sundays.
As a former player for the Colts, McAfee always thought Houston had the loudest and best fans in the NFL. And while the Texans are 9th in attendance this year according to ESPN, even CJ Stroud has asked for the fans to fill the stadium.
So there is something to it. You can see the empty seats in photos. So why aren't the Texans packing NRG with a shiny new franchise QB?
We believe the recent history of the team is why fans are slowly coming back. McAfee wasn't here for:
Bill O'Brien cussing at fans during games
Trading DeAndre Hopkins away for next to nothing
The Jack Easterby disaster
Deshaun Watson allegedly blaming ownership for why he wanted out
The Deshaun Watson scandal
Firing back-to-back coaches after one season, and the list goes on.
Don't miss the video above for the full conversation!
If you enjoy the videos, subscribe to SportsMapTexans on YouTube!
SportsMap Emails
Are Awesome