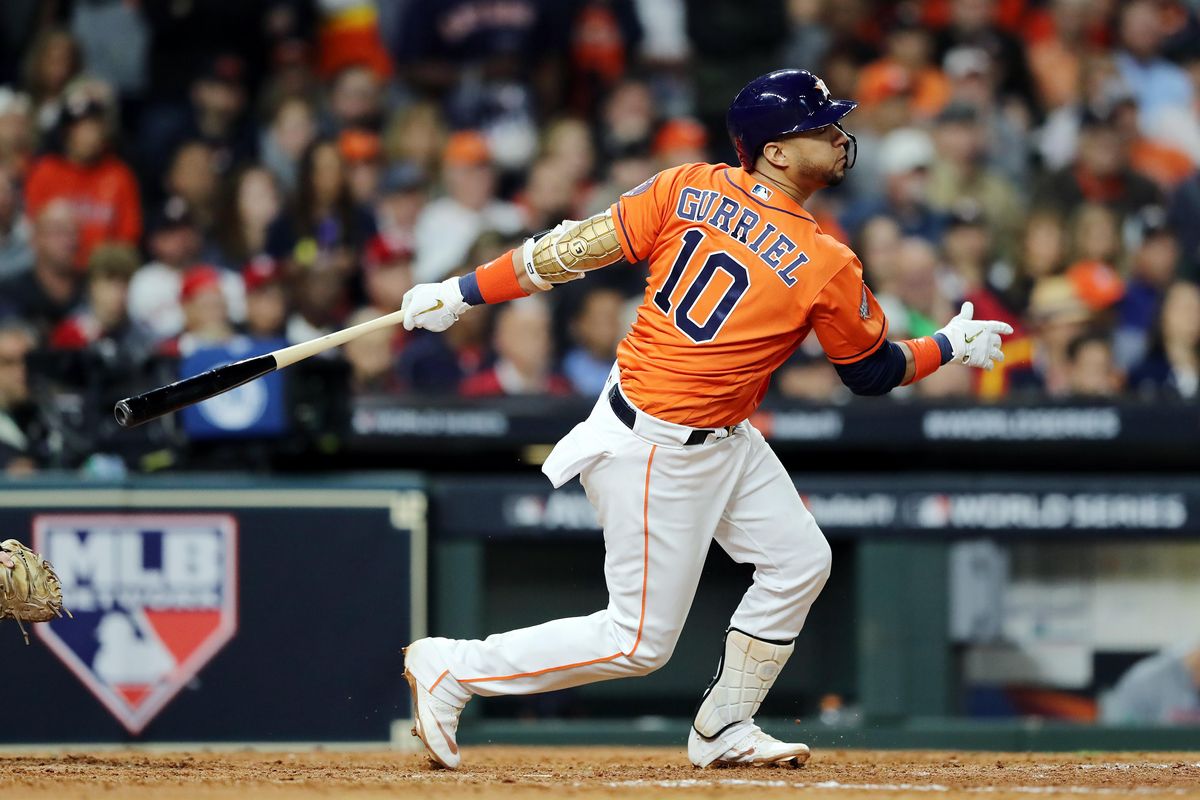 Yuli Gurriel has turned back the clock. Photo by Elsa/Getty Images.
The Astros are hovering around the .500 mark after a really hot start. Some of the usual suspects are producing and helping the team get back on track. Zack Greinke is the ace of the staff so far. In five games started, he has a 2-1 record, 22 strikeouts, a 2.76 ERA, and has pitched 32.2 innings in those five starts. While he hasn't played in as many games to get as many at bats, Jose Altuve has returned to form with a .347 batting average so far this season. Manager Dusty Baker has been toying with the lineup. Altuve has been moved around, but has still found a way to become one of the better hitters in the game again.
Those guys are expected to produce and help this team bounce back from a down year in a pandemic-shortened season. Sure they made the ALCS, but they were under .500 when the season ended and barely made the playoffs. They went on a nice run, but eventually flamed out. So who are the guys that are responsible for their uptick in production lately?
One guy that comes to mind via recency bias is Kent Emmanuel. Jake Odorizzi left his last start with what was described as forearm tightness after pitching only 1/3 of an inning. Emmanuel came in and threw 8 2/3 innings against the division rival Angels holding them to two runs as the bats woke up and pummeled the opposing pitching staff for 16 runs. Emmanuel is a 28-year-old rookie who toiled in the minors until now. He got his shot and made the most of it. I'm looking forward to seeing if this was a one off performance, or a sign of things to come. I'm sure Brent Strom will be able to get the most out of him.
A few years ago, Yuli Gurriel was considered one of this team's best hitters. After last season, and getting a year older at age 36 now soon to be 37, no one really expected "La Pina" to be leading the team in batting average, RBI, on base percentage, hits, walks and tied for second in homers. If aged like wine were an Astro, it would be Yuli. I've been pleasantly surprised at how disciplined he's been at the plate this year. He used to be a free swinger that was good with making contact. Now he seems to be keyed in on the strike zone and what pitches he can/can't swing on. This has translated to him being at his career best so far this year.
Cristian Javier is another guy I've been surprised by. He's 2-0 in three starts with a 1.32 ERA and averaging a healthy 13.2 strikeouts per nine innings. Javier is 24 years old and has good stuff. He needs to improve his stamina and pitch selection so he lasts longer in games. He's only averaging 4-5 innings per start so far. It could be Dusty holding off on him since it's early in the season, or it could be that Javier is still developing. Either way, I see this kid as being a potential long term member of the starting staff.

Ultimately, Yuli has been the most surprising to me. I thought he was showing signs of being washed up last year and would show more decline this season. He's not only proved those thoughts wrong, but he's managed to be the team's best offensive threat. If he keeps this up, he's definitely giving me Julio Franco vibes. Mind you, Franco played at the major league level until he was 49! Will Yuli be able to do the same? I doubt it. But he's managed to have a resurgence this year that has helped this team stay competitive and I'm all for it.
"Another one!"- DJ Khaled
That's the first thing that came to mind when I heard the news of Tytus Howard being shut down for the season because of a knee injury. They've had more injuries on the offensive line this season than Nick Cannon has Father's Day cards. Almost every member of the offensive line has spent time on the injury report. Howard went down in the same game in which Juice Scruggs was finally on the active roster. He missed the first 10 games due to a hamstring injury. The irony of next man up has never been so in your face.

The other thing that came to mind was the soap opera As the World Turns.
Howard had just signed an extension this offseason. So did Laremy Tunsil and Shaq Mason. They drafted Juice Scruggs, and signed a few guys too. Those moves, along with other holdovers, were expected to fill out the depth chart. Then a rash of injuries struck. At one point, only one of the original five guys expected to start was playing! In fact, they beat the Steelers 30-6 with that backup offensive line!

One can't have the expectation of backups to perform as good as the starters. They're professionals and are on an NFL roster for a reason. However, the talent gap is evident. One thing coaching, technique, and preparation can't cover is lack of ability or talent. The Texans have done a good job of navigating the injury minefield this season. While the Howard injury will hurt, I have faith in the guys there still.
As of this writing, the Texans are in the eighth spot in the AFC playoff picture. The Steelers, Browns, and Colts are all in front of them at the fifth through seventh spots respectfully. They've beaten the Steelers already. They play the Browns on Christmas Eve and their starting quarterback is out for the season. The Colts are relying on the ghost of Gardner Minshew to steer their ship into the last game of the season vs. the Texans with a possible playoff trip on the line. The Broncos and Bills are the two teams immediately behind them. They play the Broncos this weekend. Even though they're on a hot streak, this is the same team that got 70 put on them by the Dolphins. The Bills are the old veteran boxer who still has some skill, but is now a stepping stone for up & comers.
To say this team should still make the playoffs would be an understatement in my opinion. I believe in them and what they have going on more than I believe in the teams I listed above. That includes teams around them in the playoff race that aren't on their schedule. The one thing that scares me a little moving forward is the sustainability of this line. When guys get up in age as athletes, it becomes harder to come back from injuries. The injuries also tend to occur more frequently when it's a knee, foot, ankle, shoulder, elbow, or another body part critical to blocking for C.J. Stroud.
I know they just re-signed three of those guys and drafted one they believe can be a starter, but depth and contingency plans are a way of life in the NFL. We see how important depth was this season. Why not plan ahead? Don't be surprised if the Texans spend valuable draft capital on the offensive line. By valuable, I'm talking about first through third or fourth rounders. Those are prime spots to draft quality offensive lineman. Whether day one starters or quality depth, those are the sweet spots. The only guy on the two deep depth chart for this offensive line that wasn't drafted in one of those rounds was George Fant, who was an undrafted rookie free agent. While I highly doubt they spend any significant free agency dollars on the group, I'm not totally ruling it out.
The bottom line is, this team will be okay on the line for the remainder of this season. The only way that doesn't happen, more injuries. Stroud is clearly the franchise guy. Protecting that investment is a top priority. I don't care about a number one receiver, or a stud stable or singular running back if the quarterback won't have time to get them the ball. If the pilot can't fly the plane, you know what happens. So making sure he's happy, healthy, and has a great crew is of the utmost importance.
SportsMap Emails
Are Awesome