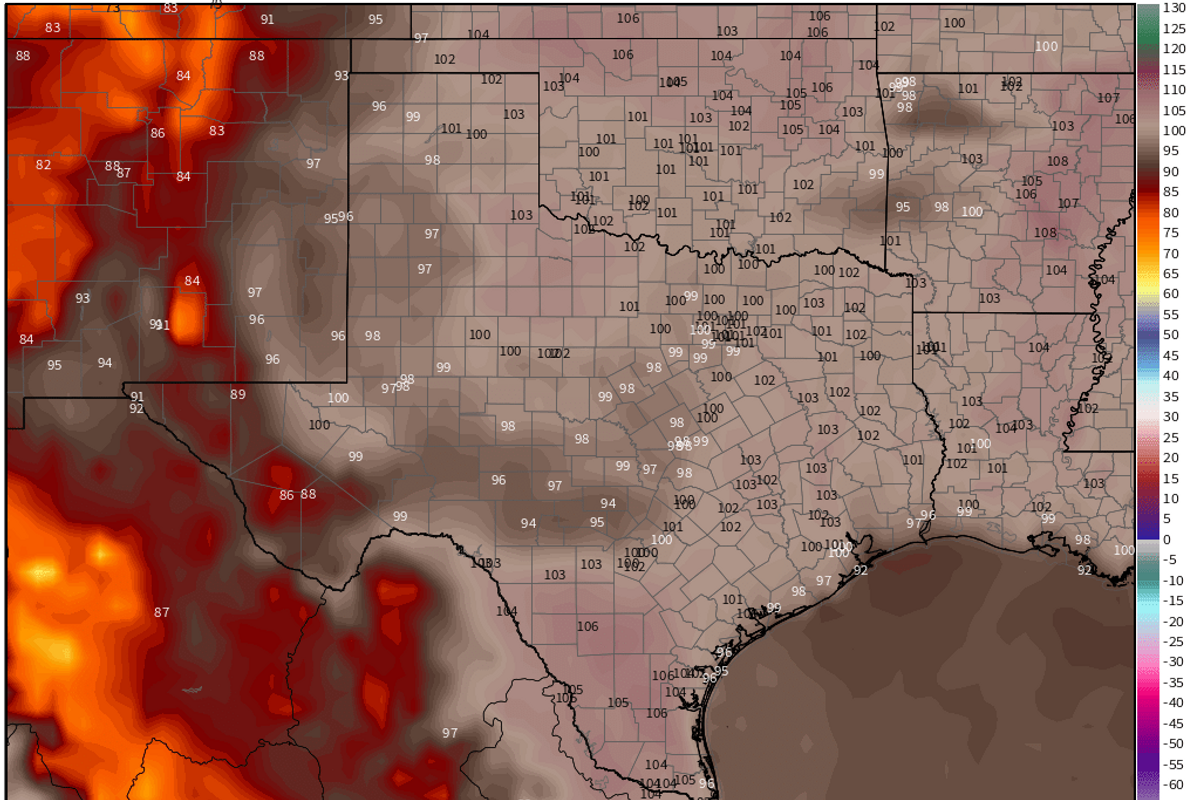 With Barry now out of the picture we return to our regularly scheduled summer misery. I wish I had better news to report but over the next few days our weather looks to be right on track with what you would expect from mid to late July in Houston.
Today and tomorrow we will be firmly under the grasp of an area of high pressure. High pressure on its own means hot temperatures in the summer, but for the next couple of days our area will be on the western side of the high pressure center which will bring our winds in from off the Gulf. This means even more humidity. Despite the air being very moist the area of high pressure (ie sinking air) will put a clamp down on our usual afternoon thunderstorm chances, so don't expect much relief in the form of rain. These higher humidity levels will push our heat index up into the 103-108 range over the next few days so take it easy outside. Yes, it is uncomfortable, but no, it is not out of the ordinary for July.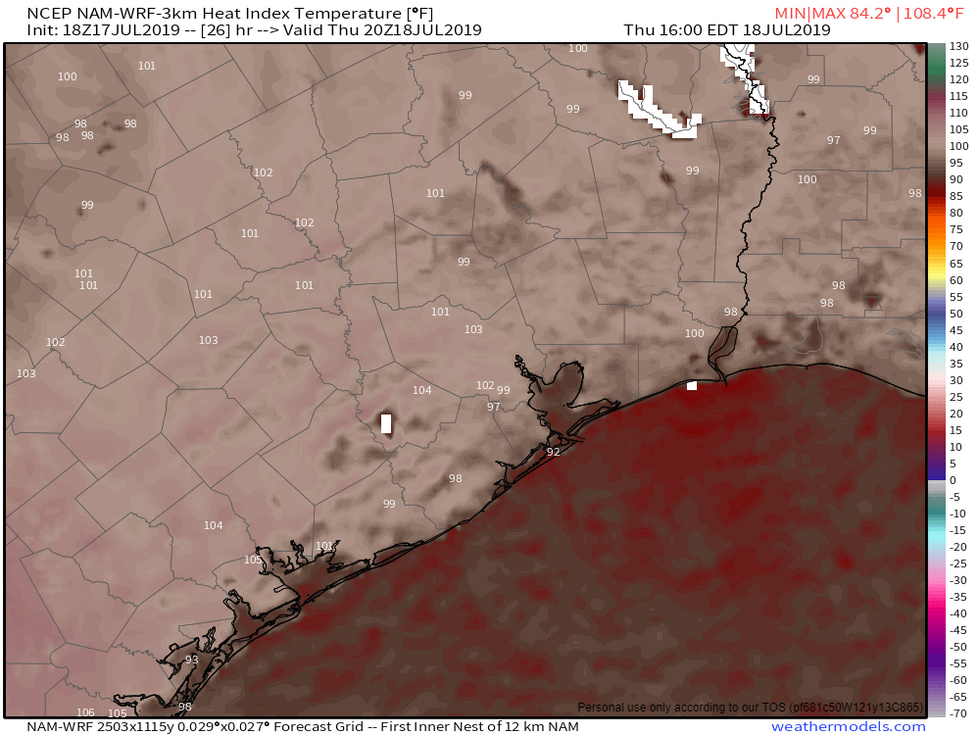 Forecast heat index for the area. Yes it will be uncomfortableWeathermodels.com
Now on to the good news. This weekend that high slides away from us opening up the possibility for a couple of cooling rain showers. It will still be hot and humid, but maybe not quite AS hot and humid as today and Friday.
In even better news, the forecast appears to be advertising the possibility of a weak front sliding though around the middle of next week. I'm not going to call it a cold front because the effect on our temperatures will be minimal. However, it does signify a shift in wind direction to the north which could at least provide a respite from oppressive humidity. This certainly isn't a guaranteed outcome, but it is something to keep a watch for.
Finally in case you were wondering we are approaching the top of the plateau for what is on average the hottest time of the year. Not surprisingly the end of July through mid-late August represent what is normally the hottest time of the year for us. I know this isn't news to anyone but just keep in mind that we are almost to the peak and in about a month averages will be beginning the trek back down hill. Again, I know this isn't breaking news but sometimes seeing it on a chart makes it seem not as bad.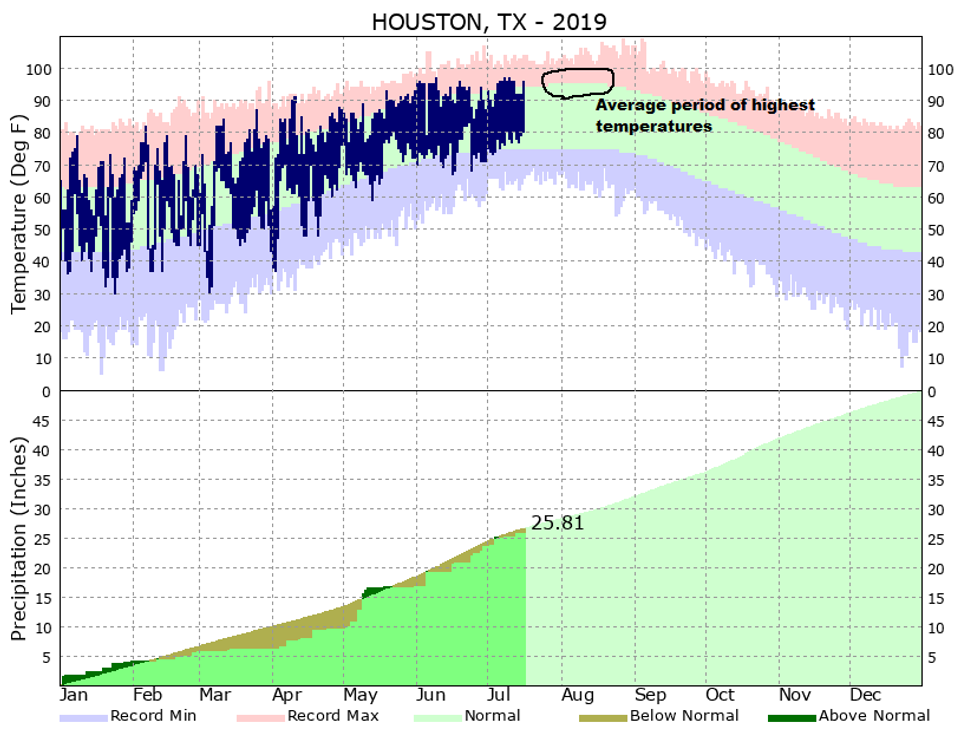 National Weather Service Houston/Galveston
Have a question for the WeatherMap mailbag? Tweet it to me @stephenuzick.

One of the big factors that led to the Texans' loss to the Jaguars on Sunday was the secondary. Multiple flags for pass interference gave Jacksonville more opportunities to pick up first downs and score points.
Can confirm #Texans backup CB Shaq Griffin was cut.

Griffin started 6 games this year when Derek Stingley was out with a hamstring.
— DJ Bien-Aime (@Djbienaime) November 29, 2023
So it's no surprise that DeMeco Ryans is making some changes to his defense this week. According to several reports, Texans corner Shaq Griffin has been cut.
Nickel corner Tavierre Thomas was flagged for PI more than once on Sunday, and was burned badly by Jaguars receiver Calvin Ridley for a touchdown.
DeMeco was asked after the game if he considered replacing Thomas with Desmond King or Shaq Griffin. Ryans didn't give a definitive answer, but it looks like we got one today.
One has to wonder if Desmond Kings' experience playing nickel was the reason for his promotion to the active roster and why Griffin was released. If Thomas continues to struggle, King looks like the next man up to replace him.
#Texans activate Denzel Perryman, promote Desmond King to active roster, release Shaq Griffin, sign Matt Ammendola and Garret Wallow to practice squad, released Gerrid Doaks from practice squad and placed Tytus Howard (knee-patellar tendon surgery pending) on injured reserve https://t.co/knyyoqo7yC
— Aaron Wilson (@AaronWilson_NFL) November 29, 2023
The Texans also made some other adjustments to their roster on Wednesday, per Aaron Wilson. Linebacker Denzel Perryman returns from suspension, kicker Matt Ammendola and linebacker Garret Wallow join the practice squad. They also released Gerrid Doaks from the practice squad.
The other big piece of news involves left guard Tytus Howard. He heads to injured reserve, ending his season after hurting his knee against Jacksonville.
SportsMap Emails
Are Awesome