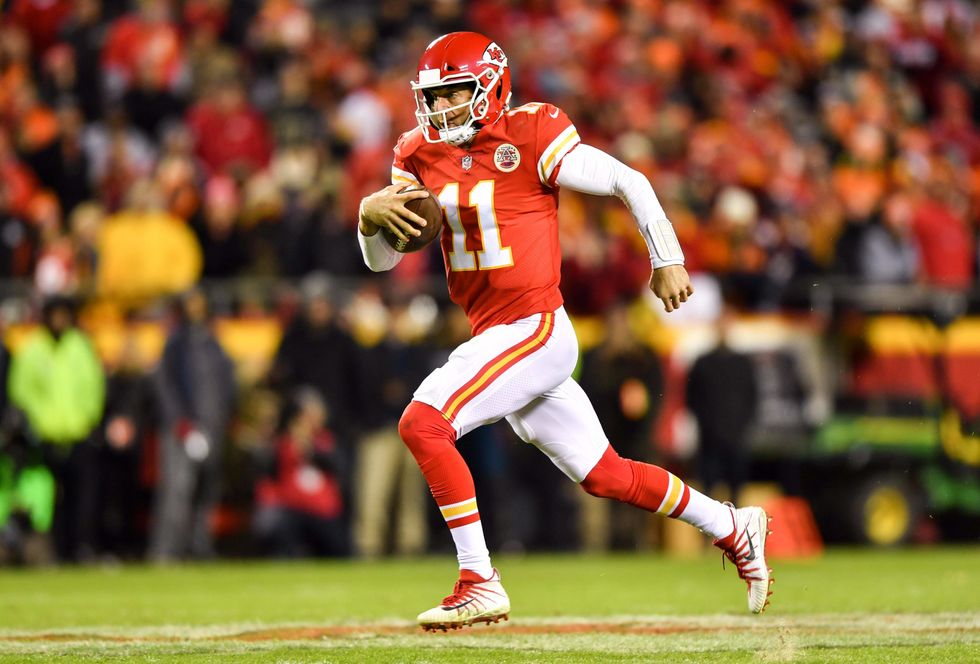 The Chiefs face a Buffalo defense that allowed 54 points to the Chargers last week. Peter Aiken/Getty Images
Below are my early 1/2 PPR fantasy rankings for Week 12. Most leagues are using points per reception these days, so take that into consideration when looking at the ranks. Six points are awarded for every receiving and rushing TD, and four points for every passing TD. If you are playing in a non-PPR league, pass-catching running backs lose a bit of value and so do possession receivers. Make sure you check the status of players that have been limited or out of practice. The rankings will be updated on Sunday morning.
QB
1 T. Brady NE
2 C. Wentz PHI
3 R. Wilson SEA
4 B. Roethlisberger PIT
5 M. Ryan ATL
6 D. Brees NO
7 C. Newton CAR
8 M. Mariota TEN
9 K. Cousins WAS
10 P. Rivers LAC
11 A. Smith KC
12 J. Goff LAR
13 E. Manning NYG
14 M. Stafford DET
15 D. Prescott DAL
RB
1 L. Bell PIT
2 M. Ingram NO
3 L. Fournette JAC
4 K. Hunt KC
5 L. McCoy BUF
6 M. Gordon LAC
7 A. Kamara NO
8 T. Gurley LAR
9 J. Howard CHI
10 C. Hyde SF
11 C. McCaffrey CAR
12 S. Perine WAS
13 T. Coleman ATL
14 J. McKinnon MIN
15 J. Mixon CIN
16 M. Lynch OAK
17 D. Lewis NE
18 J. Ajayi PHI
19 D. Murray TEN
20 I. Crowell CLE
21 A. Peterson ARI
22 A. Abdullah DET
23 L. Miller HOU
24 A. Morris DAL
25 L. Murray MIN
26 K. Drake MIA
27 B. Powell NYJ
28 A. Collins BAL
29 D. Martin TB
30 J. Williams GB
31 F. Gore IND
32 D. Johnson CLE
33 O. Darkwa NYG
34 D. Woodhead BAL
35 R. Burkhead NE
36 D. Henry TEN
WR
1 A. Brown PIT
2 A. Green CIN
3 J. Jones ATL
4 A. Thielen MIN
5 B. Cooks NE
6 J. Landry MIA
7 D. Hopkins HOU
8 T. Hill KC
9 D. Bryant DAL
10 M. Thomas NO
11 M. Evans TB
12 K. Allen LAC
13 S. Diggs MIN
14 D. Baldwin SEA
15 D. Adams GB
16 T. Hilton IND
17 L. Fitzgerald ARI
18 D. Thomas DEN
19 D. Funchess CAR
20 A. Jeffrey PHI
21 R. Woods LAR
22 G. Tate DET
23 J. Maclin BAL
24 M. Crabtree OAK
25 M. Sanu ATL
26 M. Lee JAC
27 M. Jones DET
28 J. Crowder WAS
29 R. Anderson NYJ
30 J. Smith-Schuster PIT
31 E. Sanders DEN
32 S. Shepard NYG
33 D. Jackson TB
34 C. Davis TEN
35 T. Ginn NO
36 A. Cooper OAK
37 D. Parker MIA
38 N. Agholor PHI
TE
1 T. Kelce KC
2 R. Gronkowski NE
3 Z. Ertz PHI
4 J. Graham SEA
5 E. Engram NYG
6 D. Walker TEN
7 J. Doyle IND
8 V. Davis WAS
9 K. Rudolph MIN
10 A. Seferian-Jenkins NYJ
11 G. Olsen
12 J. Cook OAK
13 A. Hooper ATL
14 J. Witten DAL
15 C. Brate TB
DEF
1 Jaguars
2 Ravens
3 Bengals
4 Steelers
5 Patriots
6 Chargers
7 Broncos
8 Seahawks
9 Falcons
10 Eagles
11 Rams
12 Vikings
13 Chiefs
14 Panthers
Kicker
1 S. Gostkowski NE
2 J. Tucker BAL
3 G. Zuerlein LAR
4 H. Butker KC
5 C. Boswell PIT
6 G. Gano CAR
7 W. Lutz NO
8 R. Succop TEN
9 M. Bryant ATL
10 W. Lutz NO
11 M. Prater DET
12 K. Forbath MIN
13 N. Rose WAS
14 B. Walsh SEA
15 A. Vinatieri IND
When Bryce Young and CJ Stroud were drafted with the first two picks of the NFL Draft, we knew they would be compared to one another for years to come.
And here we are just 11 games into the season and one quarterback has already seen his head coach fired. Panthers owner David Tepper spoke to the media on Wednesday and discussed his decision to fire Frank Reich, and also set the record straight on how they arrived at the decision to draft Young.
In so many words, Tepper basically blamed the Texans for how the top of the draft played out. He mentioned Stroud by name and said the Panthers were ready to draft him at No. 2 overall until the Texans backed out of the three-team trade with the Bears.
Tepper made a point of saying everyone in their building had Bryce Young as the top player on their draft board, despite rumors about Frank Reich preferring Stroud.
CJ Stroud and the Texans have been so much better than Bryce Young and the Panthers that Tepper clearly felt it was necessary to defend himself, and the decisions he's made for the organization.
In the end, the person that gets the worst end of the deal is Bryce Young. Coaching changes can be very difficult on young quarterbacks. And it looks like he'll have to learn a new offense in his second year when the Panthers hire a new coaching staff.
How fortunate we are as Texans fans to have DeMeco Ryans and CJ Stroud leading the team moving forward.
With all of this in mind, is there a reason Texans fans haven't fully bought in to the new-look Texans? JJ Watt was a guest on The Pat McAfee Show this week and was asked about the team's inability to fill the stadium on Sundays.
As a former player for the Colts, McAfee always thought Houston had the loudest and best fans in the NFL. And while the Texans are 9th in attendance this year according to ESPN, even CJ Stroud has asked for the fans to fill the stadium.
So there is something to it. You can see the empty seats in photos. So why aren't the Texans packing NRG with a shiny new franchise QB?
We believe the recent history of the team is why fans are slowly coming back. McAfee wasn't here for:
Bill O'Brien cussing at fans during games
Trading DeAndre Hopkins away for next to nothing
The Jack Easterby disaster
Deshaun Watson allegedly blaming ownership for why he wanted out
The Deshaun Watson scandal
Firing back-to-back coaches after one season, and the list goes on.
Don't miss the video above for the full conversation!
If you enjoy the videos, subscribe to SportsMapTexans on YouTube!
SportsMap Emails
Are Awesome