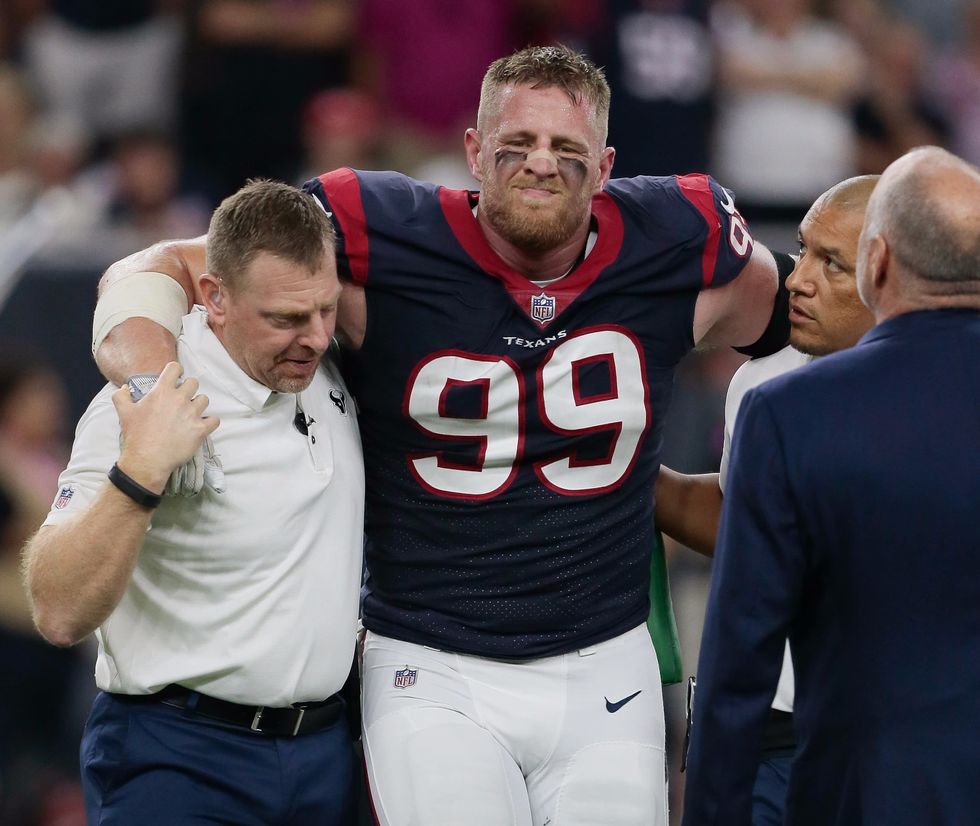 Does J.J. Watt need the time? Bob Levey/Getty Images
The concept of a two-game preseason comes up every year when injuries happen to important players and teams now have holes they weren't worried about before. This year there are already over a dozen players just with knee injuries who may not play in 2018. It's about normal, but everyone complains about it like it isn't anyway. It's a great idea for some because it's two fewer meaningless games we have to watch. But this change would have to be collectively bargained in a few years and might only happen if the players agreed to an additional two regular season games.
That's a hard sell all around. From the players standpoint, it's two more games they have to play at full speed where the chances of injury are higher. For the owners, it's two less games they collect huge revenues while paying the players very little. It also means teams will have less time in training camp to get healthy and coaches will have less time to evaluate players.
That could be a huge deal for teams like the Texans. Imagine if Deshaun Watson had to be ready for game action a week from now. Would he be less than 100 percent? Would he have to sit out a game or two while Brandon Weeden leads the offense against the Patriots and Titans? The same argument applies to J.J. Watt, Carson Wentz, and Andrew Luck; all star players who suffered major injuries last year.
If the season were to start after two preseason games, it would make them a lot more interesting too. It would mean that the starters see more playing time instead of sitting out most of the game. That's bad news for players at the back of the roster. Less playing time is less of an opportunity to make an impression. If coaches build their roster with less game film, it might not work out for the best.
Depending on when the regular season begins some players won't be ready to take the field. With a four-game preseason, major injuries have time to heal but also be put to the test in practice and games. But because the games don't count there is no reason for those coming off an injury to rush themselves. They generally start with a few plays and then work their way up to a full quarter or more. Shortening the schedule will force those same players into more action sooner. That could lead to a choice between recovery or getting prepared to play, but also make the games exciting. The current four-game schedule keeps a little more space for them to get used to full speed again.
Injuries are going to happen in football. It's not a matter of if; it's a matter of when. Major ones that end a season take longer to recover. Cutting the schedule to two games will help some teams, but for the Texans it would hurt. Having Watt and Watson and Mercilus all coming back from injured reserve, there may not be enough time; forcing them to play the start of the season in less than ideal condition. These players are ready to return though. If they really are back to full strength, then having to play in only two games will be just what they need to work hard but not overwork early on.
Fans will probably be happy. This is a sort of neutral part of the season for them. The games don't mean anything, but reporters write about them like they do. Fans spend money on game tickets only to see their favorite players for one series. On the other hand, preseason tickets are cheaper than regular season ones and it may be their only opportunity to make it to a game. A shorter preseason would mean that those games will have more stars on the field and fans will get a good look at them for a more affordable price.
The truth is, it's going to be a hot-button topic until the next negotiations for a new collective bargaining agreement in 2021. I'm on the side of shortening the preseason to two games. Adjustments will have to be made to training camp and regular season practice schedules so that players can be better prepared but it's doable. I welcome the shortened schedule and would enjoy less time watching meaningless games full of players that won't make a roster.
But owners don't want a two-game preseason. For them these four games are a cash cow. The players are making less money for these games. However; ticket prices, concessions, and merchandise are still the same. Cutting that revenue stream in half won't be on any of their to-do lists. There would have to be a lot of discussion and some give and take.
We will talk about this next year and the year after that. Nothing can change right now but I'm interested in the direction it's going. The Texans still have three games left before the start of the regular season. They will continue to evaluate the young guys and work others back from injury. This year they need the extra game while plenty of others don't. It won't be the same scenario next year.
Rockets' Alperen Sengun recently was a guest on Paul George's podcast and spoke about a conversation he had with James Harden.
He said Harden told him he was proud of him. This led George to saying he thinks this means the torch has been passed from Harden to Sengun.
Which made us wonder, is this now Sengun's team? Or is that a little premature and the true leader of the team is head coach Ime Udoka or Fred VanVleet?
Plus, Jalen Green has responded positively from being benched. Is this proof that Ime Udoka has the team taking more accountability and heading in the right direction?
Be sure to watch the video above as we break it all down!
If you enjoy the videos, subscribe on YouTube for our latest content.
Related Articles Around the Web
SportsMap Emails
Are Awesome