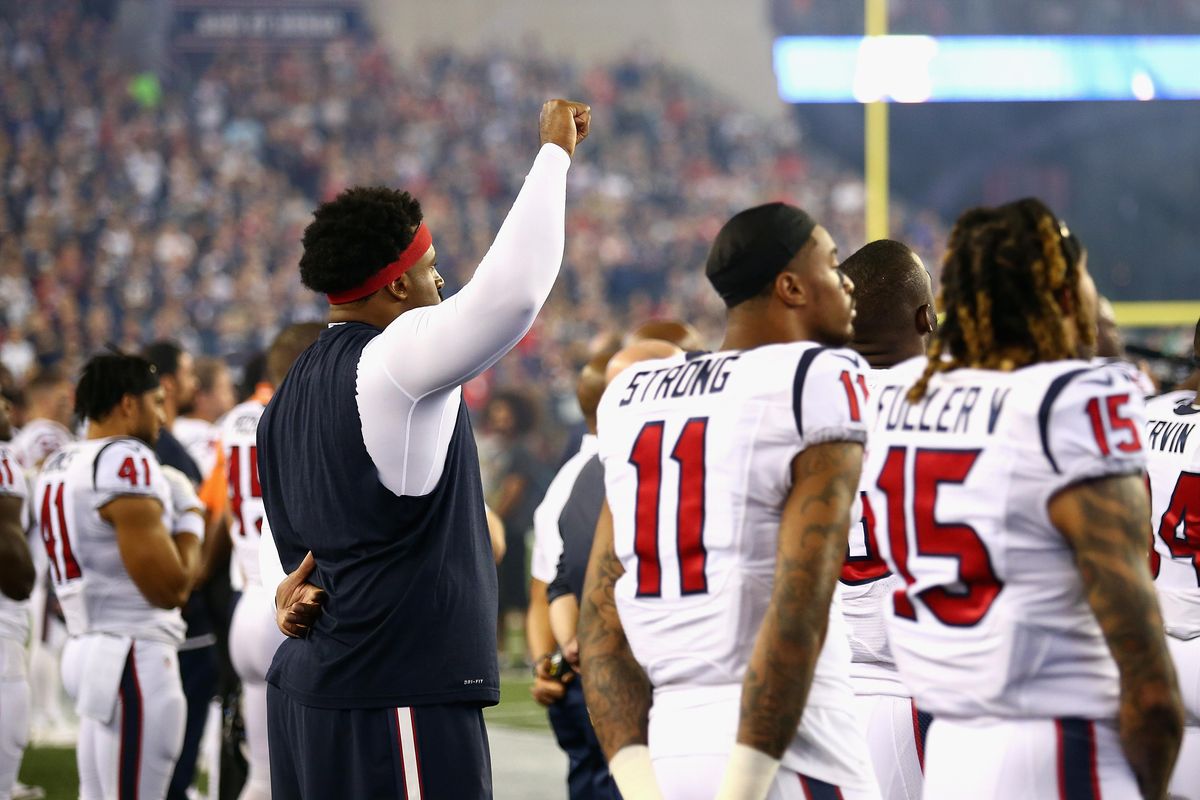 Houston athletes acted in protest of social injustice. Photo by Adam Glanzman/Getty Images.
Although it's catching criticism from governing bodies that believe sports should be above politics and pundits who admonish athletes to "shut up and dribble," Wimbledon is right to ban Russian players from participating this year.
Sports has a moral obligation to stand against Russia's unprovoked invasion of Ukraine.
How can world stage athletes remain silent when Russian soldiers are bombing hospitals and train stations, kidnapping Ukrainian children and shooting innocent mothers and grandparents and leaving their bodies lying in the street? It's a collateral but necessary penalty, Russian athletes can't be part of the global sports community.
In 1936, Adolf Hitler intended the Olympic Games in Berlin as a showcase for white supremacy. Jesse Owens shattered Hitler's scheme by winning four gold medals in track. Hitler refused to shake Owens' hand, reportedly saying, "Do you really think that I will allow myself to be photographed shaking hands with a Negro?" Whether he said those words or not, he did refuse to touch Owens' hand.
One of the reasons supposedly behind Wimbledon's decision to ban Russian players is a fear that a Russian may win the title. Two of the Top 10 players, Daniil Medvedev and Andrey Rublev are Russian. If either won, there would be a photo of a British Royal handing a trophy to a Russian, which the Kremlin could use as propaganda. After Medvedev won the U.S. Open last year, Russian president Vladimir Putin boasted, "This is how real champions play!"
Athletes are admired and charismatic figures with worldwide influence. Perhaps the best example of an athlete swaying American politics and effecting world change happened 55 years ago this week in Houston.
On April 28, 1967, Muhammad Ali, the heavyweight boxing champion of the world, refused induction into the U.S. Army at the Military Entrance Procession Station off San Jacinto Street in downtown Houston. Ali was arrested, stripped of his title and banned from boxing for the next three years. His act of civil disobedience however fortified the anti-Vietnam War movement.
Ali said, "Why should they ask me to put on a uniform and go 10,000 miles from home and drop bombs and bullets on brown people in Vietnam while so-called Negro people in Louisville are treated like dogs and denied simple human rights?"
There are other cases when Houston athletes acted in protest of social injustice. In October 2017, most of the Houston Texans took a knee during the national anthem after team owner Bob McNair said, "We can't have the inmates running the prison." McNair later denied that he was talking about his players.
In 2020, in the wake of George Floyd's murder, several Houston Texans, including head coach Bill O'Brien, took a knee during the national anthem to protest police actions against people of color.
"Yeah, I'll take a knee – I'm all for it," O'Brien said. "The players have a right to protest, a right to be heard, and a right to be who they are. They're not taking a knee because they're against our flag. They're taking a knee because they haven't been treated equally in this country for over 400 years."
Russian tennis players are in a tough spot. If they speak out against their country and president, they and their families might face reprisals back home. If they don't take a stand against the Russian invasion, they'll be seen as supportive of Russian atrocities in Ukraine.
Ukrainian tennis star Elina Svitolina puts it bluntly, "If players don't speak up against the Russian government, then it is the right thing to ban them."
Russian star Rublev said the Wimbledon ban is "total discrimination." Perhaps he should tell Putin that bombing a shelter for women and children is total indiscrimination.
After a quiet offseason the Houston Astros finally made some moves this week to bolster their roster by adding backup catcher Victor Caratini in free agency.
The club also acquired some bullpen help by trading for Royals reliever Dylan Coleman.
Astros GM Dana Brown also garnered a lot of attention this week by proclaiming Jake Meyers will get an opportunity to be the everyday starter in center field.
And while the Astros have been connected to several free agent relief pitchers by various media outlets, it appears Houston isn't looking to spend much money.
On the other hand, the Yankees went out and traded for superstar outfielder Juan Soto, and have shot past the Astros when it comes to World Series odds.
Which begs the question, have the Astros done enough to compete with the Yankees in 2024?
To be fair, we've seen this movie before. The Yankees historically out spend every team, but they've been a little more conservative over the last few years.
But now, they look like the Yankees of old when it comes to payroll.
Plus, we heard rumors a few weeks ago that the Astros might be looking to trade Jake Meyers. And now all of a sudden he's getting the first crack at the starting job in center?
Could this be a smoke screen from Dana Brown to try to elevate his trade value? We've seen the Astros value defense in center field before, they let George Springer walk and replaced him with Myles Straw.
Be sure to watch the video above as we decipher what the Astros are really trying to accomplish this offseason, and successful they can be in the AL in 2024.
SportsMap Emails
Are Awesome