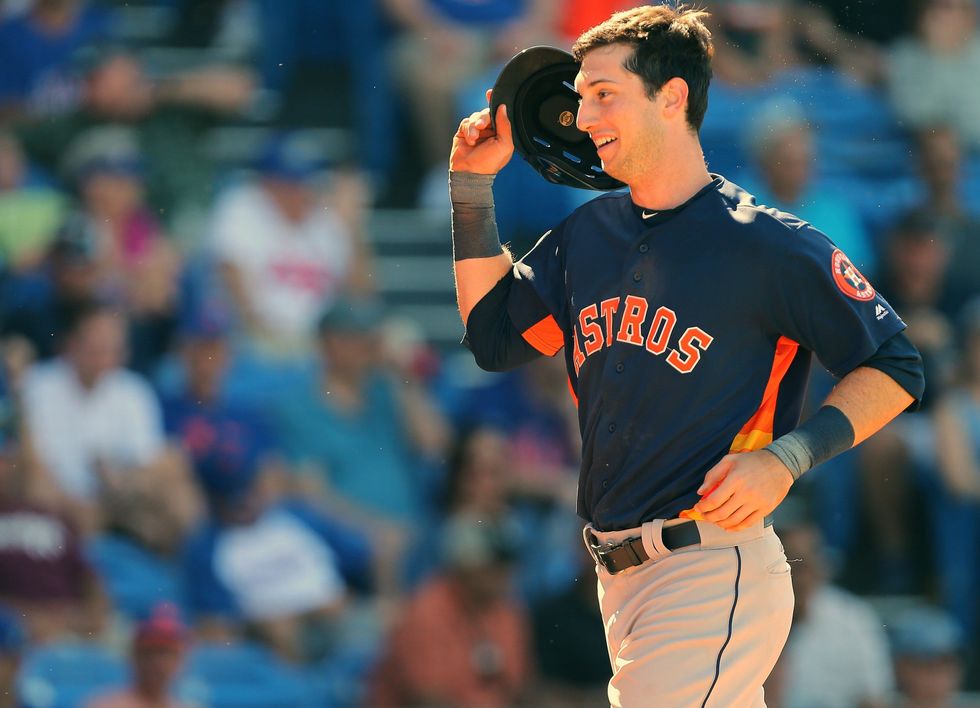 Kyle Tucker and pitcher Forrest Whitley are key pieces the Astros want to keep. Rich Schultz
Well that didn't last long. When all of Houston is hoping for some pitching help for their Astros; a huge domino just fell and well, it's not good.
The New York Yankees traded for Mariners left handed pitcher James Paxton per Jeff Passan of Yahoo Sports and Corey Brock of The Athletic. James Paxton sitting at a stout 6'4'' could have mirrored Justin Verlander's resurgence due to one of the best/reteamed coaching staffs in the MLB. Paxton is 30 years old and netted an impressive 30 games pitched in 2018, which included 11 won, 6, lost, 208 strikeouts, 2.9 WAR and an ERA of 3.67. The best geek stat for Paxton... 32% strikeout rate in 2018. The possibilities could have been endless but what done is done.
The Yankees gave up a pretty good haul for the lefthander. The Yanks will send No. 1 prospect, lefthander Justus Sheffield, No. 22 prospect righthander Erik Swanson and outfielder Dom Thompson-Williams.
Astros President of Baseball Operations and General Manager Jeff Luhnow was not willing to deal his best prospects (Kyle Tucker and Forrest Whitley) gutting his minor leagues but with Paxton having two years of arbitration control left its hard not to wonder why he didn't take the chance. Tucker has drastically disappointed and Whitley is slightly above average at best. Whitley has already proven to be immature with his 50 game suspensions in 2018. Whitley has gone 7-10 in 38 starts with a 3.14 ERA, 163 innings pitched and 239 strikeouts.
Now that Paxton is gone, Noah Syndergaard should bethe  top priority. Although he is up for arbitration in 2019 this should not have the Astros or Luhnow afraid to go for it. He is simply too strong to overlook. Syndergaard went 13-4 with an ERA of 3.03 and a WAR of 4.0. The Pirates tried and failed to trade for him but they also don't have the farm system that the Astros have. The acquisition may not take much seeing that he will have to get paid soon but that should drive the price needed to acquire him way down. It may not even need to include Whitley. With the departure of this generation's Tom Glavine and Andy Pettitte (Dallas Keuchel) imminent, there is plenty of room for a top arm in the rotation. Do not get me wrong he will be expensive but the Astros should not hesitate to pay him over Keuchel.   
This is nothing new and to date it has worked out for Luhnow. All Astros fans can do now is hope that the plan that Luhnow has on paper can be carried out in real life. He is off to a great start by trading for Blue Jays utility man Aledmys Diaz. Luhnow better hope that Whitley is who he thinks he is.
Rockets' Alperen Sengun recently was a guest on Paul George's podcast and spoke about a conversation he had with James Harden.
He said Harden told him he was proud of him. This led George to saying he thinks this means the torch has been passed from Harden to Sengun.
Which made us wonder, is this now Sengun's team? Or is that a little premature and the true leader of the team is head coach Ime Udoka or Fred VanVleet?
Plus, Jalen Green has responded positively from being benched. Is this proof that Ime Udoka has the team taking more accountability and heading in the right direction?
Be sure to watch the video above as we break it all down!
If you enjoy the videos, subscribe on YouTube for our latest content.
Related Articles Around the Web
SportsMap Emails
Are Awesome