HOUSTON CAN'T AFFORD TO LET COLE WALK, ESPECIALLY TO THEIR COMPETITION
You have to keep the Cole Train in Union Station
Oct 16, 2019, 6:56 am
Composite photo by Brandon Strange
After another dominating playoff performance Tuesday in the Bronx against the Yankees in Game 3 of the ALCS it became even more imperative that the Astros do whatever it takes to re-sign him in the off-season. May 22nd was the last time he lost a game, including the playoffs and over that time he is 18-0 in 24 starts with a 1.66 ERA. The last time he lost a game Russell Westbrook was in OKC and Yordan Alvarez was in AAA. The world is finding out what we already knew, he has been the most dominant pitcher in the game for the last four and a half months and the front runner for his first Cy Young Award, along with teammate Justin Verlander. Could you imagine him doing anything like that in a Yankees uniform next season? Would it break your heart to see him in Dodger Blue and putting up similar numbers in the near future? If he signed with the Angels would it crush your soul, knowing not only that he wouldn't be on your team but he would be on a competing team in your division? Well if all of that is too much for your heart and soul to bear, then get out your good luck charm, send positive thoughts to whatever god you pray to and hope that Jim Crane and Jeff Luhnow see what the world is seeing and realize the only place for this "Cole 45" to hang his hat in H-town.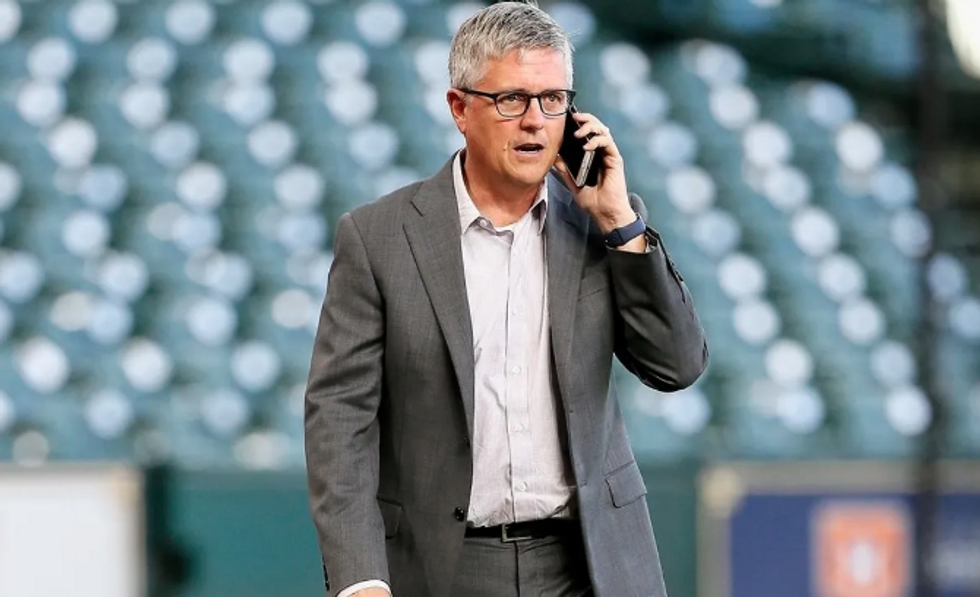 Cole is entering the prime of his career and since he came to Houston he has gotten better, his velocity faster, breaking pitches sharper and strikeout rate higher, while his ERA has been lower. Cole is a student of the game that loves analytics and can't get enough data and information as he uses every tidbit and morsel to his advantage every time he toes the rubber. That's another reason the Astros are a match made in heaven for him. Houston does the numbers game and the implementation of any technology out there that can give the club and specifically a pitcher, an advantage. They are widely considered the best organization out there when it comes to advanced scouting and number crunching. Luhnow is a borderline baseball genius that has seen the game evolve and grow and knows how to stay ahead of the curve by embracing every piece of video, staying on top of every digital advancement and never shying away from any innovation that may be the next big thing. He has put the Astros on a very high level when people discuss the best organizations in the game and good clubs don't let great players walk out the door.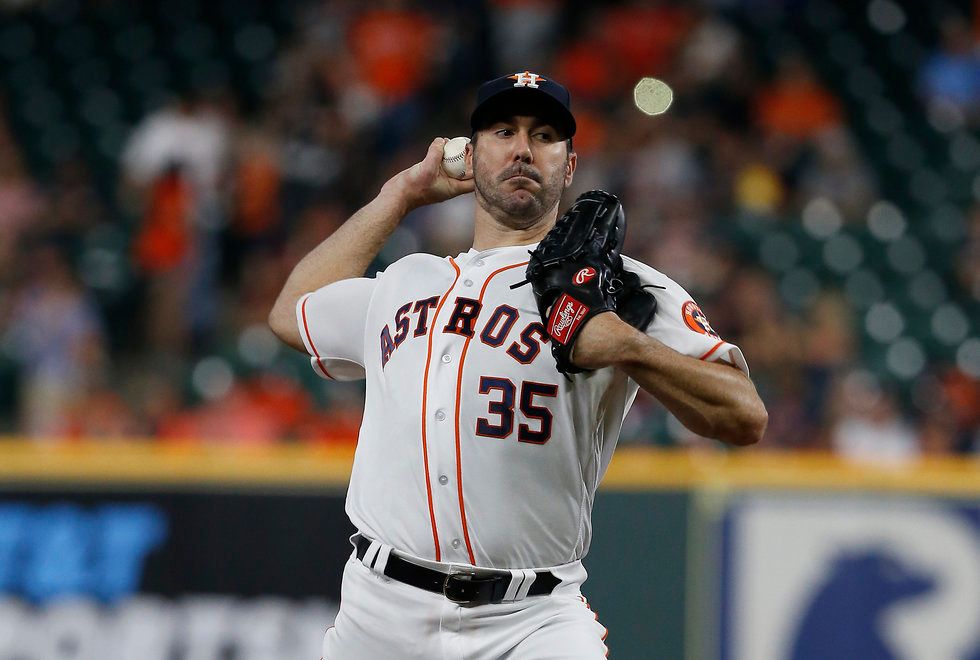 Photo by Bob Levey/Getty Images
Justin Verlander is 36 and is a future Hall of Famer that has two years left on his contract extension that guarantees he will be in a Houston uniform for the heart of the franchise's biggest window in team history to consistently compete for championships. He brought the city its first World Series title by choosing them after they let it be known he was at the top of their trade wishlist in 2017. He is due to make over 30 million dollars a year for the next two seasons and deserves every penny. When that deal is done, there is no doubt the team needs to make their best efforts to re-sign him, but not at that price tag. As he enters the "back 9" of his legendary career, winning has a value too and veterans want to win before they give in to father time and walk away. Obviously, he didn't show any signs of slowing down this season, but if he knows when he steps back a little that he is giving the keys to Cole and the team knows it too, maybe they can talk now about the contract then and saving some money later so they can pay Gerrit now?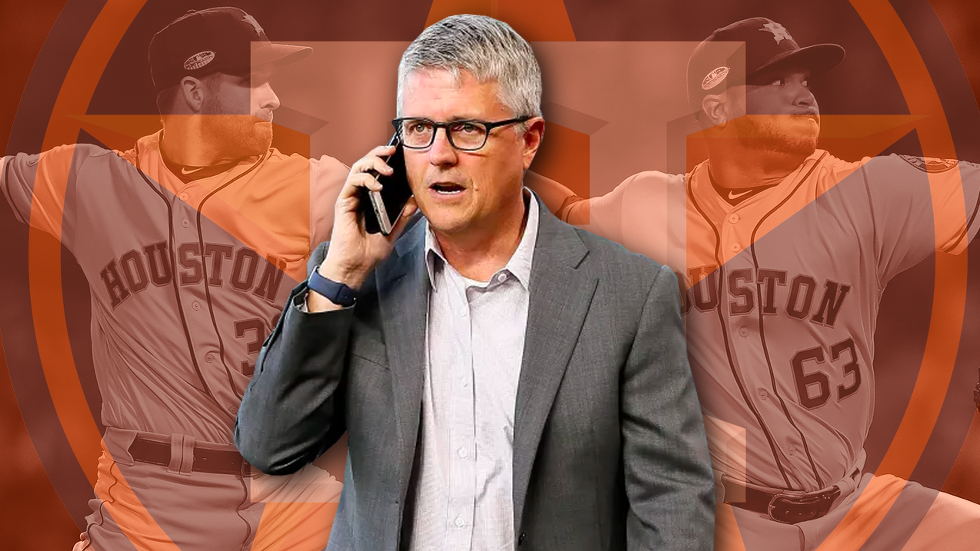 Composite photo by Jack Brame
I know the Astros aren't made of money and for every guy they have signed or would love to sign, there are going to be casualties that fall by the wayside due to the budget and salary cap. For every Bregman in the fold, there's a Springer or Correa with a deal coming due in the not so distant future. With that said, bringing back Cole is not as hard as it seems. If you can find a trade partner for Josh Reddick and his $13 million dollar contract you have a base. Passing on Colin McHugh and Joe Smith would save you almost $14 million more. Wade Miley most likely will not return do there's another $4.5 million off the books. That puts you at a little over $32 million which should put you in the discussion for Cole to consider a return. If you need to sweeten the pot a little more you could consider letting Hector Rondon and his $4.5 million a year depart and that should be enough to get it done. You can always start there and add more later when Verlander's deal is up. The losses are completely outweighed by the greatness you would retain. Kyle Tucker replaces Reddick, Josh James is your new Rondon, Lance McCullers is supposed to be healthy in 2020 so that makes McHugh and Miley expendable. It really seems doable.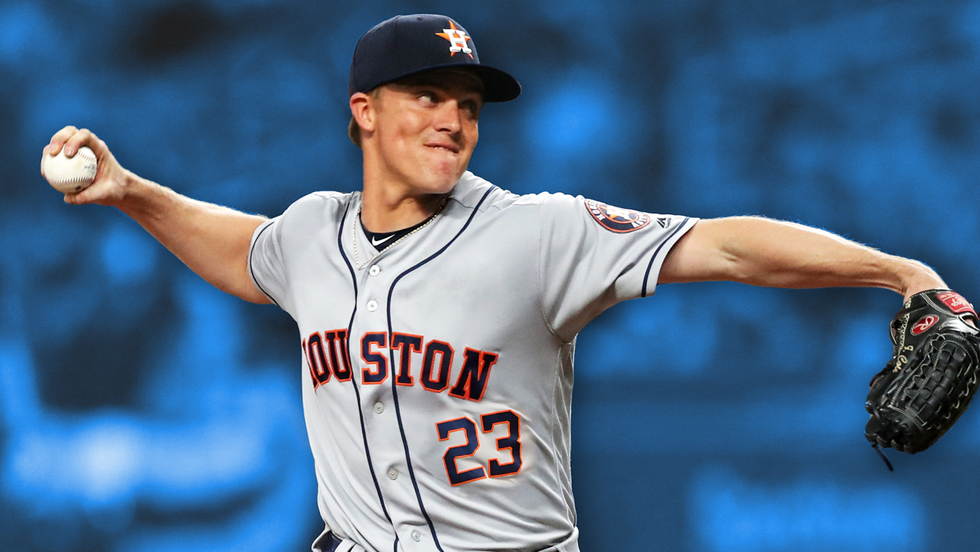 If you are still looking for more cash and more flexibility would you consider moving Zach Greinke and his $34.5 million dollars a year deal that has two years left on it? Even though Houston is only on the hook for $49 million of the $69 million remaining, if you can recoup a few top prospects to replenish your farm system after you gave up four highly-rated players to get him, I'm doing the deal. If trading Greinke means signing Cole and giving you more cash to try and keep Springer or Correa, I'm doing the deal and never looking back. Starting pitchers have great value in this league so teams will want Grienke and that would allow you to keep one of the best young starters in the game who is six years younger, throws harder and lasts longer than Greinke can at this stage in his career. He was worth the risk when the team traded for him but may have more value going forward if you can find him a new team. Are you guys with me? What do you think? Let me know in the comments below. Go Astros!