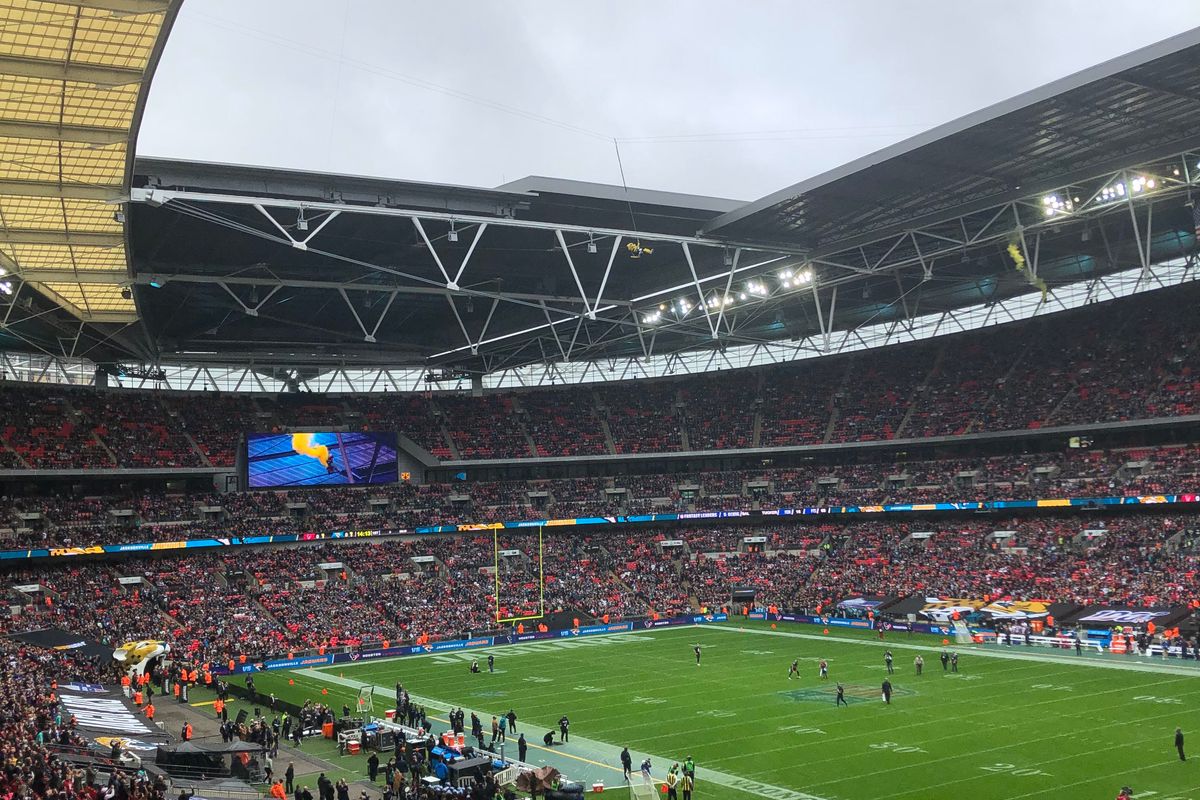 It was not always pretty. But it was dominant. The Texans came to London and knocked off the Jaguars 26-3. It was their best defensive performance of the season, even without J.J. Watt. It was also my first experience in London, along with the Texans. It has been magnificent. You can read more about the actual experience on Wednesday, but here are 10 observations from the Texans win over the Jaguars:
1) Watson playing at a high level
One of the cool things about going to this game was I got to sit next to a friend from London who was attending his first NFL game. He asked what to watch for. I said, "No. 4 for the Texans, and No. 10."
After a few early magical escapes, my friend said "my goodness, he is amazing. What a lovely player." (Insert British accent).
He was amazed, and wants a Watson jersey now. Yes, we have seen bigger stat games from Watson, but this was outstanding. He was sacked once but escaped many others and made one amazing play after another. He threw for just 201 yards, but completed 22 of 28, had two touchdowns and an 86.0 Total QBR. He also rushed for 37 yards on seven carries and did not turn the ball over. He is becoming better and better, and most importantly did not have that bad decision at the wrong time. He is growing up before our eyes.
My friend nailed it. Watson is a "lovely" player.
2) The not so good
Seven penalties, mostly on offense, almost derailed things. The first drive they were moving the ball well and wound up with a first and 35 thanks to two penalties. They had to settle for a field goal. That was about the only negative of the day. Well, one more...
3) Impact day for Hyde...and one blemish
Carlos Hyde had one of those days where if you looked at the box score, you would say "wow." He had 160 yards on 19 carries. Yes, he was solid, but much of that came on a 58-yard run late in the game...where he was stripped of the ball just outside the goal line for a touchback. It was the Texans only turnover and briefly cost them points. The Texans picked off a pass on the next play and would go on to score, taking Hyde off the hook. He was solid before that run, but that burst inflated his numbers. The fumble wound up not hurting, but against the opponents to come, that can't happen.
4) Run stoppers
The Texans are pretty good against the run. Leonard Fournette is pretty good at running the football. The Texans won this one, holding Fournette to 40 yards on 11 carries. QB Gardner Minshew added 34 yards on 4 carries for a total of 74 yards on 15 carries. The 4.9 average looks good, but the reality is the Texans controlled the line against Fournette, and dared Minshew to beat them through the air. He couldn't.
5) And against the pass....
Romeo Crennel had a really good game plan. Force Minshew to beat you through the air. He did put up 309 yards, but on 27 of 47 passing. Crennel was willing to allow some pass plays, gambling that Minshew's lack of accuracy would stall the team.
It worked.
Minshew was sacked three times, and after a very clean three quarters, threw two bad interceptions in the fourth quarter. Crennel had been playing for those mistakes, and they finally happened.
6) That overall defense...
So yes, they gave up yards, 356 to be exact. But they held the Jags to three points (it should have been six; the Jags botched a field goal try). They also forced four turnovers, all in the fourth quarter. They held the Jags to 4-of-13 on third and fourth down combined. The Jags were 0 for 1 in the red zone. Results wise, this was the best defensive performance of the year. They played bend-but-don't-break perfectly.
7) O'Brien does it again...
It's been hard to criticize Bill O'Brien the past few weeks, and we won't do much here. But the clock management at the end of the first half...They wound up trying a 57-yard field goal and failing, but had they managed things better and gone for a TD as opposed to playing for a field goal, they could have come away with points. It wound up not mattering, but still...It will in tighter games.
Having said that, he called a very good game on offense against a terrific defense, and it made all the difference.
8) Secondary getting well
Gareon Conley led the team in tackles and defensed two passes; Briean Boddy-Calhoun had a sack; Jonathan Joseph returned and had four tackles, defensed one pass but also got beat several times again. Still, with a week off, the group could look much different if Bradley Roby, Tashaun Gipson and Lonnie Johnson return. The fill-ins played well. They should be better once the others return.
9) No Tunsil, but...
Left tackle Laremy Tunsil was not able to go, and Chris Clark replaced him and had a penalty but otherwise was functional. Titus Howard returned at right tackle and looked like he had not missed a beat. With a week off, and Tunsil's return, the Texans offensive line should be just fine.
10) A great time at Wembley
The Texans leave with a 6-3 mark, back on top in the AFC South. The Colts lost, the Titans lost, and of course the Jaguars lost. It was a good day all around.
The experience at Wembley Stadium was amazing. It is the most incredible place I have been for sports, and the British have really embraced American football. There were many Jags fans, or at least Pro-Jags attendees, and it was clear none of them came from Jacksonville. The Jags have done a great job of building this market. Still, you saw jerseys from every team; British fans of the sport will go to see almost any game. That is very good for the future of the sport in England.
It's also safe to say the Texans picked up a few fans as well, especially Watson. My friend wasn't the only one to see it. He is a "lovely" player.
And the Texans left Wembley with a bloody good triumph.
One of the big factors that led to the Texans' loss to the Jaguars on Sunday was the secondary. Multiple flags for pass interference gave Jacksonville more opportunities to pick up first downs and score points.
Can confirm #Texans backup CB Shaq Griffin was cut.

Griffin started 6 games this year when Derek Stingley was out with a hamstring.
— DJ Bien-Aime (@Djbienaime) November 29, 2023
So it's no surprise that DeMeco Ryans is making some changes to his defense this week. According to several reports, Texans corner Shaq Griffin has been cut.
Nickel corner Tavierre Thomas was flagged for PI more than once on Sunday, and was burned badly by Jaguars receiver Calvin Ridley for a touchdown.
DeMeco was asked after the game if he considered replacing Thomas with Desmond King or Shaq Griffin. Ryans didn't give a definitive answer, but it looks like we got one today.
One has to wonder if Desmond Kings' experience playing nickel was the reason for his promotion to the active roster and why Griffin was released. If Thomas continues to struggle, King looks like the next man up to replace him.
#Texans activate Denzel Perryman, promote Desmond King to active roster, release Shaq Griffin, sign Matt Ammendola and Garret Wallow to practice squad, released Gerrid Doaks from practice squad and placed Tytus Howard (knee-patellar tendon surgery pending) on injured reserve https://t.co/knyyoqo7yC
— Aaron Wilson (@AaronWilson_NFL) November 29, 2023
The Texans also made some other adjustments to their roster on Wednesday, per Aaron Wilson. Linebacker Denzel Perryman returns from suspension, kicker Matt Ammendola and linebacker Garret Wallow join the practice squad. They also released Gerrid Doaks from the practice squad.
The other big piece of news involves left guard Tytus Howard. He heads to injured reserve, ending his season after hurting his knee against Jacksonville.
SportsMap Emails
Are Awesome