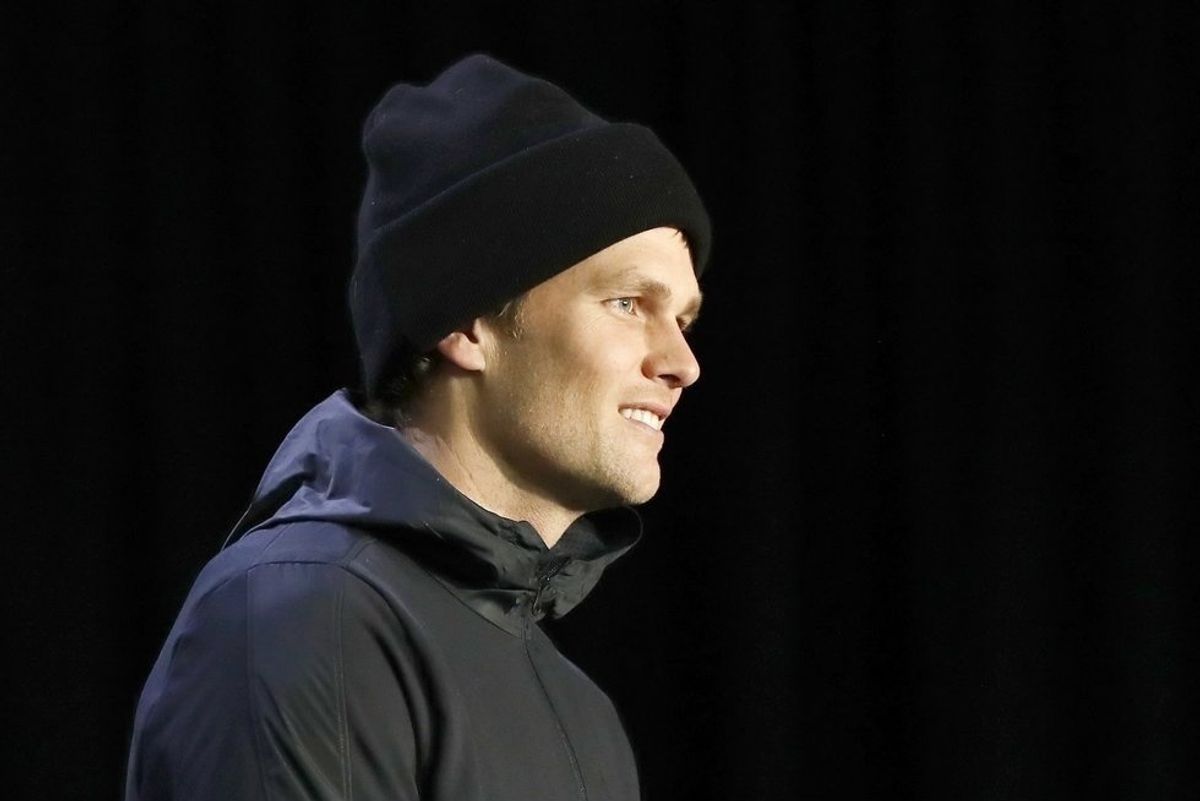 What's next for Tom Brady? Elsa/Getty Images
1. The Rams win the toss and take the ball
Most teams defer to the second half but the boy genius will take the ball and try to steal early momentum. Their offense is their best unit and if they lose the toss they will be on the field first and my guess is McVay pulls a fast one and has the offense ready to get after it. The Rams didn't take the ball once this season when they won the toss. That changes Sunday.
2. The first commercial after kickoff will be a car commercial
We just won't know it until halfway through. Car commercials are often too basic or try too hard. This year feels like a try too hard moment for car companies. Funny from car companies is safe, too. Can't be too risque in 2019 as a car company.
3. Todd Gurley is dominant on the first drive
The Rams star back hasn't been anywhere near himself recently. He claims he is healthy but what we see doesn't show it. They have to prove he is going to be a threat so feeding Gurley is the only option. A couple of passes and slamming the rock with Gurley will set a tone for the Rams that Gurley is healthy. I don't know if he can hold up the whole game but making the Patriots account for him is a must.
4. James White has a better first half than second half
The same theory about Gurley applies to White. He is one of the most important players on the Patriots and he will have to be good in shaking loose fast. Aaron Donald is the most prolific pass rusher up the middle in all of football. White has to be the quick outlet. If Brady is getting hit the Patriots are going to lose. The safety valve is White and after the Patriots wear the Rams down they turn to their hammer back Sony Michel.
5. Brandin Cooks has one of the worst games of his season
If the Rams are going to beat the Patriots they will have to find other playmakers outside of their deep threat pass catcher. Cooks was very good during the regular season. He did a lot of the heavy lifting for the offense but not a lot of the scoring. Taking him away will force the rest of the Rams to show up. He's a former Patriots player going against the best unit on the opposing defense. He's in for a long day.
6. Maroon 5 will put on the worst Super Bowl halftime show since 2011
The pressure is getting to them. They canceled their media availability this week. They couldn't get in front of the microphone and answer questions? While I am thrilled for Travis Scott to be on this show Maroon 5 doesn't do it for anyone right now. Their songs are annoyingly repetitive and they don't have any surefire bangers. Short of Outkast showing up they are doomed and could be the worst halftime show in years.
7. Aaron Donald gets his lone sack in the first drive of the second half
Patriots offensive line coach Dante Scarnecchia is a wizard. He and his linemen somehow held the best defense in the league for sacking the quarterback to zero sacks in the AFC championship game. In fact, the last time Brady was sacked more than once was early December against the Dolphins. I'm not foolish enough to believe they can keep Donald off Brady but I am confident they can keep Brady standing.
8. The refs let them play
The NFL will really be under the microscope if the officials aren't calling this one good. They can't miss any big calls and one of the ways to make sure they don't miss a big one is to not call soft penalties. Don't get me wrong, if Nickell Robey-Coleman blows someone else up there will be laundry. Small stuff would lead to a big play being marred by a penalty so it is best to let the game be physical.
9. The best and worst commercial will both be beer
If Bud Light is sticking with the knight and the medieval theme they could take last place. Budweiser is always good for a commercial that pulls at the heart strings. There are plenty of other beers trying to sneak into contention this year and they could easily fall flat compared to the market powerhouse of Bud. It is dangerous to try to pry the beer commercial crown away so it could end up awesome or terrible for another company.
10. A non-quarterback wins the MVP award
Obviously Tom Brady and Jared Goff are the huge favorites. But lets say the Patriots have a two score lead late in the second half, it could be Sony Michel time. If you believe the Rams are going to win you would think Todd Gurley would have a big day or maybe even C.J. Anderson. Von Miller had two forced fumbles and two and half sacks when he won. It doesn't seem crazy Donald could compile that if the Rams are having a great day. What if Stephon Gilmore made a huge play early and deflected a couple more passes? It is hard but it is doable.
11. Tom Brady nor Rob Gronkowski retire after the game
I am totally positive about Brady. Despite his skills diminishing a bit he still plays a high level and the team is still good. They might take a couple of weird losses in the regular season but in the postseason they're still a really tough out. Brady is getting a first round offensive lineman back (Isaiah Wynn was lost to injury in August), they have six picks in the top three rounds, and no really significant free agents outside of Trey Flowers. Gronk is beat down but with just one year left on his contract and some management of his snaps in the regular season it isn't too hard to see him grinding out just one more year.
The Houston Texans came away with a thrilling win over the Denver Broncos on Sunday and improved their record to 7-5 with the Jets up next on the schedule.
And while Nico Collins had a huge game with almost 200 yards receiving, the big story from Sunday was Will Anderson and the Texans' defense.
Anderson had two sacks and four QB hits, making it a long day for Russell Wilson. Anderson also tipped a pass that was intercepted by Derek Singley. And let's not forget, he also got a piece of a punt that helped Houston get better field position.
Derek Stingley Jr had two of the Texans interceptions this week, and he's starting to remind fans why he was selected with the No. 3 pick in the draft.
The Texans showed a lot of heart as they were able to stop the Broncos and secure the win when Jimmy Ward caught Wilson's third interception of the day in the end zone.
It should also be noted that after a rough performance against the Jaguars, corner Tavierre Thomas didn't play a single snap on defense, with Desmond King starting in his place at nickel corner. King led the team in tackles and also made a huge play, stripping the ball from the running back and scoring a touchdown. The player was later overturned and didn't count. Once again highlighting the terrible officiating in the NFL this season. Had the play counted, the score would not have been close.
Bad news for Texans fans
There were some negatives from the game, unfortunately. Texans receiver Tank Dell broke his fibula blocking at the goal line, and will miss the remainder of the season. A huge blow for Houston. Also, a questionable decision to have Dell blocking in that situation.
Someone will have to pick up the slack with Dell unavailable moving forward. Noah Brown had back-to-back games with over 150 receiving yards, before missing two games due to injury. In his first game back against Denver, he had two targets and didn't record a catch. He also had a drop on Sunday.
Robert Woods also had zero catches this Sunday, so something will have to change. Stroud can't have two of his top three receivers without any catches.
Be sure to watch the video above for our reaction to the Texans win, how the Texans will acclimate to life without Tank Dell, and much more!
Catch Texans on Tap (a Texans podcast) every Monday on YouTube.
SportsMap Emails
Are Awesome