2019 Houston Rockets offseason preview
Jun 5, 2019, 7:25 am
Troy Taormina-USA TODAY Sports
After losing to the Golden State Warriors for the second consecutive season, the Rockets have a lot of questions to answer. Judging by how their summer started, this team has made it clear that they aren't satisfied with the status quo and want to make meaningful upgrades to all levels of the organization. However Houston's summer will ultimately come down to a battle between continuity and finding ways to upgrade the roster.
The case for continuity
There's a temptation to throw the baby out with the bath water after a devastating playoff loss and the Rockets are no different. Aside from James Harden, there's been serious discussion to trade everyone on Houston's roster amongst fans and media since Game 6. With a general manager like Daryl Morey, the possibility of significant trade will always exist with the Rockets. However, to suggest that the entire foundation Houston's built over the years is flawed and needs to shipped out is flawed logic.
Over the past two seasons, the Houston Rockets have won 82.4% (75-16) of their regular season games and 65.4% of their playoff games (17-9) when James Harden, Chris Paul, and Clint Capela have been healthy. Houston's core is really, really solid and proven to translate to a ton of winning. If the Rockets were to trade one of these players, the package would unlikely increase their title odds for next season. In most cases the Rockets are better off holding on to their core three and trying to improve around the roster.
The case for major shake up
The one caveat might be Capela, as the 25-year-old center holds the most value in relation to his contract on the roster (outside of James Harden) if Houston were to pursue a star this summer. If the Rockets were making calls about acquiring another All-Star player, those conversations likely all start with Capela. Capela is still young, athletic, and on a stellar contract laced with team-friendly incentives.
Outside of trading for another star, the best case you could make for major change would be financial flexibility. This is, of course, in reference to the idea of trading 34-year-old Chris Paul who still has three years, $124.1 million remaining on his contract. Finding a landing spot for Paul would be extremely difficult and finding a deal that doesn't require Houston forking over multiple draft picks in compensation is highly unlikely. However, if you can find one, trading Paul gives you a viable reset around 29-year-old James Harden.
The Rockets probably regress a decent among next season if they made such a trade, but they can move forward without having to pay significant luxury tax and extend their championship window beyond Paul's prime (if the deal is good enough). That being said, the Rockets have made it clear they are playing for the now and trading Paul sends the opposite message. The likelihood that they find a sweetheart deal is also very slim.
Improving around the edges
Believe it or not, the Rockets actually have more flexibility to improve their roster this year than they did last year. There are several reasons for this:
A) Houston has their core locked in
Last summer, Houston's primary goal was to bring back Chris Paul, Clint Capela, and Gerald Green to new deals. The team had devoted a decent amount of time and resources towards accomplishing that. By having James Harden, Chris Paul, Clint Capela, Eric Gordon, and P.J. Tucker signed under contract for next season, the Rockets can focus on making trades and exploring free agency for competent role players without the burden of trying to lock down their core.
B) No bad contracts
Other than arguably Chris Paul, the Rockets no longer have the damaging weight of a bad contract on their books. Last summer, the Rockets searched far and wide for a possible Ryan Anderson trade before finally unloading his contract to Phoenix. They then spent the next few months doing the same with Brandon Knight. Both Anderson and Knight limited Houston's trade flexibility and the team now can work with only reasonable salaries that teams might actually be attracted in.
C) Freedom to use full taxpayer mid-level exception
The Rockets spent last summer using small pieces of their mid-level exception before letting their lump sum go to waste. One of the reasons for this is Houston saw an opportunity at the trade deadline to get under the luxury tax and avoid future repeater tax penalties. Now that Morey has been given the green light to spend into the luxury tax this summer, they can now use their taxpayer mid-level exception to acquire a useful role player.
D) Ability to upgrade exists
When you win franchise-high 65 games and barely miss out on the NBA Finals, it's really hard to upgrade the team. The Rockets essentially went into the offseason with the goal of not regressing. Now, coming off a "pretty good, but not great" 53 wins and a second round elimination, the Rockets can legitimately upgrade the roster in significant ways.
For example, the Rockets were a really small team all season, resulting an a porous defensive rebounding percentage of 70% (29th in the NBA). This was a huge reason the Rockets were largely mediocre on defense (18th in the NBA). Size and defensive versatility is a clear and identifiable need.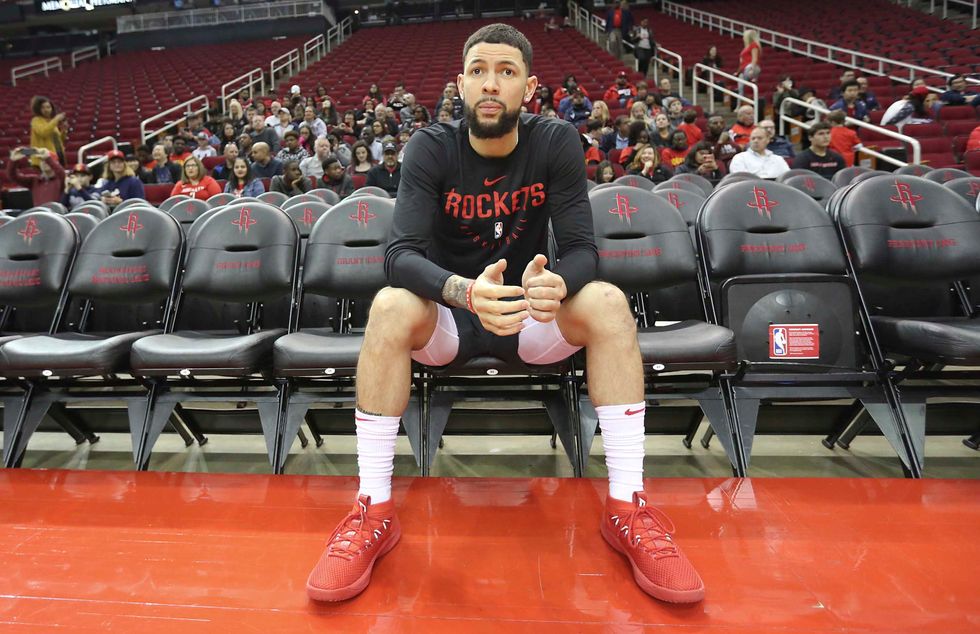 NBA: Phoenix Suns at Houston Rockets Thomas B. Shea-USA TODAY Sports
Who do you keep?

Another question the Rockets will have to ask themselves is who to retain among their own free agents. Iman Shumpert, Danuel House, Austin Rivers, Kenneth Faried, Trevon Duval, and Vincent Edwards are all free agents this summer and Houston likely won't keep all of them. Expect the Rockets to prioritize certain free agents and try their best to retain others.
Iman Shumpert ($16.5 million cap hold): It's hard to imagine the Rockets not making re-signing Shumpert one of their top priorities this offseason. Houston acquired Shumpert in a deal at the trade deadline that cost them their 2019 first round pick. Wing-depth is hard to find on the open market, the Rockets have sought after Shumpert for many years, and they hold his full-bird rights. That means the Rockets can effectively pay Shumpert any number they want to stay.
There wouldn't be a need for cap space or even an exception so as long as Shumpert and his representation aren't asking for the moon, the Rockets should be able to work out a deal with him. It'll be interesting to see what kind of deal Shumpert will get.
Danuel House ($1.9 million cap hold if given a qualifying offer): House's free agency is one of the more unique situations in the NBA as the 25-year-old swingman is a restricted free agent with only partial bird rights. House provided valuable playing time for Houston at a time when they needed every bit of of competent rotation minutes they could find. The most the Rockets can pay House would be the taxpayer mid-level exception and Houston may look to use that on a veteran who's more proven. House turned down a three-year veteran's minimum contract offer this season and it's still unknown if that was a wise decision or not because it's impossible to know what his market value is.
House went from playing 25.1 minutes per game in the regular season, providing elite three-point shooting (41.6%) and nice defensive versatility to being a near-non factor in the playoffs (Player Efficiency Rating - 4.4). Even so, Houston could be out-priced for his services based on his regular season contributions. It's worth noting that the Rockets could also offer a Non-Bird raise that would total at around four years, $8.7 million, a raise from the three year minimum offered in the season.
Austin Rivers ($1.6 million cap hold): This one's tricky, because even though Rivers provided the Rockets with really nice, consistent bench value throughout the regular season and playoffs, it may cost a hefty sum to keep him. Although he signed for a minimum after he was waived by the Suns, Rivers has earned an average salary of $6.6 million throughout his career. It would likely take most of Houston's mid-level exception to retain his services. Signing Rivers to a mid-level isn't bad value, but 'not bad' isn't the kind of value Houston is looking to get with their mid-level. The Rockets likely want to hit it out of the park and sign someone who could be a major contributing piece come playoff time next season.
Rivers was a nice add for Houston this season. He played tough defense, filled a playmaking hole when Chris Paul got injured, and was a steady presence. The sweet spot for Houston may be if Rivers takes a pay cut and accepts his Non-Bird raise of $2.6 million. However, what's more likely is the Rockets re-sign him for the taxpayer MLE or simply lose him.
Kenneth Faried ($1.6 million cap hold): I wrote back in January that it seemed Faried was essentially built in a lab to play back-up center for Mike D'Antoni on the 2018-19 Rockets and I stand by it. Despite his warts, Faried was an excellent, timely pickup at the time for Houston when Clint Capela went down with injury and he helped fill a need that the Rockets desperately needed at the time. Faried is a strong pick-and-roll finisher with good rebounding prowess, but his defensive limitations ultimately led to his undoing. Faried went from playing 19.7 minutes per game in the regular season to playing 9.7 minutes per game in the playoffs. His liabilities against a team like the Warriors made it impossible for D'Antoni to continue playing him. It's hard to see Faried returning to Houston unless he's willing to take a veteran's minimum.
Gerald Green ($1.6 million cap hold): The question of whether or not Gerald Green will be a member of the 2018-19 Rockets or not is ultimately going to come down to whether or not Houston wants to keep him. The Rockets hold Green's early bird rights and can offer Green any contract up to $9.7 million this summer, which would be well above his market value. Shumpert took a hometown discount (veteran's minimum) to return to the team last summer and could do the same now if it were offered to him. Green provides a positive attitude to the Rockets, adequate floor spacing, and he's garnered the trust of head coach Mike D'Antoni. However, his porous defense is hard to ignore and if the team decides they want to use the roster spot on someone else, it's difficult to blame them.
Extensions?
Two players to watch in regards to contract extensions would be Eric Gordon and P.J. Tucker. Gordon is approaching the final year of his contract and the Rockets had tried to extend him last summer. Rockets owner Tilman Fertitta told the Houston Chronicle that the team would like to extend Gordon if possible. This makes sense as Gordon had a great season for the Rockets and played a huge part in the Rockets becoming one of the more unstoppable offenses in NBA history these past few years. Gordon's ability to attack off the dribble, space the floor, and play competent defense has made him one of Houston's most attractive trade assets.
The highest first-year salary Houston could offer Gordon in an extension is about $16.9 million and could max out at four-years, $76.6 million. P.J. Tucker on the other hand has two years, $16.3 million remaining on his salary. It's unlikely the Rockets extend Tucker for too long beyond that, but if a deal could be worked out a favorable salary for Houston, it's worth exploring.
Replacing Jeff Bzdelik and Co.
With the Rockets letting go of assistant coaches Jeff Bzdelik, Roy Rogers, Mitch Vanya, and Irv Roland, they now have huge roles to fill on the defensive side of their coaching staff. Shams Charania of The Athletic reported that the Rockets had pursued former Cleveland Cavaliers head coach Ty Lue, but it's unlikely Lue accepts anything but a head coaching position at his next stop. Stephen Silas, Chris Finch, Ime Udoka, and Jeff Hornacek are all names to watch as possible replacements for Bzdelik as all have been linked to the Rockets in some way shape or form over the past few years. Silas had become a real finalist for the head coaching opening in 2016 and Chris Finch had spent two years with the Rio Grande Valley before spending six with the Rockets as an assistant under Kevin McHale. The Rockets are expected to conduct an interview process soon, but the search has certainly become complicated by the uncertainty about head coach Mike D'Antoni
Bottom line
The biggest driving force behind Houston's offseason this summer will ultimately be spending. If the Rockets are willing to spend deep into the luxury tax and get creative, the makings of a nice offseason are there. If not, it's hard to foresee the Rockets becoming a markedly better team heading into next season. The risk for entering the repeater tax has been significantly mitigated by the Rockets dodging the tax completely this season, so there's no reason they shouldn't do what's necessary to compete at the highest level. As we've learned for the past decade, no offseason is ever boring under GM Daryl Morey.
This should be interesting.