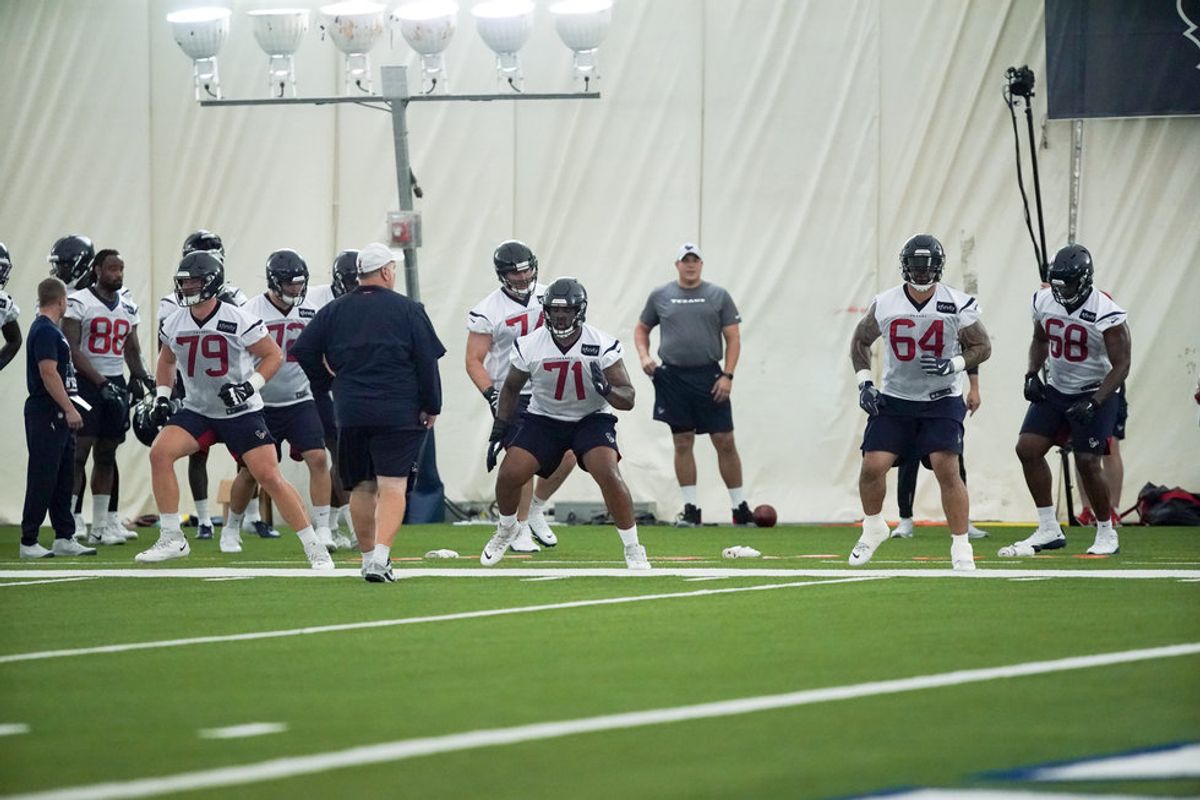 The Houston Texans have wrapped up their second preseason game. There is still some jockeying over roster spots and I'll take my best educated guesses at who holds those spots as of today.
53 -man roster
Kicker (1)
Ka'imi Fairbairn
Punter (1)
Trevor Daniel
I have my first change on the roster, from my previous 53-man prediction. Early-on, Bryan Anger had the better hang time and bigger leg. On Monday, Bill O'Brien was lending a watchful eye to the punting competition and Anger had a bad case of the yips. It was a bad time for this to happen as Daniel made the most of the situation. Daniel was booming kicks and not just with distance but with an improved hang time to boot.
Long snapper (1)

Jon Weeks
Quarterback (3)
Deshaun Watson
AJ McCarron
Joe Webb
Watson has looked the best he ever has as a pro. He's set for a huge season.
McCarron has missed time of late, but his spot at backup is safe.
Running back (5)
Lamar Miller
Duke Johnson
Damarea Crockett
Cullen Gillaspia
Taiwan Jones
On the first 53-man roster, I mentioned that I'd expect the Texans to bring in someone from the outside to take over the roster spot voided by the waiver of D'Onta Foreman. Enter Duke Johnson.
Damarea Crockett has great vision, patience and instincts, all packed into a 5'11 - 225 pound frame. If anything happened to Lamar Miller this season, Crockett would get a lot of run with Duke Johnson.
Karan Higdon falls off the roster with the addition of Duke Johnson. Higdon gets downhill quick and has great balance, but his vision leaves something to be desired.
While Buddy Howell is a fan favorite after a productive game in the fourth quarter against the Lions in the second preseason game, I still believe that Taiwan Jones is ahead of him. Jones is a veteran that helps on all of the special teams units. Howell is in a tough spot as Higdon is a better running back and Jones is the better option on special teams.
Cullen Gillaspia will also secure a spot on the 53 with his value on special teams and the hope that the Texans can develop him into a lead blocker that will allow Bill O'Brien to give more versatile looks.
Wide receiver (5)
DeAndre Hopkins
Will Fuller
Keke Coutee
DeAndre Carter
Vyncint Smith
DeAndre Carter has come back better than I could have imagined. Carter hit the ground running and not only looks like a veteran in the slot, but an improved veteran at that.

Vyncint Smith gives the Texans insurance for Fuller as he works back to 100%.
Steven Mitchell Jr has looked great in camp and has played well in the preseason games but Houston already has Keke Coutee & DeAndre Carter taking roster spots at the slot position.
Tyron Johnson's speed may not be safe on the practice squad, but he's too raw to carry on the 53-man roster. Johnson has shown alligator arms in both of the team's preseason games to this point. Houston will have to risk, sliding him unto the practice squad.
Tight end (4) 
Darren Fells
Jordan Thomas
Jordan Akins
Jerell Adams
O'Brien doesn't keep four tight ends, but you adjust to your roster and the talent you have. Fells is a great inline blocker that can also move the chains as a big target for Watson.
Akins is ready to take a second year leap and has built great chemistry with his quarterback.
While Jordan Thomas has missed a lot of time in camp, he's working swiftly to catch up. His upside is exponential. He'll be a beast when he reaches his ceiling.
Jerell Adams has shown up every day of camp and deserves a roster spot. The size, speed and athleticism of this tight end group allows O'Brien to keep four as they can contribute on special teams.
Kahale Warring should be an injured reserve stash as he'll need much more time to get caught up with his understanding of this offense.
Offensive line (9)
Matt Kalil
Roderick Johnson
Tytus Howard
Nick Martin
Zach Fulton
Seantrel Henderson
Max Scharping
Senio Kelemete
Martinas Rankin
Kalil will be the starting left tackle for the Texans week one, unless Houston trades for a tackle or Kalil has a setback on the injury front.
Behind, Kalil, Roderick Johnson has been the most consistent tackle in Houston. Roderick can be the swing tackle or step in for Kalil or Henderson if there's an injury.
Zach Fulton showed well at center while Nick Martin was out. Fulton can start at either guard spot as well.
Nick Martin returned on Monday to his position as the starting center.
Seantrel Henderson relies on size and length, even though the technique falls apart at times, he's done a decent job to hold off the pass rush in camp.
Senio Kelemete has garnered credit from his head coach. At this moment, I'd list him among the top eight offensive linemen on the roster.
Martinas Rankin has seemed to be in OB's doghouse this training camp, buried down the depth chart. When I watch Rankin, I don't see a guy that should be cut from the Texans roster. I have him making the roster as the ninth and final offensive lineman.
Greg Mancz doesn't make this projection of the 53-man roster. Due to the injury and how well Fulton has played at center during this camp, Mancz can become expendable. Julien Davenport has never played at an NFL level and I don't believe he has the upside or talent of Rankin.
Defensive line (7)
JJ Watt
Jadeveon Clowney
DJ Reader
Angelo Blackson
Brandon Dunn
Charles Omenihu
Carlos Watkins
I never thought that JJ Watt could get back to a form that was even close to his old self, after only playing in eight games in 2016 and 2017 combined. Not only did he do it in 2018, but he looks even better so far in 2019.
Angelo Blackson is the best kept secret on Houston's defensive line. He won't be a secret any longer, after 2019.
Brandon Dunn keeps Reader fresh without allowing too big of a falloff at the nose.
Charles Omenihu is young but has all of the attributes that you could dream of. He uses great leverage and sheds offensive linemen with ease while driving them back with a reach of seven feet and one and a half inches. He'll only get better as the season goes along.
Carlos Watkins has missed time during camp. It's a big season for him as he enters year three. I believe he's competing with Joel Heath for the last roster spot on the defensive line. Heath deserves to be on an NFL roster, but with Watkins cutting down the baby fat, he looks primed to breakout.
Linebacker (7)
Whitney Mercilus
Benardrick McKinney
Zach Cunningham
Dylan Cole
Brennan Scarlett
Davin Bellamy
Peter Kalambayi
In a contract year and looking fierce, be on the lookout for a big year for Whitney Mercilus.
Dylan Cole looks like a man possessed and ready for his best season to date.
Brennan Scarlett won't "WOW" anyone at first glance, but when you watch the film, you'll be impressed by his effort and motor to run non-stop from the snap to the whistle.
Peter Kalambayi has made a name as a special teamer, but he's shown some playmaking ability on the defense in the preseason in 2019.
Bellamy makes the roster as his explosiveness sticks out, but will need to be more discipline. Houston could upgrade this spot as other teams cut down to 53.
Cornerback (6)
Johnathan Joseph
Bradley Roby
Aaron Colvin
Johnson Bademosi
Lonnie Johnson Jr
Briean Boddy-Calhoun
Bademosi leaves his mark on special teams.
Lonnie is a work in progress, but if called upon, he can jam receivers off the line and agitate passing lanes with his length. Houston will keep safeties around his side of the field when he's playing to provide a safety net.
Boddy-Calhoun has had an up and down camp, but brings some veteran depth to the bottom of the group.
Safety (4) 
Justin Reid
Tashaun Gipson
Jahleel Addae
AJ Moore
Reid, Gipson and Addae are a solid trio that could see themselves on the field together often in "big dime". Due to the lack of cornerback talent and depth on the roster, Houston would be wise to rely on this trio.
AJ Moore made a name on special teams with the Texans, but all camp long, he's been ball-hawking every time he has gotten on the field.
Practice squad
1) Albert Huggins

2) Steven Mitchell Jr
3) Tyron Johnson
4) Karan Higdon
5) Jamal Davis II
6) Chris Johnson
7) Austin Exford
8) Javy Edwards
9) Derrick Baity Jr
10) Xavier Crawford
Noteworthy cuts or IR:
1) Kahale Warring - Injured Reserve
2) Greg Mancz
3) Joel Heath
4) Julien Davenport
5) Buddy Howell
6) Tyrell Adams
The Houston Astros were in need of some serious help in the bullpen with Phil Maton, Hector Neris, and Ryne Stanek likely leaving this year in free agency.
While some fans were getting concerned about the quiet offseason, the club has made two moves this week to get the ball rolling.
First the team signed Victor Caratini to be the backup catcher, and now they have added some relief pitching.
The Astros traded pitching prospect Carlos Mateo to the Royals for RHP pitcher Dylan Coleman.
Coleman appeared in 96 games in the past three seasons for KC, including 68 games in 2022 and 23 games last season. He has a career 3.88 ERA and 1.37 WHIP. He's fastball (95 mph), slider (81) and cutter (90) and walked 57 batters and struck out 99 in 92 2/3 innings.
— Brian McTaggart (@brianmctaggart) December 6, 2023
Coleman is under club control for the next several years, and made just over $700,000 in 2022. With the Astros right up against the tax threshold, this is a good way to add to the bullpen without having to hand out a large contract.
The Royals had a tough roster decision to make with Coleman, and the Astros made the decision easy for them by making the trade.
Something to note
There's a reason Kansas City wasn't determined to protect Coleman from the Rule 5 Draft. Despite his decent numbers over the last three seasons, 2023 was a rough year for him, posting an 8.84 ERA over 23 games.
In fact, Coleman pitched more innings (30.2) for the Royals AAA team than he did for the big league club (18.1) in 2023.
Hopefully, the Astros can get him back on track this season with some help from their highly touted player development program.
You can watch some of his 2022 highlights above.
SportsMap Emails
Are Awesome