2020 Houston Rockets Trade Deadline Preview: Assets, Potential Targets, And More
Feb 4, 2020, 1:00 pm
Well, the NBA Trade Deadline is here, and the Houston Rockets, as usual, figure to be one of the more active teams as they try to the stand out in a very competitive Western Conference title picture. Although Rockets GM Daryl Morey has hinted that the team may not look very different by the end of the year, his years of aggressiveness at the deadline has trained fans to expect anything and everything. It's also become very clear that Houston as presently constituted is not a complete title contender. Combine that with Houston's current cap situation (explained later), it's highly unlikely they leave the deadline without at least one trade.
So, let's get into it.
Needs:
Defensive versatility
As things currently stand, the Rockets are the 15th ranked defense in the NBA, per cleaningtheglass.com, allowing 109.8 points per 100 possessions. This is simply not good enough for where they want to go as 14 out of the last 15 NBA champions have at least had a top ten defense (the 15th team being the 2018 Golden State Warriors who had the 11th best defense). The biggest reason for this is likely their versatility defensively, particularly their size. After Clint Capela, the Rockets don't have a player taller than 6'7" in their regular rotation. This has hurt them a lot on the defensive glass (23rd in the NBA).
If the Rockets can acquire another player who is at least 6'7" that can play small forward, power forward, and center, they'll be a lot more formidable defensively. The workload P.J. Tucker has had to carry (career-high 35.1 minutes per game -13th in the NBA) is just too much at age 34 and Houston needs someone who could effectively spell him while also contributing to their rebounding and defensive issues.
Shooting
One wouldn't think a team like the Rockets would need shooting, but they currently sit at 21st in the league in three-point shooting percentage (34.8%). Eric Gordon, P.J. Tucker, James Harden, Ben McLemore, and Danuel House are all decent shooters, but the Rockets don't have one true, knockdown shooter on the team right now. McLemore is the closing thing they have to one at 38.2% for the season. There are far too many games the Rockets lose because they simply can't make a three-point shot.
It's not their biggest problem, but it would be naive to say it isn't a problem. Also, with teams doubling and trapping James Harden with more and more frequency, having another quality shooter in the fold just makes sense. Given that defensive versatility is a priority for Houston, it only makes sense to kill two birds with one stone and acquire a 3-and-D type of player.
Assets:
The Untouchables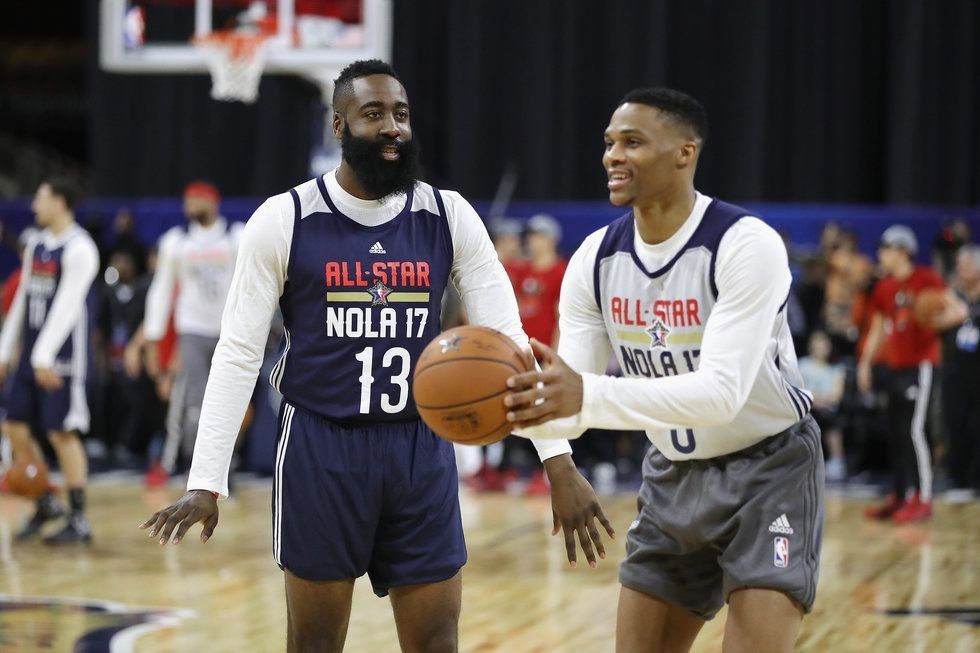 assets.rebelmouse.io
James Harden - Do I really need to explain this?

Russell Westbrook - As flawed as Westbrook is, the Rockets have no chance at an NBA title without him. History has shown that you need at least two all-star caliber players to win it all and Westbrook, through all his faults, still fits that bill. Even if the Rockets wanted to flip Westbrook, it'd be nearly impossible with his exorbitant contract moving forward (4 years, $171.1 million remaining).
P.J. Tucker - Tucker is just much more valuable to the Rockets than any other team in the NBA. His defensive versatility and the value he adds in a playoff setting is impossible to measure. Every team in the modern NBA needs a forward like Tucker to truly compete at the highest levels. Trading him would almost certainly make Houston worse.
Eric Gordon - A lot of the same things that apply to P.J. Tucker apply to Eric Gordon here, but in different ways. In addition to his obvious floor spacing, Gordon gives Houston another ball handler, which become a premium in the playoffs. Also, Gordon's contract extension makes it so he quite literally can't be traded. So, it's a moot point.
Chris Clemons - This has nothing to do with Clemons' value to the team. Clemons, much like Gordon, can't be traded at the deadline due to signing a contract earlier this season.
Probably won't be traded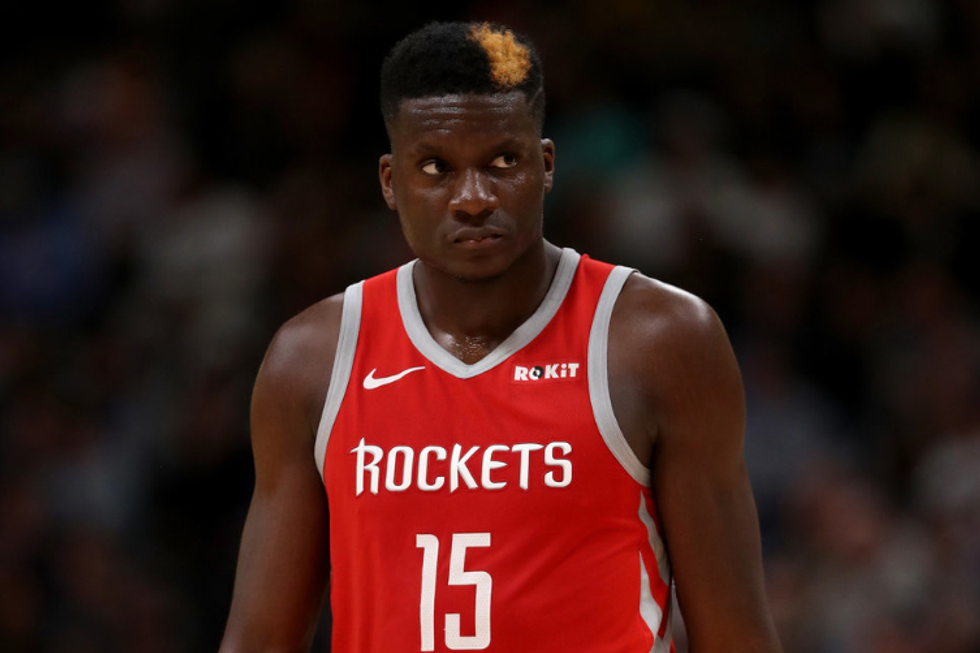 assets.rebelmouse.io
Clint Capela - Until ESPN's Adrian Wojnarowski's initial reporting on Sunday, Capela would almost certainly have fit in the untouchables category, but when there's this much smoke, there's probably some fire. Enough credible reporting has come out in a short amount of time that shows the Rockets have likely entertained advanced talks involving Capela. However, it's still unlikely Capela is moved at the deadline for a few reasons.

One is he's still very much valuable to the Rockets. Even though the Rockets don't run as much pick and roll as they used to, Capela still serves a really important role for the team as a vertical floor spacer. When Houston puts him in the dunker spot as the isolate James Harden up top, it puts defenders in the tough position of having to pick their poison on drives to the rim. Defensively, moving Capela leaves a void for a traditional center who can protect the rim and willingly do all of the great stuff he does for Houston on offense. Any trade involving Capela would have to involve another center coming back along with their desired target (which is possible to swing, but difficult).
The second reason is every trade rumored to involve Clint Capela seems to be a three-team trade in which the Rockets send Capela to Team X, Team X sends out draft picks to Team Y, and Team Y sends back a quality wing to the Rockets. Three-team trades are rare in the NBA for a reason - they're incredibly complicated and difficult to pull off. So when you factor how valuable Capela is to the Rockets and what makes a trade worth it for them along with the complications of a three-team trade it's incredibly unlikely a deal gets done. It's very clear that Houston has deemed it's worth exhausting all possibilities though.
Austin Rivers - Rivers is a decent fourth guard for the Rockets and can also decline any trade form they make. It may be worth adding his salary in trades for salary matching purposes, but it's unlikely Rivers agrees to it.
Gerald Green - Like Rivers, Green also has veto power over trades involving himself. He's a Houston native, a diehard Rockets' fan, and unlikely to accept a trade that involves him leaving a contender.
Wouldn't be surprised if he's traded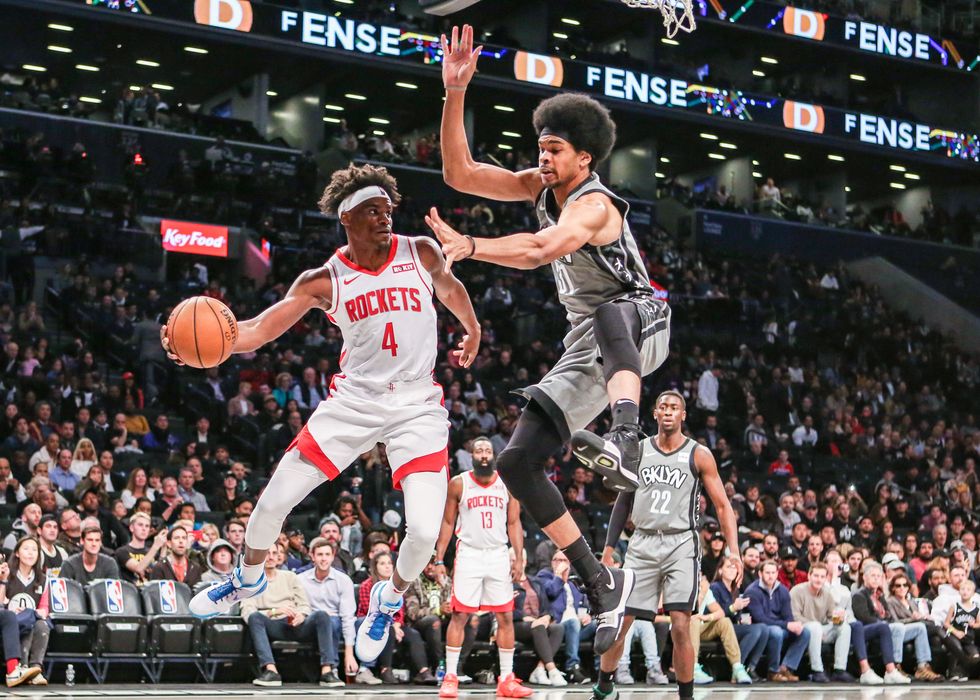 assets.rebelmouse.io
Danuel House - The ideal version of Danuel House is worth holding on to for deer life, but his inconsistencies combined with Houston's desire for veteran players could make him potentially expendable. House has shot from beyond the arc this season (37%), but his defense has been a hit or miss and lately, it's been a miss.

Thabo Sefolosha - It's interesting that the Rockets have found a role for Sefolosha at backup center after largely being out of the rotation. However, as soon as Clint Capela comes back, Sefolosha will fall out of the rotation and be of less use to Houston.
The Tradeables
Nene Hilario - If you were to line up every player in the NBA from most to least likely to be traded, Nene Hilario would be at the front of the line. No trade has felt more like a forgone conclusion than the Rockets dumping Hilario's now toxic contract. Houston signed Hilario to a creative, 2-year, $20 million contract with $15 million being playing time based incentives. As a result, Hilario has been away from the team the whole season with a listed adductor injury. If he's on the team past February 15th, $2.7 million of his 2020-2021 salary becomes guaranteed. On top of that, Hilario's $2.6 million in base salary this year is the best the Rockets have for salary filler when you exclude players unlikely to be traded.
Tyson Chandler - When the Rockets signed Tyson Chandler this summer, they knew what they were getting. At age 36, Chandler is extremely limited on both ends of the floor, much like Hilario. Houston needed to replace the cagey veteran center they were losing with Hilario, but it's unlikely they believed Chandler would be completely useless to them on the floor by January. Houston just prefers playing P.J. Tucker at backup center, which creates an opening for Chandler to become salary filler like Hilario. It's only $2.6 million, but every bit counts when you're trying to acquire a quality player.
First round picks - 2020, 2022, and 2023
After trading for Russell Westbrook this summer, the Rockets don't have many guaranteed first round picks moving forward, but they do have some. And according to Jonathan Feigen, there is an expectation league-wide that their 2020 first round pick will be up for grabs in any trade. Considering that their pick will fall in the 20s in a relatively weak draft, it's not the most value, but it is meaningful. The more prudent, long-term move may be keeping this pick considering how many picks out they are, but with James Harden and Russell Westbrook in their primes, the Rockets aren't in the business of making prudent moves.
Second round picks - 2023, 2024, and 2025
It's unlikely the Rockets successfully move a second round pick in-place of a first round pick at the deadline, but there is a reason this is listed here. There is a distinct possibility that Houston salary dumps Nene Hilario's contract at the deadline to get under the luxury tax and if that happens, these second round picks may be in play. It's something everyone should be prepared for considering the salary cutting moves Houston made at last year's deadline.
Traded player exceptions
It's unlikely the Rockets take on more salary by using these, but it's still worth listing here:
Brandon Knight - $3.6 million (expires 2/6/2020)
Marquese Chriss - $3.2 million (expires 2/6/2020)
The Rockets also have some smaller exceptions, but these are really the only ones to worry about as they can bring in significant salaries in if Houston elects to attach a pick with them. As a reminder, trade exceptions don't stack on top of each other or with other salaries.
Potential targets
Now for the fun part. It's probably best to separate this into two categories: realistic and dream targets.
Realistic targets

Dario Saric (1-year, $3.5 million) - At age 25, Saric is young, big, can shoot (career 35.2% three-point shooter), and can rebound the basketball. Saric is in the final year of his deal before restricted free agency and if the Suns decide to scrap their plans and decide he's not worth paying this summer, he'd certainly plug in nicely off the bench for Houston.
Markieff Morris (1-year, $6.6 million remaining) - The Rockets were among the finalists for Morris when he was bought out midseason by the Wizards. Morris has a relationship with James Harden dating back a few years so their viability would make sense. Morris would give Houston good size (6'10") and decent three point shooting off the bench (career 34.4% three-point shooter). The Rockets have not had anyone who could help takeover P.J. Tucker's minutes at backup center, but Morris could step in and do that. Defensively, Markieff isn't as stout as his brother Marcus, but the size he adds to Houston's backline alone is worth it.

Demarre Carroll (3-years, $20.7 million remaining) - Whether the Rockets would be willing to commit this much to Carroll moving forward is an open question, but he'd certainly help their team in the short-term. The 33-year-old forward has inconspicuously fallen out of San Antonio's rotation and is reportedly working with the Spurs to find a new home at the deadline. Though he hasn't played in an NBA rotation in months, Carroll was once a versatile defender wich good size (6'8" with 6'10" wingspan) who could shoot the three-ball (career 35.9% shooter). At age 33, there's little reason to believe he can't become that again in Houston.
Davis Bertans (1-year, $7.0 million remaining) - This is a little harder to swing, but if the Rockets could pull off a trade for Bertans, it would immediately improve their floor spacing ten folds. Bertans is a career 41.1% three-point shooter averaging 15.0 points per game and 4.6 rebounds this year on a bad Washington Wizards team. If teams attempted to trap James Harden with Davis Bertans, Eric Gordon, and Ben McLemore on the floor, they'd be in a world of hurt. He's not the strongest defender, but one doesn't trade for Bertans and expect to get defense.
Nemanja Bjelica (2-years, $14 million remaining) - Much like Bertans, this is a lot harder to swing, but Bjelica gives you quality floor spacing (career 39.4% three-point shooter) and height (6'10") off the bat. The Kings are much worse than they thought they'd be this year, so it totally makes sense if they wanted to extract as much value out of him this year. Bjelica has another year left on his contract and that added security makes giving up a first round pick that much easier to swallow.
Jae Crowder (1-year, 7.8 million remaining) - It's unclear if the Memphis Grizzlies will be sellers at the deadline, considering their strong placement in the Western Conference playoff standing (25-25, currently the 8th seed). If they are, Crowder immediately helps Houston's defensive versatility problem by a lot. There's a reason Crowder has become a fixture in every NBA rotation he's been in. He's got decent size (6'6" with 6'9" wingspan), he can play multiple positions, and he was once a decent three-point shooter. There's a possibility Houston can resurrect that with a green light from Mike D'Antoni.
Dream targets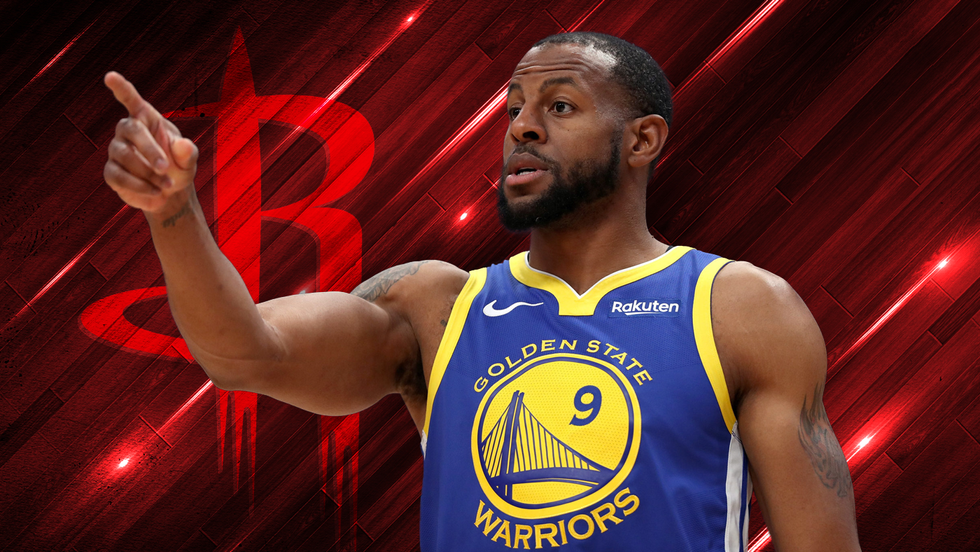 Composite photo by Jack Brame
Robert Covington (3-years, $36.4 million remaining) - Covington is the kind of player that would improve and fit in well on virtually any team in the league. He's one of the premier 3-and-D players in the NBA which is why the asking price seems to be so high. The Timberwolves know what they have in Covington and they're leveraging it to the best of their ability. Any trade involving Covington would almost certainly involve Clint Capela and a third team (for draft picks). This is why Covington is such a pie in the sky target. It's starting to get pretty interesting though.

Andre Iguodala (1-year, $17.2 million remaining) - The Rockets have tried acquiring Iguodala on multiple occasions now. First in the summer of 2017 after they traded for Chris Paul, then last summer when they tried to leverage sign-and-trade scenarios with Iman Shumpert and the Grizzlies, and now they seemed to have dipped their feet in the pool again. Although, it's very tough to see them putting all their chips on the table for a 36-year old wing who hasn't played competitive basketball all season. Clint Capela would seem to have much more value to Iguodala.
John Collins (2-years, $6.8 million remaining) - The only reason Atlanta would even think to move Collins would be if they believed they were getting Clint Capela. Even so, it's hard to imagine either side parting ways with their coveted big men. it's only worth mentioning because the Rockets have explored talks with the Hawks, among other Eastern Conference teams.
Marcus Smart (3-years, $38.8 million remaining) - Again, it's unlikely the Celtics are looking to part ways with Smart, even if Clint Capela were on the table. It's only worth mentioning because Boston was among the teams mentioned interested in Capela's services. Smart is the kind of versatile defender that would almost certainly make them more imposing against Western Conference foes, but Houston would need to then turn around and quickly address their lack of size.
ESPN Sources: Minnesota orchestrating three-team trade talks with Houston and Atlanta -- with hopes of ultimately t… https://t.co/uST8ABapDY

— Adrian Wojnarowski (@Adrian Wojnarowski) 1580839756.0
What likely happens

The Rockets don't have a history of making major moves at the trade deadline in the James Harden era and there's a reason for this. It's easier to acclimate big, moving parts with a full training camp and more major deals are available to be had in the summer when all 30 NBA teams are in flux. There is enough credible reporting out there to take the Clint Capela chatter more seriously, but still not enough to downplay this fact.
Houston will undoubtedly be active at the deadline, however. It's an impossibility they leave Thursday without dealing Nene Hilario at the minimum. Whether that's a luxury tax savings move or an actual, competitive maneuver is still to be determined. The influx of rumors will certainly keep things interesting though.