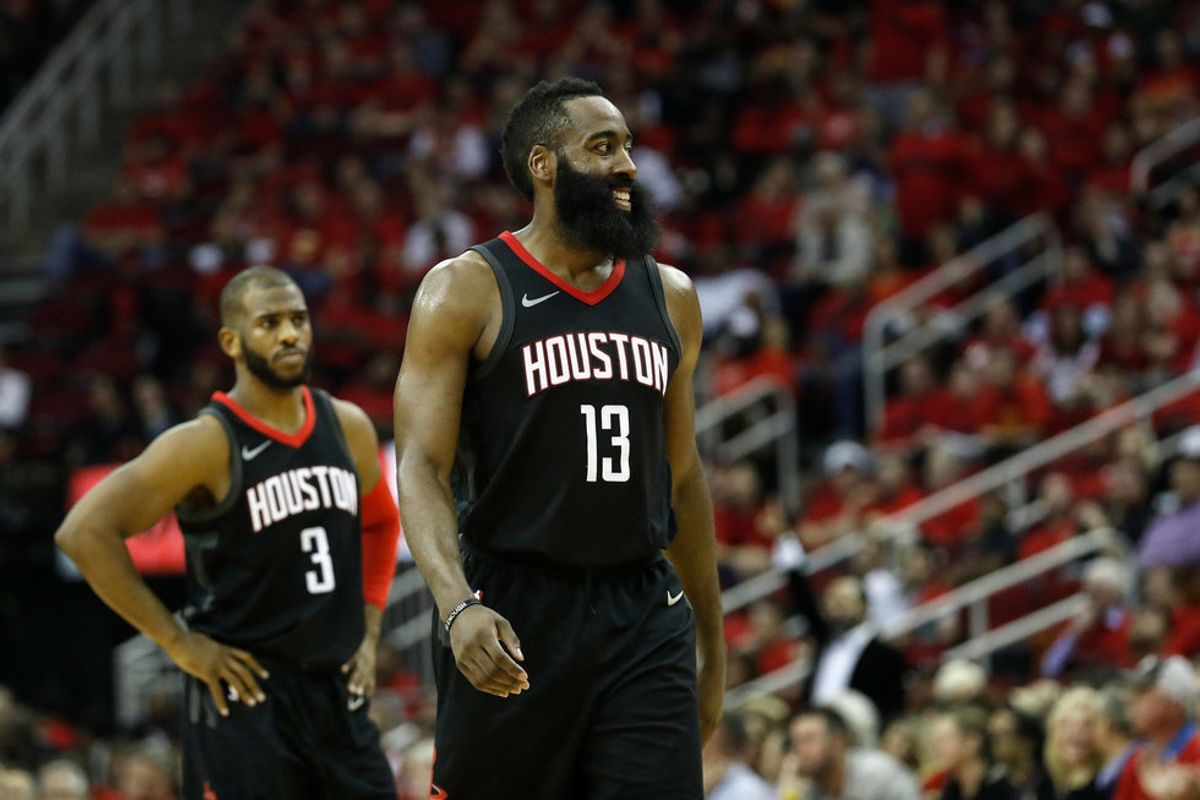 Fresh off their weekend victory against the Golden State Warriors, the Houston Rockets geared up Monday night to take on the Atlanta Hawks. With James Harden returning to the court after missing Saturday's contest with a neck injury, the 20-40 Hawks looked to be an easy early week victory. Instead, the Rockets found themselves in a four quarter brawl. Each time the Houston built a double digits lead, Atlanta would counter with a barrage of 3s. Houston would ultimately win a game that was far more competitive than most would have expected, pushing their record to 35-25. The Rockets remain first in the Southwest Division and fifth in the Western Conference.
The Trae Young Clinic
You never want your team to be on the business end of an opponent's career high scoring night. That sentiment is exponentially more resonant when the opponent is a rookie who almost drops a 40 piece on the Rockets. Trae Young, the Hawks' first year guard out of Oklahoma, single handedly kept Atlanta competitive throughout the contest as he poured in 36 points and 8 assists. Channeling his inner Steph Curry, Young shot 8-12 from beyond the arc while attacking the rim at will. As the season has progressed, it's become clear that there were no losers following the draft day Luka Doncic/Trae Young swap between the Dallas Mavericks and Atlanta Hawks. Both rookies look poised to remain solid contributors for their respective teams.
Reason for pause
Reigning MVP James Harden's unreal streak of 32 straight 30+ point performances came to an end Monday night, as the All Star finished with a workmanlike 28 on the evening. The writing was on the wall that the streak would be ending soon now that the Rockets were finally healthy. At least that's what the injury report implies. What can't be argued, however, is a noticeable downturn in Harden's shooting since straining his shoulder earlier this month against Oklahoma City. Since then Harden has shot 16-59 (27%) from behind the arc, including a 0-10 three-point performance last night versus the Hawks. Had one of his 3s dropped, Harden's streak would still be alive. Hopefully it's something as simple as a shooting slump, but it's worth keeping an eye on either way as the season winds down.
Cold from beyond
Harden's 0-10 night from beyond the arc was concerning, but he was hardly alone in his struggle. While Atlanta was busy burying 44.7% of their shots from three point range, Houston sputtered. The 15-51 team effort was a major reason Atlanta was able to keep up with Houston. The Rockets made up for their rough shooting at the foul line however, where they connected on 26-30 free throws.
Rockets Player of the Game
James Harden: 28 points, 4 assists, 5 rebounds
Hawks Player of the Game
Trae Young: 36 points, 8 assists
Up next
The Rockets travel to Charlotte Wednesday to take on the Hornets (28-32) at 6:00 pm central.
The Houston Astros were in need of some serious help in the bullpen with Phil Maton, Hector Neris, and Ryne Stanek likely leaving this year in free agency.
While some fans were getting concerned about the quiet offseason, the club has made two moves this week to get the ball rolling.
First the team signed Victor Caratini to be the backup catcher, and now they have added some relief pitching.
The Astros traded pitching prospect Carlos Mateo to the Royals for RHP pitcher Dylan Coleman.
Coleman appeared in 96 games in the past three seasons for KC, including 68 games in 2022 and 23 games last season. He has a career 3.88 ERA and 1.37 WHIP. He's fastball (95 mph), slider (81) and cutter (90) and walked 57 batters and struck out 99 in 92 2/3 innings.
— Brian McTaggart (@brianmctaggart) December 6, 2023
Coleman is under club control for the next several years, and made just over $700,000 in 2022. With the Astros right up against the tax threshold, this is a good way to add to the bullpen without having to hand out a large contract.
The Royals had a tough roster decision to make with Coleman, and the Astros made the decision easy for them by making the trade.
Something to note
There's a reason Kansas City wasn't determined to protect Coleman from the Rule 5 Draft. Despite his decent numbers over the last three seasons, 2023 was a rough year for him, posting an 8.84 ERA over 23 games.
In fact, Coleman pitched more innings (30.2) for the Royals AAA team than he did for the big league club (18.1) in 2023.
Hopefully, the Astros can get him back on track this season with some help from their highly touted player development program.
You can watch some of his 2022 highlights above.
SportsMap Emails
Are Awesome