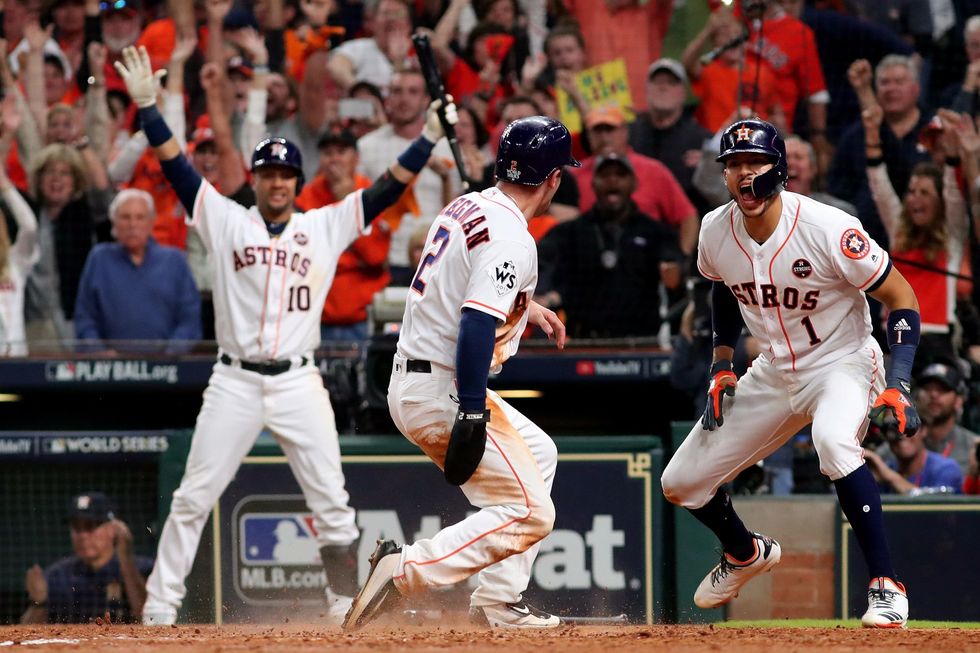 Alex Bregman and Carlos Correa were key players. Photo by Jamie Squire/Getty Images
The five most important Astros in this year's World Series:
5) Charlie Morton. He was terrific in both the Game 4 loss and his Game 7 relief appearance. Spared a Ken Giles experience in Game 7.
4) Jose Altuve. The league MVP. His numbers weren't terrific but he was clutch at times  -- especially Game 5 -- and they do not win it without him.
3) Alex Bregman. The young third baseman was a force throughout, hitting big homers, getting the game winning hit in Game 5 and playing flashy defense. Emerged as a legitimate star in the postseason.
3) Carlos Correa. It gets overlooked just how good this young man has become, but he was solid in the series. And he proposed to his girlfriend after the game. That should be worth something.
1) George Springer. The Series MVP was a tough out all series, and he was at his best in Game 7, with a leadoff double and run and then a big two-run homer to give Houston a 5-0 lead.
Rockets' Alperen Sengun recently was a guest on Paul George's podcast and spoke about a conversation he had with James Harden.
He said Harden told him he was proud of him. This led George to saying he thinks this means the torch has been passed from Harden to Sengun.
Which made us wonder, is this now Sengun's team? Or is that a little premature and the true leader of the team is head coach Ime Udoka or Fred VanVleet?
Plus, Jalen Green has responded positively from being benched. Is this proof that Ime Udoka has the team taking more accountability and heading in the right direction?
Be sure to watch the video above as we break it all down!
If you enjoy the videos, subscribe on YouTube for our latest content.
Related Articles Around the Web
SportsMap Emails
Are Awesome