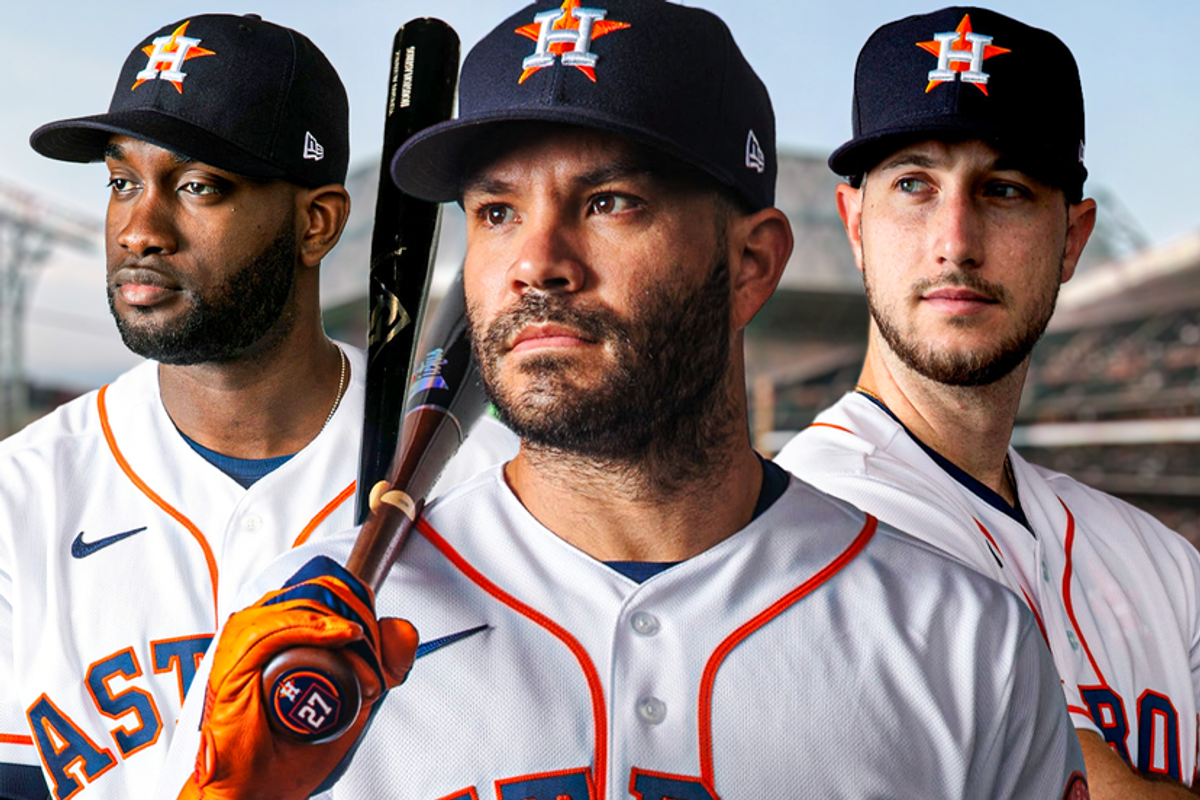 What a hot stretch for Houston! Composite image by Jack Brame.
The Astros are coming off back-to-back series victories over the Boston Red Sox and the Minnesota Twins and are scoring runs consistently again.
Houston scored a combined 45 runs over this 6-game stretch and the Astros now rank first in hits, batting average, OPS, runs and runs per game this season.
This offensive showcase can be attributed to a certain player returning to the lineup as well as multiple Astros contributing at the plate, on the mound and even on the base paths.
Michael Brantley came off the 10-day injured list on Tuesday against the Red Sox. He wasted no time at all, picking up right where he left off in terms of hitting. He played in five games last week and had 12 hits and 6 RBIs over that span. His .337 average and 1.4 WAR were missed by the Astros, and it looks as though Brantley is fitting right back in to this dynamic offensive lineup.
Kyle Tucker continues to increase his productivity at the plate on a week by week basis. The Houston outfielder is riding an 8-game hitting streak and increased his batting average by 11 points this week. Tucker got off to a terribly slow start and was batting an abysmal .173 on May 1st. The slugger has turned things around, and is becoming one of the Astros most formidable players this season.
Since his three run home run at Yankee Stadium, Jose Altuve has increased his batting average from .256 to .288 and has returned to looking like the Altuve from years past, not the one we saw last year in 2020. There is no doubt that no one has received more heckling at the plate than Altuve to this point from fans and opposing players. This may have affected him at the start of the season, but he has come to accept the boo birds are here to stay, and if anything it might be fueling his recent resurgence at the plate.
Another key player the Astros are getting contributions from is Yordan Alvarez. The 23-year-old as been Houston's primary designated hitter since he was called up in 2019. Lately, Alvarez has been getting some reps in left field, further bolstering his range with the team. He earned his first career stolen base on Sunday against the Twins, proving he can be a threat at the plate, in the field and on the base paths. Yordan can do it all.
Good pitching has also been a contributing factor for the Astros winning ways. No pitcher has been better than Framber Valdez. In his fourth year with the Astros, the lefty has earned a career best 1.42 ERA after four starts this season. He has thrown for at least seven innings in three consecutive starts. The Astros may have to make some tough decisions with six pitchers vying for five spots in the rotation, but Valdez does not have to worry about losing his spot in the order anytime soon the way he has been dealing on the mound.
Up Next: The Astros start a 6-game homestead with two games against the division rival Texas Rangers and a four-game series against the Chicago White Sox.
The Houston Astros were in need of some serious help in the bullpen with Phil Maton, Hector Neris, and Ryne Stanek likely leaving this year in free agency.
While some fans were getting concerned about the quiet offseason, the club has made two moves this week to get the ball rolling.
First the team signed Victor Caratini to be the backup catcher, and now they have added some relief pitching.
The Astros traded pitching prospect Carlos Mateo to the Royals for RHP pitcher Dylan Coleman.
Coleman appeared in 96 games in the past three seasons for KC, including 68 games in 2022 and 23 games last season. He has a career 3.88 ERA and 1.37 WHIP. He's fastball (95 mph), slider (81) and cutter (90) and walked 57 batters and struck out 99 in 92 2/3 innings.
— Brian McTaggart (@brianmctaggart) December 6, 2023
Coleman is under club control for the next several years, and made just over $700,000 in 2022. With the Astros right up against the tax threshold, this is a good way to add to the bullpen without having to hand out a large contract.
The Royals had a tough roster decision to make with Coleman, and the Astros made the decision easy for them by making the trade.
Something to note
There's a reason Kansas City wasn't determined to protect Coleman from the Rule 5 Draft. Despite his decent numbers over the last three seasons, 2023 was a rough year for him, posting an 8.84 ERA over 23 games.
In fact, Coleman pitched more innings (30.2) for the Royals AAA team than he did for the big league club (18.1) in 2023.
Hopefully, the Astros can get him back on track this season with some help from their highly touted player development program.
You can watch some of his 2022 highlights above.
SportsMap Emails
Are Awesome