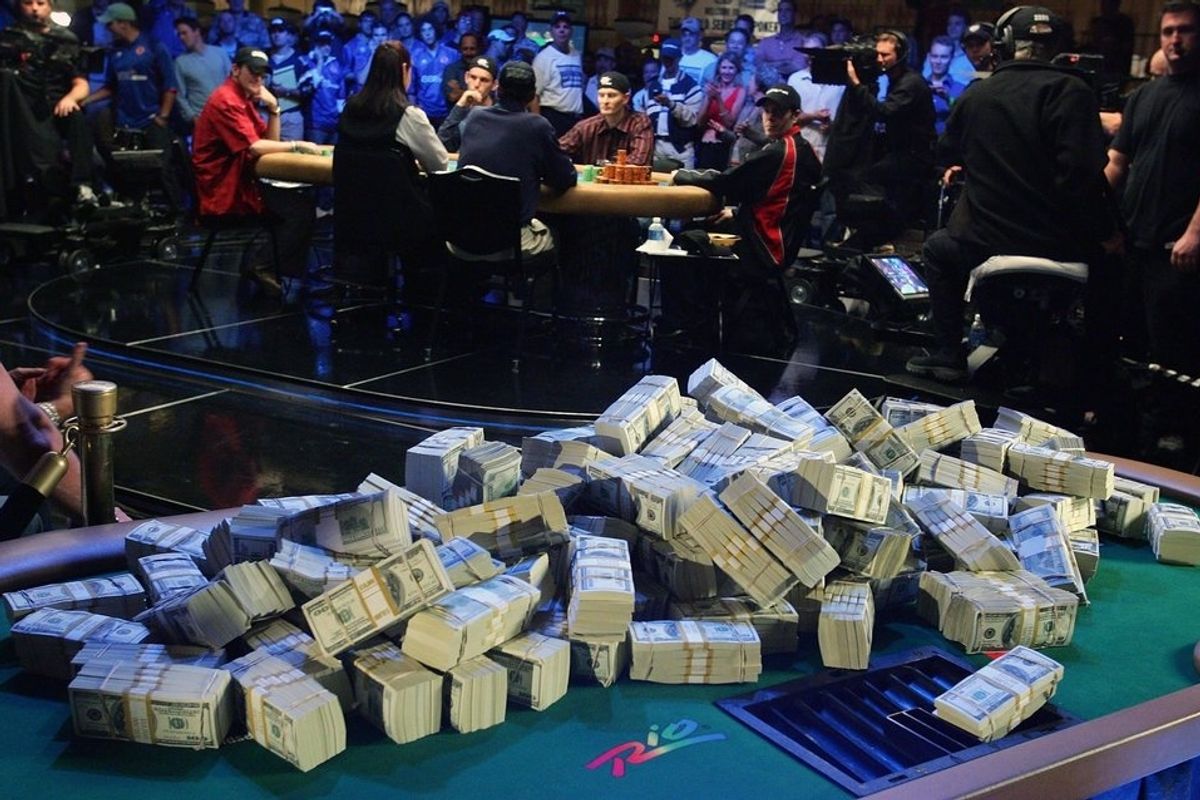 Ethan Miller/Getty Images
The poker boom is alive and well in Houston, as legal rooms have opened up all over the city. My personal favorite is Lions Poker Palace, but there are rooms everywhere now. Most have generous tournament schedules, and the most popular structure is the unlimited re-buy tournament, because it helps build the pots. Most allow unlimited rebuys until the break, then an add-on. By using these simple strategies, you can maximize your chances to win.
1) Know the bottomless pits
One strategy in these tournaments is to plan on buying in as many times as you need to. If you employ this strategy, you are playing aggressively and shoving with marginal hands to either double up or take chips. While this can work, more often than not you wind up buying in too many times to get a positive R.O.I. Take some time early in the tournament to see who is doing this, because these are the players you want to target.
2) Employ a 1 plus 1 strategy
In these tournaments, I always plan on adding on, and bring enough for one rebuy. The plan is simple; if you are playing well and get unlucky, (aces cracked by 5-7 offsuit or some such nonsense) you rebuy. If you are short before the break, you shove planning to rebuy. If you get unlucky twice, it's not your night. Go grab a beer at the local bar.
3) Target the bottomless pits
Even though you aren't planning on unlimited rebuys, it does not mean you won't try to stack chips early. Play small ball and try to catch hidden flops, and you can get paid off when the unlimited guys hit top pair. Pick your spots and you can easily build a nice stack heading to the break.
4) Decisions, decisions
If you get close to the end of the re-buy period and you are under the re-buy stack, don't be afraid to shove with marginal hands. If you win, great. If not, rebuy at the break and add on and start over.
5) Everything changes
Hopefully you can build a nice stack picking off the aggressive players. After the break, the game will change. Players who were reckless when they can rebuy will tighten up. Now is the time to turn up the pressure, increase your aggression and go for the win. Remember, because of all the rebuys, there is a lot of dead money in the pool, and you can cash with a minimal investment.
Obviously, you will have to employ solid poker strategies throughout, but if you approach these tournaments with this strategy, you will find yourself pulling a nice R.O.I. more often than not.
Good cards and enjoy the game!
The Houston Astros were in need of some serious help in the bullpen with Phil Maton, Hector Neris, and Ryne Stanek likely leaving this year in free agency.
While some fans were getting concerned about the quiet offseason, the club has made two moves this week to get the ball rolling.
First the team signed Victor Caratini to be the backup catcher, and now they have added some relief pitching.
The Astros traded pitching prospect Carlos Mateo to the Royals for RHP pitcher Dylan Coleman.
Coleman appeared in 96 games in the past three seasons for KC, including 68 games in 2022 and 23 games last season. He has a career 3.88 ERA and 1.37 WHIP. He's fastball (95 mph), slider (81) and cutter (90) and walked 57 batters and struck out 99 in 92 2/3 innings.
— Brian McTaggart (@brianmctaggart) December 6, 2023
Coleman is under club control for the next several years, and made just over $700,000 in 2022. With the Astros right up against the tax threshold, this is a good way to add to the bullpen without having to hand out a large contract.
The Royals had a tough roster decision to make with Coleman, and the Astros made the decision easy for them by making the trade.
Something to note
There's a reason Kansas City wasn't determined to protect Coleman from the Rule 5 Draft. Despite his decent numbers over the last three seasons, 2023 was a rough year for him, posting an 8.84 ERA over 23 games.
In fact, Coleman pitched more innings (30.2) for the Royals AAA team than he did for the big league club (18.1) in 2023.
Hopefully, the Astros can get him back on track this season with some help from their highly touted player development program.
You can watch some of his 2022 highlights above.
SportsMap Emails
Are Awesome