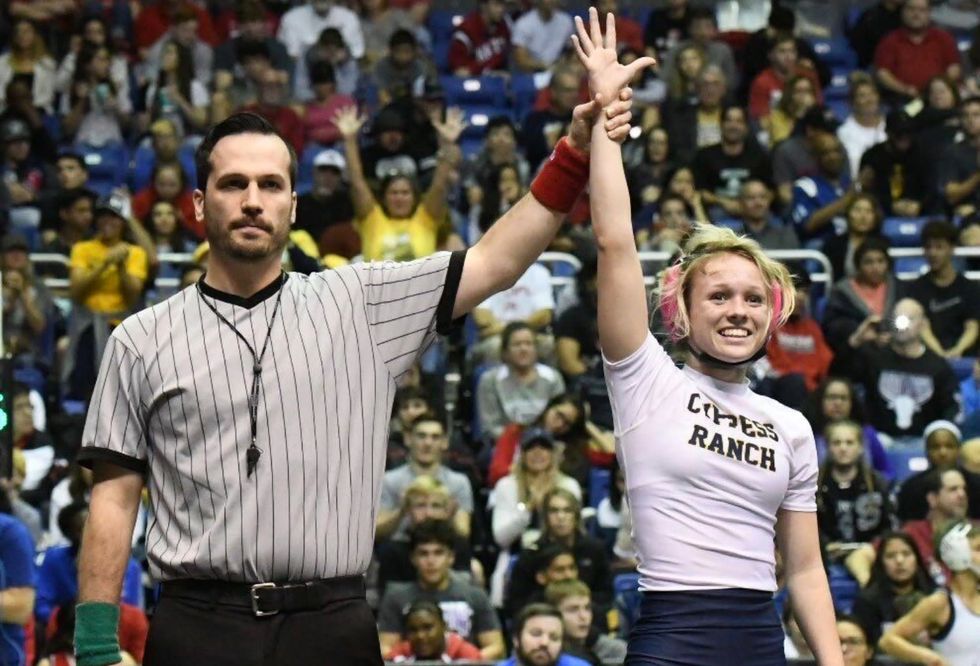 1) Kaitlyn Banas has committed to Arkansas Vype
As part of our yearly wrap up, VYPE decided to break down who amongst the city of Houston are the best high school athletes. We chose 50 boys and 50 girls, each of whom have excelled on and off their fields of play this season.
Let's get to it.
First up, the 50 Best Girls Athletes
THE LIST
1) Kaitlyn Banas, Cypress Ranch, Volleyball, Wrestling, Pole Vault (Arkansas)
2) Charli Collier, Barbers Hill, Basketball (Texas)
3) Makinzy Herzog, Ridge Point, Softball (Florida State)
4) Lucie Nordmann, The Woodlands, Swimming (Stanford)
5) Grace Yochum, Memorial, Soccer (Oklahoma State)
6) Kynnedy Flannel, Alvin, Track (Texas)
7) Ally Batenhorst, Seven Lakes, Volleyball
8) Hailee Cooper, Montgomery, Golf (Texas)
9) Allie Byrd, Kingwood Park, Basketball, Soccer
10) Briana Garcia, Clear Falls, Volleyball, Track (University of Central Florida)
11) Cate Reese, Cy Woods, Volleyball, Basketball (Arizona)
12) Sophie Walls, The Woodlands, Volleyball (Miami)
13) Kayla De Leon, Cinco Ranch, Wrestling
14) Halle Whitney, Magnolia, Golf
15) Jasmine Smith, Kinkaid, Basketball (Rice)
16) Ally Henson, Yates, Track
17) Carly Graham, Oak Ridge, Volleyball
18) Isa Zelaya, Concordia Lutheran, Volleyball
19) Nastassja Campbell, New Caney, Pole Vault (Stephen F. Austin)
20) Jenika Lombrana, Atascocita, Softball (Texas A&M International University)
21) Claire Bryant, Memorial, Track
22) Kynnedi Johnson, Pearland Dawson, Volleyball
23) Halena Rahmaan, Montgomery, Cross Country, Track
24) Ali Russell, Cinco Ranch, Soccer (Texas A&M)
25) Queen Egbo, Fort Bend Travis, Basketball (Baylor)
26) Christine Wang, St. John's, Golf
27) Melissa LaMette, Cy Ranch, Tennis
28) Madison Lindsey, Kingwood, Softball (Baylor)
29) Jazzy Richards, The Woodlands, Soccer
30) Kelly Rodriguez, Porter, Soccer
31) Kyndall Hunter, Cy Creek, Basketball
32) Kayla Garcia, Katy, Softball (Texas A&M)
33) Colleen Feagins, Kingwood, Soccer
34) Augustina Ijoma, Cypress Falls, Wrestling
35) Riley Cargile, Fort Bend Christian Softball
36) Catherine Krieger, Foster, Volleyball
37) Peyton Cutshall, Atascocita, Soccer (Vanderbilt)
38) Izzy Nelson, Kinkaid, Soccer
39) Kacie Pryor, Foster, Softball
40) Wonder Oguejiofor, Cypress Springs, Track
41) Kattiana Ealy-Pulido, Klein Collins, Track
42) Koi Johnson, Dickinson, Track
43) Gabi Holloway, Seven Lakes, Wrestling
44) Sarah Venker, Episcopal, Softball
45) Anne Chen, Clements, Golf
46) Mia Wehby, Kingwood Park, Soccer
47) Nya Harmon, The Woodlands, Discus
48) Courtney Heckt, Tomball, Soccer
49) Kennedy Prince, George Ranch, Volleyball
50) Skylar Parker, Tompkins, Soccer
This article appears in the June Issue of VYPE Magazine. Pick up your copy at any one of our locations starting next week!
The Houston Astros were in need of some serious help in the bullpen with Phil Maton, Hector Neris, and Ryne Stanek likely leaving this year in free agency.
While some fans were getting concerned about the quiet offseason, the club has made two moves this week to get the ball rolling.
First the team signed Victor Caratini to be the backup catcher, and now they have added some relief pitching.
The Astros traded pitching prospect Carlos Mateo to the Royals for RHP pitcher Dylan Coleman.
Coleman appeared in 96 games in the past three seasons for KC, including 68 games in 2022 and 23 games last season. He has a career 3.88 ERA and 1.37 WHIP. He's fastball (95 mph), slider (81) and cutter (90) and walked 57 batters and struck out 99 in 92 2/3 innings.
— Brian McTaggart (@brianmctaggart) December 6, 2023
Coleman is under club control for the next several years, and made just over $700,000 in 2022. With the Astros right up against the tax threshold, this is a good way to add to the bullpen without having to hand out a large contract.
The Royals had a tough roster decision to make with Coleman, and the Astros made the decision easy for them by making the trade.
Something to note
There's a reason Kansas City wasn't determined to protect Coleman from the Rule 5 Draft. Despite his decent numbers over the last three seasons, 2023 was a rough year for him, posting an 8.84 ERA over 23 games.
In fact, Coleman pitched more innings (30.2) for the Royals AAA team than he did for the big league club (18.1) in 2023.
Hopefully, the Astros can get him back on track this season with some help from their highly touted player development program.
You can watch some of his 2022 highlights above.
SportsMap Emails
Are Awesome