6 places to visit in Eado that make for an amazing weekend walk or bike ride
Apr 23, 2019, 4:45 am
---
Jovan Abernathy is an international marathoner and owner of Houston Tourism Gym. To claim your free tour, contact her at info@tourismgymhtx.com
When I'm scouting out a new tour route, I go out looking for hip, new places that speak for Houston's hospitality, but make you feel good too. Eado definitely has a lot to offer in this department. What used to be one of the most dangerous neighborhoods in Houston that you would not be caught dead in or else you were "caught up." Now, it is not that way. Eado has become a hub of culture. From Street art to breweries to one of the best burger joints in town.
Eado is great to get exercise. I have used Eado not just for my walking tours, but in my run training as well. No matter if you are on wheels or on foot, there is plenty to look at. I've made a guide of all my favorite places.
8th Wonder Brewery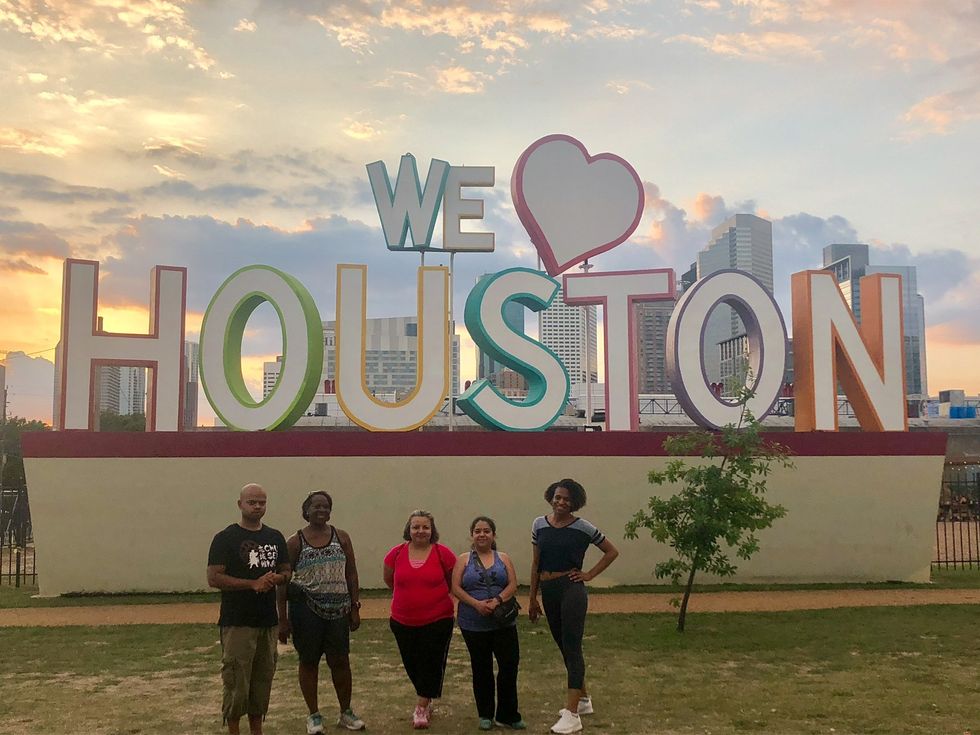 Amazing view behind David Adickes' We Love Houston Sign
What is not to love about a Houston themed brewery that gives homage to the 8th Wonder of the World, the Astrodome? As you know, I'm an IPA girl, so I always have the Hopston when I go, however, even if you are not a drinker, they have something for you. Try their kombucha or thai tea on tap as well as their cold brew coffee. Here are a few fun facts about 8th Wonder Brewery. The brew master heads the cicerone program at University of Houston. You can take your picture next to famous Houston artist David Adickes sculptures of the Beatles and the We Love Houston sign. 8th Wonder gives massive support to Houston culture and businesses. They devoted the can of the Weissheimer to the Blue Tile Project, an initiative to preserve the first street signs in Houston.
Graffiti Park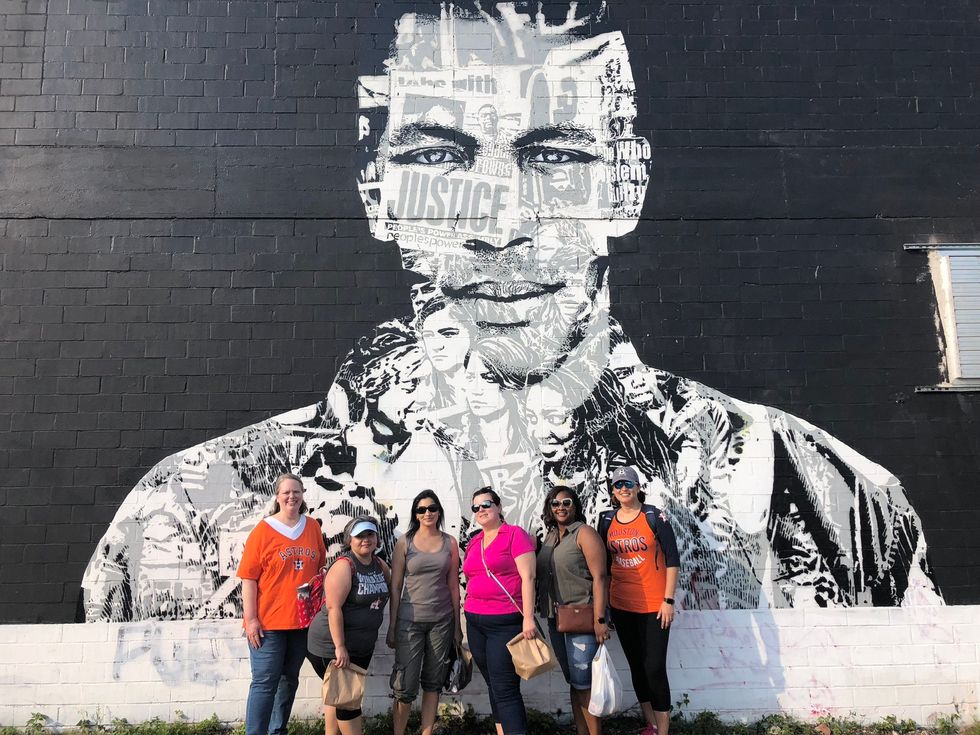 Face of Freedom and Justice
Its true, there are many spots in Houston to do some mural posing. I feel, though, that Eado has a huge concentration of them. No wonder, Eado is where many of Houston's best mural artists grew up and congregate. If you want to get the most mural poses in one spot, then head to Graffiti Park. Climb the stair well and take your picture in front of Anat Ronen's chameleon. Are you a UGK fan? Who isn't? Honor Houston's greatest rappers by taking your pic with Big Mo and Pimp C. Gonzo 247 paid tribute to McDonald's or they paid him. I'm not sure. And my favorite black and white stencil painted by Iranian brothers Icy and Sot. Spend some time checking out the details of the intense face.
Rodeo Goat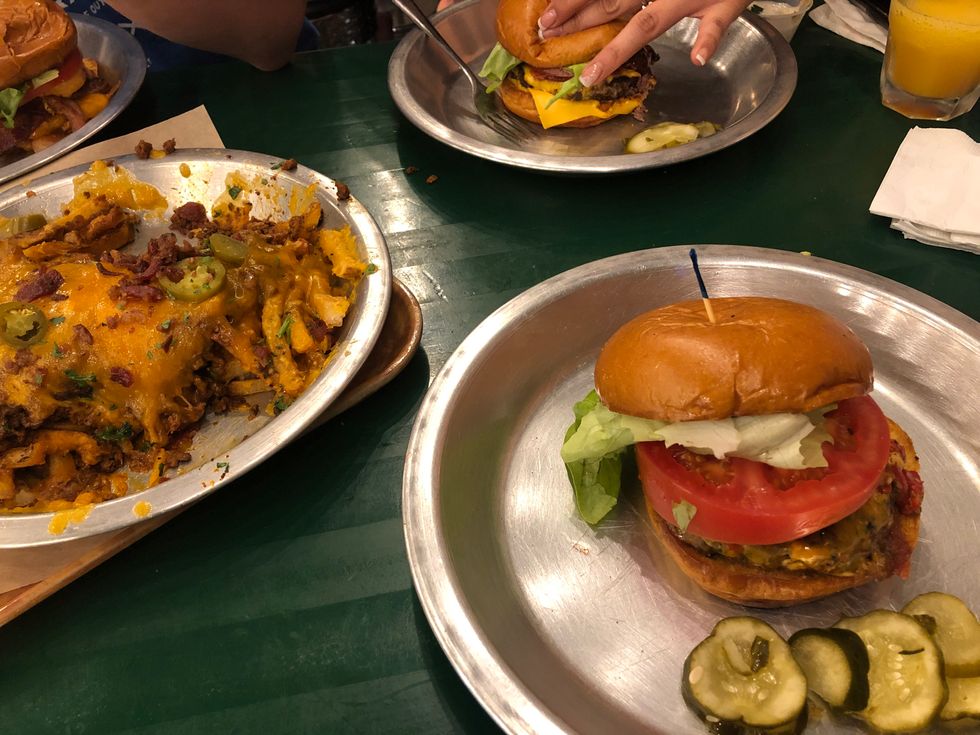 Burgers and Pile of Chili Cheese Fries
So let me see if I get this right. At the tender age of 9, the owner, Shannon Wynne, spent a considerable time at the Houston Rodeo. Many times, left to his own devices, he would spend his time swindling other kids by getting a rodeo goat drunk and betting that he could ride a goat for the first time. He, of course knew the goat was impaired. The other naive children fell for it and today, we have Rodeo Goat, home of the dueling goats. Dueling goats are 2 burger specials that vie for best burger. This is, of course, is based on sales. I still have dreams about the Bodacious. I also saw this crazy picture of an 8oz. burger with double bacon, cheddar cheese, and fried egg on an iced Shipley doughnut with sprinkles. I'm very afraid.
True Anomaly Brewing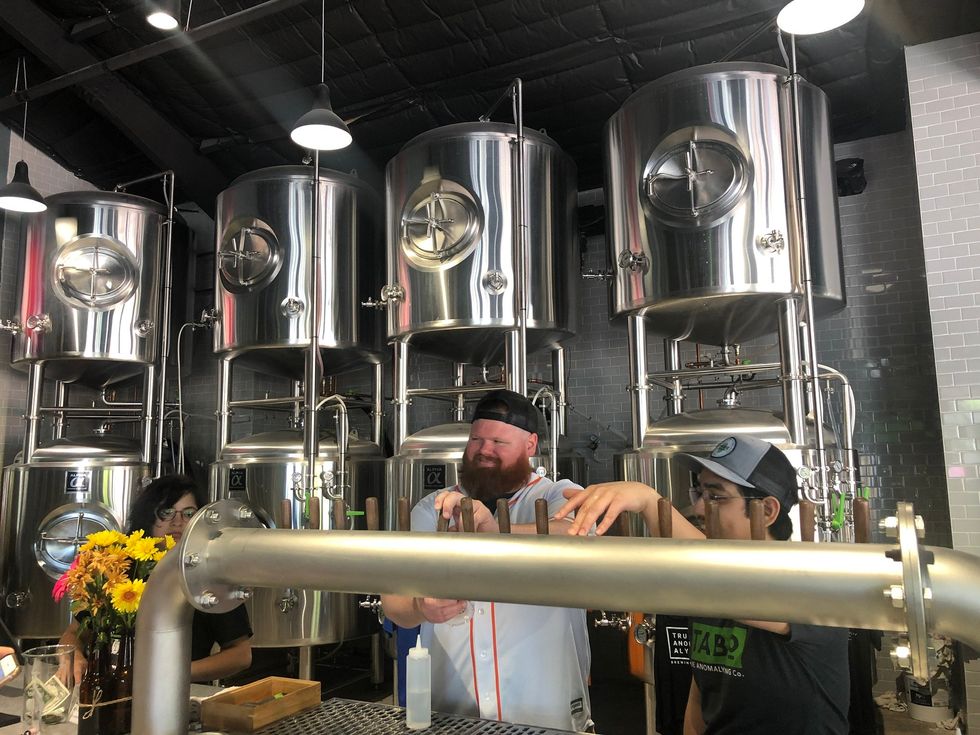 Full Transparency with Barrels right behind the bar.
The new brewery in Houston is full of surprises. First surprise: the owners met at NASA. Houston, we have a brewery started by rocket scientists. That is awesome! The beer is awesome too. I really mean that because I'm drinking one right now. It's the Spotts Park Pale Ale. I never thought that star fruit and mint and beer went together, but they do it right. And True Anomaly? What does it mean? I'm going to make an attempt at making a explanation. In space, (we are talking about SPACE), a true anomaly measures the position of a celestial body in orbit. Did I get it right? Sort of. Google it and your brain will be hurting. At any rate, I trust anyone who understands that with my IPA.
HAM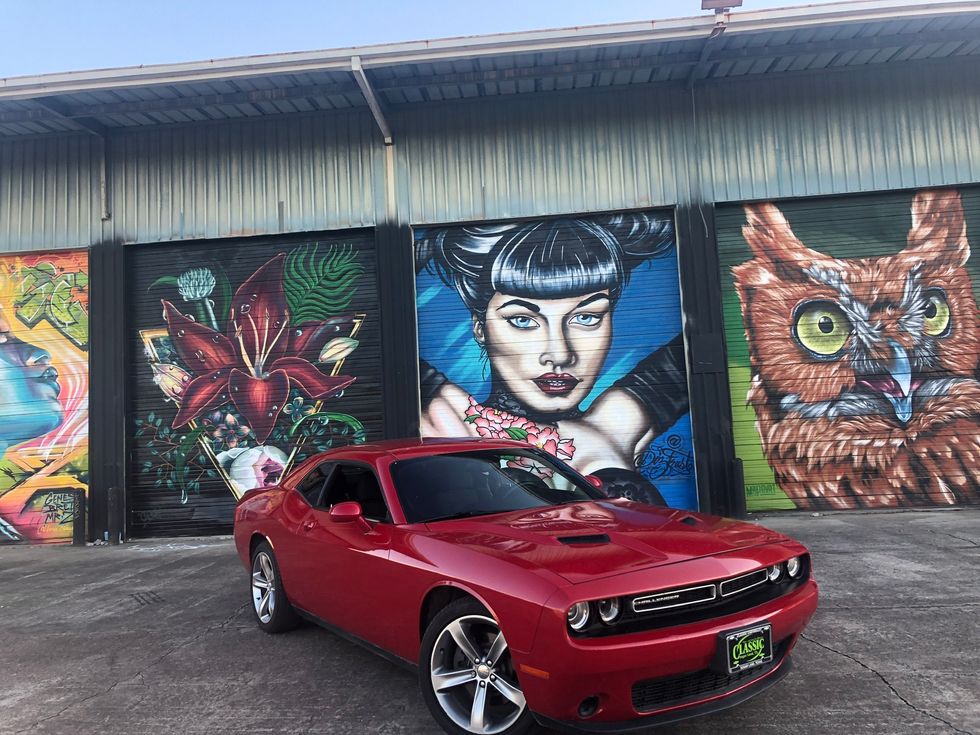 Fast and Furious cars and racy murals at HAM
Or Harrisburg Art Museum is an urban museum that displays art from the best of mural artist, local and international. Not only that, it serves as a mentorship for budding graffiti artists. You never know what you are going to see when you are there. It could be an open market. Or live graffiti painting. I've seen what was like a scene from Fast and the Furious with hot cars and scantily clad women being photographed with them. Once, I even saw a rap video being filmed by a local Houston rapper. If on foot, HAM adds 4 miles to your course.

Sigma Brewery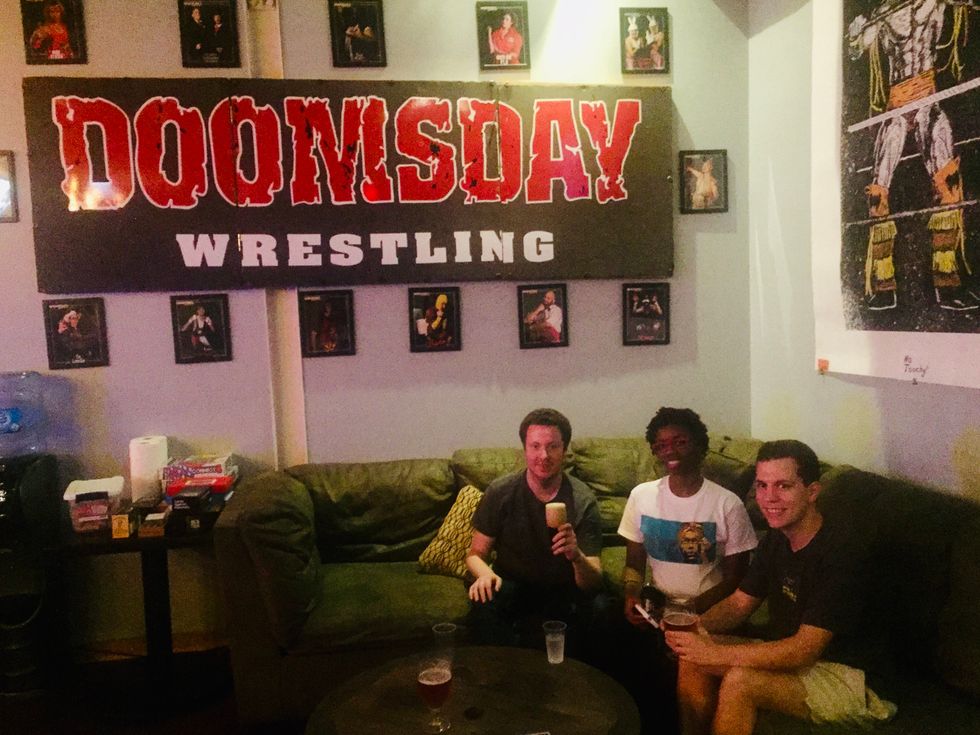 Great beer and comfy couches at Sigma Brewing
After such a long walk, you need another brew. On the way back to the main stretch, you deserve a beer from Sigma Brewery. They specialize in IPA's and Pale Ales, but do amazing light and dark beers. Sigma Brewery is bit of an enigma. The owners are obsessed with science fiction and heavy metal. Don't be surprised if you are watching Prometheus while listening to old Metallica. On the other hand, I always recommend ladies go to the bathroom. Instead of a repurposed 5 gallon pickle bucket or port-o-potty, ladies walk into a dimly lit powder room with pastel blue walls and flowers on an antique table. On the table is a tray of neatly arranged feminine hygiene products. Truly the most comfortable brewery in Houston. The sectional in the brew room makes it hard to leave.
So 5 miles later, you just got an amazing time in one of Houston's budding neighborhoods. I didn't even mention how great the views are of the Downtown skyline in Eado. Be sure to take plenty of pictures.