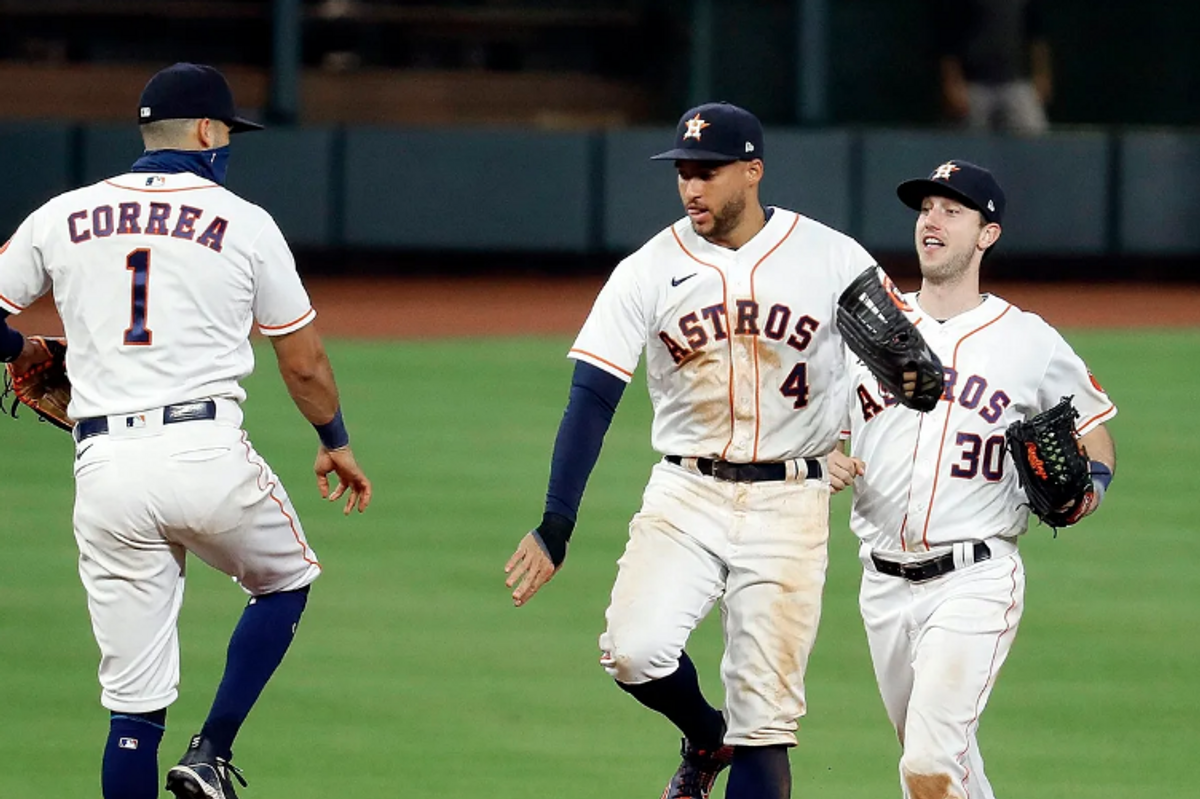 Photo by Bob Levey/Getty Images
It took all nine innings, but the Astros rallied late and took Game 1 by a score of 4-1 and are in the driver's seat in this best-of-three series. They'll return to Target Field, home of the Twins, on Wednesday afternoon to try and get the win and advance to the ALDS. Here's what you need to know about Game 2:
Game Facts
When: Wednesday, 12:08 PM Central
Where: Target Field - Minneapolis, Minnesota
TV: ESPN 2
Streaming: ESPN App

Pitching Matchup: Jose Urquidy+ vs. José Berríos.
Series: HOU leads 1-0.
Series Schedule
| | | | |
| --- | --- | --- | --- |
| | Date & Time (Central) | Location | Pitching Matchup |
| Game 1 | Astros 4, Twins 1 | Target Field, Minneapolis | Greinke vs. Maeda |
| Game 2 | Wed 9/30, 12:08 PM | Target Field, Minneapolis | Urquidy+ vs. Berríos |
| Game 3* | Thu 10/1, 12:08 PM | Target Field, Minneapolis | McCullers Jr.+ vs. Pineda+ |
* If necessary.
+ Projected starters.
Game Storylines
Houston's offense has to get going earlier
The Twins' error in the ninth inning in Game 1 was a gift for the Astros that they were able to take advantage of and score the winning runs. It's unlikely to be handed another chance like that in the postseason, so in Game 2, it's paramount that Houston creates their own opportunities at the plate.

The good news is, every batter in the lineup was able to reach base in the first game, either by hit or walk. However, they would go 2-for-9 with runners in scoring position while leaving nine on base during the game. Because they can't expect to have two pitchers to combine for a one-run game on Wednesday, they will have to carry over the momentum from the end of Game 1 into Game 2 to build a lead their bullpen can carry.
Trust your arms to navigate through
Whether it's Jose Urquidy, who is the likely candidate, or anyone else who ends up starting Wednesday's game, the Astros have to be prepared to have a longer stretch of innings filled by their bullpen. Despite his struggles to end the regular season, Greinke did well only to allow one run to the Twins over his four innings in Game 1.

You should expect a similar outcome in Game 2, where hopefully your starter can hold the Twins at bay for as long as they can before needing to make the change to relievers. It will be interesting to see how Dusty Baker plays that situation, mostly dependent on the score at the time, as he could have someone like Cristian Javier come in for multiple innings. The only thing the Astros shouldn't do is fire too many of their bullets and put their chances in a potential Game 3 at risk.
Be sure to check SportsMap after the final out for an in-depth recap of the game, and follow me on Twitter for updates and reactions throughout each playoff game: @ChrisCampise
The Houston Texans may not have come away with a victory over the Jags on Sunday, but they did come away with a ringing endorsement from Skip Bayless.

While that may scare some people reading this, he does make some good points. His two main reasons for backing the Texans over Jacksonville should be no surprise. DeMeco Ryans and CJ Stroud.
Skip loves DeMeco's demeanor on the sideline and how he appears in total control of his team. And with CJ, Skip can't remember a quarterback with this much poise in his rookie season. His ability to use his legs and make accurate throws is something he's never seen. He already looks like a player 10 years into his career.
Plus, Skip says he felt like Stroud outplayed Lawrence even in the loss. Which led him to look up their QBR scores from the game. And sure enough, Stroud had a higher score.
Be sure to watch the video above as the guys discuss Houston's playoff chances, why free agents will want to come to the Texans, and Richard Sherman shares some inside information on DeMeco Ryans.
If you want to jump ahead to Skip's Texans praise, simply hit play on the video below.
SportsMap Emails
Are Awesome