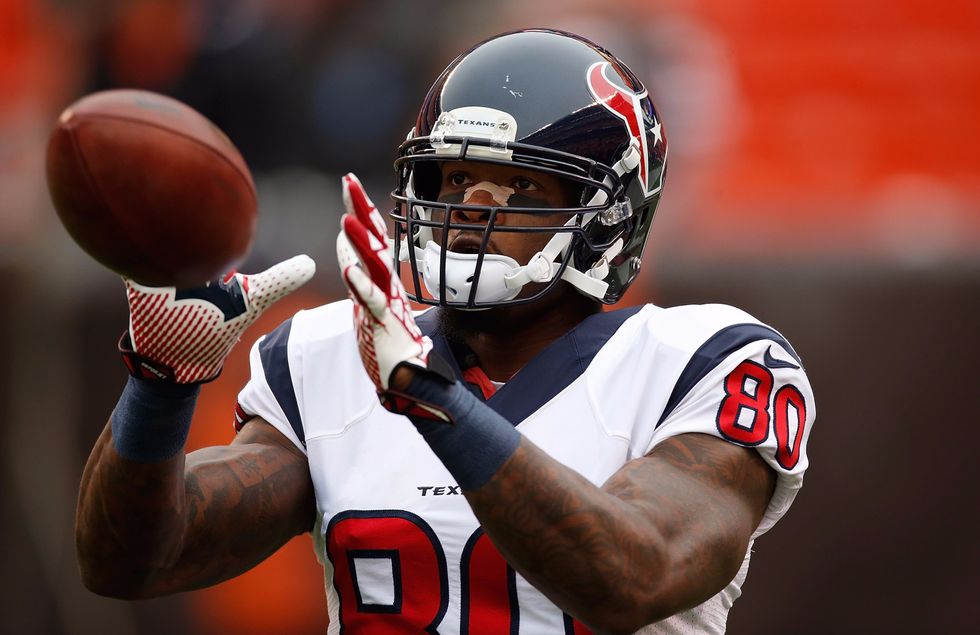 Andre Johnson is hoping he catches a Hall of Fame induction in a few years. Photo by Gregory Shamus/Getty Images
In my opinion, Andre Johnson is the greatest player in Houston Texans history. J.J. Watt is making his case for that spot, but his career is not yet over, so Johnson gets the nod. Those of us who have lived in Houston for the length of Johnson's career know how dynamic he was as a player. The rest of the NFL knows it, too.
Now that he has retired, the talk will obviously turn toward his candidacy for the Hall of Fame. Despite his great career and great numbers, he is considered a borderline candidate. It's easy for me to see why when I look at his statistics and compare them to how successful his teams were when he was on the field. I have come to the conclusion that I don't know for sure and I don't think anyone can come close to knowing for sure until the vote is actually counted.
Let's figure this all out together. Here are the career numbers: 1,062 receptions, (No. 11 all time); 14,185 receiving yards, (No. 11 all time); 70 receiving touchdowns, (tied for No. 40 all time). All in all that's not a bad career. If I saw that most of the receivers above him in yards and receptions were either in the Hall already or certainly on their way, I would assume he was set for enshrinement.
When you see that in 14 years he had five seasons with over 100 receptions and seven seasons over 1,000 yards you would know that a big chunk of his career was spent being one of the best in the game. Except for two things: those pesky touchdown stats and a lack of any real signature moment. I think it's mostly the latter that will deny or delay his entry.
It's easy to look at statistics and all time rankings and say, yeah, he deserves a spot. The truth behind nearly every Hall of Famer are those signature moments when they performed above and beyond to carry their team in crucial moments; namely playoff games. Consider a guy like Andre Reed, who was dynamic during those four Super Bowl runs by the Bills. Or Lynn Swann when the Steelers were the best team of the '70s. Neither of those guys are in the top 15 in career receiving stats but the highlights of them when they were needed most show up more than the numbers.
The fact of the matter is that Johnson's one touchdown in four playoff games is not exactly going to wow the Hall of Fame voters. I know he can't be entirely responsible for his team's success; Reed and Swann had great teams around them, but if he was the best player on his team in the playoffs he should have looked like it. Whether fans like it or not, all his great seasons did not translate to the kind of success that Hall of Fame voters are looking for.
Do I think Andre Johnson deserves to be in Canton? Yes. His numbers demonstrate that he was one of the most dominant players at his position during a large stretch of his career. Do I think he will get in? Eventually. Until recently it seemed difficult for wide receivers to get in, and that created a slight backlog that will take some time to clear out.
Off the top of my head I can think of Terrell Owens, Isaac Bruce, Randy Moss, and Tony Gonzalez who should all get in before him. That list will grow larger as more players like Larry Fitzgerald and Reggie Wayne become eligible. Without that signature moment to strengthen his case it may take quite awhile for him to finally get the votes. Texans fans will just have to be patient and wait for as long as it takes.
The Texans will induct Andre Johnson into the Ring of Honor at halftime during their November 19 game against the Arizona Cardinals. Fans should take the moment to reflect on the good times they got from watching him play. They should take stock of what they saw on the field and know that despite any Hall of Fame outcome, they witnessed greatness. Some things you just know for yourself, and you don't need anyone else to validate it for you.
---
Originally appeared on houstonsportsandstuff.com.
The Houston Astros were in need of some serious help in the bullpen with Phil Maton, Hector Neris, and Ryne Stanek likely leaving this year in free agency.
While some fans were getting concerned about the quiet offseason, the club has made two moves this week to get the ball rolling.
First the team signed Victor Caratini to be the backup catcher, and now they have added some relief pitching.
The Astros traded pitching prospect Carlos Mateo to the Royals for RHP pitcher Dylan Coleman.
Coleman appeared in 96 games in the past three seasons for KC, including 68 games in 2022 and 23 games last season. He has a career 3.88 ERA and 1.37 WHIP. He's fastball (95 mph), slider (81) and cutter (90) and walked 57 batters and struck out 99 in 92 2/3 innings.
— Brian McTaggart (@brianmctaggart) December 6, 2023
Coleman is under club control for the next several years, and made just over $700,000 in 2022. With the Astros right up against the tax threshold, this is a good way to add to the bullpen without having to hand out a large contract.
The Royals had a tough roster decision to make with Coleman, and the Astros made the decision easy for them by making the trade.
Something to note
There's a reason Kansas City wasn't determined to protect Coleman from the Rule 5 Draft. Despite his decent numbers over the last three seasons, 2023 was a rough year for him, posting an 8.84 ERA over 23 games.
In fact, Coleman pitched more innings (30.2) for the Royals AAA team than he did for the big league club (18.1) in 2023.
Hopefully, the Astros can get him back on track this season with some help from their highly touted player development program.
You can watch some of his 2022 highlights above.
SportsMap Emails
Are Awesome