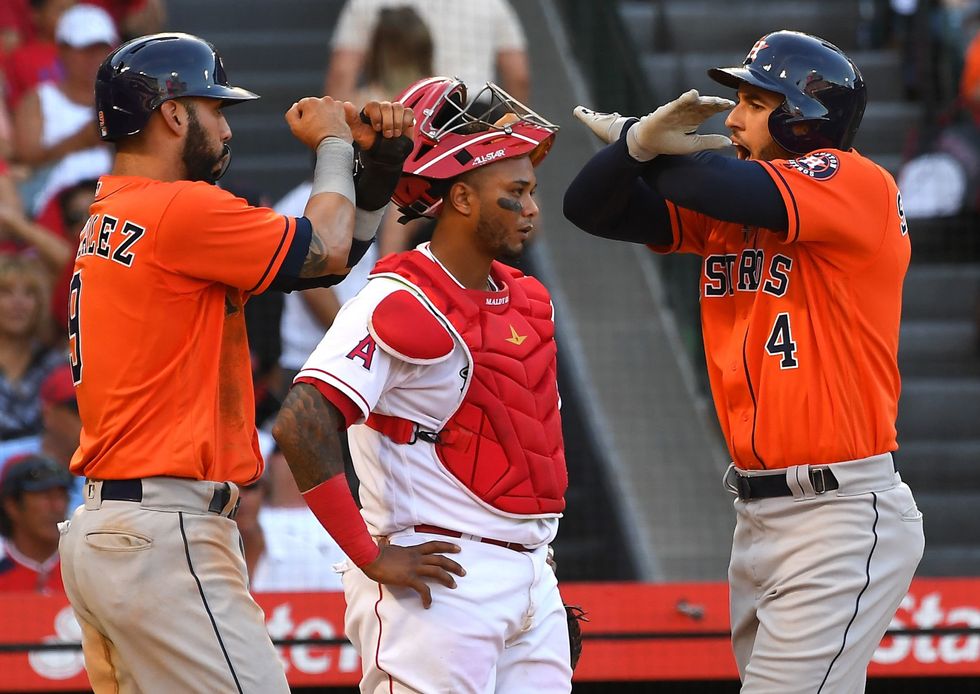 Martin Maldonado (center) will be joining the Astros after facing them his entire career. Jayne Kamin-Oncea/Getty Images
The Astros have made a trade, however, it's not for a reliever. Instead, Houston has sent a pitching prospect to the Angels to get a catcher. 
On Thursday the Houston Astros and Los Angeles Angels struck a deal which sent pitching prospect Patrick Sandoval and cash to Los Angeles with catcher Martin Maldonado going to Houston. 
Maldonado is a veteran in the league who won a Gold Glove in the 2017 season with the Angels. He will be a rental for the Astros, becoming a free agent after the 2018 season. Maldonado has started 77 games for the Angels this year, during which he has continued to provide strength behind the plate like he did in his award-winning year last season. 
Martin gives the Astros some strength and experience behind the plate that they have needed since Brian McCann went down with his knee injury. With McCann's return still uncertain, it's a good move for the Astros to add some depth at the position, allowing them to switch out Max Stassi and Maldonado as needed instead of relying on Tim Federowicz. 
Looking at Maldonado's performance this year; he's currently leading the AL in putouts like he did last season, second in the AL in Caught Stealing percentage at 44.4%, and has the lowest passed balls at just 10. His best value is behind the plate, not necessarily as a hitter; he's hitting .223 on the season with just five home runs and 32 RBIs. 
The prospect the Astros gave up, Patrick Sandoval, has been in Houston's system since being drafted in the eleventh round of the 2015 draft. Sandoval has had a good year in 2018 in the minors, currently sitting with a 9-1 record and 2.56 ERA in 19 games, 13 of which were starts. He's pitched 88 innings over those 19 games, during which he's given up 25 earned runs while striking out 97 and holding opponents to a .213 average. 
Although not the highest prospect in the Astros' system, time will tell if it was worth giving up Sandoval for a few months of Maldonado's strength behind the plate. It's clear the Astros front office is determined to take advantage of their championship window and adding Maldonado could be a piece they need this offseason. 
Stats acquired from baseball-reference.com and milb.com
All of a sudden, the Houston Texans have won three straight and host the Jacksonville Jaguars for a highly anticipated game this weekend
If the Texans come away victorious, they will take possession of first place in the division, and be in position to host a home playoff game for the first time since 2019.
Which got us thinking, is this the best version of the Texans we've ever seen? Many would say the best Texans teams were the ones coached by Gary Kubiak with Matt Schaub at QB. Or some may say it was the Bill O'Brien 2019 team with Deshaun Watson pulling the trigger at QB.
Regardless of which era of the Texans you believe was the best, one thing is for sure. This year's team has us optimistic on several levels. Ownership seems to have figured things out with the Easterby days behind us. Nick Caserio is a serious candidate for Executive of the Year, CJ Stroud is a favorite for Offensive Rookie of the Year, and has a chance to win MVP. And DeMeco Ryans has a legit shot at Coach of the Year.
But let's go even further. Has DeMeco done enough already to be considered the franchise's best coach? Many would say these questions are entirely premature, but are they really?
We could also make the argument that Tank Dell is already the third-best receiver in franchise history behind Andre Johnson and DeAndre Hopkins. He already has as many touchdowns (6) as Dre and Hopkins combined in their rookie seasons.
And let's make things even more interesting. Is CJ Stroud the best Houston QB since Warren Moon?
Be sure to watch the video above as we answer all these questions!
SportsMap Emails
Are Awesome