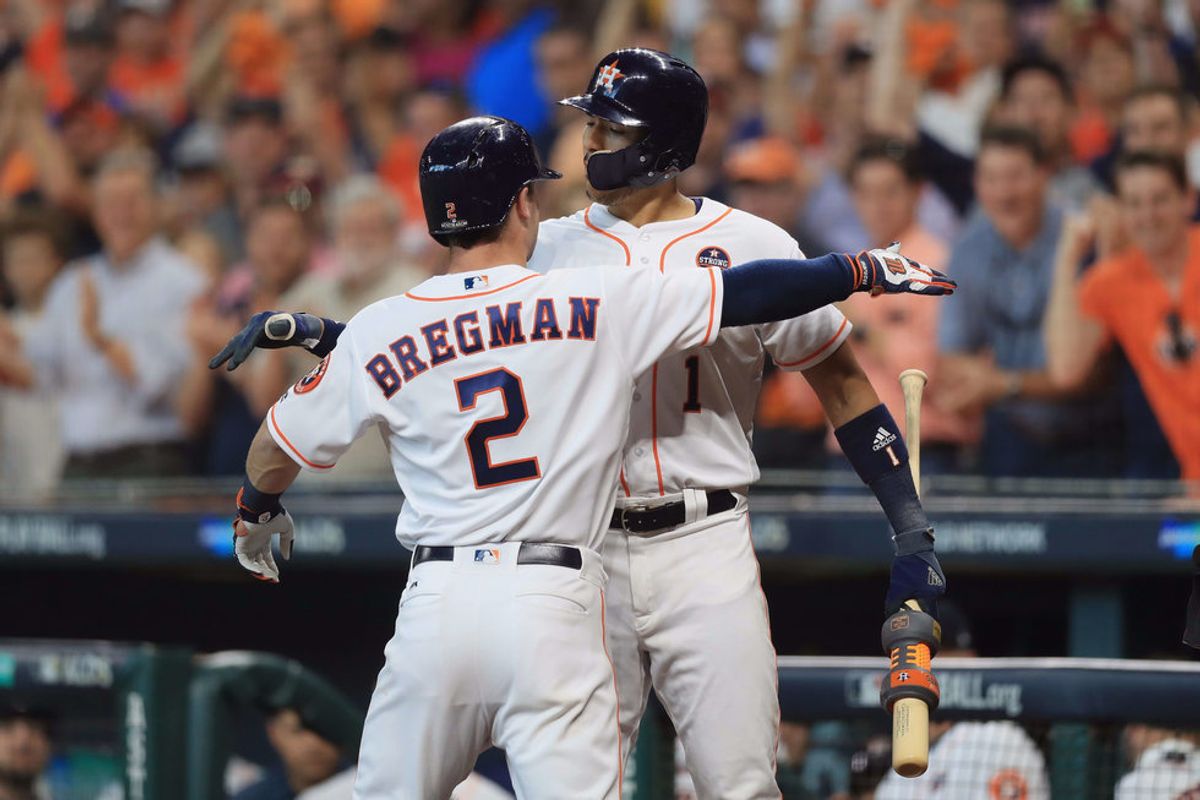 Carlos Correa in the leadoff spot paid off. Photo by Ronald Martinez/Getty Images.
The Astros finished the first inning of the regular season Thursday night. 18 games out of 162, one-ninth of the schedule. Viewing the season in single game form, they're behind 2-nothing going to the second. A deficit nowhere near insurmountable, but not inconsequential either. An 8-10 record is not a big deal. Still, for late April this is an important American League West homestand with four against the Angels followed with four against the thus far spunky Mariners. It's not remotely make or break. A winning homestand and the Astros are just fine. A 2-6 or 3-5 mess? Wouldn't be catastrophic though even this early in the season, falling five, six, seven games behind three teams within the division would be a bona fide concern.
The Astros enjoyed a much-needed breakout game Thursday night in routing the Angels 8-2. They sure didn't want their stretch of brutally bad baseball to drag into the weekend. It's been a team wide affliction. In losing nine out of 10 games the offense had been generally comatose, just once scoring more than four runs. Ironically it was in the lone win that the Astros plated the smallest number, a 1-0 victory at Seattle. Astro pitching had been straight lousy, just once during the ten game stretch allowing fewer than six runs.
Dusty Baker makes the occasional dubious tactical decision, but props to him for slotting Carlos Correa in the leadoff spot Thursday with Jose Altuve still out. First time in his big league career Correa led off. It's simple. You want your best batters up the most. It doesn't matter how fast Myles Straw is. Until/unless he demonstrates something resembling competence as a batter no way should Straw ever be higher than eighth in the lineup.
Mike Trout's greatness
The Angels in through the weekend means the beyond great Mike Trout is here. Among the greatest center fielders of all-time Willie Mays was no greater than Mike Trout. Mickey Mantle was no greater than Mike Trout. At their individual peaks Mantle has the edge for greatest offensive player. Willie was 34 at the end of his last absolutely awesome season, Mickey was 32 at the end of his last. Willie had a great season in his last as an everyday player when he was 40! Trout turns 30 in August. It will be fascinating to see how long Trout sustains baseball God level of play. He's under contract for eight more seasons after this one at more than 37 million dollars per. Alas in baseball, even the greatest everyday player can only do so much toward team success. Trout has been to the postseason once in his career (2014). The Royals swept out the Angels in three straight. Trout went one for 12.
By the way, Ty Cobb was more statistically dominant than any of them but most of his career occurred during the dead ball era. Comparisons can be made but they're a little more apple vs. orange-y.
Rocket science
The Rockets are closing in on nailing down a finish of the worst three records in the NBA and hence maximizing their chances of keeping their lottery pick at 52.1 percent. The Rockets have to finish worse than Orlando or Detroit. Even if the Magic or Pistons lose all remaining games (except the game someone has to win when the Magic and Pistons play), the Rockets would have to win four more to rise above the bottom three. Yeah right! The Rockets' remaining schedule: Clippers, at Denver, Timberwolves, Bucks, Warriors, Knicks, 76ers, at Milwaukee, at Utah, at Portland, at the Lakers, Clippers, at Atlanta.
Sterling Brown is fortunate to not be in worse shape as he recovers from getting attacked outside a Miami strip club early Monday morning. What could have been a life or death matter takes on the most importance, but the Rockets should be concerned, distressed, and ticked that Kevin Porter Jr. was among those out with Brown in the wee hours. On the Rockets' lousy roster, Porter is one of the few beacons of hope. During his freshman season at USC Porter was suspended for misconduct. His behavior with the Cleveland Cavaliers led to the Cavs basically giving away a first round pick in his second season to the Rockets. Porter is now basically suspended because he breached NBA/COVID protocols. It was an irresponsible and lousy job of "mentorship" by Brown and whatever other Rockets were on hand ahead of a game upcoming in Miami that night. Brown was on the trip while not even available to play because of a sore knee.
Buzzer Beaters:
1. Interesting timing by the Astros extending Martin Maldonado's contract through next season and giving him a 1.5 million dollar raise for it. Maldonado is batting .081. He's not here for his bat, but come on.
2. If the 49ers really traded their 2022 and 2023 first round picks plus a third rounder next year to swap up from pick 12 overall to third overall to take quarterback Mac Jones out of Alabama, they're nuts. Doesn't mean it can't work.
3. The next three (okay four) best center fielders ever: Bronze-Oscar Charleston/Ken Griffey Jr. Silver-Tris Speaker Gold-Joe DiMaggio
One of the big factors that led to the Texans' loss to the Jaguars on Sunday was the secondary. Multiple flags for pass interference gave Jacksonville more opportunities to pick up first downs and score points.
Can confirm #Texans backup CB Shaq Griffin was cut.

Griffin started 6 games this year when Derek Stingley was out with a hamstring.
— DJ Bien-Aime (@Djbienaime) November 29, 2023
So it's no surprise that DeMeco Ryans is making some changes to his defense this week. According to several reports, Texans corner Shaq Griffin has been cut.
Nickel corner Tavierre Thomas was flagged for PI more than once on Sunday, and was burned badly by Jaguars receiver Calvin Ridley for a touchdown.
DeMeco was asked after the game if he considered replacing Thomas with Desmond King or Shaq Griffin. Ryans didn't give a definitive answer, but it looks like we got one today.
One has to wonder if Desmond Kings' experience playing nickel was the reason for his promotion to the active roster and why Griffin was released. If Thomas continues to struggle, King looks like the next man up to replace him.
#Texans activate Denzel Perryman, promote Desmond King to active roster, release Shaq Griffin, sign Matt Ammendola and Garret Wallow to practice squad, released Gerrid Doaks from practice squad and placed Tytus Howard (knee-patellar tendon surgery pending) on injured reserve https://t.co/knyyoqo7yC
— Aaron Wilson (@AaronWilson_NFL) November 29, 2023
The Texans also made some other adjustments to their roster on Wednesday, per Aaron Wilson. Linebacker Denzel Perryman returns from suspension, kicker Matt Ammendola and linebacker Garret Wallow join the practice squad. They also released Gerrid Doaks from the practice squad.
The other big piece of news involves left guard Tytus Howard. He heads to injured reserve, ending his season after hurting his knee against Jacksonville.
SportsMap Emails
Are Awesome