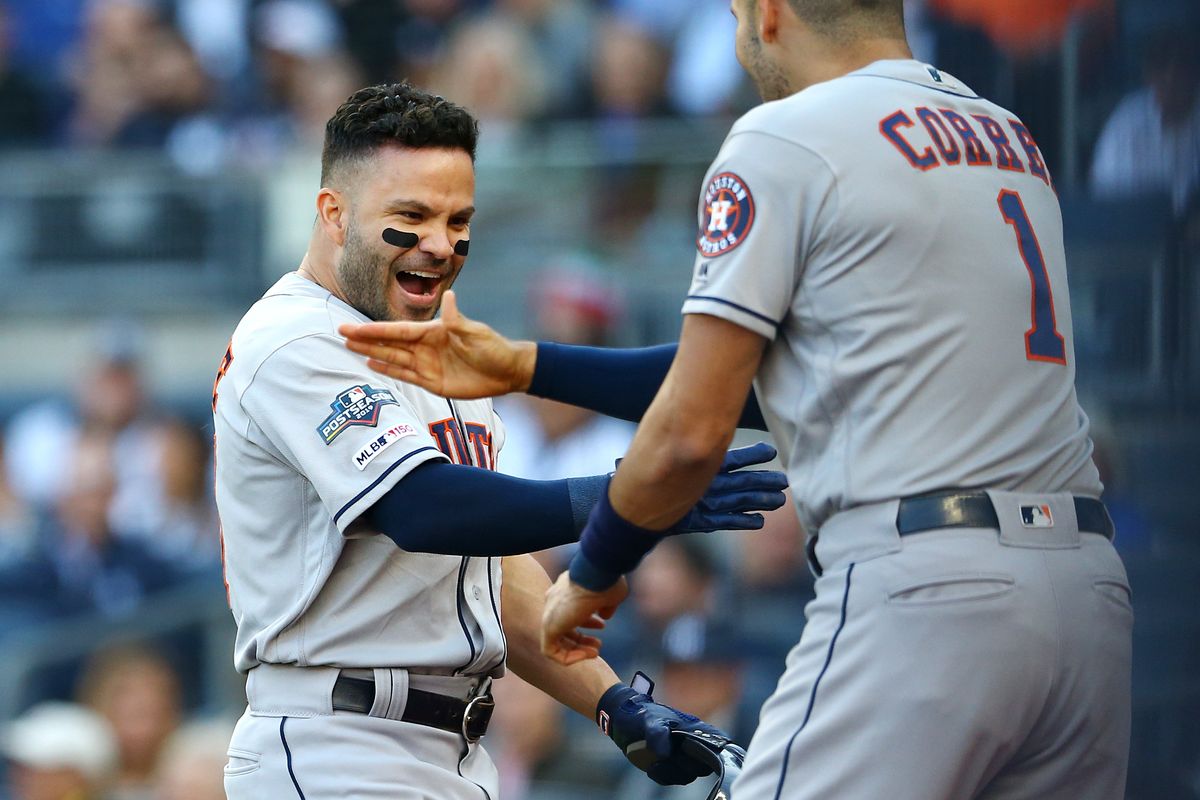 Photo by Mike Stobe/Getty Images
After grinding through back-to-back extra-inning games in the series with the Los Angeles Angels where they would ultimately come away with the victory, the Astros had a day off on Monday before getting back into action on Tuesday. They were in Arizona for the first of three games against the Diamondbacks. Here is a rundown of the series opener:
Final Score: Astros 8, Diamondbacks 2.
Record: 6-4, first in the AL West.
Winning pitcher: Cristian Javier (1-0, 1.42 ERA).
Losing pitcher: Madison Bumgarner (0-2, 7.04 ERA).
Houston takes an early lead against Bumgarner and then piles on
Got this one out early!#ForTheH pic.twitter.com/4s6uWrjo5g
— Houston Astros (@astros) August 5, 2020
Houston wasted no time going after Madison Bumgarner, with George Springer going after the first pitch of the game for a groundout, then Jose Altuve launching a solo home run on the next pitch to get an early 1-0 lead in the top of the first. They added to that lead in the second inning, with Carlos Correa leading it off with a solo home run of his own, making it 2-0. After two hit batters and a single, the Astros had the bases loaded for George Springer with one out, and he would deliver a sacrifice fly to push the lead to 3-0.
They would put runners on base in the next two innings, but would not score again until the fifth when a Bumgarner fielding error on a potential double-play would bring in a run and extend the inning. Houston would go on to load the bases, setting up Kyle Tucker for an RBI-single to make it 5-1 and end Bumgarner's night. Against Arizona's new reliever, Martin Maldonado worked a bases-loaded walk to make it 6-1, then Springer followed with a two-RBI double, blowing the game open at 8-1.
Javier gets first-career win in another impressive start
With a lead in hand when he went to the mound, Cristian Javier had another strong performance in his second-ever start. He allowed just one baserunner over the first three innings, a single in the second. After those three efficient innings, he would face some adversity in the bottom of the fourth. After allowing a double and one-out walk, he would give up his first run of the night on an RBI-single to make it a 3-1 game. Luckily, a great double play behind him would get him out of the jam and the inning.
Javier was able to settle back in after that rougher inning, getting quick, scoreless innings in the fifth and sixth, earning him the win. His final line: 6.0 IP, 4 H, 1 ER, 1 BB, 2 K, 0 HR.
Yet another rookie pitching debut as Houston's bullpen finishes the win
Bryan Abreu was first out of Houston's bullpen, taking over for Javier in the bottom of the seventh. He would not have an inning to remember, allowing a leadoff double followed later by two walks to load the bases. He then walked in a run, making it 8-2, and prompting another call to the bullpen. Enoli Paredes would enter and get the final out of the seventh inning.
Paredes ran into trouble of his own in the bottom of the eighth, loading the bases after a walk and two singles, but with some help from Houston's defense would keep it a six-run lead heading to the ninth. In yet another Astros debut for a pitcher in 2020, Humberto Castellanos entered in the bottom of the ninth, and he recorded the final three outs to close out the victory for Houston.
Up Next: This series continues on Wednesday with the middle game of this three-game set at 8:10 PM Central. Lance McCullers Jr. (1-0, 5.40 ERA) will return to the mound in another start for the Astros, while Robbie Ray (0-2, 8.64 ERA) will look to turn things around in his early season with the Diamondbacks.

It's no secret that Colin Cowherd has been very critical of Texans QB CJ Stroud, and the organization's decision to draft him at No. 2 overall.
Cowherd believed the Texans should have waited until next year's draft to take one of the top college QBs. He was of the opinion that Stroud didn't have as much mobility as some other options set to come out in the 2024 NFL Draft.
He even went as far to say the Texans would end up with one of the worst records in the league and would end up drafting another QB the following year. Cowherd also didn't realize the Texans traded their No. 1 pick to Arizona in the Will Anderson deal.
Stroud's player comp pre-draft was Jared Goff with more mobility. Now all of a sudden, that sounds like player any team would want to lead their offense.
So why the change of heart all of a sudden? For Colin, it was the final drive against the Bengals that changed everything for him.
Looking ahead
Colin and his co-host John Middlekauff also discuss how Stroud's success makes Bryce Young look like a bust, and how the draft and a ton of money in free agency can really bolster Houston's roster in 2024.
With Stroud running the Texans offense, players are going to want to come to Houston.
SportsMap Emails
Are Awesome