WHAT APPEARED TO BE A STRONG SUIT FOR HOUSTON IS NOW LOOKING LIKE A GLARING WEAKNESS HEADING DOWN THE STRETCH
Astros: How much do you trust the bullpen?
Sep 3, 2019, 7:28 am
Composite photo by Jack Brame
The Astros bullpen started the year as one of the better relief units in the big leagues and after a few trades at the deadline, it was set up to be even better come playoff time. Now, due to a combination of injuries and multiple failed appearances, blown saves and relinquished leads, the pen may be the danger zone for AJ Hinch as they head towards the finish line for the regular season and prepare for a deep playoff run. Will Harris seems to be the only guy that can be trusted to protect a lead or keep the team in a tight game, while the rest of the group struggles to get its swagger back and re-build confidence. For all of Houston, the hope is that they can get it figured out and back on track before it's too late and it costs the team a chance at their second title in three years.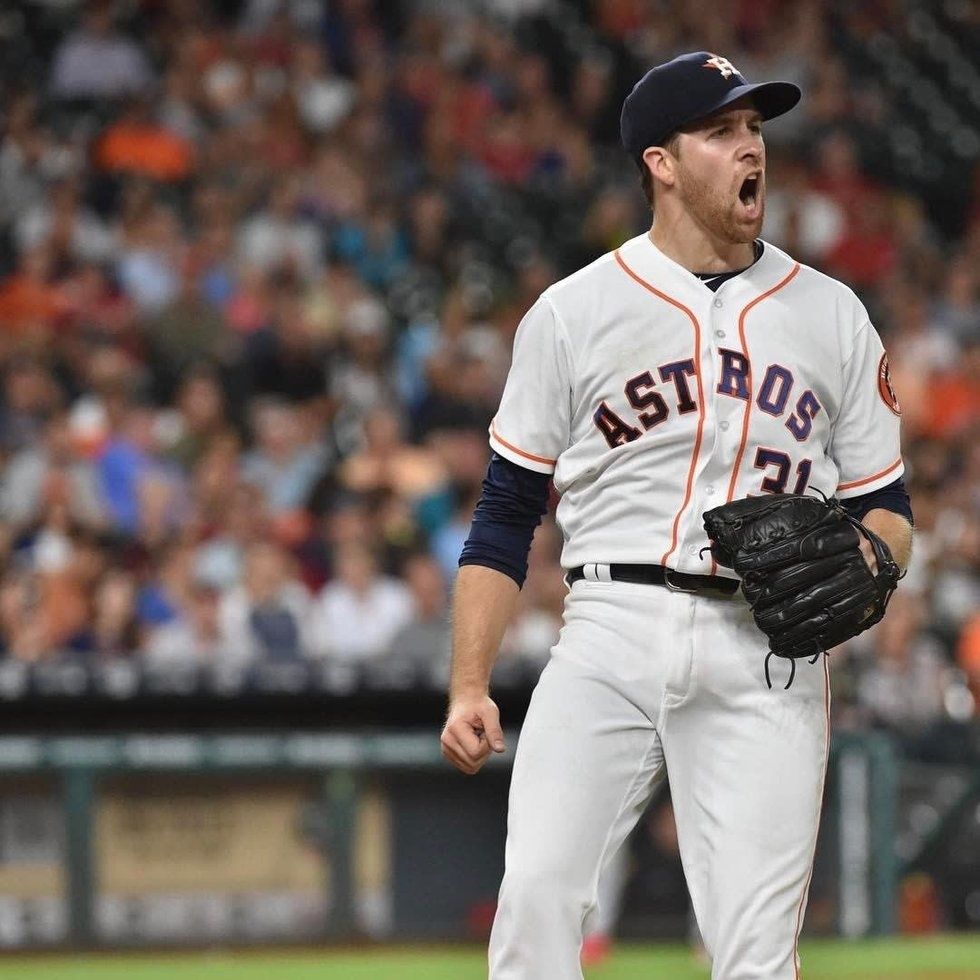 Injuries are a big reason why the once-reliable relief unit has struggled mightily late in the season. Former starters turned long relievers Brad Peacock and Collin McHugh are fighting arm and shoulder issues that have nagged them throughout this season and currently have them on the IL. Mchugh is dealing with lingering elbow issues, while Peacock may be in jeopardy of seeing his season come to an end as his shoulder problem has gotten worse instead of better and may require more drastic measures in terms of treatment. Josh James also has had to fight through a tired arm, loss of velocity and concern with his pitching shoulder, but currently he is back on the active roster and got the save in Milwaukee yesterday after getting out of some self-inflicted trouble thanks to his 100 mph fastball. All of those ailments have been a nuisance for Hinch and pitching coach Brent Strom, but none of those setbacks can come close to the knee issues that have put Ryan Pressly out of commission. Pressly went from a short stint on the IL to allow his arm and knee to rest and recuperate, to undergoing surgery to repair the knee and put the rest of his regular season and possibly the early stages of the postseason in limbo depending on rehab and recovery time. The all-star setup man is not only a luxury for Hinch as his best high leverage situation guy, but he may also be the difference between a return trip to the World Series and an early exit from the playoffs.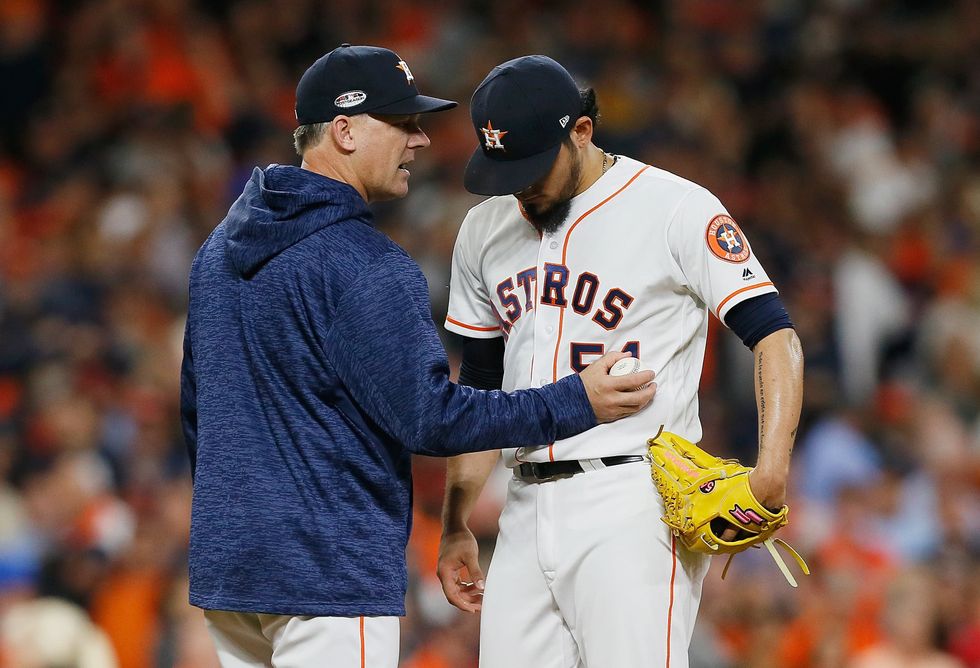 Bob Levey/Getty Images
The biggest surprise in the bullpen this season has been the decline and shortcomings of all the arms that have been reliable and dependable over the last few seasons. Chris Devinsky has gone from All-Star to uncertainty when his name is called on to put out a fire, shut down a rally or hold a lead. His lethal C.O.D. or circle of death changeup is now more like a "chance of disaster." Devo had an ERA of 9.00 for his first 11 appearances in August and gave up at least one run in 7 of those opportunities. Hector Rondon has seen his fastball in the high 90's turn into the starting exit velocity for balls hit by opposing hitters with those numbers increasing with each passing inning. Joe Smith and Joe Biagini have suffered through similar fate as their one time highly affective stuff has been reduced to a roller coaster ride of highs and lows with every passing appearance. Even closer Roberto Osuna has lost his swagger and his lights out results since the all-star break and even before he received the honor of representing Houston on the AL squad. His ERA since the All-star break is over 5.00 and a deeper dive into the stats show even more reason for concern. Since late May he has 6 blown saves, a 4.86 ERA and has given up 8 home runs. He has two wins in his last two appearances, but only because he couldn't shut the door and close the two contests with saves. His ERA is 13.50 in those 2 victories and that should tell you all you need to know. How can you trust a closer that can't seem to put out a fire, let alone smoldering ash over the last 3 months? A closer on a championship-caliber team should not have an ERA over 3 for the year. If he can't get it together and figure out how to get back to his winning ways soon, Houston may need to start auditioning other candidates for the most important role in the pen.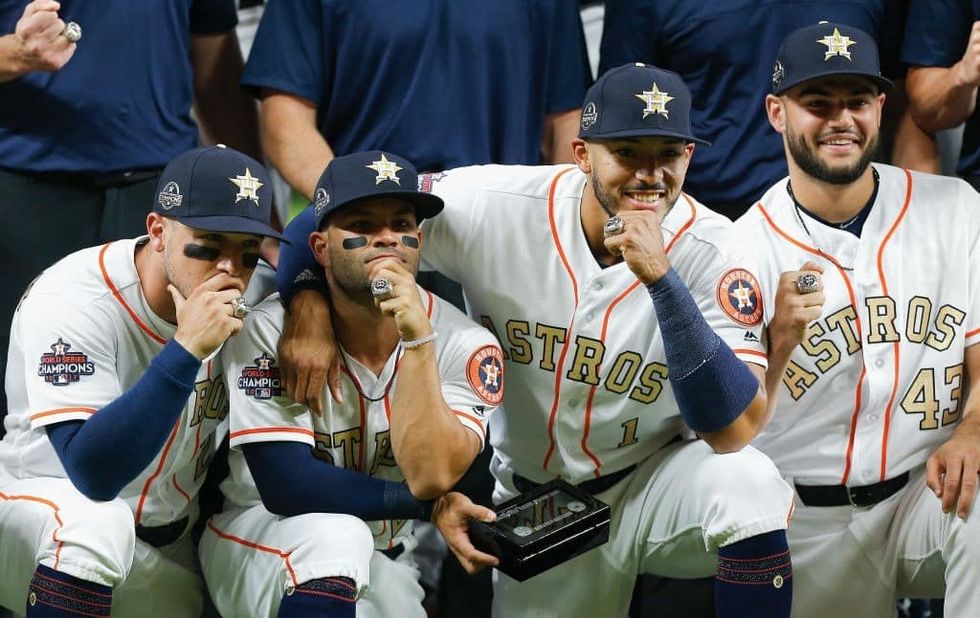 photo by Bob Levey/Getty Images
The bottom line is this Astros team is extremely talented and has as good a shot at winning the World Series this season as any team in baseball. The roster is loaded and that includes the pitching staff. The starters are fantastic and the addition of Zach Grienke has made them the premiere rotation in the game. The bullpen has great numbers on the season, despite the injuries and this bump in the road. If they can get healthy, avoid any season-ending injuries and get back on track, they can be the key to bringing another title to H-town. If the pen continues to struggle and remains inconsistent, it could be a disappointing ending to an otherwise fantastic campaign. Let's hope Brent Strom and company can work their magic and the guys can rediscover their winning ways and once again be trusted and counted on to shut the door and seal the deal when called on.astros