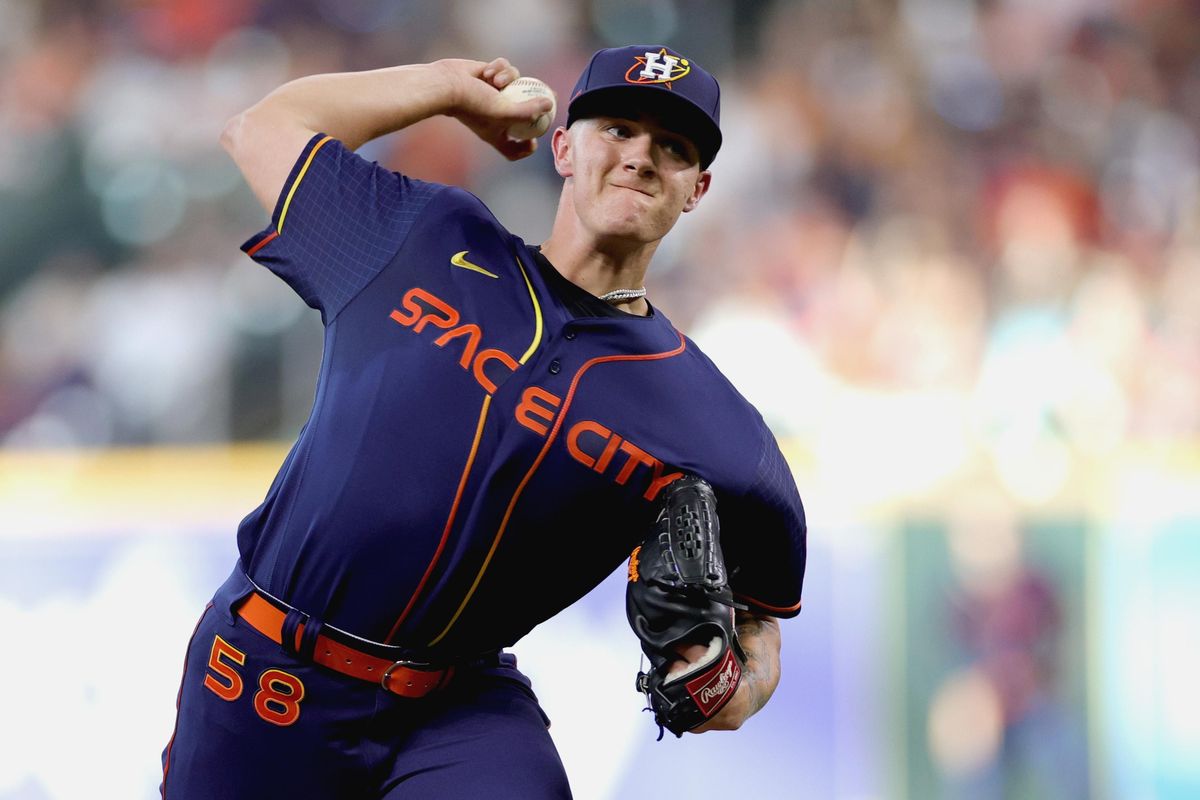 Hunter Brown belongs in the big leagues. Photo by Carmen Mandato/Getty Images.
The Astros were sanctioned for their role in the sign stealing scandal. Part of those sanctions took away several high draft picks. With the pipeline of prospects seemingly drying up as the team has been successfully rebuilt, the need to constantly replenish the minor league system was hurt. Losing up to four high draft picks could hurt, if your team isn't prepared to maximize the remaining picks and/or fails to develop the prospects they already have. There's also the international market to pull from when it comes to finding prospects.
Hunter Brown entered this season as the Astros highest ranked minor leaguer in the MLB.com Top 100 prospects list. He's still their highest ranked prospect as of the update last month...he's ranked number 71. To say that's a blow to the future would be exaggerating. To say its not ideal and could spell for some rough times ahead would be more accurate. However, Brown was a fifth round pick, number 166 overall, and has turned out to be a revelation.
Brown has a fastball, slider, curve, and a changeup. In his debut, he threw a 96mph slider! Imagine a slider moving just as fast as his fastball, but then it breaks. One thing that came to light in my research on this was the story told on the broadcast the other night. When in college, he stopped throwing the curve he threw in high school. The Astros asked him if he threw a curve upon drafting him and working him out. When he said it's been since high school then unleashed a curve that looks like it falls off a table, they were very impressed.
In his Labor Day debut he threw six innings using 79 pitches, allowed three hits, gave up on walk, struck out five, and didn't give up an earned run in the 1-0 win. Having an arm like this, to add to the already loaded staff, has this team in a position of power. There are seven starters on this squad and all seven have a legit claim to be in the rotation. Brown will no doubt be on the postseason roster with his stuff. When it's cut down to a four-man rotation in October, which three are headed to the pen? In the offseason, who's moved to bring back players and/or prospects to help sure up other areas of need? All these questions are the kinds of problems most teams pray for.

Brown should never see the minors again. He's 24 year old and has A+ stuff. He showed a level of calm and maturity on the mound Monday that belies a guy his age and experience. He's their pitching version of Yordan Alvarez in that they got him on the cheap and found a gem. I don't care who has to get sent down or traded, they need to make room for this kid. Maybe use this offseason to convert one of those starters into a reliever. Whatever needs to be done should be done. You don't come across guys like this too often. Couple his talent with the pitching coaches they still have, the vets like Justin Verlander on the same staff for guidance, and a catcher in Martin Maldonado, there's almost no way this kid fails.
After a quiet offseason the Houston Astros finally made some moves this week to bolster their roster by adding backup catcher Victor Caratini in free agency.
The club also acquired some bullpen help by trading for Royals reliever Dylan Coleman.
Astros GM Dana Brown also garnered a lot of attention this week by proclaiming Jake Meyers will get an opportunity to be the everyday starter in center field.
And while the Astros have been connected to several free agent relief pitchers by various media outlets, it appears Houston isn't looking to spend much money.
On the other hand, the Yankees went out and traded for superstar outfielder Juan Soto, and have shot past the Astros when it comes to World Series odds.
Which begs the question, have the Astros done enough to compete with the Yankees in 2024?
To be fair, we've seen this movie before. The Yankees historically out spend every team, but they've been a little more conservative over the last few years.
But now, they look like the Yankees of old when it comes to payroll.
Plus, we heard rumors a few weeks ago that the Astros might be looking to trade Jake Meyers. And now all of a sudden he's getting the first crack at the starting job in center?
Could this be a smoke screen from Dana Brown to try to elevate his trade value? We've seen the Astros value defense in center field before, they let George Springer walk and replaced him with Myles Straw.
Be sure to watch the video above as we decipher what the Astros are really trying to accomplish this offseason, and successful they can be in the AL in 2024.
SportsMap Emails
Are Awesome