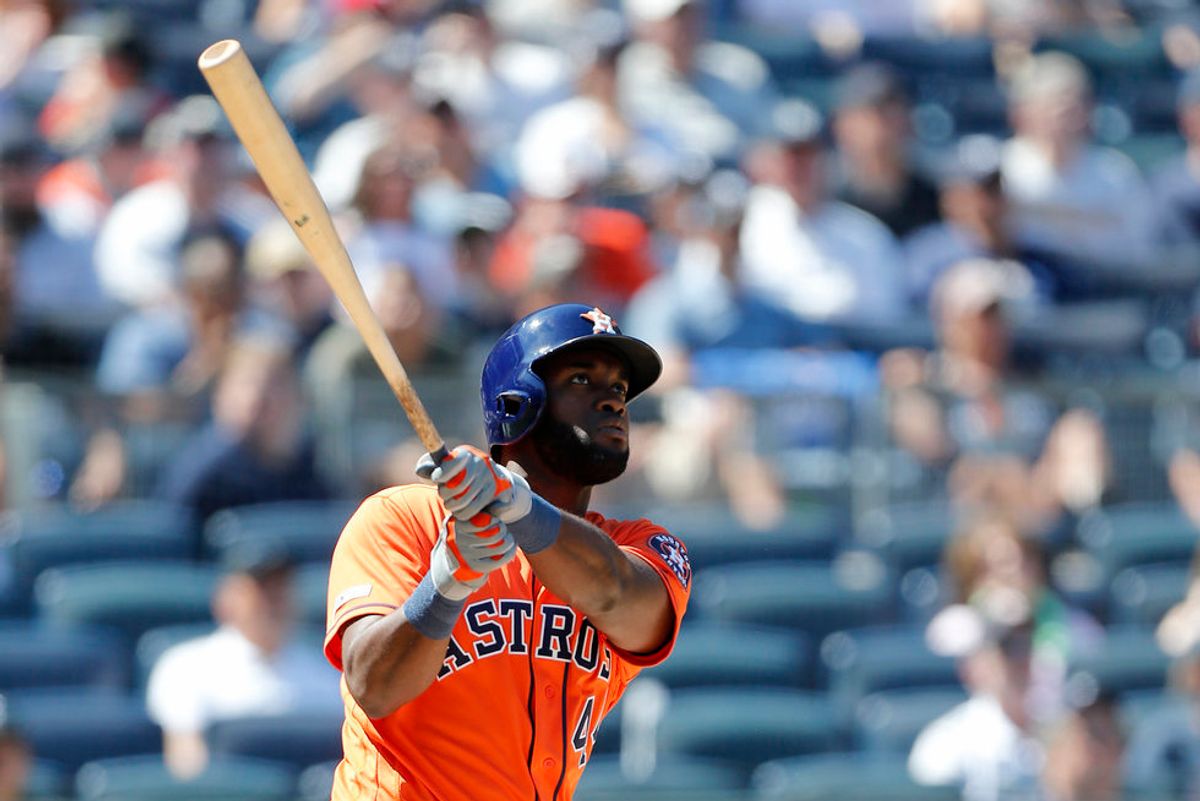 Photo by Jim McIsaac/Getty Images
As the Astros continue their three team battle royal with the Yankees and Dodgers for postseason homefield advantage, this magnificent Astros' season has numerous interesting subplots for the stretch drive. The Astros are on pace for 104 wins which would top last year's franchise record 103. It's likely they'll need more than 104 to wind up with Major League Baseball's best record, which would be a first time achievement in club history.
MLB is too much of a juiced ball home run freak show this year so we need to grade on a curve, but the Astros are going to smash the franchise record for homers in a season. They enter the weekend with 229. The club record is 249 set in 2000, which came in the peak of the steroid era and year one of Enron Field. 249 is still the National League record. Well, until the Dodgers break it in the next two or three weeks. This year's Astros are on pace to hit 274. And to not even come close to leading the American League. The Minnesota Twins are on pace for 317. That is 50 more (50!) than the record of 267 set by the Yankees, last year.
Despite their 249 homers and finishing second in the NL in runs scored, the 2000 Astros stunk because the pitchers were a disaster. Their 5.42 earned run average was worst in the NL, even worse than Colorado where pitchers never have a fair chance. The 2000 Astros gave up a franchise worst 234 homers. This year's Astros' staff is one of the best in the game (yes the bullpen is shaky looking these days). The ERA rates third best in the AL. This year's Astros are on pace to give up 237 homers.
Individually, Yordan Alvarez has American League Rookie of the Year about cinched up. Justin Verlander is likely the leader on the course for the AL Cy Young Award. Gerrit Cole is probably running second. Heck, it's plausible that Wade Miley could wind up third. Michael Brantley is three points behind the Yankees' D.J. LeMahieu in the AL batting race.
Clown show continues
Mercifully, the joke that is the four game NFL preseason schedule has been completed. Along with the shameless fleecing of season ticket holders by making them pay for two meaningless outcome games every year, comes this shameful component. Three years ago the NFL eliminated the two step roster countdown. Teams used to go from 90 to 70 players before the last preseason game and then make the cut to the regular season maximum of 53 after the last preseason game. Now the roster stays at a max of 90 through the final preseason game, followed by a whacking of about 40 percent of the roster to get down to 53. Seems to me there is little doubt that one reason for the change is that teams can hold out even more legit players from playing in the preseason finale, merely using and then discarding more guys who have zero percent chance of making the team.
Speaking of jokes, if you didn't catch Bill O'Brien at the Texans' preseason luncheon he offered up pap even by Billy Bluster standards. Paraphrasing, O'Brien said he loves the Astros and Rockets but we all know what really matters around here, the Texans and football. To be fair, O'Brien was merely pandering to a paying audience, but it's still theatre of the absurd. One of Houston's big three teams has a championship pelt on the wall put up in the last two years, another was a serious contender two seasons ago, the third is the Texans. Going a step further, other than the two-team markets (New York, Los Angeles, San Francisco-Oakland), given the large Cowboys' fan base here and an ample supply of Saints' fans here, the Texans may have the lowest percentage in the NFL of home market fans who are devotees of the home market team.
Even with the endgame of the Jadeveon Clowney saga yet unclear (my though all along has been that he shows and signs next week just in time to be eligible to collect his weekly almost one million dollar paycheck) the Texans' AFC South hopes took a forward leap with Andrew Luck's stunning retirement announcement. With Luck the Colts had a better quarterback than the Texans, a better team than the Texans, and the look of an emerging Super Bowl contender. Now Indy looks to be you know what out of Luck. In a draft of backup quarterbacks before last Saturday night Jacoby Brissett would have been a top five pick. The Colts aren't dead with Brissett as the starter, but the division could revert to a morass of mediocrity where 9-7 wins it.
Buzzer Beaters
1. Louisiana Tech should show up in Austin for the Texas game Saturday wearing Maryland Terrapin uniforms. 2. Combined season opening scores: Clemson/Texas A&M 93 Opponents 21. The Tigers and Aggies will be more interesting head-to-head next weekend. 3. Best Earth, Wind, & Fire songs: Bronze-Fantasy Silver-Boogie Wonderland Gold-September
One of the big factors that led to the Texans' loss to the Jaguars on Sunday was the secondary. Multiple flags for pass interference gave Jacksonville more opportunities to pick up first downs and score points.
Can confirm #Texans backup CB Shaq Griffin was cut.

Griffin started 6 games this year when Derek Stingley was out with a hamstring.
— DJ Bien-Aime (@Djbienaime) November 29, 2023
So it's no surprise that DeMeco Ryans is making some changes to his defense this week. According to several reports, Texans corner Shaq Griffin has been cut.
Nickel corner Tavierre Thomas was flagged for PI more than once on Sunday, and was burned badly by Jaguars receiver Calvin Ridley for a touchdown.
DeMeco was asked after the game if he considered replacing Thomas with Desmond King or Shaq Griffin. Ryans didn't give a definitive answer, but it looks like we got one today.
One has to wonder if Desmond Kings' experience playing nickel was the reason for his promotion to the active roster and why Griffin was released. If Thomas continues to struggle, King looks like the next man up to replace him.
#Texans activate Denzel Perryman, promote Desmond King to active roster, release Shaq Griffin, sign Matt Ammendola and Garret Wallow to practice squad, released Gerrid Doaks from practice squad and placed Tytus Howard (knee-patellar tendon surgery pending) on injured reserve https://t.co/knyyoqo7yC
— Aaron Wilson (@AaronWilson_NFL) November 29, 2023
The Texans also made some other adjustments to their roster on Wednesday, per Aaron Wilson. Linebacker Denzel Perryman returns from suspension, kicker Matt Ammendola and linebacker Garret Wallow join the practice squad. They also released Gerrid Doaks from the practice squad.
The other big piece of news involves left guard Tytus Howard. He heads to injured reserve, ending his season after hurting his knee against Jacksonville.
SportsMap Emails
Are Awesome