Astros' Lance McCullers opens up about his comeback, World Series game plan
Oct 28, 2022, 12:26 pm
Lance McCullers Jr. is no stranger to the World Series. Photo by Nic Antaya/Getty Images.
Lance McCullers, Jr. is seriously busy. The 2022 World Series is just hours away at Minute Maid Park, a staggering fourth appearance by the Houston Astros in the past six years. Not surprisingly, the team is in go-time mode as it prepares to face the Philadelphia Phillies. The entire city is buzzing with a "this is our year" frenzy, and on this crisp morning in late October, it seems every third local is sporting an Astros jersey.
A veteran, team-first, clubhouse leader and pivotal pitching presence in the Astros' playoff run, McCullers is ready for the task.
But first, the fiery, never-back-down star who boasts a nationwide army of fans and also one of the nastiest sliders and curveballs in Major League Baseball, has to tackle another major task — one that demands the famously focused McCullers' undivided attention. It's serious.
I'm coloring with my daughter," he tells CultureMap via phone as we plan a visit to his home. He's immediately interrupted by a tiny, impossibly adorable, high-pitched voice. "We're not coloring, Daddy," explains his cherubic — and clearly, also famously focused — two-year-old daughter, Ava. "We're drawing."
"Sorry," he replies to her with an apologetic tone familiar to dads of young daughters everywhere, and then, back to us: "We're drawing."
Call it a comeback
With Game 1 of the World Series drawing near, McCullers is taking a short break — a sort of quiet before the storm — as he lounges in his home office. Kicking back in a black T-shirt, black shorts, and a backwards hat, he's just back from New York City, where he started Game 4 of the American League Championship Series against the New York Yankees. McCullers helped the Astros dispatch the pinstriped rivals — and silence swarms of NYC trash talkers, who seem to perpetually live in 2017, in the process.
(Speaking of 2017 and the Yankees, McCullers' epic save in Game 7 of the ALCS versus the Yankees — where he not only threw four shutout innings but also fired off an astounding 24 straight curveballs — is a YouTube must-watch for fans.)
Before his Yankees takedown, McCullers was crucial in the Astros' tense showdown with the Seattle Mariners in Game 3 of the American League Division Series, which went to near historic 18 innings. Dominating the Mariners in front of a hostile crowd, he held the Mariners scoreless over six innings. With that seven-strikeout win, McCullers moved to second in Astros history for most postseason strikeouts — 69 — behind his white-hot, Cy-Young-Award-bound teammate Justin Verlander (who has 96).
Though he's no stranger to World Series appearances, the veteran McCullers still feels a bit of newness in this year's World Series run. "It feels similar but different in a way for me," he says, "just because I was not here in '19 — I was rehabbing for TJ [the serious Tommy John surgery that requires extensive rehab]. And then obviously last year, although I was very much part of the team — pitched the full season and pitched us through the ALDS."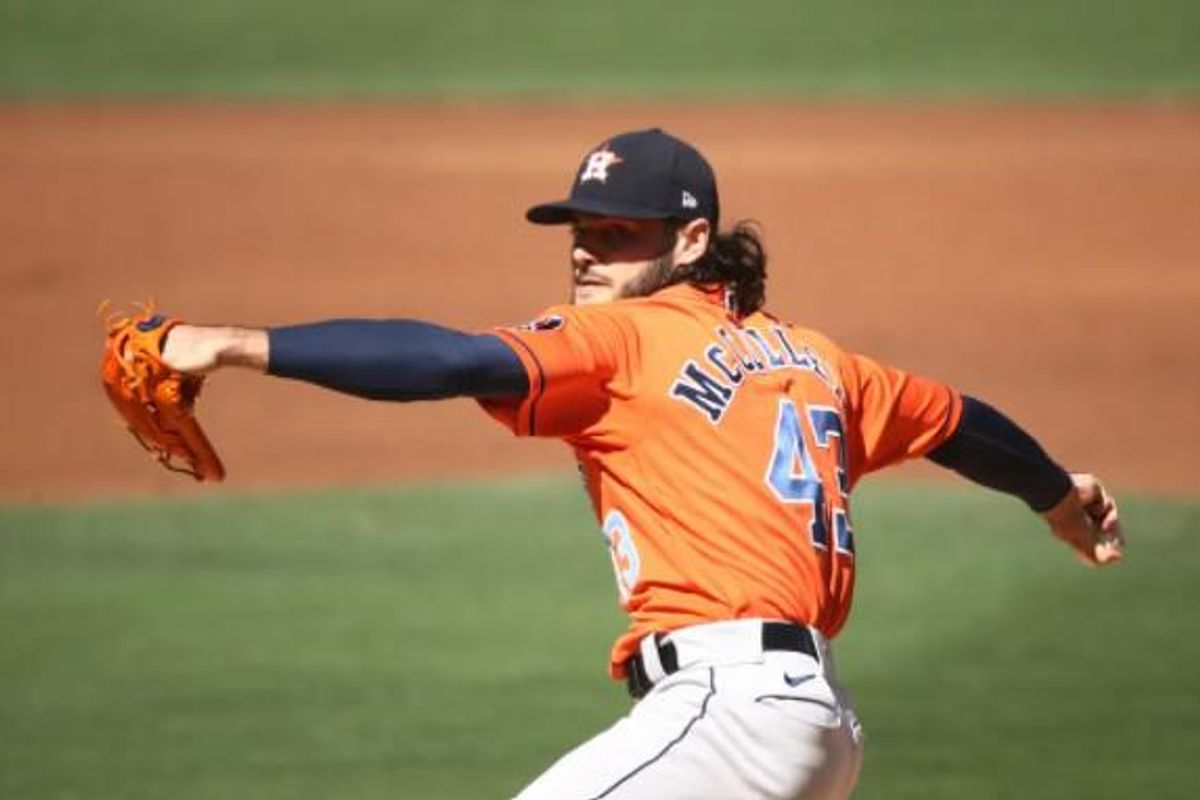 Photo by Ezra Shaw/Getty Images
Pain — and gain
He's referring to how he was forced to miss last year's title run due to a nagging forearm injury, a flexor tendon strain that hounded him and nearly cost him this year, as well, with potential surgery looming. Far more afraid of letting his teammates down than any physical pain he's endured, McCullers was forced to navigate the surreal purgatory in pro sports — injured, but still with the team.
"There's always a weird dynamic when you're not playing, but you're still around," he recalls. "Just because of the amount of time I've been here and how well I was pitching, there was just an assumed leadership role. So, you try to fill that leadership role still, even though you can't play."
Always one to shy away from credit and instead deflect to his teammates, McCullers recalls that one of the worst feelings was receiving what should have been a proud token, the 2021 American League Championship ring. Worse, he knew last year would be his final with dear friend and teammate Carlos Correa, who would later depart for the Minnesota Twins in free agency.
"Getting our rings this year from last year was one of the most bitter feelings," he says. "I do believe that last year in particular, I could have made a huge difference. And then, you know, Carlos was here last year — and I was not here — and I knew he probably wasn't gonna come back. I really wanted to have that memory with him. So, when I got that ring, all those feelings kind of came back."
Even the sports media and fan chatter claiming that the Astros would've taken home the title last year if McCullers had been active did little to help his feeling of loss. "It's very flattering when people are like, 'oh, if Lance would have been there, we would've won," McCullers says. "It's a compliment to me, but a sad statement — all at the same time."
Plagued by pain in his forearm (some caused by floating bone chips), weakness, and lack of movement in his elbow, McCullers endured an "aggressively slow" rehabilitation last year, receiving platelet therapy and more to avoid the dreaded knife that could spell the end of a season. Over months, he fought the persistent physical issues and doubts.
Just do it
After a game in June, he went home and told his wife Kara that he was sure he'd need surgery. Realizing he'd be operated on regardless of resting the arm or playing, he chose the latter. "I told her, 'I'm just gonna stop worrying about it hurting. I'm gonna start throwing.
Resigned to facing another long surgery, McCullers was taken aback when he met with noted surgeon Keith Meister, who also operated on Verlander: "He said it was time to either have surgery or continue the rehab — and stop worrying about everything.
"Meister's advice played perfectly to McCullers' never-quit, mind-over-matter, do-the-thing mentality. "It's just like, just do it," McCullers explains. "My body has to get on board. My mind's made up. I'm doing it, and my body has to get on board."
Get on board, it did. By summer, "things just kind of started getting better and better and better," he recalls. "And gradually, it got to the point where by the end of June and early July … I was like, 'man, I think we're gonna make it. There was a drastic change in my mindset and in the way my body was responding."
Beware of hungry dogs
McCullers has always been an unflinching spokesperson for the Astros, willing to take on anyone in defense of his team. He sees a common thread among his teammates who hail from wildly varying backgrounds.
Continue on CultureMap to learn more about the Astros incredible culture and facing Philly.