WADE MILEY HAS HAD SEVERAL BAD OUTINGS IN A ROW, GIVING EVERYONE CAUSE FOR CONCERN
Astros need to figure out fourth starter for playoffs
Sep 24, 2019, 6:57 am
Photo by Ed Zurga/Getty Images
For most of the year Wade Miley has been just what the doctor ordered in replacing Dallas Kuechel in the starting rotation and doing so with great numbers and results. Unfortunately everything took a turn for the worse when Miley and the Astros entered the month of September. Two straight home starts had Miley giving up 7 runs in the first inning of both games and leaving before he could toe the rubber for inning number 2. On the road the results were slightly better, but not enough to keep observers from wondering if there was a real problem brewing for the player and the team as they head to the post season? Miley has an ERA of 22.06 in September and has seen his overall ERA go up almost a full point in the last three weeks. In his most recent start he gave up 4 earned runs on 4 hits in one inning of work before being removed by Manager AJ Hinch. As good as Miley was for most of the season, his performance over the final month of the season has everyone involved searching for answers and wondering what they should do to avoid any similar issues that could severely hinder their run for a second World Series title in the last three years. As much as you like Miley and want to believe he can figure it out and get right before the A.L. Divisional Series gets under way early next month, time is running out and a tough decision may have to be made. If Miley doesn't get the ball for Game 4 of a playoff series, who could step up and take over the role while holding down the fort?
If this was last year, the answer would be easy as Brad Peacock has proven himself to be an above average weapon for this team whether it be out of the bullpen or in a starting role. He has pitched in the playoffs before and knows what it takes to pitch on the biggest stage, when the lights are at their brightest. That was then, this is now and the here and now says Peacock has struggled with injuries all season long with multiple stints on the IL, and after recently returning from his latest appearance on the injury report there doesn't seem to be enough time to get him "stretched out" and prepared with the endurance and arm strength required of a major league starting pitcher. Expect to see him on the playoff roster and ready for long and short relief out of the pen, but probably not as a starter filling in for Miley.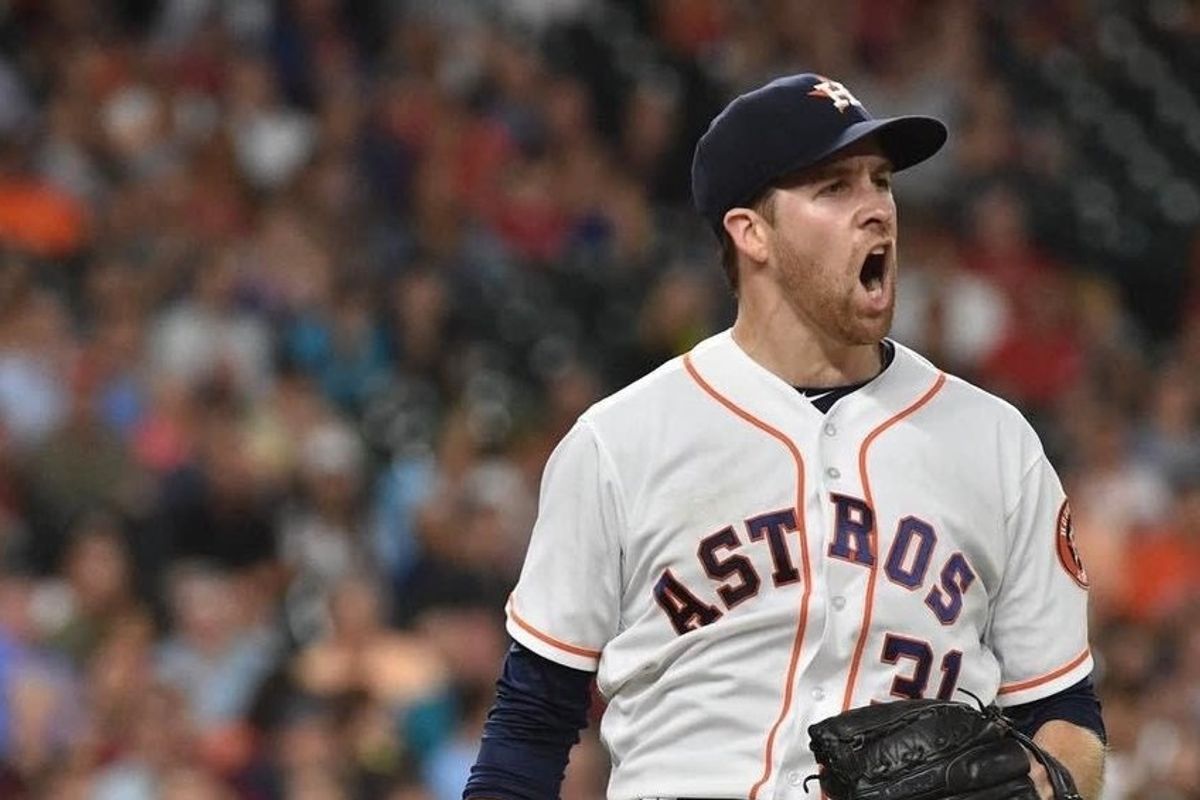 Collin McHugh/Facebook
Another former starter experiencing the same struggles and appearances on the injured list as Peacock is Colin McHugh. Together the two right-handers are living a parallel universe that has seen them both go from effective and trusted arms in the bullpen and rotation to a two-man MASH unit that can't be counted on based on health concerns alone. McHugh also has seen extended time on the IL and has yet to return to the active roster for the final few weeks of the season. The simple truth is, there is too much risk involved to roll the dice and hope for the potential rewards. As good as McHugh has been and for as much trust as AJ Hinch has built up in his ability to step up and step in wherever needed, he just doesn't seem like he is going to be healthy enough to be counted on for the playoffs. The bigger hope is that he can get healthy and return as a short inning reliever with valuable postseason experience as the team goes deeper into the playoffs.
The team has used the regular season to interview and audition several of their young and talented pitching prospects hoping that at least one would seize the opportunity and capture a spot in the rotation. Framber Valdez was given every chance to succeed but his lack of control and propensity to walk more hitters than he retires, has forced the club to move on for the rest of this season. Josh James experienced a similar fate after he was sidelined early in the year and again recently by injuries, then when he returned to the team he seemingly lost his ability to throw strikes while suddenly becoming a candidate to give up a long ball every time he took the mound. James still may make the playoff roster as a power arm in the pen, but for now it looks like his days as a starter are over. Jose Urquidy has looked good in his last three appearances but is on an innings limit due to his Tommy John surgery of a few years ago. He is fast approaching the magic number for innings pitched based on the organizational restrictions when you combine his major league and minor league totals and Hinch has said that he is not willing to push those boundaries as he has Urquidy's career in his hands. With that said and combined with his roller coaster season of results, the team isn't likely to give him a shot as a postseason starter.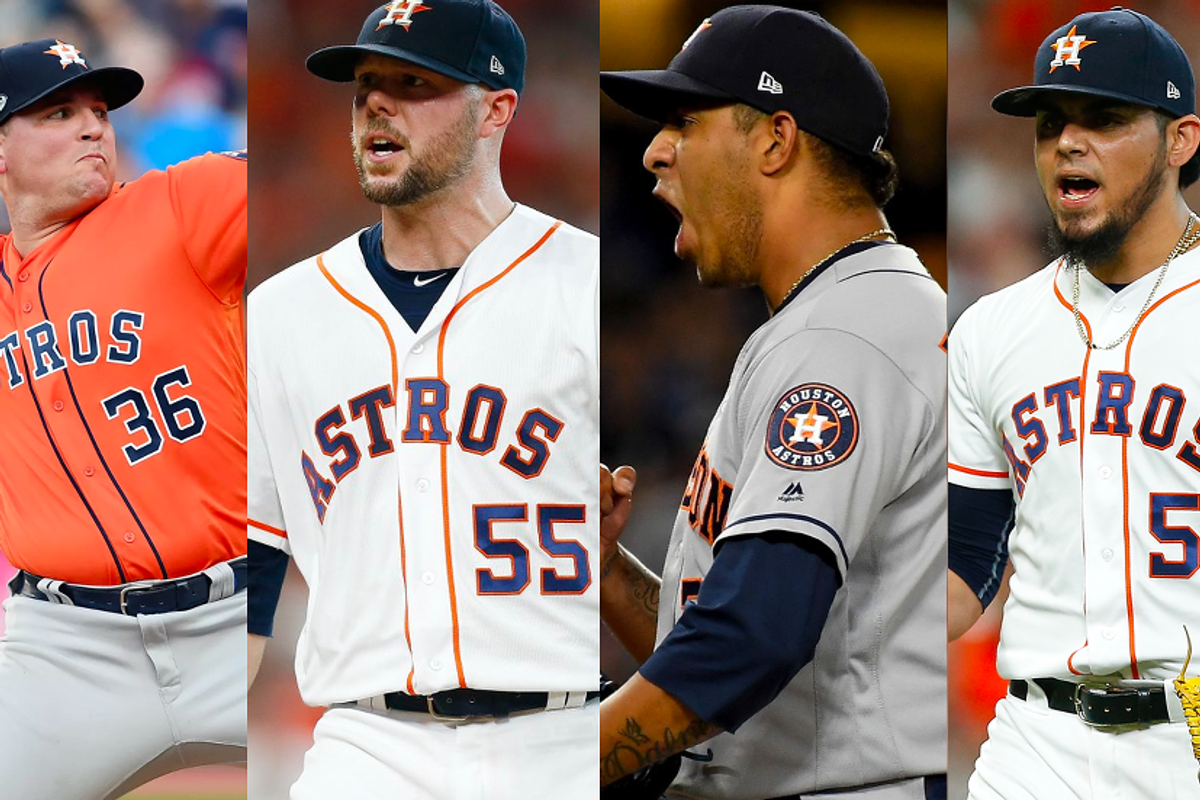 Composite photo by Brandon Strange
All of that leaves the team with very few options and a limited number of potential solutions as they power towards the postseason. The team could go with a three man rotation and force their best starters into pitching on short rest well before they would otherwise consider such a scenario, or they consider going to an "opener" and then follow up whoever gets the start with a bullpen game by committee. Neither situation seems ideal, especially if they are in command and leading the series but the later would seem to be the best option to preserve the overall state of the rotation. If they go that route, look for Peacock or possibly James to get the call first, followed by anyone not named Roberto Osuna, Ryan Pressly or Will Harris. The bullpen started the season as one of the best collections of talent in all of baseball and it looks like they will end the year even more valuable if they are called upon and counted on to fill the void left by the inconsistency of Miley. It will be interesting to see how it all unfolds and how the team elects to handle it. For the sake of Houston and the Astros, let's hope that Miley and pitching coach Brent Strom can figure out what has been going wrong, right the ship, and avoid having to make any rash decisions.