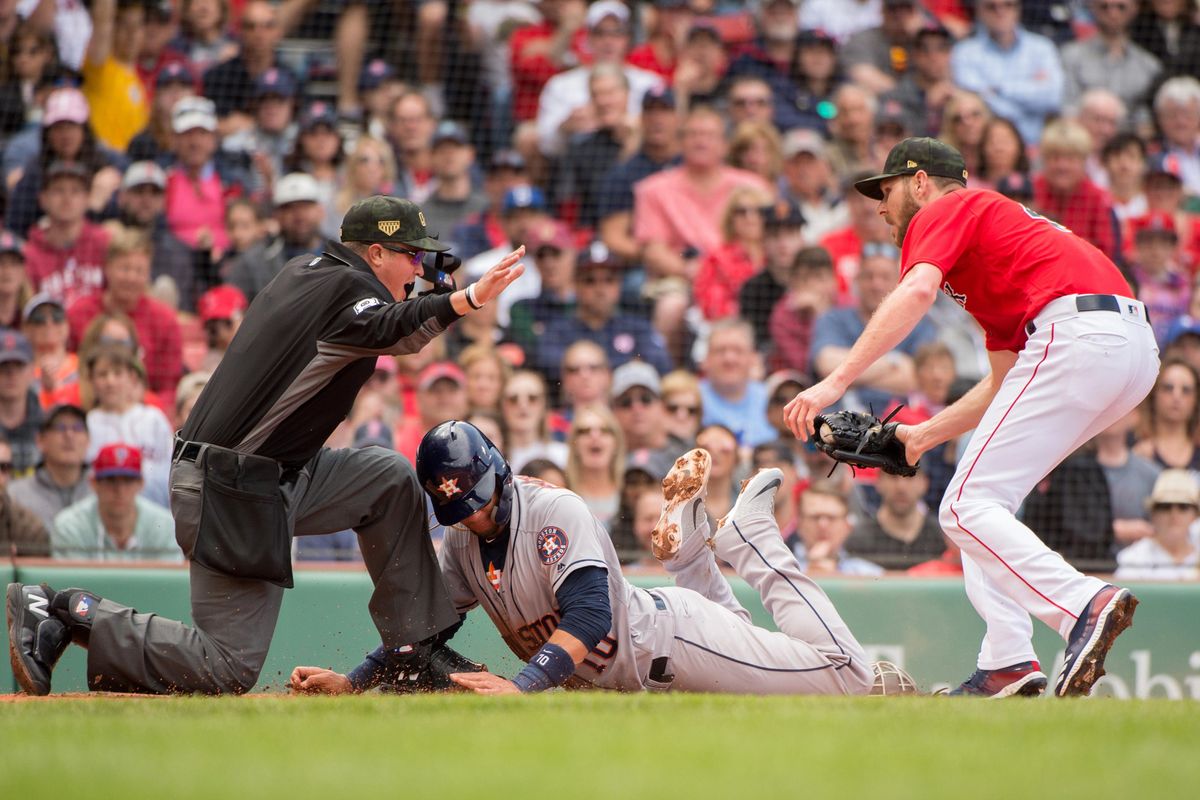 Framber Valdez will start Game 1 against Chris Sale. Photo by Kathryn Riley/Getty Images.
There were a lot of people furious about Major League Baseball basically forcing the Astros to switch to being an American League team starting with the 2013 season. The owners would not approve Jim Crane and partners' purchase of the club from Drayton McLane unless the incoming owners agreed to go to the AL. I'd say it's worked out pretty well. Crane and his partners got a 65 million dollar rebate on their purchase price for accepting the move, and the Astros Friday night play in their fifth consecutive American League Championship Series.
Lance McCullers is NOT on the Astros' ALCS roster, so he's out for the series. Jake Meyers is active.
— Jake Kaplan (@jakemkaplan) October 15, 2021
The loss of Lance McCullers is a blow, but does not change the Astros being the favorite to win the pennant. It does tighten things up. The decision to use McCullers in the successful bid to close out the White Sox meant he would have started game three and a prospective game seven vs. Boston. McCullers was the stingiest starting pitcher in the AL this year in terms of giving up home runs. The Red Sox can mash with the Astros. Boston will run out a lineup with seven guys who hit at least 20 homers this season. Rafael Devers, Kyle Schwarber, and Hunter Renfroe all topped 30.

After the obvious choice of Framber Valdez to start game one, Dusty Baker is going the way he should have against Chicago, opting for Luis Garcia in game two at home. That means in games three and four at Fenway Park it's Jose Urquidy and either, gulp, Zack Greinke or Jake Odorizzi. The Red Sox will be patching things together themselves.
Red Sox manager Alex Cora made an interesting call going with Chris Sale as his game one starting pitcher, holding back Alvin native Nathan Eovaldi until game two Saturday afternoon. Sale has been terrible in his last two starts. Most recently he went against the Rays in game two of their Division Series and lasted one inning, torched for five runs. In 2017 the Astros began their postseason run to winning the World Series by blasting Sale in game one of the ALDS. Alex Bregman and Jose Altuve hit back-to-back homers in the first inning. Altuve took Sale deep again in the fifth, then in the seventh hit his third homer of the game off of reliever Austin Mattox. The Astros won that series in four games, with Sale taking the loss in relief in the finale. In the 2018 AL Championship Series the Astros beat Sale in game one, though the Sox swept the next four games.
Astros in six seems a decent chuck at the prediction dart board.
Meanwhile over in the National League, despise the Dodgers or not (okay…despise them) only the foolhardy lacks respect for them. The reigning World Series champs survived the Wild Card game against the Cardinals that was tied 1-1 in the ninth, then Thursday won a decisive game five at San Francisco that was tied 1-1 in the ninth. The Dodgers play the Atlanta Braves in a rematch of last year's NLCS, which the Braves led three games to one before the Dodgers took the last three games.

Texans vs. Colts
The 1-4 Texans are at 1-4 Indianapolis Sunday. You pumped up?!? Next week at least brings an interesting subplot when the Texans head to Arizona. A couple of guys named Watt and Hopkins are no doubt enjoying life with the only remaining unbeaten team in the NFL. J.J. is thus far sackless with his new team. DeAndre is on pace for his lowest reception total since his rookie season, but has four touchdown catches. The 5-0 Cardinals get tested at Cleveland Sunday. As for Texans-Colts? Of the 12 games in the NFL Sunday Texans at Colts is definitely one of them.
NCAA
What a win for Texas A&M over Alabama, following losses to Arkansas and Mississippi State. Sports! The Aggies can't help but have some emotional letdown this week, but still should have enough to win at Missouri. For Texas meanwhile, what is the bounce back after the Longhorns' gut wrenching loss to Oklahoma? Oklahoma State arrives in Austin with a 5-0 record and ranked number 12 in the nation.
Buzzer Beaters:

1. The Rockets open their season Wednesday at Minnesota. Their season projects to deliver not many wins but much future promise. The Rockets will be rooting for the Astros-Red Sox series to end in five games max. If there is a game six, it's Friday night at Minute Maid Park while the Rockets play their home opener.

2. Would the Astros become even bigger "villains" if they roll to the World Series crown by tearing apart the Red (Sox), White (Sox), and (Dodger) Blue?
3. Greatest Mookies: Bronze: Spike Lee's character in "Do the Right Thing." Silver: Pearl Jam (original name Mookie Blaylock) Gold: Betts
One of the big factors that led to the Texans' loss to the Jaguars on Sunday was the secondary. Multiple flags for pass interference gave Jacksonville more opportunities to pick up first downs and score points.
Can confirm #Texans backup CB Shaq Griffin was cut.

Griffin started 6 games this year when Derek Stingley was out with a hamstring.
— DJ Bien-Aime (@Djbienaime) November 29, 2023
So it's no surprise that DeMeco Ryans is making some changes to his defense this week. According to several reports, Texans corner Shaq Griffin has been cut.
Nickel corner Tavierre Thomas was flagged for PI more than once on Sunday, and was burned badly by Jaguars receiver Calvin Ridley for a touchdown.
DeMeco was asked after the game if he considered replacing Thomas with Desmond King or Shaq Griffin. Ryans didn't give a definitive answer, but it looks like we got one today.
One has to wonder if Desmond Kings' experience playing nickel was the reason for his promotion to the active roster and why Griffin was released. If Thomas continues to struggle, King looks like the next man up to replace him.
#Texans activate Denzel Perryman, promote Desmond King to active roster, release Shaq Griffin, sign Matt Ammendola and Garret Wallow to practice squad, released Gerrid Doaks from practice squad and placed Tytus Howard (knee-patellar tendon surgery pending) on injured reserve https://t.co/knyyoqo7yC
— Aaron Wilson (@AaronWilson_NFL) November 29, 2023
The Texans also made some other adjustments to their roster on Wednesday, per Aaron Wilson. Linebacker Denzel Perryman returns from suspension, kicker Matt Ammendola and linebacker Garret Wallow join the practice squad. They also released Gerrid Doaks from the practice squad.
The other big piece of news involves left guard Tytus Howard. He heads to injured reserve, ending his season after hurting his knee against Jacksonville.
SportsMap Emails
Are Awesome