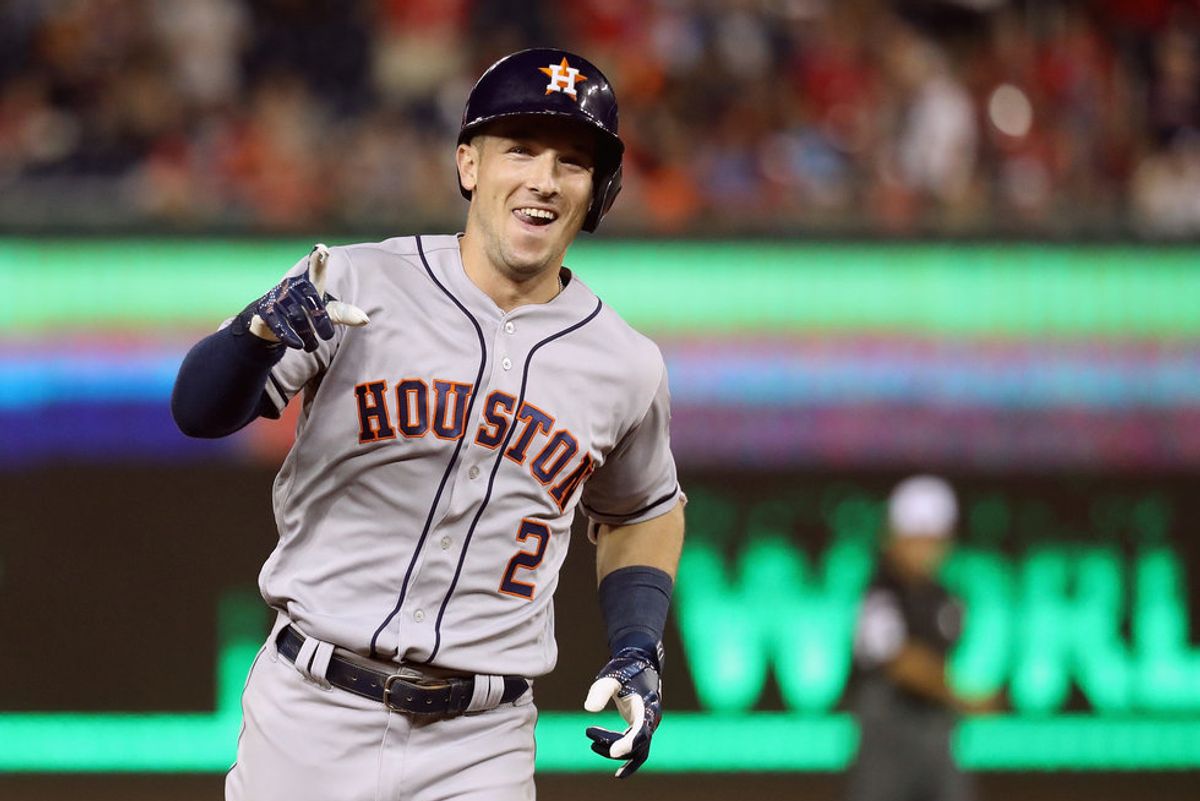 Photo by Rob Carr/Getty Images
A day after their first loss of the 2020 season and the loss of Justin Verlander to injury, temporarily at least, the Astros returned to Minute Maid Park for the fourth and final game of the series against the Mariners. Josh James was on the mound making his first start of the year looking to provide some confidence in a pitching staff now down its cornerstone. Here is how he and Houston did on Monday:
Final Score: Astros 8, Mariners 5.
Record: 3-1, first in the AL West.
Winning pitcher: Brandon Bielak (1-0, 2.70 ERA).
Losing pitcher: Kendall Graveman (0-1, 13.50 ERA).
James only goes three, but Altuve and Bregman get him off the hook
Josh James struggled to throw strikes on Monday, resulting in a short start when the Astros needed to find a way to conserve arms with the newly announced absence of Justin Verlander. James recorded a couple of strikeouts, worked around a walk and a single in the first, and then struck out the side to work around a hit-by-pitch in the second.
The third inning would quickly fall apart, though, as James started it off by walking the bases loaded with no outs. He would get a much-needed double play which brought in a run, but instead of stopping the damage there, allowed a two-run homer to make it a 3-0 Seattle advantage. James would walk one more batter before recording a strikeout, but with his volatile command and high pitch count, he would see that be the end of his day. James' final line: 3.0 IP, 3 H, 3 R, 3 ER, 5 BB, 5 K, 1 HR.
Luckily for him, his offense would have a big third inning of their own. After getting two on base with an error and a walk, Jose Altuve would come through with an RBI-double to get one of the runs back. That brought Alex Bregman to the plate, who took advantage and launched his 100th-career home run, a go-ahead three-run homer to give Houston a 4-3 lead.
Career homer number 💯 for Alex Bregman. pic.twitter.com/5WoPUawnkb
— MLB (@MLB) July 28, 2020
Bielak makes his debut as Astros extend the lead
Brandon Bielak went to the mound in the top of the fourth to make his major-league debut and start the night for the bullpen. Bielak was impressive in his first inning, getting two quick outs before recording a strikeout to send the Mariners down 1-2-3 on just nine pitches. He returned for the fifth, and once again retired Seattle in order.
Meanwhile, the Astros were able to add to their lead. Dustin Garneau, making his debut behind the plate for the Astros, made it 5-3 with a two-out RBI-triple in the bottom of the fourth. Jose Altuve added another RBI to his game, hitting a solo home run to lead off the bottom of the fifth. They kept tacking on, with Michael Brantley hitting into the right-field corner for an RBI-double, and Josh Reddick doing the same a few batters later, pushing the lead to five runs at 8-3.
Bielak would continue his debut in the top of the sixth and worked around his first baserunners to erase a double and single by getting a big strikeout to keep it a five-run game. In the seventh, he would stay on the mound to keep eating up innings, but after reaching 53 pitches and allowing two runs, one unearned on an error, he would see his night end, though it would still go down as an impressive first appearance. Enoli Paredes would get two strikeouts to finish the inning.
Houston locks up the series win
Cy Sneed was next out of Houston's bullpen, and he worked around a two-out walk to maintain the three-run lead. Roberto Osuna would come in for the save in the top of the ninth and would record his first of the season by keeping Seattle off the board to secure the series win.
Up Next: The Astros will turn the page to the next series of 2020, a quick two-game set against the Dodgers in Houston. The series opener will be Tuesday at 8:10 PM Central from Minute Maid Park and will feature the pitching matchup of Framber Valdez for the Astros going opposite of Walker Buehler for the Dodgers.

The Houston Astros and catcher Victor Caratini agreed Tuesday to a $12 million, two-year contract, a person familiar with the deal told The Associated Press.
The person spoke on condition of anonymity because the agreement was subject to a successful physical and had not been announced. Caratini can earn additional performance bonuses.
The 30-year-old Caratini spent the last two seasons with the Milwaukee Brewers and hit .259 with seven homers and 25 RBIs in 62 games this year as a backup to William Contreras.
Caratini is a .236 career hitter with 38 homers and 171 RBIs in seven major league seasons with the Chicago Cubs (2017-20), San Diego (2021) and Milwaukee (2022-23).
Yainer Díaz is expected to the Astros' starting catcher next year, and the agreement with Caratini could mean Houston won't re-sign Martín Maldonado. The 37-year-old has been with the Astros since 2019.
"I've been talking to Yainer once a week," new manager Joe Espada said Monday. "We're going to do some things in January leading into spring training to prep him for spring training. I don't want us to get to spring training and start from scratch. So this is going to be starting right now having conversations about our staff, how to attack certain lineups, things that we know that we can help him with, receiving, throwing."
Based on the value of the contract, it looks like the Astros will be going over the CBT. Which means more deals could be coming, in theory.
Astros will definitely be going over the CBT with a $6M AAV for Caratini. Since that's the case, time to get Jordan Hicks https://t.co/AYBgMexACl
— Michael Schwab (@michaelschwab13) December 6, 2023
Here's a look at his ability to frame pitches.
Victor Caratini was ranked 8th in MLB in "Catcher Framing Runs" in 2023.

CFR is a framing stat that converts strikes to runs saved.

Caratini's arm isn't the strongest though. pic.twitter.com/YD7bYespPv
— Michael Schwab (@michaelschwab13) December 6, 2023
SportsMap Emails
Are Awesome