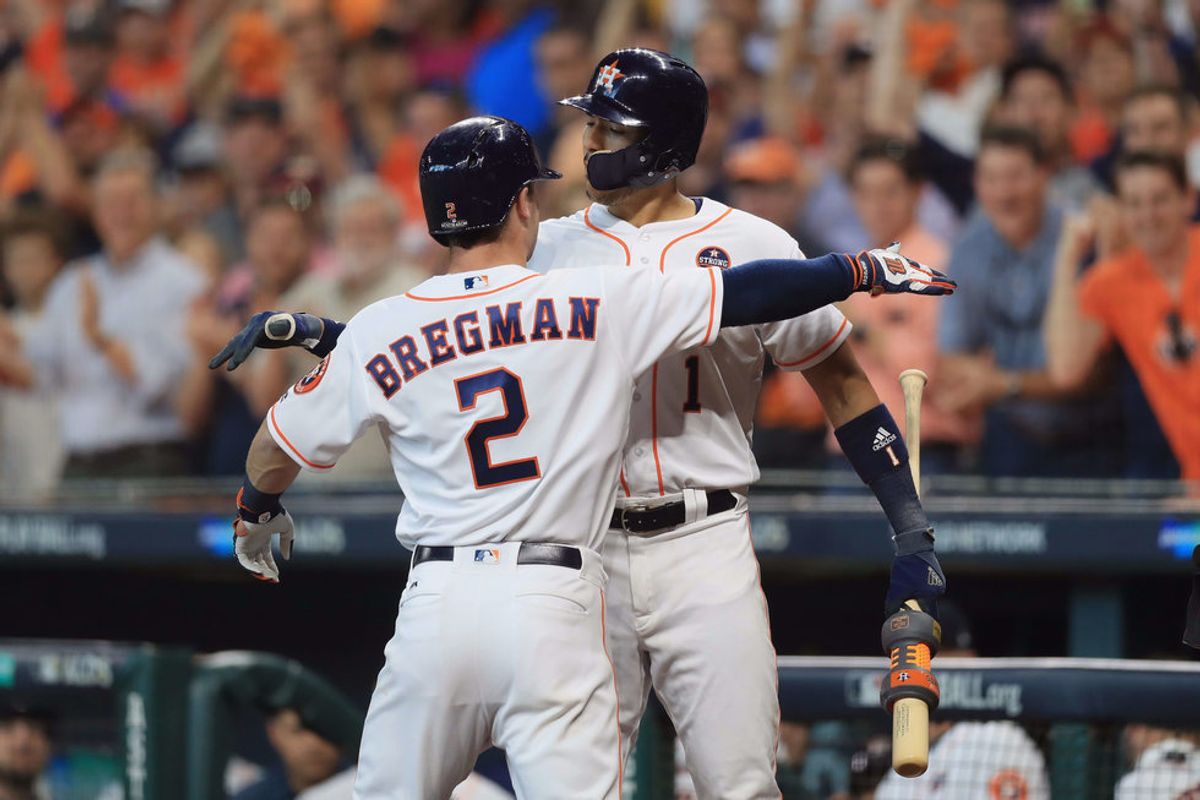 Photo by Ronald Martinez/Getty Images
Despite the uncharacteristic struggles in the late stages of June for the Astros, they did finish the month by accomplishing a feat that is very much typical for this team: winning a series against a division opponent. Although the concern surrounding Houston's dwindling division lead was warranted, I think it's also fair to mention that June was anything but a typical month on the schedule.
Houston had just nine games against their division in June, sandwiching a month filled with opponents they are mostly unfamiliar facing. Within that, they had three inter-league matchups including the series with the Reds in Cincinnati where they lost their DH spot in the lineup. Additionally, June was a month where injuries plagued the team, with three of their core players in Jose Altuve, George Springer, and Carlos Correa all sidelined for at least part of the month.
While the slump in the middle of the month hurt the Astros, they have plenty of games left to regain their position as the best team in the league, and I would say their chances to do so are favorable.
Ending the month with a sweep 
There are still five games to go before the All-Star break, but the Astros are looking strong having finished the month of June with a clean sweep of division-rival Seattle. The weekend series was a return to form for the team, other than the rough start for Justin Verlander on Saturday. Both Wade Miley and Gerrit Cole had great starts, and although Houston's bats struggled at the beginning of the first of the three games, they had two walk-off hits from Yuli Gurriel then were able to get plenty of offense on Sunday to win the lopsided finale.
So although they'll make a trip to Colorado for two more games against the NL in another inter-league matchup, they will wrap up the first half with a three-game series with the Angels at home, where they are 10-0 against AL West opponents.
Better offense against familiar pitching
One interesting statistic that stood out to me is putting numbers to the struggles the Astros have had against non-division opponents this year. Against the AL West, the Astros, as a team, are batting .281 with a 16% strikeout rate and .353 on-base percentage. If you exclude the division and look at every other opponent, those numbers drop to a .258 average, 19% strikeout rate, and .335 on-base percentage.
When you look at some of the core players, this is true of them as well with Alex Bregman slashing .374 / .453 / .673 against the AL West and .205 / .345 / .457 against everyone else, Jose Altuve at .270 / .345 / .432 vs. .230 / .302 / .469 and George Springer at .356 / .429 / .733 against the division compared to .278 / .361 / .548 when batting against the rest of the league.
While this isn't a great sign when it comes to the playoffs when they would have to venture out of their division, it does bode well for the second half of the season which is chocked full of series against the AL West.
It's also an asset that they now have Michael Brantley, who, coming from the AL Central, is already having to adjust to a new division so when it comes to the playoffs should find himself well-adjusted to studying a new opponent quickly. Brantley is well-deserving of his starting position in the All-Star game, slashing .333 / .387 / .502 outside the division and .275 / .344 / .468 against his new foes in the AL West.
Better pitching against familiar batters
Similar to the offensive statistics, the same is true of Houston's pitching. Against the AL West, the team has a combined 3.74 ERA with an opponent batting average of .202. They also average 9.3 strikeouts, 3.3 walks, and 1.5 home runs per nine innings against the division. Inverse that, and the Astros have a combined 3.93 ERA, an opponent average of .226 and average 10.3 strikeouts, 2.5 walks, and 1.6 home runs per nine innings.
These are more promising numbers than the offensive numbers, showing that on average the reliable pitching of the Astros can match up well with any opponent. However, when you look at the recent matchups against the Reds, Yankees, and Pirates, those numbers balloon up to a 6.17 ERA, .278 average, along with 9.6 strikeouts, 3.2 walks, and 2.3 home runs per nine innings.
A few horrible games inflated that small sample size, but with it being a recent string of games, it's essential that Houston's pitching has things under control and solidified start to finish as they get closer to October.
Cream of the crop
So while these numbers and trends could just as easily make the case that the AL West is just not that strong of a division, and I think there is some truth to that statement, it also proves that this 2019 Astros team is still finding their rhythm. They continue to know what it takes to get the job done when they face familiar faces but have not yet been able to put it together at the same rate against some of the stronger teams they are less comfortable seeing in the opposite dugout.
Again, while that could be an issue if they don't grow before the playoffs, the good news is there's no better time to learn and experiment with your team and the makeup of your roster than in games you are confident you can win. Those games in recent years have been the ones against the AL West, and the second half of the season is full of those.

Another factor that Houston has added to their arsenal is Yordan Alvarez, who has been nothing short of phenomenal in his early career. He alone could provide a lift that Houston needs to power past any opponent in the regular season or playoffs.
So, while the recent slump should not merely be shrugged off as an absolute fluke, there is still no indication, in my opinion, that the Astros should start obsessively looking in the rear-view mirror worrying about what's happening behind them in the division. If they keep playing and improving their game, they should not only regain a considerable lead in their division but get back in the power rankings and standings as the best team in the league.
Statistics accessed from FanGraphs.
Larry King used to describe what's wrong with modern sports this way:
Back in the 1960s, two housewives are waiting in line at the supermarket checkout line. One picks up a copy of PhotoplayMagazine and says, "Isn't Clint Eastwood dreamy?" The other says, "He's so rugged, I love his movies. Let's go tonight."
Sixty years later, two women, one's an attorney the other is vice-president of an investment firm, are in line at the supermarket checkout. One picks up a copy of Forbes and says, "You know, Brad Pitt owns two points of his new movie's foreign distribution and has right of first refusal on all sequels and spinoffs. He stands to make $50 million for his production company."
It's a similar situation with sports then and now. Sometimes we don't need to know how the sausage is made.
These days you couldn't blame Astros fans for having a grudging resignation that star third baseman Alex Bregman will be leaving Houston at the end, more likely during, the 2024 season.
It's not because the fans don't like him. Not because he isn't contributing. Not because he's injured all the time. Not because the Astros have a better third baseman coming up from Triple A. Not for any good reason.
It's because Bregman will be entering the last year of his contract and teams will be offering him big money to play for them. At least according to the media, Astros don't think they can afford to keep him. Bregman's agent is Scott Boras who loves to take his clients to free agency and watch other teams fight like jackals over his players.
This is the time of year when sportswriters play fantasy trades and one that's gained traction involves the Astros saying goodbye to Bregman as part of a complicated four-team deal. Essentially, Bregman and Jake Meyers would go to the Yankees, while pitching prospect Spencer Arrighetti goes to the Chicago White Sox.
In return, the Astros would acquire rookie infielder Jordan Westburg from the Orioles.
While the attorney and investment banker might understand the financial bottom line of the deal, the two housewives from the '60s would ask Astros owner Jim Crane, "Have you lost your flippin' mind?"
"Are you really saying goodbye to Alex Bregman, a popular player who is one of the few remnants of our first-ever World Series title in 2017, who hit 25 homers and drove in 98 runs last year, who played 161 games, who was a Gold Glove finalist, who is beloved in Houston … for a rookie who played less than half a season in 2023, and hit .260 with three home runs? Seriously, here's a Dixie cup. We need to have you looked at."
I know, it's the Astros thing. Goodbye Carlos Correa. Goodbye Gerrit Cole. Goodbye George Springer. Goodbye Justin Verlander.
Goodbye Alex Bregman?
With a new manager and new(ish) general manager, this would be a good time to open the vault and go after big name free agents, not send them away. This isn't how a major market team that draws 3 million fans at major market ticket prices is supposed to act. This is how the perennial loser Pittsburgh Pirates conduct business.
Or one day it will be goodbye fans.
I spoke with a baseball insider who thinks the Astros would be making the right move dispatching Bregman, Meyers and Arrighetti for a rookie infielder with a brief lifetime batting average of .260 and little power.
"Put a pencil to it (if the Astros sign Bregman to an extension) you're looking at a $300 million payroll. I like the proposed trade because it lowers payroll, brings in a talented kid and nudges the transition. All the Astros core guys are either going to get raises or be out the door over the next two years, most notably Kyle Tucker. If I ran things, I'd fast-forward the roster churn. I'd make Altuve and Yordan Alvarez untouchable and throw everybody else into the discussion. The farm system is so weak that a collapse is inevitable."
But why? Bregman is 29 years old. He's in the middle of his prime years with tread still on his tires. He's part of what makes the Astros a mini-dynasty with seven consecutive ALCS appearances, four World Series appearances and two championships since 2017.
In New York, sports columnists already have Bregman in pinstripes. They're saying it's practically a done deal. They're saying, sure, there may be some early fan resentment because they consider Bregman part of the 2017 Astros sign stealers they feel robbed the Yankees of the American League pennant and stole Aaron Judge's MVP. When the Astros visit Yankee Stadium, you hear fans cull Bregman and Altuve from the herd for lusty boos and jeers.
New York media is confident that fans will snap out of it once their new third baseman hits a few Breggy Bombs and makes diving plays at third base, a position where the Yankees sorely need improving.
Yankee fans have proven they're a forgiving mob. Until the Astros got good, the archest enemy was Boston. Yankee fans forgave former Red Sox stars Jacoby Ellsbury, Johnny Damon, Wade Boggs and Roger Clemens for their past sins. If you turn back the pages of history, there was this fellow named Babe Ruth who made fans overlook that used to play in Boston.
So far we haven't heard how Bregman might feel about playing for the enemy. One supposes any nerves would be soothed by what could approach a $300 million contract.
It's not like the old days when enemies stuck to their guns. The two housewives at the supermarket checkout would remind you that in 1956, when the Dodgers tried to trade Jackie Robinson to the rival Giants, Robinson retired from baseball rather than wear that despised uniform.
SportsMap Emails
Are Awesome