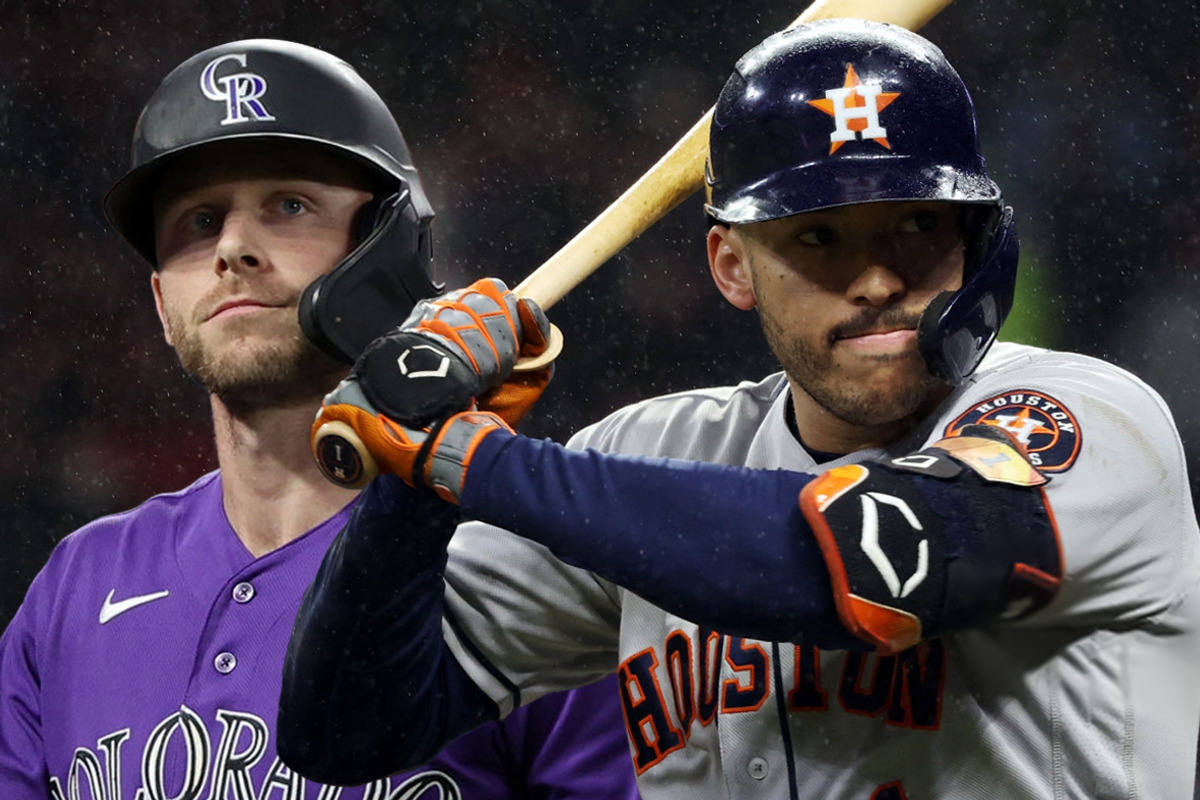 Trevor Story and Carlos Correa are the last elite shortstops on the market. Composite image by Jack Brame.
As negotiations continue between the Major League Baseball Player's Association and the owners, fans are left patiently waiting for baseball to begin once again.
Not much progress has been made by either side and a delayed start to spring training seems likely after Tuesday's meeting.
However, all parties involved believe there will be a baseball season this year. As soon as a deal can be reached, MLB free agents can once again start negotiating new deals.
Before the lockout, several infielders signed large contracts such as Corey Seagar (10-year, $325 million) and Marcus Semien (7-year, $175 million). Both players agreed to new deals with the Texas Rangers, and Javy Baez signed a six-year deal for $140 million to head to Detroit.
Those were the three largest contracts signed before the lockout started on Dec. 2nd, 2021.
Astros' shortstop Carlos Correa and Trevor Story from the Colorado Rockies remain as two of the best free agents left unsigned.
Correa was expected to obtain the largest contract at the start of this offseason, but that hasn't happened yet.
Detroit offered the 27-year-old shortstop a 10-year deal valued at $275 million which was turned down. Correa also rejected a five-year extension worth $160 million with the Houston Astros.
The later offer was deemed a "non-starter" by Correa and his party.
Unless both the Astros and Correa are willing to renegotiate once the lockout ends, it seems likely the All-Star shortstop will be playing elsewhere in 2022.
Astros owner Jim Crane allegedly told colleagues he won't make an offer of more than six years in length, thus reinforcing this theory.
The final nail in the coffin for Correa's future with the Astros came when he signed Scott Boras to represent him on Jan. 18th.
"I have made the decision to hire Boras Corporation to represent me moving forward. Boras Corporation offers the highest level of baseball expertise and proven experience." Correa told ESPN.
Before the offseason was halted by the lockout, Boras secured deals for (you guessed it) Corey Seager and Marcus Semien among others.
Correa is looking for a deal at least similar if not greater than Seager's contract he received from the Rangers.
The Yankees, Dodgers and Cubs were linked to the All-Star before the lockout and could vertically fit the bill for Correa's asking price.
Boras seems to find ways for his clients to sign lucrative deals and Correa would be one more player to get his massive payday under his watch.
Assuming he won't sign a shorter deal, Houston might be out of the Correa sweepstakes, thus leaving a hole In the Astros infield needing to be filled.
Astros prospect Pedro Leon could play shortstop in 2022, but didn't have great numbers with AAA Sugar Land.
In 17 games, Leon slashed .131/.293/.164.
Although a small sample size, a few more plate appearances in the minors could help out the 23-year-old tremendously. Jeremy Pena could also be an option at shortstop if Correa doesn't return to Houston.
However, the best option for the Astros would be to sign a new shortstop like Trevor Story.
Over his career, Story has an .863 OPS over six seasons in Colorado and slashed .251/.329/.471 in 2021.
Sure the numbers are not as good as Correa's last season, but the 29-year-old has made two All-Star Game appearances as recently as 2019, and is a two-time Silver Slugger.
Story is more affordable than Correa as well. In fact, before the lockout was implemented, Houston was in contact with the former Colorado Rockies' shortstop.
If the Astros offered Story the same contract they offered Correa, there's a chance he would accept it.
His versatile bat would fit in nicely as manager Dusty Baker could put him at numerous spots in the batting lineup.
Signing Story to a five to six-year deal would allow time for Leon to develop more, keep Alex Bregman at his best position, third base, and keep Houston's championship window open a little longer.
In the event Correa does leave the Astros, their best bet would be to sign Story to fill that void.
One of the big factors that led to the Texans' loss to the Jaguars on Sunday was the secondary. Multiple flags for pass interference gave Jacksonville more opportunities to pick up first downs and score points.
Can confirm #Texans backup CB Shaq Griffin was cut.

Griffin started 6 games this year when Derek Stingley was out with a hamstring.
— DJ Bien-Aime (@Djbienaime) November 29, 2023
So it's no surprise that DeMeco Ryans is making some changes to his defense this week. According to several reports, Texans corner Shaq Griffin has been cut.
Nickel corner Tavierre Thomas was flagged for PI more than once on Sunday, and was burned badly by Jaguars receiver Calvin Ridley for a touchdown.
DeMeco was asked after the game if he considered replacing Thomas with Desmond King or Shaq Griffin. Ryans didn't give a definitive answer, but it looks like we got one today.
One has to wonder if Desmond Kings' experience playing nickel was the reason for his promotion to the active roster and why Griffin was released. If Thomas continues to struggle, King looks like the next man up to replace him.
#Texans activate Denzel Perryman, promote Desmond King to active roster, release Shaq Griffin, sign Matt Ammendola and Garret Wallow to practice squad, released Gerrid Doaks from practice squad and placed Tytus Howard (knee-patellar tendon surgery pending) on injured reserve https://t.co/knyyoqo7yC
— Aaron Wilson (@AaronWilson_NFL) November 29, 2023
The Texans also made some other adjustments to their roster on Wednesday, per Aaron Wilson. Linebacker Denzel Perryman returns from suspension, kicker Matt Ammendola and linebacker Garret Wallow join the practice squad. They also released Gerrid Doaks from the practice squad.
The other big piece of news involves left guard Tytus Howard. He heads to injured reserve, ending his season after hurting his knee against Jacksonville.
SportsMap Emails
Are Awesome