An all-too-early look at Yordan Alvarez's potential career accolades
Jul 29, 2022, 7:08 pm
Yordan Alvarez is special. Composite photo by Brandon Strange.
The Astros have had several call-ups in recent memory that caused a ton of hype but didn't ultimately pan out. Remember when Jon Singleton was supposed to change the franchise's direction back in 2014? On June 9th, 2019, Yordan Alvarez had similar expectations for his debut. However, unlike others who started with a bang and ultimately fizzled out, Alvarez has kept getting better the longer he's been in the league.
Everyone enjoys seeing history made, even if it comes in some outlandish combination of statistics like being the first player with certain initials to hit a home run on a specific date on the calendar. Many recognize that Alvarez is the best hitter in the league this year, but what if I told you he might go down as one of the best of all time and potentially be in the mix to break some of baseball's most sacred historical milestones?
An all-time OPS
If you aren't familiar with it, baseball-reference.com is a terrific website for researching the stats of any player, past or present, and has a great set of all-time leaderboards, such as OPS. The threshold to get on that list is 3000 plate appearances, which is why you'll see some active players, like Mike Trout, who sits at eleventh with a 1.0001 OPS in his 5,986 career plate appearances thus far.
You probably recognize many of the names ahead of Trout, like Barry Bonds in fifth and the all-time leader, Babe Ruth, with an incredible 1.1636 OPS in his 10,626 career plate appearances. Since his 2019 debut, Alvarez has had 1,321 plate appearances, including his first complete season in 2021, where he had just shy of 600, which he's on pace to do again in 2022.
In those plate appearances, his OPS sits at .983, but he's been steadily improving that this season in his best year yet, where he leads all MLB with a 1.088, which is comprised of an AL-best .414 on-base percentage and MLB-best .674 slugging percentage. If you put him on the all-time list as he sits now, he'd beat out Mark McGwire for the 13th spot. Put him on the list with this season's 1.088, and that's good for third to move down Lou Gehrig.
There's still a long way to go in terms of potential outcomes before he gets the 1,679 additional plate appearances needed to get on the list, but where will he land when and if he gets there? If he stays healthy and gets around an average of 600 PAs per year, we could find out in just a couple of years.
The pinnacle of all stats - WAR
Wins above replacement is a statistic that, in essence, summarizes how valuable a player is. It attempts to tell the story of the number of additional games you'd win with that player on the field versus a replacement. Albert Pujols leads active players, owning the 32nd spot at 99.5 over his 22 seasons in the majors, while Ruth leads this stat all-time with 183.1.
This stat accumulates throughout a career, ideally going up over time as a player provides consistent success for his club. For position players, this is a combination of hitting and fielding value. Alvarez increased his WAR by 3.8 points in 2021 and has already moved it up by 4.7 more in 2022, up to 12.2, which shows just how well he's been doing at the plate.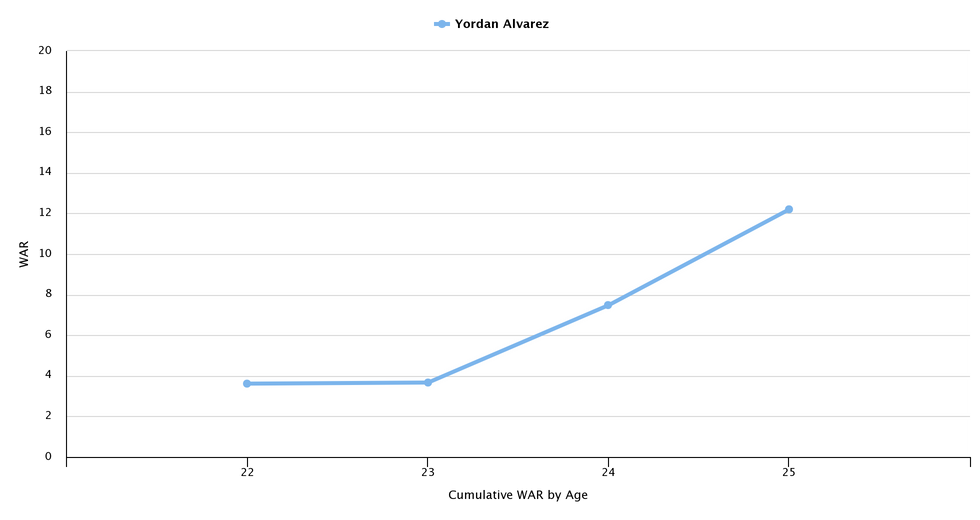 Yordan Alvarez's Career War (Fangraphs)Yordan Alvarez's Career War (Fangraphs)
Again, despite perhaps not having the fielding prowess to boost things even further, if you take that trajectory out over a lengthy and healthy career, you're talking about someone who could become one of the all-time greats. Take that crystal ball out again and do some forecasting; if he can add to his WAR at these rates over 10-15 more years, he would be in the top 50.
Make room in the trophy case
Alvarez already has the 2019 Rookie of the Year under his belt, was named the 2021 ALCS MVP, and received his first All-Star nomination this season. But that could be just the tip of the iceberg for this young slugger. Right now, Aaron Judge is the clear leader in the American League MVP race, and thanks to his two-way bonus, Shohei Ohtani would probably be most people's second. Yordan Alvarez is firmly in the discussion, though, and all it would take is Ohtani and Judge to finish the year on cold streaks while Alvarez keeps his current pace for him to jump on top.
Regardless, and once again, assuming he can have a long, healthy career, this will unlikely be the last time we talk about Alvarez vying for awards in the MLB. We talk, as we should, a lot about Mike Trout being a generational talent, which is the result of consistent high-level success over a lengthy career. We also try to find the next young talent to wear that crown, like the current hype surrounding players like Juan Soto, Fernando Tatis Jr., and Vladmir Guerrero Jr.
What if Yordan Alvarez is the one to surpass them all? Sure, it's a big if, but if the first few years of his career are any indication, it's more than possible, and we could eventually have another number retired and hanging from the rafters at Minute Maid Park.
From Your Site Articles
Related Articles Around the Web