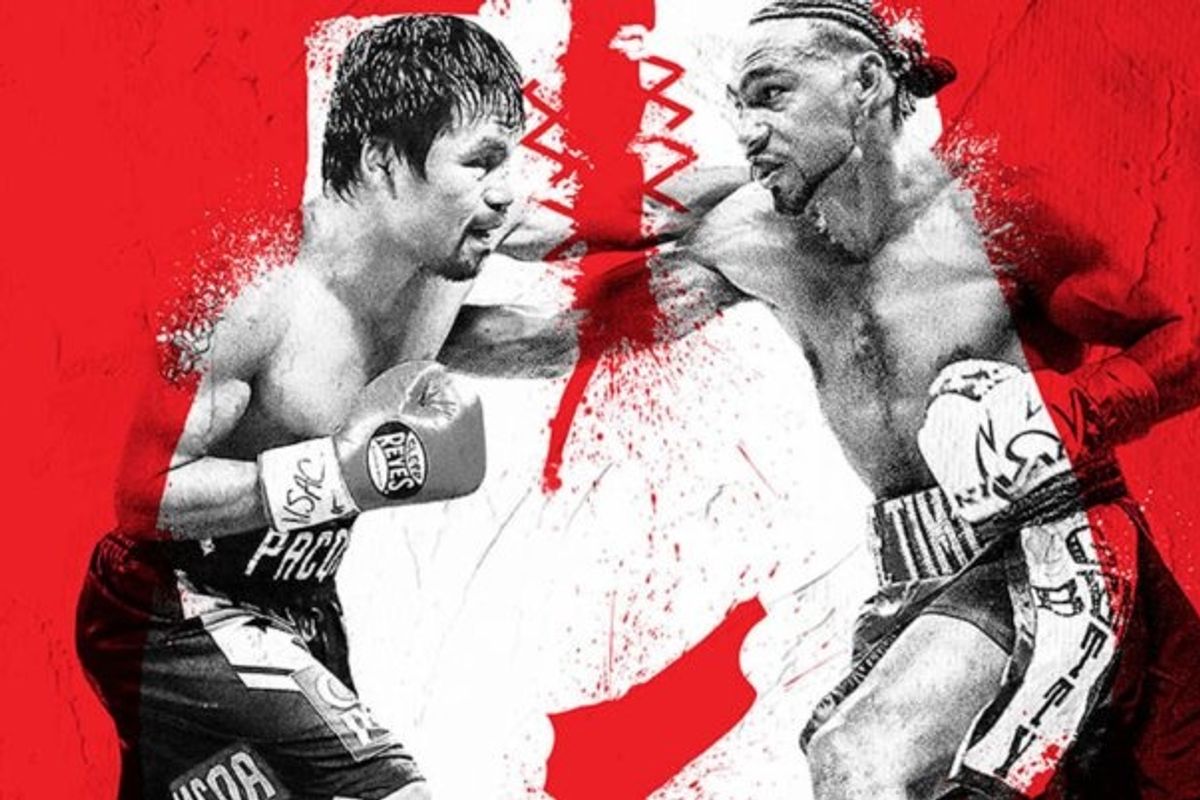 Photo illustration courtesy of Premier Boxing Champions.
Manny Pacquiao is a shell of his former fighting self. Now 40 years old, gone is phenom who won world titles in a record eight weight classes. Gone is the thunderous left hand that led him to knockout victories over the likes of Ricky Hatton, Erik Morales and Miguel Cotto. Gone is the transcendent star, who became a household name not just in the boxing world, but in the general public. But instead of focusing on what's gone, let's talk about what's still there. At age 40 Pacquiao is still an overwhelmingly skilled pressure fighter. He's quick, intelligent and relentless. Despite all he's lost, what Pacquaio (61-7-2, 39 KO) has left is still more than enough to beat Keith Thurman Saturday night.
Thurman (29-0, 22 KO,) who will take the ring opposite Pacquiao at the MGM Grand in Las Vegas, has never lost a fight in his professional career. He's a tremendous technician who has beaten a who's who of PBC welterweights throughout his 12-year run in the division. But despite being a decade younger, we can't talk about what Pacquiao has lost without having the same conversation about Thurman. Following an uninspiring victory over Danny Garcia in 2017, Thurman had elbow surgery. The injury kept him out of the ring for nearly two years, just returning this January to beat journeyman Josesito Lopez in another lackluster performance.
Thurman has also shown an erosion of power. Originally nicknamed "One Time" for his ability to score one-punch knockouts, Thurman hasn't recorded a knockout since a 2013 victory over Jesus Soto Karass. Sarcastic boxing fans and opponents have joked that now "One Time" is a reference to how many times a year Thurman usually fights.
Thurman's resume also pales in comparison to Pacquiao. Pacquiao has taken down multiple hall of famers en route to what will ultimately be a first ballot hall of fame career. With victories of the likes of Cotto, Marquez, Bradley, Mosley, Hatton and Marquez it's not an exaggeration to say you can count on both hands the number of fighters Pacquiao has beaten that are better than Thurman. On the other hand, Thurman has never faced the best at 147 pounds. He never got a crack at Floyd Mayweather, avoided Errol Spence, and boxing politics have prevented a Terence Crawford fight. Thurman's victories over Danny Garcia and Shawn Porter both qualify as "nice" but stop miles short of career defining.
Manny Pacquaio has had quite a career in the boxing ring, and may only have a few fights left. He's not the fighter he used to be, but what's left is a top-5 welterweight with superior hand speed, timing and movement. Is that enough to beat Keith Thurman on Saturday night? We will know soon.
TIM'S PREDICTION
Pacquiao by unanimous decision.
UNDERCARD REPORT
The televised card starts with a showcase fight for Sergey Lipinets (15-1, 11 KO) against John Molina Jr. (30-8, 24 KO.) Molina's skills have long eroded and this should be an excellent chance for Lipinets to score a knockout in an exciting slugfest.
Fight two pits Yordenis Ugas against former prospect Omar Figueroa. Ugas (23-4, 11 KO) is fresh of a controversial loss to Shawn Porter in a fight many observers thought should have gone his way. Figueora (28-0-1, 19 KO) has battled injuries, distractions and problems making weight, but is still tremendous power puncher.
The co-feature pits super-middleweight titleist Caleb Plant (18-0, 10 KO) in what should be a showcase fight over Mike Lee (21-0, 11 KO,) who is taking a big step up in competition.
PAY PER VIEW DETAILS
The fight will be distributed via Fox Pay-Per-View for a price of $74.99. Cord cutters can stream the action on FoxSports.com for the same price.
Rockets' Alperen Sengun recently was a guest on Paul George's podcast and spoke about a conversation he had with James Harden.
He said Harden told him he was proud of him. This led George to saying he thinks this means the torch has been passed from Harden to Sengun.
Which made us wonder, is this now Sengun's team? Or is that a little premature and the true leader of the team is head coach Ime Udoka or Fred VanVleet?
Plus, Jalen Green has responded positively from being benched. Is this proof that Ime Udoka has the team taking more accountability and heading in the right direction?
Be sure to watch the video above as we break it all down!
If you enjoy the videos, subscribe on YouTube for our latest content.
Related Articles Around the Web
SportsMap Emails
Are Awesome