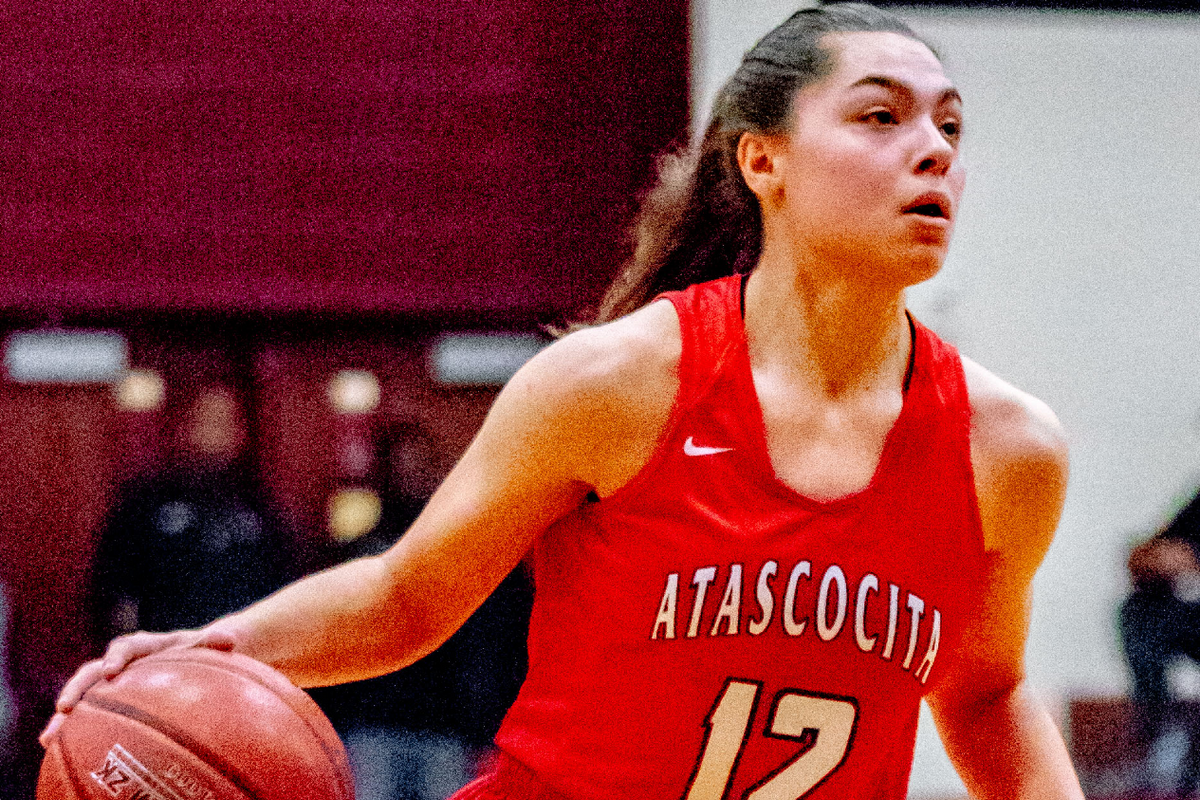 A new standard is set. Via Vype
Originally Appeared on Vype
HOUSTON – With 0.82 seconds remaining on the clock, a 10-point lead in hand, Veronica Johnson turned towards her bench and walked down it fist-bumping every coach and player along the way.
Johnson could finally breath.
The 47-34 victory against rival-Summer Creek on Tuesday locked up the program's second-straight district championship and 32nd-straight district victory.
"This is awesome," Johnson said. "For this to be year four and for this senior class to be year four. They remind me all the time I'm a senior with them. It's been fun. These girls have never backed down or shied away from anything I was trying to do.
"This group of seniors they talk about the legacy they want to leave here and they have done just that to leave this legacy."
One of those seniors is University of Incarnate Word signee Brittney Stafford.
Stafford, who has played all four years on varsity at Atascocita, including being a captain since her sophomore campaign, has watched how this program has built up.
"When I arrived it was very difficult," Stafford said. "Sophomore year was more of a learning lesson for all of us. Coach, the team and we just built. We knew sophomore year was our building year. We wanted more. We had a goal in mind that sophomore year to be driven, to work harder, to be that team to do the impossible and make history. My junior year we did that and now our dreams are getting bigger."
Read more about Atascocita's big win here
When Bryce Young and CJ Stroud were drafted with the first two picks of the NFL Draft, we knew they would be compared to one another for years to come.
And here we are just 11 games into the season and one quarterback has already seen his head coach fired. Panthers owner David Tepper spoke to the media on Wednesday and discussed his decision to fire Frank Reich, and also set the record straight on how they arrived at the decision to draft Young.
In so many words, Tepper basically blamed the Texans for how the top of the draft played out. He mentioned Stroud by name and said the Panthers were ready to draft him at No. 2 overall until the Texans backed out of the three-team trade with the Bears.
Tepper made a point of saying everyone in their building had Bryce Young as the top player on their draft board, despite rumors about Frank Reich preferring Stroud.
CJ Stroud and the Texans have been so much better than Bryce Young and the Panthers that Tepper clearly felt it was necessary to defend himself, and the decisions he's made for the organization.
In the end, the person that gets the worst end of the deal is Bryce Young. Coaching changes can be very difficult on young quarterbacks. And it looks like he'll have to learn a new offense in his second year when the Panthers hire a new coaching staff.
How fortunate we are as Texans fans to have DeMeco Ryans and CJ Stroud leading the team moving forward.
With all of this in mind, is there a reason Texans fans haven't fully bought in to the new-look Texans? JJ Watt was a guest on The Pat McAfee Show this week and was asked about the team's inability to fill the stadium on Sundays.
As a former player for the Colts, McAfee always thought Houston had the loudest and best fans in the NFL. And while the Texans are 9th in attendance this year according to ESPN, even CJ Stroud has asked for the fans to fill the stadium.
So there is something to it. You can see the empty seats in photos. So why aren't the Texans packing NRG with a shiny new franchise QB?
We believe the recent history of the team is why fans are slowly coming back. McAfee wasn't here for:
Bill O'Brien cussing at fans during games
Trading DeAndre Hopkins away for next to nothing
The Jack Easterby disaster
Deshaun Watson allegedly blaming ownership for why he wanted out
The Deshaun Watson scandal
Firing back-to-back coaches after one season, and the list goes on.
Don't miss the video above for the full conversation!
If you enjoy the videos, subscribe to SportsMapTexans on YouTube!
SportsMap Emails
Are Awesome