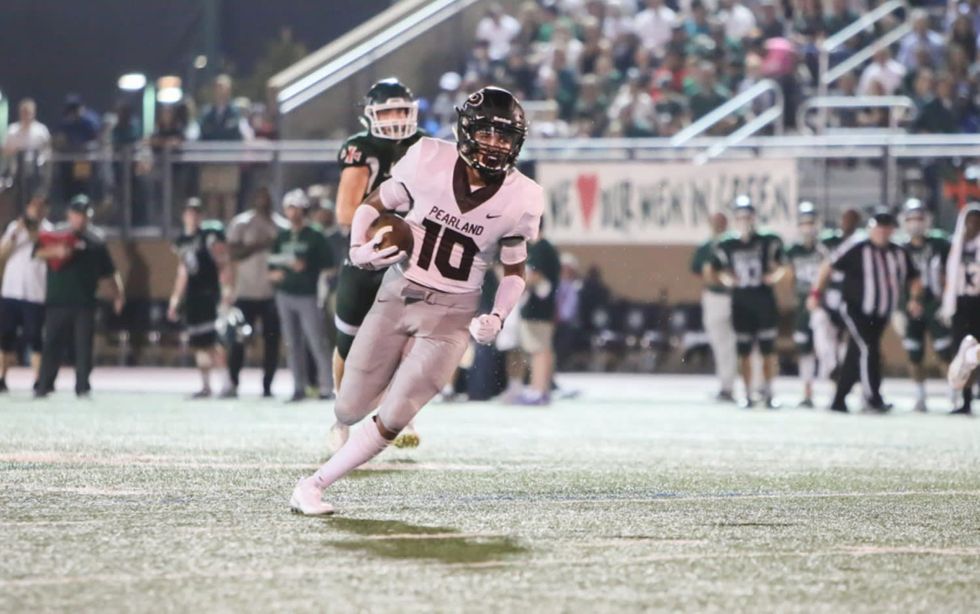 For the season, Landry has 148 yards rushing and six touchdowns. Vype
Originally Appeared on Vype 
Austin Landry is all over the field and rarely off it.
The man that mainly took the snaps for Pearland last season at quarterback has embraced a new but familiar role for his senior season.
Mr. Do-It-All has played snaps at quarterback, running back, receiver, punt returner and even on the defense this year for the Oilers in their now 7-0 start.
"I've always played every position growing up," Landry said. "Even in little league I was every where, but in junior high I had to stick to one position and that was quarterback because I liked being the captain of the team."
His versatility was shown off during Pearland's 57-42 victory against previously undefeated Strake Jesuit on Friday.
Landry had five rushes for 125 yards and four scores, two receptions for 73 yards and also converted three two-point conversions (two rushing and one passing).
"Having a game like that was much needed for me and my team, to prove to everybody that we are the real deal," Landry said.
More here 
Rockets' Alperen Sengun recently was a guest on Paul George's podcast and spoke about a conversation he had with James Harden.
He said Harden told him he was proud of him. This led George to saying he thinks this means the torch has been passed from Harden to Sengun.
Which made us wonder, is this now Sengun's team? Or is that a little premature and the true leader of the team is head coach Ime Udoka or Fred VanVleet?
Plus, Jalen Green has responded positively from being benched. Is this proof that Ime Udoka has the team taking more accountability and heading in the right direction?
Be sure to watch the video above as we break it all down!
If you enjoy the videos, subscribe on YouTube for our latest content.
Related Articles Around the Web
SportsMap Emails
Are Awesome