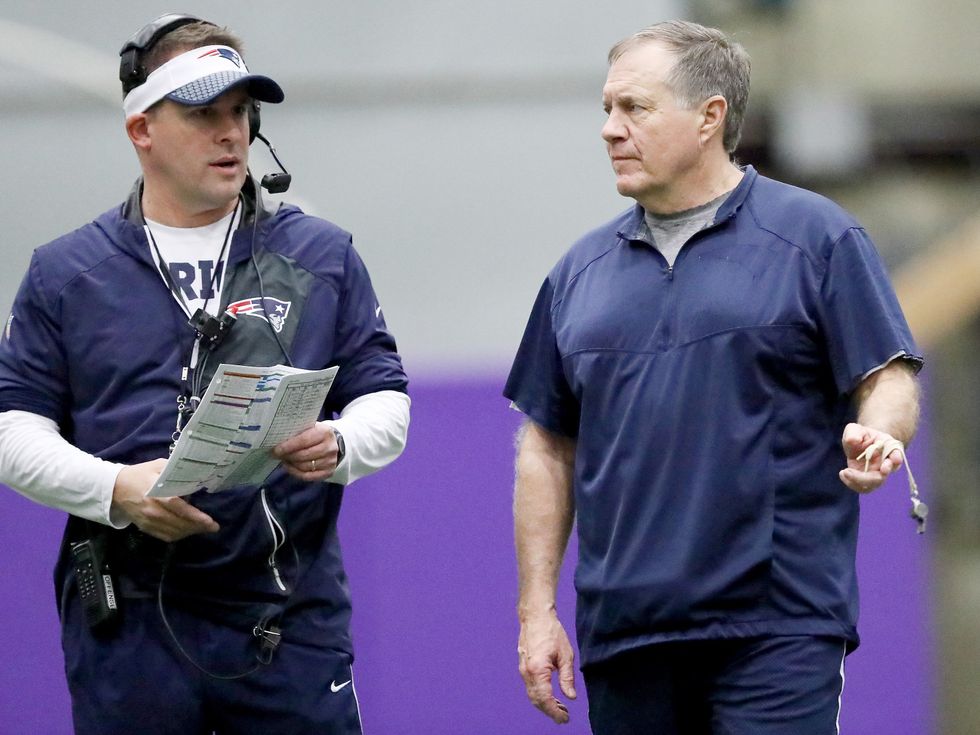 Josh McDaniels (left) decided to stay with Bill Belichick. Elsa/Getty Images
There is no loyalty in sports - free agency made sure of that - so when Josh McDaniels decided not to take the head coaching job with the Indianapolis Colts, it really wasn't that big of a deal to me.
If any of us normal folk went looking for a job, found a new one, but at the last second our current employer made us a better offer, we'd take it. So stop acting like Josh McDaniels did something wrong, because he didn't.
BUT HE HAD A HANDSHAKE DEAL WITH THE COLTS!
So?
Let's play a game. 
Say Colts GM Chris Ballard (who is sooooo upset about this) was in the running for a new job with say, the Texans, and the two teams had agreed to terms and everything was ready - but nothing had been signed. Then, the day before it was to be made OFFICIAL, Colts owner Jim Irsay made Ballard a better offer.
Do you think Ballard is going to turn that down?
Hell no he isn't.
Say Jim Irsay is planning on selling the team and gets a really good offer and agrees to it in principal at lunch with plans to sign the deal the next morning. Then, that night somebody calls and offers him 30% more money for the team.
Guess what? 
Irsay's taking that better deal.
And so would you, that's how job hunting works. 
The fact is, Josh McDaniels was given a better offer by his current employer before he left to for another job. 
This happens every day in the business world.
The way I see it, he did nothing wrong, and anyone else would have done the same thing in this situation if they felt strongly enough. 
Besides, it's laughable to me that an NFL team would be crying about loyalty when they are the only teams in major sports that have figured out a way to rig the system so that they can cut players once they deem them useless, with very little in the way of repercussions.
One of the big factors that led to the Texans' loss to the Jaguars on Sunday was the secondary. Multiple flags for pass interference gave Jacksonville more opportunities to pick up first downs and score points.
Can confirm #Texans backup CB Shaq Griffin was cut.

Griffin started 6 games this year when Derek Stingley was out with a hamstring.
— DJ Bien-Aime (@Djbienaime) November 29, 2023
So it's no surprise that DeMeco Ryans is making some changes to his defense this week. According to several reports, Texans corner Shaq Griffin has been cut.
Nickel corner Tavierre Thomas was flagged for PI more than once on Sunday, and was burned badly by Jaguars receiver Calvin Ridley for a touchdown.
DeMeco was asked after the game if he considered replacing Thomas with Desmond King or Shaq Griffin. Ryans didn't give a definitive answer, but it looks like we got one today.
One has to wonder if Desmond Kings' experience playing nickel was the reason for his promotion to the active roster and why Griffin was released. If Thomas continues to struggle, King looks like the next man up to replace him.
#Texans activate Denzel Perryman, promote Desmond King to active roster, release Shaq Griffin, sign Matt Ammendola and Garret Wallow to practice squad, released Gerrid Doaks from practice squad and placed Tytus Howard (knee-patellar tendon surgery pending) on injured reserve https://t.co/knyyoqo7yC
— Aaron Wilson (@AaronWilson_NFL) November 29, 2023
The Texans also made some other adjustments to their roster on Wednesday, per Aaron Wilson. Linebacker Denzel Perryman returns from suspension, kicker Matt Ammendola and linebacker Garret Wallow join the practice squad. They also released Gerrid Doaks from the practice squad.
The other big piece of news involves left guard Tytus Howard. He heads to injured reserve, ending his season after hurting his knee against Jacksonville.
SportsMap Emails
Are Awesome