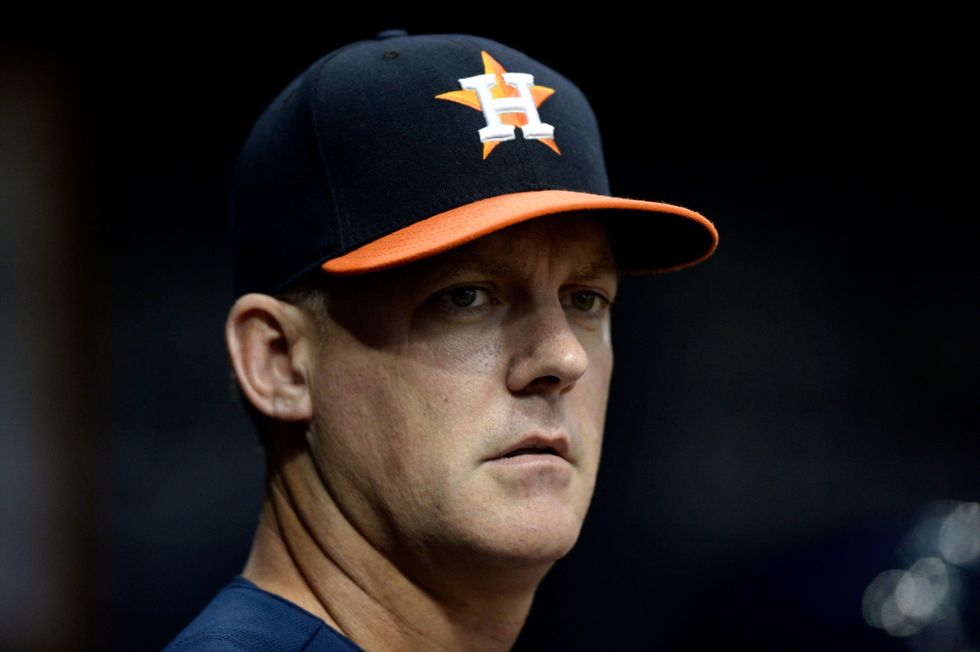 A.J. Hinch could use some more weapons. Jason Behnken / Getty Images
The Major League Baseball trade deadline is July 31st, and trade talks don't usually start to gain momentum until after the MLB draft in June, but when you are a baseball dork like me it is never too soon to start talking about potential trades for a team that's in contention and that everyone's excited about (yes, I'm talking about your Houston Astros).
There are some names being floated around on teams that are still in the hunt, but since we don't know how that's going to shake out, I tried to pull from teams I think will be out of it come the trade deadline (mostly because they are already out of it).
Those teams are:
Seattle Mariners*
Texas Rangers
Baltimore Orioles
Kansas City Royals
Chicago White Sox
San Diego Padres
Miami Marlins
Los Angeles Dodgers (I know, surprised me too)
Cincinnati Reds
*losing Cano was a huge blow
Now that we have that out of the way, let's look at the top options for the Astros (from the teams listed above).
LF/DH
There aren't a lot of sexy names out there for left field, and by "not a lot" I mean NONE. Of course the Astros always have the options of adding a center fielder and moving Springer to right and Reddick to left, or adding a right fielder and moving Reddick to left, but outside of Adam Jones there really aren't many sexy outfielders that will be on the market this year. And I hate to be the one to bring it up, but put Bryce Harper out of your mind Astros fan, it ain't happening.
So I turn to the other spot in the order that needs some help...
DH
Nelson Cruz - Seattle Mariners
Contract Status: 2019 Free Agent
Now that the Mariners have lost Robinson Cano for the next 80 games, they should begin the fade I've been talking about (and expecting), albeit a little sooner than anticipated. By July the Mariners will be out of it and looking to offload some expiring contracts, Cruz among them.
Cruz brings a big bat with a lot of pop. He'll strike out, but he's also a legit deep threat and RBI machine. The 37 year old slugger probably peaked back in 2015 when he hit 44 home runs, drove in 93 runs and slashed .302/.369/.936, but he'd be a half year rental and insurance to try and match run for run with that Yankees lineup.
CLOSERS
It's no secret that the biggest weakness on this Astros team right now is the bullpen, and two specific areas of need are a dominant closer and a lefty specialist.
Zach Britton - Baltimore Orioles
Contract Status: 2019 Free Agent
Britton has missed the entire year recovering from a ruptured Achilles tendon, but he's working his way back now and looks to be back on the bump a soon as June. When healthy, he could solve a lot of problems for a lot of teams. The good news is, if he does return in early June, teams like the Astros will have about 6-7 weeks to see how he bounces back. That should be just enough time to decide if they want to make the move for a guy who saved 47 games in 2016. At this point, Britton is a rental, but one that might come a decent price given the injury.
Kelvin Herrera - Kansas City Royals
Contract Status: 2019 Free Agent
Despite having a down 2017, Herrera has top end closer stuff. He's got a live fastball (97 mph avg) and can hit triple digits on the gun on occasion. Mix in a wipeout slider (83 mph avg) that he gets a ton of strikeouts on and an above average change that he uses almost as much as the slider.
A two-time all star (2015, 2016), he averages right at a strikeout per inning. He reached 26 saves last year, but don't let those numbers fool you, he's the real deal.
Brad Hand - San Diego Padres
Contract Status: Signed through 2020 (with a club option in 2021)
Brad Hand in the best closer you've never heard of (unless you listen to me gush over him around this time last year). He's still a name that comes up when trade rumors and the San Diego Padres are discussed.
The upside of Hand is that he has 2+ more years of team control (not including the $10M team option in 2021). And because he's only been closing games for a short time, he shouldn't cost as much as Britton or Herrera, but that inexperience is also a risk for clubs (like the Astors) needing a sure thing at the back end of the bully.
Oh, and did I mention he's a lefty?
BONUS NAME TO WATCH!
Jeurys Familia - New York Mets
Contract: 2019 Free Agent
I know I said I was pulling from a list of teams that are "out of it" but the Mets are already going to have to surpass six teams to earn a wild card spot (including the Nationals) and I don't see that happening, so that's why I think it's worth keeping an eye on Jeurys Familia. He's had some injury issues in the past, including missing most of 2017 with an arterial blood clot, but when you see back-to- back 43 and 51 save seasons, and a hot start to the 2018 season, you tend to salivate a little. His fastball tops out in the upper 90's and he's developed a devastating splitter. He can struggle with command on occasion but for the Astros he would be as sure of a thing as they had in the pen.
All of a sudden, the Houston Texans have won three straight and host the Jacksonville Jaguars for a highly anticipated game this weekend
If the Texans come away victorious, they will take possession of first place in the division, and be in position to host a home playoff game for the first time since 2019.
Which got us thinking, is this the best version of the Texans we've ever seen? Many would say the best Texans teams were the ones coached by Gary Kubiak with Matt Schaub at QB. Or some may say it was the Bill O'Brien 2019 team with Deshaun Watson pulling the trigger at QB.
Regardless of which era of the Texans you believe was the best, one thing is for sure. This year's team has us optimistic on several levels. Ownership seems to have figured things out with the Easterby days behind us. Nick Caserio is a serious candidate for Executive of the Year, CJ Stroud is a favorite for Offensive Rookie of the Year, and has a chance to win MVP. And DeMeco Ryans has a legit shot at Coach of the Year.
But let's go even further. Has DeMeco done enough already to be considered the franchise's best coach? Many would say these questions are entirely premature, but are they really?
We could also make the argument that Tank Dell is already the third-best receiver in franchise history behind Andre Johnson and DeAndre Hopkins. He already has as many touchdowns (6) as Dre and Hopkins combined in their rookie seasons.
And let's make things even more interesting. Is CJ Stroud the best Houston QB since Warren Moon?
Be sure to watch the video above as we answer all these questions!
SportsMap Emails
Are Awesome