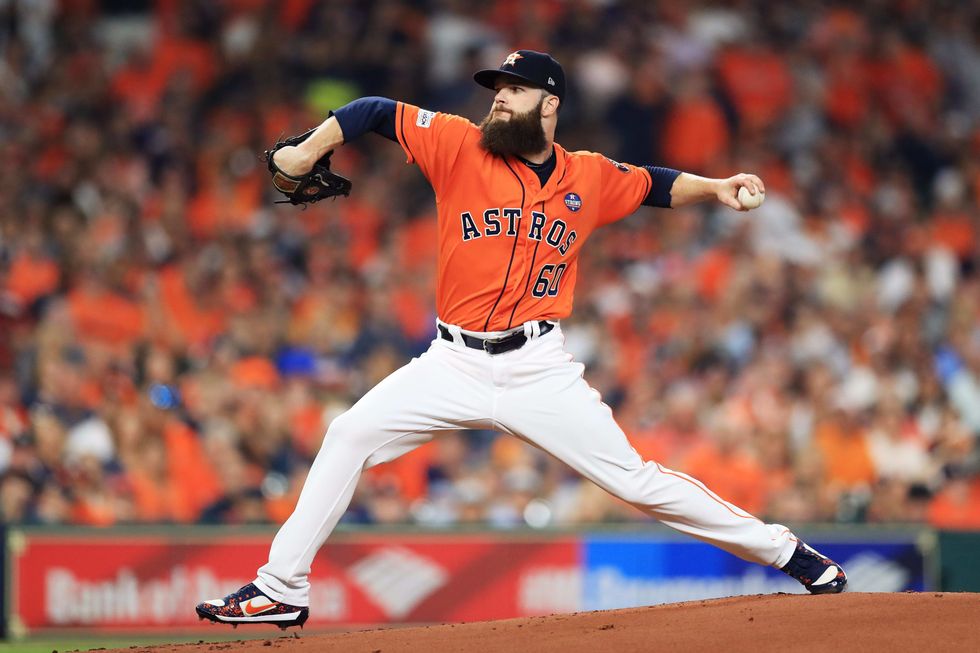 Dallas Keuchel will start Game 1. Ronald Martinez/Getty Images
The Houston Astros and Los Angeles Dodgers will start the World Series on Tuesday night. There are numerous angles to look at in preparation for this series, including the fact that these teams are a lot alike.
First, let's take a look at the World Series schedule:
 
Date 
Location
Probable Pitchers
Game 1          
Tues., Oct 24             
Dodger Stadium, Los Angeles                        
Keuchel v. Kershaw                          
Game 2
Wed., Oct 25
Dodger Stadium, Los Angeles
Verlander v. TBD
Game 3
Fri., Oct 27
Minute Maid Park, Houston
TBD
Game 4
Sat., Oct 28
Minute Maid Park, Houston
TBD
Game 5*
Sun., Oct 29
Minute Maid Park, Houston
TBD
Game 6*
Tue., Oct 31
Dodger Stadium, Los Angeles    
TBD
Game 7*
Wed., Nov 1

 

Dodger Stadium, Los Angeles

TBD
* - If Necessary
All Games Start at 7PM Central on FOX
Now, let's break down how these teams match up:
Playoff Performance: The Dodgers are 7-1 in the playoffs to this point after a sweep of the Diamondbacks in the NLDS and a 4-1 series win over the defending champion Cubs in the NLCS. The Astros are 7-4 after a 3-1 win in the ALDS over the Red Sox and a 4-3 win in the ALCS over the Yankees. A case can be made for either team in this regard; a team that's had easy wins to this point could get trapped while a team that's only been good enough to scathe by could become the next team in line to get dominated.
Starting Rotation: The Dodgers have arguably the best pitcher in all of baseball in Clayton Kershaw and picked up Yu Darvish from the Rangers in a trade this year to further boost their rotation. Past those two, the Dodgers have Rich Hill who has been decent in the playoffs and Alex Wood who had a terrific regular season. The Astros have Dallas Keuchel who despite his last start has looked to be back in Cy Young form, and Justin Verlander who has been near perfect in an Astros uniform. The Astros also have Charlie Morton and Lance McCullers who combined for a shutout win over the Yankees in Game 7 of the ALCS and may find themselves in the 3 and 4 spots in the World Series rotation.
Offense: After three bad games in New York, the Astros' offense was able to bounce back and show that they are still one of the best offenses in baseball. Jose Altuve leads the way, hitting .400 in the playoffs with five home runs and eight RBIs. Past Altuve, the Astros have the hot bats of Yuli Gurriel, Alex Bregman, and Carlos Correa who have combined for 18 RBIs in the postseason. The Dodgers offense, while maybe not as potent as the Astros, is still strong. The Dodgers have averaged six runs per game in the playoffs highlighted with their most recent game, an 11-1 rout of the Cubs in Chicago where Enrique Hernandez hit three homers. Justin Turner leads the Dodgers in postseason RBIs with twelve.
Bullpen: Kenley Jansen, the closer for the Dodgers, has been one of the best relievers in the league all year including the playoffs where he has appeared seven times and has thrown twelve strikeouts and given up just two hits. For the Astros, their bullpen has had their woes in the playoffs. Usual pillars like Chris Devenski and Joe Musgrove have combined to allow seven runs in five and two-thirds innings in the playoffs. Ken Giles has not looked as strong in the playoffs to this point as he did in the regular season where he was capable of coming in and getting three strikeouts in the ninth day after day.
With a matchup as good as this one, it means home field advantage is that much more important. The Astros will need to steal one of the first two in Los Angeles in hopes they can continue their dominance at home to get a dominating lead in the series and get their first championship. The Dodgers will likewise hope to get past Keuchel and Verlander with 1-2 wins and try to steal some games in Houston to put them in good shape too.
This will definitely be a fun series to watch. I see very little chance this ends up being a repeat of the 2005 World Series where the Astros were swept in four games because of these teams matching up so well. I could easily see this going seven games, and although I would consider the Dodgers the favorites, I would not be surprised at all to watch the Astros bring Houston a championship to cap off what has already been an amazing, memorable year.
Win or lose, this season has been historic. This team has put a city on their backs and they deserve to be in the national spotlight. Four more wins will make them legends. 
Luka Doncic had 41 points, nine rebounds and nine assists, and the Dallas Mavericks prevented the Houston Rockets from advancing to the quarterfinals of the NBA In-Season Tournament with a 121-115 victory on Tuesday night.
Kyrie Irving added 22 of his 27 points in the second half for the Mavericks, who had already been eliminated. Their victory allowed the New Orleans Pelicans to win Group B in the Western Conference with a 3-1 record.
Doncic fell just short of his 59th career triple-double. That would have tied him for ninth place all-time with Larry Bird. He shot 15 of 29, 3 of 10 on 3-pointers.
"Sometimes we take him for granted, and we shouldn't," Mavericks coach Jason Kidd said. "He's about winning, but it just so happens he's a walking triple-double.
"The Mavericks, who trailed by nine points in the third quarter, grabbed the lead for good at 99-98 with 6:25 to play on a drive by Irving. Leading 103-100 with 5:25 left, they went on an 8-2 run that included three free throws by Derrick Jones Jr. when he was fouled by Dillon Brooks on a 25-footer with the shot clock about to expire.
Jabari Smith Jr.'s 3-pointer with 8 seconds left pulled the Rockets within 119-115 before Dallas closed it out.
Doncic played after sustaining a low-grade sprain of his left thumb on his non-shooting hand early in Saturday's game. He wore a wrap on the thumb.
Doncic made a hook shot from the free throw line after recovering a loose ball near the baseline.
"I'm 2 for 2 in my career on the hooks," Doncic said, saying the other came while playing for the Slovenian national team against Sweden.
Irving shot 2 for 11 in the first half, 1 for 5 on 3-pointers, with no free-throw attempts. He was 6 for 11 in the second half, hitting 1 of 2 behind the arc, and sank all nine free throws.
"I told the team, 'Played well enough to win, not smart enough to win,'" Rockets coach Ime Udoka said. "We were extra-aggressive, especially at the end of the third quarter. Had multiple players make a few dumb fouls, put Kyrie at the line and got him going when he didn't have a lot going. You can be aggressive, obviously, but slapping somebody on a 3-point shot on the arm is an unintelligent play. It has nothing to do with aggression."
Alperen Sengun had a season-best 31 points for the Rockets, who had six scorers in double figures. Fred VanVleet had 10 points and 12 assists.
The Rockets have lost all six of their road games this season. They went into play leading the NBA by allowing an average of 104.4 points per game.
The Mavericks didn't use the specially built court for either of their home tournament games, citing dissatisfaction with the quality.
UP NEXT
Rockets: Will finish a back-to-back at Denver on Wednesday.
Mavericks: Host Memphis on Friday.
SportsMap Emails
Are Awesome