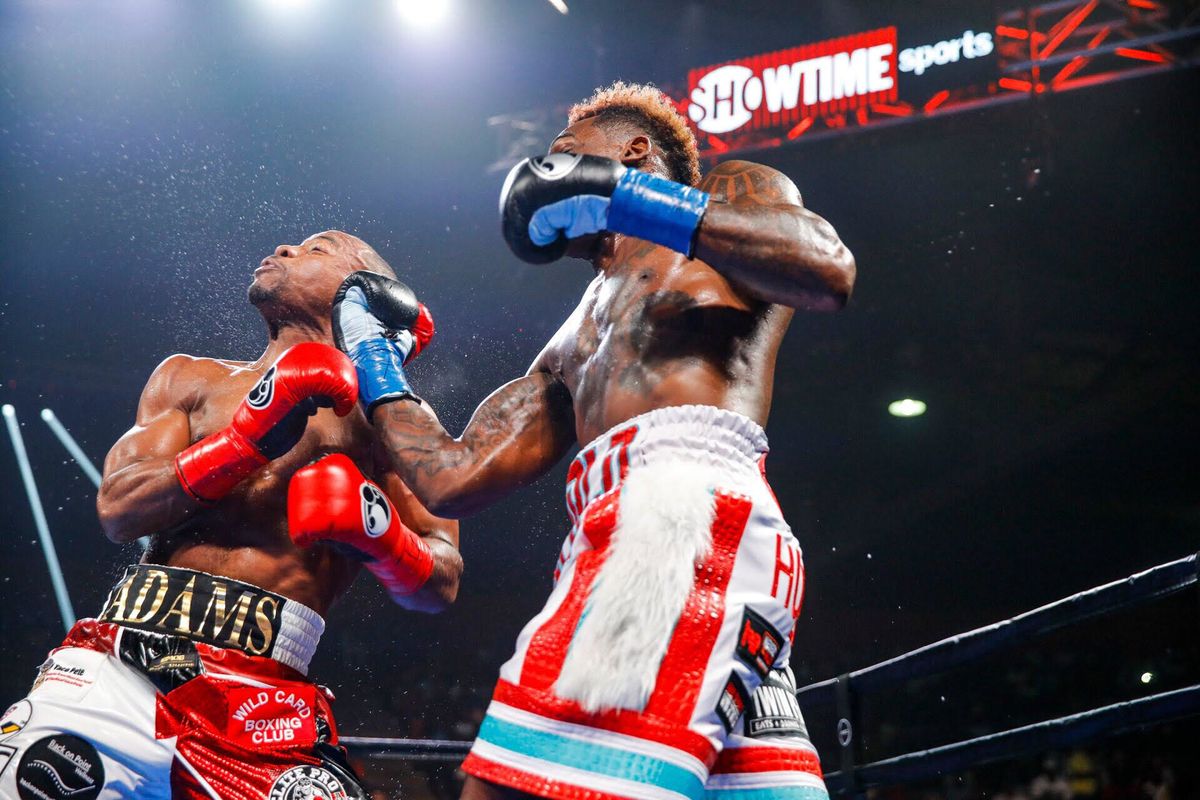 Photo courtesy of Showtime Sports
Jermall Charlo cruised to an easy victory Saturday night at NRG Arena in Houston, but the WBC middleweight champion could not score the knockout he was looking for. Charlo won a unanimous decision by scores of 120-108 (x2) and 119-109. SportsMap.com scored the bout 118-110 in favor of Charlo.
The Alief native looked like the bigger, stronger man from the opening bell. However Charlo (29-0, 21 KO) seemed to struggle with Adams' awkward style. Charlo consistently landed the harder, cleaner punches, but never seemed to hurt Adams (21-3, 13 KO,) who displayed an amazing chin in defeat.
The fight was a big step-up in competition for Adams, who went 12 rounds for the first time in his career. Adams looked completely overmatched at the beginning of the fight, seeming to be satisfied with merely surviving. As the fight went on Adams seemed to get more comfortable in the ring, working behind a loopy, range-finding jab to score some points despite losing most rounds.
"Of course I wanted to knock him out," Charlo said. "That's what we do. That's what we train for. I didn't get the knockout. My brother gave me and A though, so I'm happy with that."
Charlo was the main aggressor in the ring, leading Adams around and often pinning him in the corners. He was at his best when he could bully Adams into the corners and score points with body shots and uppercuts. Charlo said that he hurt his hand early in the fight, which could have been a reason for his performance.
"I've never fought with a hurt hand before. Ever. Adversity is everything," Charlo said.
After the fight Charlo talked about his desire to fight one of the big names of the middleweight division, specifically Canelo Alvarez.
"Canelo's gotta fight me sooner or later," Charlo said. "He cannot retire without fighting me."
Charlo, who is aligned with Showtime, is the only one of the four big players in the middleweight division that doesn't regularly fight on streaming service DAZN. Because of this Charlo has had difficulty getting the big fight he wants at 160 lbs.
The official attendance at NRG Arena was 6,408, announced as a sellout.
LUBIN ROLLS IN ELIMINATOR
Junior middleweight contender Erickson Lubin (21-1, 16 KO) earned a spot as the mandatory challenger for the WBC title in dismantling Zakaria Attou (29-7-2, 7 KO) via fourth a fourth round technical knockout. Lubin started the fight by feeling out Attou, who looked technically deficient compared to Lubin from the opening bell. By round two Lubin was landing flush left crosses that were pushing Attou back to the ropes.
In round four Lubin unleashed a flurry of punches that send Attou to the canvas. He beat the count and wanted to continue but his corner threw in the towel, stopping the fight. The victory means Lubin is in line to eventually face Tony Harrison for the WBC title.
MARRERO HANGS ON TO BEAT RAMIREZ
In the opening bout of the television card featherweight Claudio Marrero (24-3, 17 KO) started hot and did enough in the closing rounds to earn a unanimous decision victory over Eduardo Ramirez (22-2-3, 9 KO.) Judges scored the fight 115-113, 116-112 and 118-110, all in favor of Marrero. SportsMap.com scored the fight 115-113 for Marrero.
Marrero was the obvious aggressor early in the fight but Ramirez's grinding, inside style seemed to tire out Marrero as the fight wore on. Many rounds were close with both fighters trading many body-based combinations.
Over the course of the last few years, I've noticed a marked change in my writing. It coincided with the ebbs and flows of the sports culture here in Houston. Namely, the Rockets and Texans falling off while the Astros tried to keep the city's hopes afloat. Even with winning titles, going to consecutive American League Championship Series, and staying a top contender, the Astros couldn't hold the city's collective attention (in some realms) as much as the Texans.
I don't care what you say. Football is king here in Texas. The Astros winning helped the city get over the debacle that was on Kirby and Polk. What they truly desired was a respectable football team. Having gone without for years, finally getting one, it not being up to par, being okay for a while, then taking a nosedive, it made fans feel like they were in a Twilight Zone of sorts.
Enter DeMeco Ryans. Not only has he changed the culture in the organization, but they're winning too! Who'd have thought the Texans would be in the Wildcard position this late in the season? Absolutely NOBODY! Well, I won't say nobody. There were some overzealous fans wearing Battle Red and Deep Steel Blue-tinted glasses who would say this same thing no matter what happened in the offseason. This is why DeMeco Ryans is the NFL's Coach of the Year right now, and there's no debate to be had.
The first reason was already listed above. He came to the Texans organization and changed the culture. From top to bottom, the expectations and thought processes have changed for the better. Gone are the days of people feeling like they're walking on eggshells around an arrogant jerk who had no reason to be such a blowhard. No longer are the sidelines patrolled by one and done coaches who were more of a placeholder than a purse on a church pew on Sunday morning. He brings a presence, an aura if you will. When he walks in a room, people genuinely are excited to see and talk to him. He obliges willingly and fully engages by talking directly to people and making eye contact. Never heard him yell or be condescending.
Secondly, and perhaps most notably, he's winning. Last year at this same time, the Texans were 1-8-1 and in last place in the AFC. They finished the year 3-13-1 and picked second overall in the draft. As of this writing, they're 6-4, second place in the AFC South, and sixth place in the AFC as one of the Wildcard teams. They're scheduled to play the Jags this weekend with sole possession of first place in the division on the line. No other team in the league has made as big a jump in the standings from last season to this one than the Texans. NRG Stadium was the loudest some have heard it the last couple wins against the Bus and Cardinals. Craziest part: it wasn't even full to capacity.
Changing the culture and winning goes a long way. Perhaps the biggest influence DeMeco has had is his commitment to player development. When he was with the 49ers, they raved about how he turned them into better players. Fred Warner was emotional over losing DeMeco as a coach for what he's done for Warner's career. Pairing a coach like him with players like C.J. Stroud, Will Anderson Jr, and others with the same level of commitment has this team in place to not only win, but be a factor for years to come.
I've seen coaches make some unreal turnarounds in my lifetime. It usually comes with a ton of other sweeping changes. While he did have the number two and number three picks in this past draft, this team was in shambles. The salary cap was a mess, draft capital was abysmal, and the team was devoid of talent. General manager Nick Caserio came in and cleaned up a lot of it before DeMeco was hired, so he should get some credit. However, he set a table for DeMeco to come in and work his magic. It's hard for a GM to make those moves and not have a coach to help finish the job. He bought the groceries, but had no chef. DeMeco came in and not only cooked a great meal, but he set a nice table and cleaned the kitchen when he was done.
If this man doesn't win Coach of the Year, fire everybody who has a vote. No coach in the league has done what he's done over the course of this season from last season. Improving the winning of a franchise and changing their culture to the point where the fan base did a complete 180-degree turnaround means the award should already have his name on it. The trophy should be in Houston in a lock box at a secure location. There should be plans already made, but flexible enough for their impending playoff run. If you can name a better candidate, I'd love to hear your argument. Send it to me on November 33rd. Promise it'll be the first thing I read that day.
SportsMap Emails
Are Awesome