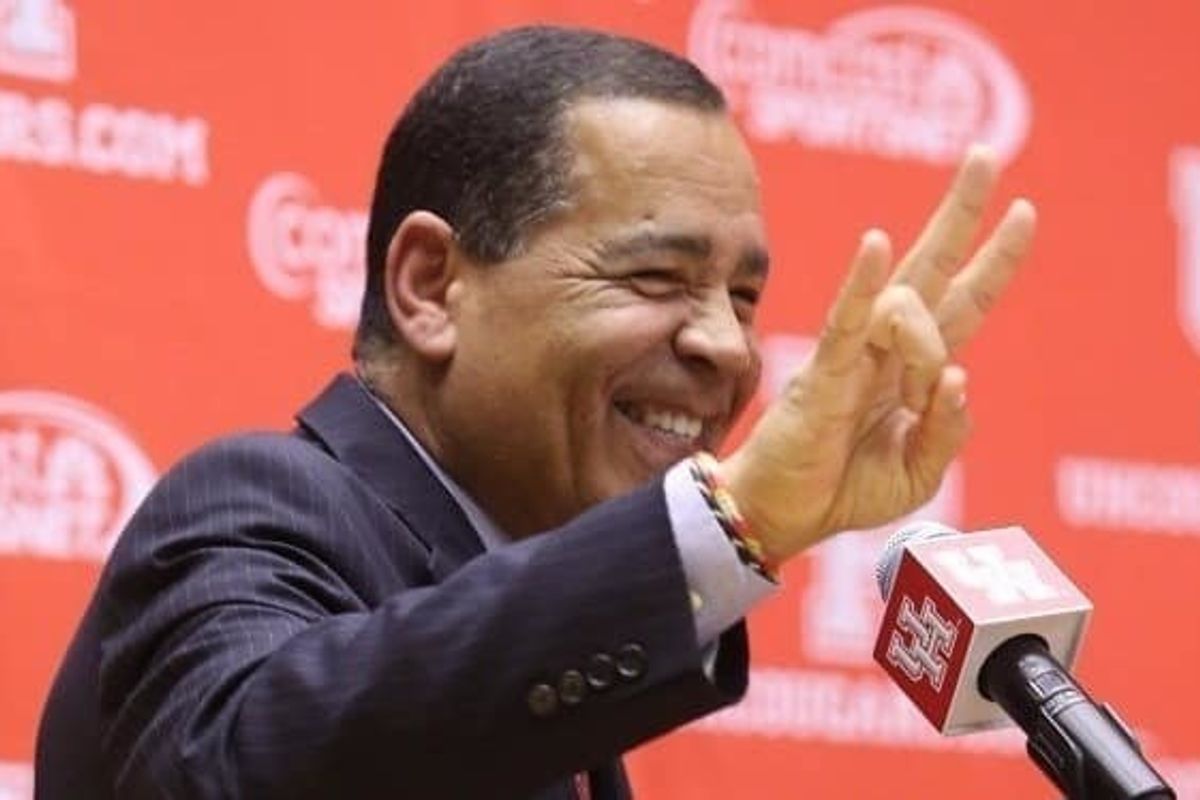 Kelvin Sampson and the Coogs had a big week. UHCougars.com
TEXAS LONGHORNS (11-7) 3-3 Big XII

Last week (1-0): W- Oklahoma 75-72

This week: Wednesday @ TCU, Saturday @ Georgia
Texas finally won a close game, and it couldn't have come at a better time. The Horns pulled out a 75-72 win over their biggest rival, Oklahoma, ending a 3-game losing streak. Kerwin Roach II led the Horns offensively with 23 points on 9-16 shooting. It was a balanced offensive effort, with Texas also getting 15 points each from Jaxson Hayes, Dylan Osetkowski and Matt Coleman III. Texas struggled from 3-point range, going 5-of-22, but made up for it with a 20-of-25 showing at the free throw line. Texas has a road game against TCU on Wednesday and a non-conference test at Georgia on Saturday.
TEXAS A&M AGGIES (7-9) 1-4 SEC
Last week (0-2): L- Auburn 85-66, W- Mizzou 66-43

This week: Tuesday @ Florida, Saturday vs. Kansas State
Texas A&M is getting to the point of panic. If they aren't they should be. The Aggies now find themselves the only team in the SEC with a sub-.500 record. In a conference that will probably put 5-6 teams in the tournament, the Aggies need to go on a tear. This week showed no signs of a turnaround. The Aggies started with a loss to Auburn, 85-66. Auburn jumped out to an early lead and never slowed down. The Ags shot 38% from the field and just 29% from 3-point range. Sauvion Flagg and Wendell Mitchell were the only real bright spots offensively. They combined for 44 of the 66 Aggie points, putting in 22 a piece. Auburn dominated turnovers, rebounding and had a 27-5 advantage in points off the bench. Things go no better against Mizzou, where the Aggies lost 66-43. The 43 points scored is the lowest Aggie total of the season by 21 points. They had only 13 made field goals in the entire game, shooting at a 26% clip. Josh Nebo led the Aggies with 12 points, and was the only player who made more shots than he missed in the game. A&M goes to Florida before getting a weekend matchup at home against former Big XII counterpart Kansas State.

HOUSTON COUGARS (18-1) 5-1 American

Last week (2-0): W- @ SMU 69-58, W- @ USF 69-60
This week: Wednesday vs. East Carolina, Sunday @ Tulsa
Houston got two road wins this week, and were moved up to 17th in the polls for their effort. They started with a 69-58 win at SMU, in a game many thought could be a tricky one for the Coogs. Houston handled SMU's big, athletic backcourt with relative ease. They held Jahmal McMurray to just 11 points on 3-of-14 shooting. Corey Davis, Jr. paced the Cougars with 20 points in the win. UH only turned the ball over four times in the game. They then took a 69-60 win over South Florida, though the Cougars wouldn't be quite as efficient in this one. Houston turned it over 16 times and shot just 3-of-13 from the 3-point line, but were able to hold on for an ugly win. Breaon Brady led the Cougars with 13 points. The two teams combined for 76 free throw attempts on the day. Houston should stay hot this week, with games against East Carolina and Tulsa, both teams in the bottom half of the conference.
RICE OWLS (7-12) 2-4 CUSA

Last week (0-1): L- @ North Texas 76-75
This week: Thursday vs. Middle Tennessee, Saturday vs. UAB
Rice was seconds away from getting their biggest win of the season, but fell just short, dropping a 76-75 tilt with North Texas. The Owls had a 16 point lead with seven minutes remaining, but the Mean Green were able to mount a miraculous comeback and sink the game winner as time expired. The Owls outshot and out-rebounded the Green, but their 18 turnovers proved costly. Senior Jack Murphy led the Owls with 20, and freshman Trey Murphy added 18 in the loss. After a disastrous start to the season, the Owls are playing better of late. They have two wins and two 1-point losses in their last 5 games. Rice gets two home games this week, against Middle Tennessee and UAB.
BAYLOR BEARS (12-6) 4-2 Big XII

Last week (2-0): W- Texas Tech 73-62, W- @ WVU 85-73


This week: Saturday vs. Alabama, Sunday @ Oklahoma
Baylor got a huge win over Texas Tech, 73-62, showing that there is still life in this team. Top freshman recruit Jared Butler came up big for Baylor in the win, dropping 19 points while racking up 5 assists and 3 steals. While Baylor shot only 41% from the field, they found some success from 3-point range, knocking down 11 shots from distance. The Bears then got an 85-73 win over West Virginia on Monday night. Makai Mason was a force, scoring 29 points on 10-16 shooting. The Bears shot 50% from the field. They overcame an 18 turnover night with a particularly strong showing on the boards, with a +10 rebounding advantage. The Bears get a road game at Oklahoma and a home game with TCU this week.

TCU HORNED FROGS (13-4) 2-3 Big XII

Last week (1-1): W- West Virginia 98-67, L- @ Kansas State 65-55
This week: Wednesday vs. Texas, Saturday vs. Florida

TCU was up and down last week. They started off well, breaking a 2-game losing skid with a blowout win over West Virginia, 98-67. Desmond Bane dominated, posting a 26 point, eight rebound line. The biggest difference between the two teams was behind the 3-point line, where TCU shot 43% and held West Virginia to 17%. Of the eight Horned Frogs who played in the game, six of them reached double digit scoring. Things took a turn for the worse on the road, where TCU dropped a 65-55 decision to Kansas State. Alex Robinson had 17 in the loss, and Bane added 16 more. The 3-pointers didn't fall for TCU in this one, hitting just 6 of 24 from deep. Turnovers also killed the frogs, who gave it away 18 times on the night. TCU gets home games against Texas and Florida this week.
TEXAS TECH RED RAIDERS (15-3) 4-2 Big XII

Last week (0-2): L Iowa State 68-64, L- @ Baylor 73-62
This week: Tuesday @ Kansas State, Saturday vs. Arkansas

Texas Tech is going to have to prove they can bounce back from adversity, as they are facing it for the first time this season after back to back losses. First, they dropped a nail biter against Iowa State 68-64 at home. Jarrett Culver was the high man for Tech, posting a 20 point/16 rebound line, but shot just 33% from the field and had five turnovers. In such a close game, free throw shooting cost the Raiders. They hit only 6 of their 15 freebies, while the Cyclones hit 13 of 19. Things went from bad to worse against Baylor, who beat the Raiders 73-62. Culver led Tech again with 19 points, nine rebounds and five assists. On the downside, he turned the ball over seven times. Tech will look to get back on track, but have a tough road game at Kansas State before getting Arkansas at home.

SMU MUSTANGS (11-7) 3-3 American

Last week (0-2): L- Houston 69-58, L- @ Memphis 83-61
This week: Saturday vs. Tulane

SMU got a massive game from Jimmy Whitt, Jr. against Houston, but it wasn't enough to pull out a win. Despite 20 points on 9-of-11 shooting, the Mustangs fell to Houston 69-58. The Ponies struggled from distance, hitting just 21% from long range. Things got worse on the road, where Memphis throttled SMU 83-61. SMU trailed wire to wire, and it was easy to understand why. The Ponies shot just 36% and had 21 turnovers in the loss. Whitt's 12 points led the Mustangs in their most lopsided loss of the season. SMU has now dropped three of their last four. They get Tulane at home on Saturday.

LSU TIGERS (14-3) 4-0 SEC

Last week (2-0): W- @ Ole Miss 83-69, W- South Carolina 89-67

This week: Wednesday vs. Georgia, Saturday @ Mizzou
LSU is really rounding into form since conference play started. They started the week with an 83-69 drubbing at Ole Miss. The Tigers had 4 players in double digits, led by Tremont Waters' 20 points. LSU was on fire from distance, going 9-19 from 3. The Tigers then rolled on to an 89-67 win against South Carolina. The 3-point shooting couldn't have been much worse in this one, with the Tigers hitting one 3-19 from deep. They made up for it at the free throw line (32 of 35) and on the boards, where they had a 49-29 advantage. LSU is one of only 2 SEC teams (Tennessee) who have yet to lose a game in conference. LSU gets Georgia and Mizzou this week.
One of the big factors that led to the Texans' loss to the Jaguars on Sunday was the secondary. Multiple flags for pass interference gave Jacksonville more opportunities to pick up first downs and score points.
Can confirm #Texans backup CB Shaq Griffin was cut.

Griffin started 6 games this year when Derek Stingley was out with a hamstring.
— DJ Bien-Aime (@Djbienaime) November 29, 2023
So it's no surprise that DeMeco Ryans is making some changes to his defense this week. According to several reports, Texans corner Shaq Griffin has been cut.
Nickel corner Tavierre Thomas was flagged for PI more than once on Sunday, and was burned badly by Jaguars receiver Calvin Ridley for a touchdown.
DeMeco was asked after the game if he considered replacing Thomas with Desmond King or Shaq Griffin. Ryans didn't give a definitive answer, but it looks like we got one today.
One has to wonder if Desmond Kings' experience playing nickel was the reason for his promotion to the active roster and why Griffin was released. If Thomas continues to struggle, King looks like the next man up to replace him.
#Texans activate Denzel Perryman, promote Desmond King to active roster, release Shaq Griffin, sign Matt Ammendola and Garret Wallow to practice squad, released Gerrid Doaks from practice squad and placed Tytus Howard (knee-patellar tendon surgery pending) on injured reserve https://t.co/knyyoqo7yC
— Aaron Wilson (@AaronWilson_NFL) November 29, 2023
The Texans also made some other adjustments to their roster on Wednesday, per Aaron Wilson. Linebacker Denzel Perryman returns from suspension, kicker Matt Ammendola and linebacker Garret Wallow join the practice squad. They also released Gerrid Doaks from the practice squad.
The other big piece of news involves left guard Tytus Howard. He heads to injured reserve, ending his season after hurting his knee against Jacksonville.
SportsMap Emails
Are Awesome