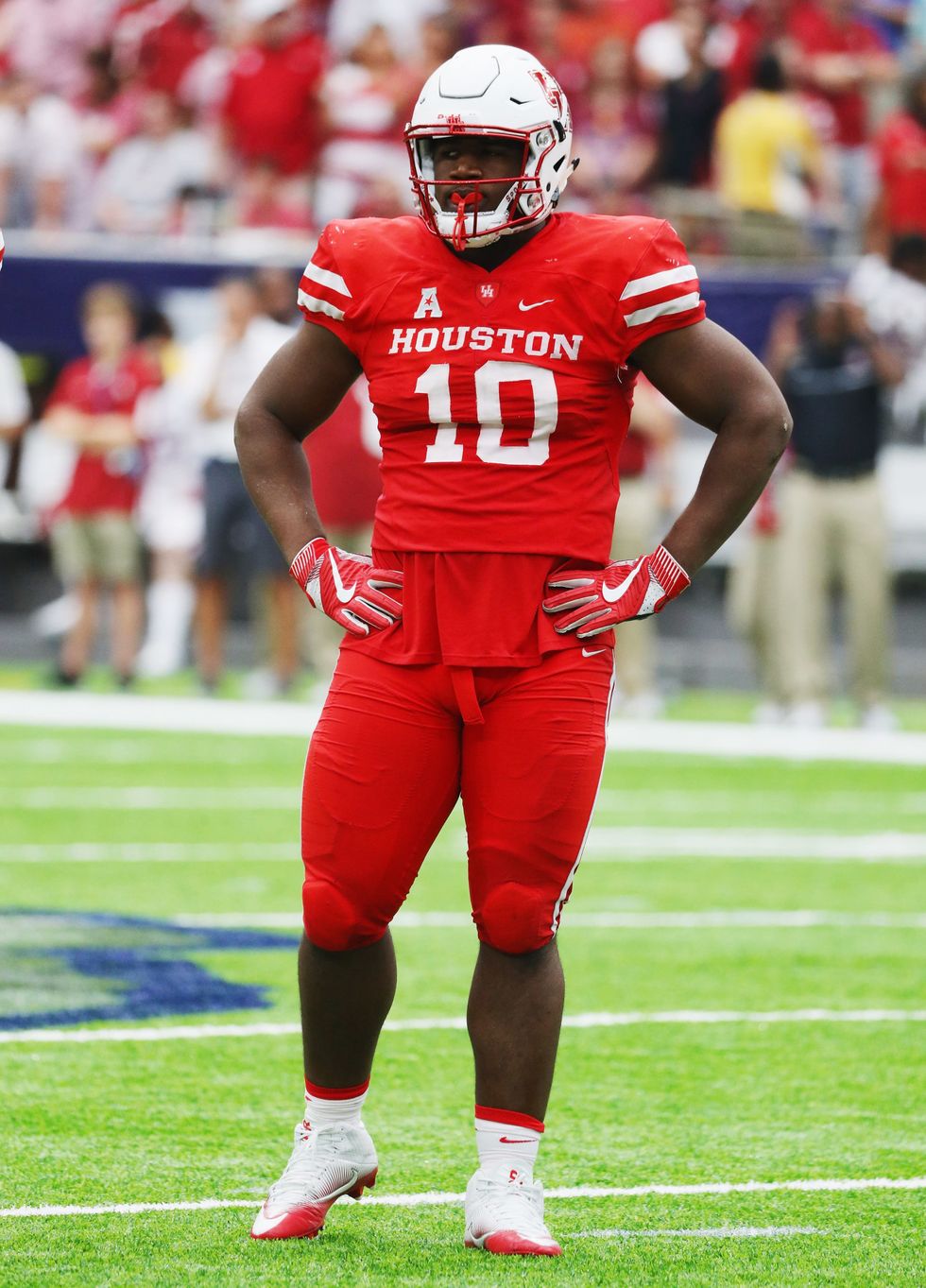 Ed Oliver and the Cougars defense came up big. Photo by Scott Halleran/Getty Images
Winner, winner, chicken dinner! Texas college football was full of upsets this week. Here's how it all went down:
Houston 42, East Carolina 20
Can we all take a minute to bask in the glory that is the Houston Cougar offense?  Quarterback D'Eriq King threw for two touchdowns and ran for another score as the Cougars rolled over East Carolina on Saturday night. Star defensive tackle Ed Oliver got his first sack of the season, forced a fumble, and lineman Emeke Egbule scooped it up and barreled five yards to the end zone for the Cougars.
Texas Tech 17, TCU 14
There is much to be said about the mental stamina of the Red Raider's offense. With two quarterbacks injured, Jett Duffey got his first start of the season and pushed Tech to a 17-14 victory over TCU. After a low-scoring first half, McLane Carter replace Duffey for only one series on a sprained ankle that wasn't ready for full-speed action. Duffey returned to throw a 62-yard touchdown and ran for another score. "I was really proud of Jett. That's such a hard situation, first start ever and at halftime we're going to try something else," coach Kliff Kingsbury said. "Then have to put him back in, and find a way, dig deep, be mentally tough enough to handle that, make enough plays to win the game. I can't say enough about his mental toughness." Duffey finished 13-of-24 passing for 190 yards and 16 carries for 83 yards.
LSU 36, Georgia 16
Defense wins games but calculated play-calling and prefect execution sure does help. Joe Burrow threw for 200 yards and two touchdown runs as the 13th-ranked Tigers beat the No. 2 Bulldogs 36-16 on Saturday. Fourth-down decisions by coach Ed Orgeron made all the difference. The Tigers converted all four times they ran an offensive play on fourth-and-short and produced a total of 13 points. "We were going to be as aggressive as we can. We were going to take shots and go for it and play to win the game the whole time,'' Orgeron said. "We were going for it as hard as we can today. We were throwing out the kitchen sink, man. We were giving them everything we had, and we did it.'' Georgia quarterback Jake Fromm arguably had his worst game of the season, completing a mere 16-of-34 passes for 209 yards, one score and an interception.
Texas 23, Baylor 17
Remember when I said Texas was a conference championship contender? I meant it. Even without Sam Ehlinger, the ninth-ranked Longhorns still managed to survive Baylor on Saturday, defeating the Bears 23-17. "We knew this wasn't going to be easy and obviously when your starting QB goes out on the first drive, there could have been some panic, a little shock," Texas coach Tom Herman said. Quarterback Shane Buechele entered the game for the Longhorns when Ehlinger was injured early in the first quarter. Texas struggled offensively for most of the game as Buechele passed for 184 yards, one touchdown and one interception. Baylor quarterback Charlie Brewer threw for 245 yards and one touchdown. Now bowl-eligible Texas is off next week before traveling to Oklahoma State on Oct. 27.  
Texas A&M 26, South Carolina 23
After a surprisingly strong start, and a squandered 16-0 second half lead, the 22nd-ranked Aggies held off the Gamecocks in their 26-23, and third straight victory on Saturday. A&M quarterback Kellen Mond was 25-of-37 passing with 353 yards, the second most in his career. Aggie kicker Seth Small had four field goals and tight end Jace Sternberger had seven receptions for 145 yards.
Alabama-Birmingham 42, Rice 0
UAB quarterback A.J. Erdely was 11-for-17, 274 yards and two touchdowns as the Blazers shut out Rice on Saturday.
All of a sudden, the Houston Texans have won three straight and host the Jacksonville Jaguars for a highly anticipated game this weekend
If the Texans come away victorious, they will take possession of first place in the division, and be in position to host a home playoff game for the first time since 2019.
Which got us thinking, is this the best version of the Texans we've ever seen? Many would say the best Texans teams were the ones coached by Gary Kubiak with Matt Schaub at QB. Or some may say it was the Bill O'Brien 2019 team with Deshaun Watson pulling the trigger at QB.
Regardless of which era of the Texans you believe was the best, one thing is for sure. This year's team has us optimistic on several levels. Ownership seems to have figured things out with the Easterby days behind us. Nick Caserio is a serious candidate for Executive of the Year, CJ Stroud is a favorite for Offensive Rookie of the Year, and has a chance to win MVP. And DeMeco Ryans has a legit shot at Coach of the Year.
But let's go even further. Has DeMeco done enough already to be considered the franchise's best coach? Many would say these questions are entirely premature, but are they really?
We could also make the argument that Tank Dell is already the third-best receiver in franchise history behind Andre Johnson and DeAndre Hopkins. He already has as many touchdowns (6) as Dre and Hopkins combined in their rookie seasons.
And let's make things even more interesting. Is CJ Stroud the best Houston QB since Warren Moon?
Be sure to watch the video above as we answer all these questions!
SportsMap Emails
Are Awesome