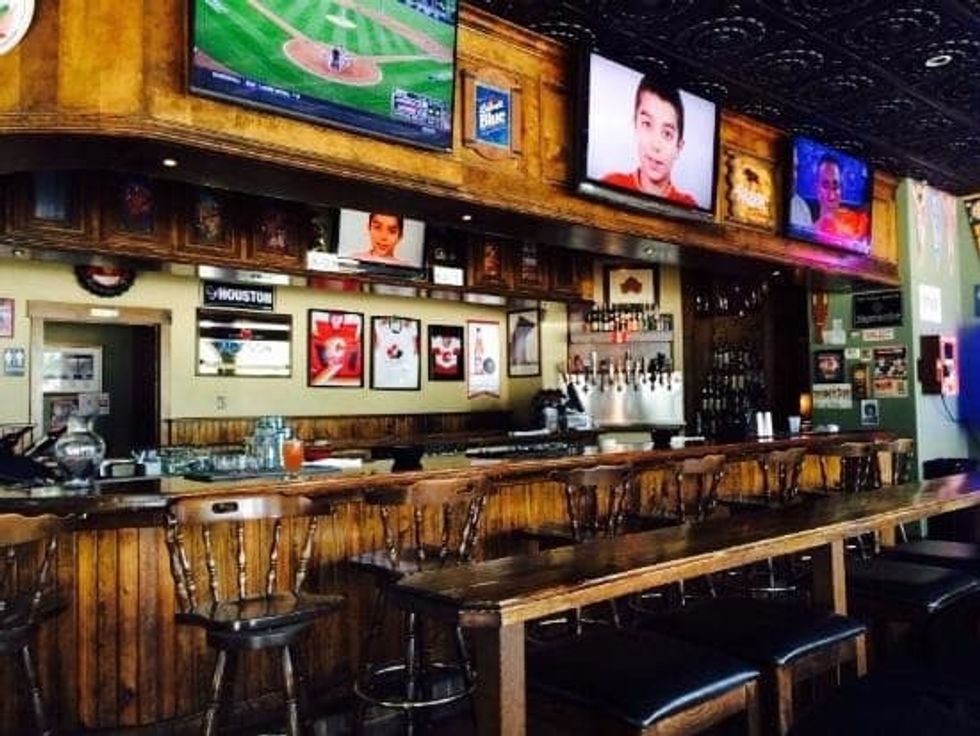 Maple Leaf Pub Maple Leaf Pub
Houston sports are on fire right now. The city has teams in the MLB playoffs (World Series), MLS playoffs and could potentially be in the NFL playoffs, NBA playoffs, or College football bowl Games. What better way to watch and celebrate than to go out to a fun place with friends and enjoy the big game.
What makes a bar/restaurant a good place to watch sports?
To me, lots of TV's are huge and having the sound on to a game makes a world of a difference. This is a must for me on my check list (below). The atmosphere. Especially when you're into the game. Quite understandably, sometimes you just want to relax and catch a game at home with peace and quiet. 
But if you want that atmosphere to share your happiness with others, be sure to check out this list below. In no particular order. Enjoy!
Sound to your favorite game (Texans, Astros, Rockets, Dynamo)

TVs

Atmosphere

Good food/drinks

Patio

Parking

Pet friendly

Service
Lucky's
801 St. Emmanuel St Houston, TX 77003
Lucky's is a great place to catch any of your Houston teams. Especially when the teams are in the playoffs. Lucky's will block off the street and put a giant projection screen outside. They will also have food trucks available for guests on the outside. When our Houston team is doing well and wins a playoff game, be prepared…. it gets rowdy. Fans love to throw beer in the air for a celebration, so duck if you're not wanting to get a beer shower! It's a great time and a great place to watch our Astros in the World Series right now
Sound to Astros, Rockets, Dynamo, and UH Games

Lots of TV's including big screen inside (and huge projector screen outside for bigger games)

Great atmosphere / gets rowdy

Good bar food

Patio in back

Parking on street (meter) Or during games paid parking lot

Pets on patio, but gets so packed sometimes, may not be a good idea.

Service at tables, or can go up to bar for drinks
Kirby Ice House
3333 Eastside St Houston, TX 77098
For those of us who drink on weekdays, Kirby typically has a good happy hour crowd almost every day of the week! It is also busy on the weekends with great weather. This place has a good amount of TV's and plenty of room for people sitting in the outside area. This place is also very pet friendly; tons of people bring their dogs here.
Sound (certain games)

Decent amount TVs

Tons of people, even during weekdays for HH

Good drinks/ No kitchen, but food trucks available

Great patio/huge outside area

Parking available and valet

Patio and large outside area

Waitress comes to table to take drink order
Pub Fiction
2303 Smith St #100 Houston, TX 77006
There are just some days we aren't meant to sit inside when the weather is beautiful; Pub Fiction is for those days. They always have great drinks specials and a pretty tasty menu. It is a good atmosphere, but the people don't get too crazy #adulting. There are plenty of TV's so you won't miss a primetime game. Pub is also one of those places that if you're ready to celebrate the win after the game, it's a good place to stay a little longer. If your game is on a weekend, they get a good crowd.
Sound (most Houston Sports)

Good amount of TV's

Good atmosphere

Good bar food/ bar

Great indoor outdoor bar/patio

Valet/parking lot, street parking

Pets allowed on patio

Servers at tables
Biggios
1777 Walker St Houston, TX 77010
There are so many TV's in this place you can't ever look away and not see one. They will also have the sounds to a main game across all speakers. However, on the second floor there are small open rooms for a party of about 6-7 where they can set the audio on a different game if you prefer. The food is good, but not a huge selection of a menu.
Sound and different sound in different areas

TONS of TV's (Largest indoor TV screen in Houston)

Usually pretty packed on weekend nights, week days not so much

Food is upscale bar food/ no drink specials so come on pay day

Limited patio tables

Valet only or lucky street parking

No Pets

Server
Twin Peaks
4527 Lomitas Avenue, Houston, TX 77098
Sounds cliché, and I know what you are thinking but keep reading. It is actually a great atmosphere. I have watched a Texans game here before, and every single person in the place is into it! Plus, if you come on a Sunday, there are plenty of TV's to watch other games from around the league. Also, depending on what you get on the menu, the food is pretty good. It is better than most bar food.
Sound- Texans & other big games

Good amount of TV's

Good atmosphere

Food is pretty good

Small patio seating, mostly inside

Valet only

No pets

Server
Fuego's
817 Durham Dr. Houston, TX 77007
Fuego's has over 24 beers on tap and full bar. If you're into specialty cocktails they have those too. If there is beautiful weather, the patio is a great place to sit. They have happy hour drink specials and pretty tasty food. Also if you come during the World Series, every time the Astros score a run there's shot special!
Sound (big games)

Good amount of TVs

Relaxed atmosphere

Food is good for bar food/ drink specials

Big patio with screens and a bar to sit at

Parking lot

Pets allowed on patio

Servers
Clutch
5334 Washington Ave, Houston, TX 77007
Home of the Sunday Funday. If you're looking for a great place to watch some football and enjoy a Sunday Funday and work doesn't come too early for you on Mondays, Clutch is the bar for you. Come watch your Texans or Astros on the giant projection screen. Clutch is mostly inside, but has a nice patio area as well. It is also located on Washington, if you are looking to go out to other bars after the big game.
Sound (big games)

Good amount of TV's, projector screen

Good atmosphere

Decent bar food and full bar

Half indoor/ half outdoor

Valet / street parking

No pets

Service at tables, but if not walk up to bar for service
Beer Market
Heights- 920 Studemont st #900 Houston, TX 77007
Midtown- 3304 Milam St Houston, TX 77006
Opening right before Harvey, Beer Market is the perfect set-up for game day! They have a wide variety of beers on tap (hence the name), with the beer list divided by country. It also has a pretty yummy menu with unique items.  Be sure to check out their daily specials, they are different every day of the week. You can also enjoy happy hour every day from 2-7 p.m., and if you want to get social, join the drink local mug club.
1) Sound (big games)
2)Tons of TVS
3) Good atmosphere
4) WIDE VARIETY of beers on tap/ Food pretty decent
5) Great patio, great deck
6) Valet/street parking
7) Patio is dog friendly
8) Server
Little Woodrow's- All locations
(Eado, Midtown, Rice Village, Shepherd, Heights, etc.)
You know this bar since there are tons of Little Woodrow's all over Houston. And the good thing is most locations are similar, some are more popular than others, but almost all meet my checklist. The only thing they lack at most locations is a kitchen. At some locations there are food trucks available or food nearby (Midtown/Rice Village).
Sound- (most games)

Decent amount of TVs

More relaxed compared to other bar atmospheres

No kitchen (food)/ Food truck, specialty cocktails (frozen woody), drink specials

Most locations are mostly patios

Most have parking lots (except for Rice Village, parking on street)

Pets allowed

Servers for tables, if busy go up to the bar
Tight Ends
2502 Gulf Fwy S. League City, TX 77573
Great atmosphere to catch sports, female servers are minimally dressed, this is definitely not a family friendly place. There are mixed reviews about the food and service. But there are TV's everywhere and good atmosphere.
Sound on for main games

Tons of TV's

Usually pretty packed on big games

Ok bar food

Big outside seating area

Valet

No pets

Server
Few bars cater to Soccer and Hockey in this city, but here are two to check out!
Revelry on Richmond
1613 Richmond Ave, Houston, TX 77006
Great atmosphere to catch sports, awesome beer selection and very good food. There is a nice outdoor patio and this is a good bar to catch all types of sports.
Sound on for main games

Tons of TV's

Excellent beer selection leads to a fun atmosphere

Good food

Big outside seating area

Valet

Pet friendly 

Server
Gorgeous Gael Irish Pub- Soccer/ Rice Football Games & Coaches Show
5555 Morningside Dr. Houston, TX 77005
If you are a soccer fan, Gorgeous Gael is your home for any soccer match. This Irish Pub is located in Rice Village right off Morning Side Drive. They have a really good food menu, especially if you like Shepherd's Pie. They have a great selection of beers on tap, and a beautiful outdoor patio. You can also enjoy fun board games provided by the bar, just give them your I.D. for collateral.
King's Court-Soccer
903 Hutchins St. Houston, Tx. 77003
 This is a nice spot for soccer, especially European soccer fans. Located near BBVA, it has a nice open rooftop as well. The food is an interesting mix of British and Indian food and a decent beer selection. Plenty of TVs, which are almost all on soccer.
Maple Leaf- Hockey
514 Elgin St, Houston, TX 77006
This bar is a Canadian themed bar, obviously catering to hockey fans! They have plenty of hockey action, every night of the week. Maple Leaf also has Happy hour all day Mondays and plenty of nightly food & drink specials every day.
One of the big factors that led to the Texans' loss to the Jaguars on Sunday was the secondary. Multiple flags for pass interference gave Jacksonville more opportunities to pick up first downs and score points.
Can confirm #Texans backup CB Shaq Griffin was cut.

Griffin started 6 games this year when Derek Stingley was out with a hamstring.
— DJ Bien-Aime (@Djbienaime) November 29, 2023
So it's no surprise that DeMeco Ryans is making some changes to his defense this week. According to several reports, Texans corner Shaq Griffin has been cut.
Nickel corner Tavierre Thomas was flagged for PI more than once on Sunday, and was burned badly by Jaguars receiver Calvin Ridley for a touchdown.
DeMeco was asked after the game if he considered replacing Thomas with Desmond King or Shaq Griffin. Ryans didn't give a definitive answer, but it looks like we got one today.
One has to wonder if Desmond Kings' experience playing nickel was the reason for his promotion to the active roster and why Griffin was released. If Thomas continues to struggle, King looks like the next man up to replace him.
#Texans activate Denzel Perryman, promote Desmond King to active roster, release Shaq Griffin, sign Matt Ammendola and Garret Wallow to practice squad, released Gerrid Doaks from practice squad and placed Tytus Howard (knee-patellar tendon surgery pending) on injured reserve https://t.co/knyyoqo7yC
— Aaron Wilson (@AaronWilson_NFL) November 29, 2023
The Texans also made some other adjustments to their roster on Wednesday, per Aaron Wilson. Linebacker Denzel Perryman returns from suspension, kicker Matt Ammendola and linebacker Garret Wallow join the practice squad. They also released Gerrid Doaks from the practice squad.
The other big piece of news involves left guard Tytus Howard. He heads to injured reserve, ending his season after hurting his knee against Jacksonville.
SportsMap Emails
Are Awesome